[143 Pages Report] MarketsandMarkets predicts the smart gas market to grow from $11.25 Billion in 2017 to $21.75 Billion by 2022, at a Compound Annual Growth Rate (CAGR) of 14.1% during the period of 2017–2022.
Key Market Dynamics in Smart Gas Market
Growing demand for customer-centric approach would lead to the growth of the market
The customer-centric approach brings along a lot of benefits, such as increased customer satisfaction, good company image, identifying the gaps in customer offerings, and taking advantage of opportunities for growth. The utility companies do not tend to be customer-centric as the demand would ever surge. However, the companies following a customer-centric approach witness additional growth in terms of customers and revenue. Residential consumers are more focused on accurate billing and consumption usage data delivered in real time. Real-time information enables consumers to track and monitor the energy usage, accurate billing enhances customer satisfaction, and most importantly the payment is made timely removing the irregularities in payment as the customer becomes satisfied with the billing. Increasing deployment of smart devices empowers the provider to deploy IoT technology to support real-time information. This makes use of sensors and customer smart devices. The data is collected from the meters and sent to the meter server, which is synchronized with the consumer devices.
Lack of strong business case for the deployment of smart gas meters limiting the investment
Smart meter deployments are carried out in two modes, namely, smart metering roll-out and mandatory smart metering roll-out. In the former case, the smart meters can be deployed only after the acceptance of the consumer, while the latter removes the option of customer choice. In the former case, the major issue is the presence of a few early adopters and innovators, giving a green signal for deployment. In the latter case, the issue is with the rising demand for resources, such as a qualified labor force and high costs due to stranded investments and poor planning. Proper planning will require urban areas to be targeted first for deployments and lastly target the rural areas. In addition, the consumers do not have the trust on security and privacy of data gathered by smart metering along with the perception that they will incur additional energy costs post-deployment of smart metering infrastructure.
The smart gas metering system adoption rate has trailed behind electricity, mostly due to the lack of a strong business case. For a country to adopt smart gas metering, various factors such as a number of gas consumers and their expenditure are to be considered. The fact that demand-side management would not be feasible for gas consumers is also a setback for this market. Reduction in carbon emissions does present a good cause for deploying smart gas meters, but is difficult to quantify.
Objectives of the Smart Gas Market Study
To determine and forecast the global market on the basis of solutions, devices, services, & regions from 2017 to 2022 and analyse the various macro & micro-economic factors that affect the market growth
To forecast the size of market segments with respect to five main regions, namely, North America, Europe, Latin America, Asia-Pacific (APAC), and the Middle East & Africa (MEA)
To provide detailed information regarding the major factors influencing the growth of the market (drivers, restraints, opportunities, and challenges)
To analyse each submarket with respect to individual growth trends, future prospects, and contribution to the total market
To analyse the opportunities in the market for stakeholders by identifying high-growth segments of the market
To profile key market players, provide comparative analysis on the basis of business overviews, product offerings, regional presence, business strategies, & key financials, and provide companies with a snapshot of the competitive landscape of the smart gas market.
To track and analyze competitive developments, such as mergers & acquisitions, product developments, partnerships & collaborations, and Research & Development (R&D) activities in the market
The research methodology used to estimate and forecast the smart gas market began with capturing data on key vendor revenues and the market size of the individual segments through secondary sources: industry associations, such as American Gas Association (AGA), Southern Gas Association (SGA), & trade journals, such as Institute of Electrical and Electronics Engineers (IEEE) Internet of Things Journal. The vendor offerings were also taken into consideration to determine the market segmentation. The bottom-up procedure was employed to arrive at the overall market size of the global market from the individual technology segment. After arriving at the overall market size, the total market was split into several segments & subsegments, which were then verified through primary research by conducting extensive interviews with key industry personnel, such as CEOs, VPs, directors, and executives. The data triangulation and market breakdown procedures were employed to complete the overall market engineering process & arrive at the exact statistics for all the segments and subsegments. The breakdown of profiles of primary discussion participants is depicted in the below figure: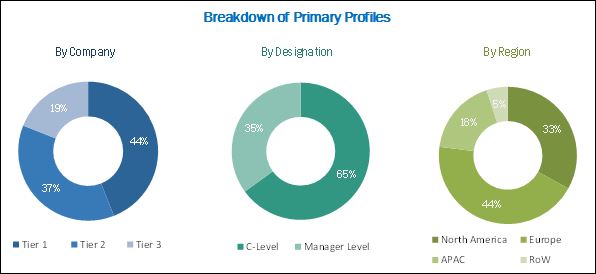 To know about the assumptions considered for the study, download the pdf brochure
The smart gas market ecosystem includes players, such as ABB Group (Switzerland), Aclara Technologies LLC (U.S.), Badger Meter, Inc. (U.S.), Cap Gemini S.A. (France), CGI Group Inc. (Canada), Diehl Stiftung & Co. KG (Germany), Elster Group SE (Germany), General Electric Company (U.S.), International Business Machines Corporation (U.S.), Itron, Inc. (U.S.), Landis+Gyr Inc. (Switzerland), Oracle Corporation (U.S.), Schneider Electric SE (France), Sensus USA Inc. (U.S.), Silver Spring Networks, Inc. (U.S.), and Verizon Communications, Inc. (U.S.), who provide numerous solutions, services, & devices required for smart gas operations. These Smart Gas Solutions Vendors are rated and listed by us on the basis of product quality, reliability, and their business strategy. Please visit 360Quadrants to see the vendor listing of Smart Gas Solutions.
Key Target Audience
Local gas distribution companies/gas utilities
Multi-fuel utilities (Gas+water+electric or gas+electric)
Commercial & Industrial (C&I) customers
Residential customers
Gas meter manufacturing companies
National regulatory authorities
Natural gas pipeline operators
Advanced Metering Infrastructure (AMI) vendors
Enterprise Resource Planning (ERP) solution providers for utilities
Information Technology (IT) companies that provide system integration solutions to utilities
Managed service providers for utilities
Scope of the Report
The research report categorizes the smart gas market to forecast the revenues and analyze the trends in each of the following subsegments:
By Type
Solution

Asset management
Analytics and data management
Geographic Information System (GIS)
Remote monitoring
Outage management
Network management
Network and application security
Mobile workforce management
Others (Billing, subscription, and customer information systems)

Device

Automatic Meter Reading (AMR) meters
Advanced Metering Infrastructure (AMI) meters

Service

Professional services
Managed services
By Region
North America
Europe
Asia-Pacific (APAC)
Middle East and Africa (MEA)
Latin America
Available Customizations
With the given market data, MarketsandMarkets offers customization as per the company's specific requirements. The following customization options are available for the report:
Geographic Analysis
Further country level breakdown of the North American smart gas market
Further country level breakdown of the European market
Further country level breakdown of the APAC market
Further country level breakdown of the MEA market
Further country level breakdown of the Latin American market
Company Information
Detailed analysis and profiling of additional market players
Replacement of aging infrastructure drives the investment in global smart gas market to USD 21.75 billion by 2022
Smart gas is the combination of smart devices, smart solutions, and smart services to bring advancement in the traditional gas distribution system. The term "smart" here refers to solutions with applied intelligence that can provide real-time information about leakage and monitor the gas distribution network. This class of technology brings improved integration & forecasting, support & communication, control & maintenance, distribution, mitigation, and planning capabilities in the delivery systems.
The demand for smart gas market is driven by the requirement of improved energy-efficient solutions, which is leading toward more sophistication of solutions and services. Furthermore, increasing adoption of integrated wireless communication solutions is also providing a push to the market by reducing field visits.
Aging infrastructure leads to performance degradation of assets, numerous vulnerabilities, and poor environmental compliance. For gas utilities, the major concern in the process of infrastructure turning old is evaluation. In addition, replacement drives for legacy infrastructure have also invited huge investments in the smart gas market.
Cloud based services and security solutions would offer numerous opportunities due to huge amount of data
IoT as a technology involves storing, managing, and analyzing data in real time. Cloud platforms present a perfectly cost-effective and easily deployable alternative for this issue to eliminate the need for building on-premises data centers. While IoT is all about connected devices that produce a huge amount of data, the cloud platform enables analytics derive value from the data. Cloud computing technologies are providing smart gas solution vendors a way to connect smart gas solutions installed at the control center to IoT-enabled devices. This capability would help end-users to build IoT-based sense and respond systems quickly and economically.
Security remains the topmost priority for the global smart gas market. The vulnerability of gas infrastructure, both in terms of physical security and cybersecurity, is a major concern for the gas companies. Integrated security solutions are on the rise compared to separate security systems. With the increasing energy demand, the need to have a robust infrastructure in place is a must for the gas companies. The demand for integrated security solutions is surpassing the demand for standalone solutions.
Smart Gas Market Dynamics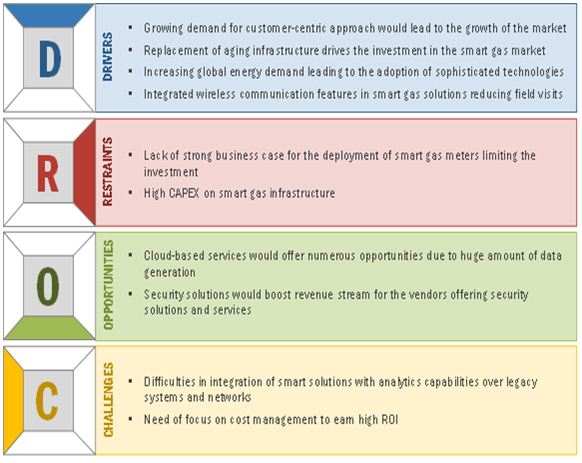 The smart gas market size expected to grow from USD 11.25 Billion in 2017 to USD 21.75 Billion by 2022, at a Compound Annual Growth Rate (CAGR) of 14.1% during the forecast period. The major drivers for the upsurge in the market include the growing demand for customer-centric approach leading to the overall market growth of the market, replacement of aging infrastructure driving investment in the market, and the increasing global energy demand leading to adoption of sophisticated technologies.
The scope of this report covers the smart gas market analysis by solution, device type and service type, and region. The remote monitoring solution segment is expected to grow at the highest CAGR during the forecast period, owing to the increasing demand of vital functionalities this solution offers, such as, tracking asset performance, which provides real-time data during gas operations. Factors, such as production time, leakage rate, energy usage, and climatic condition can be collected, analyzed, and presented to the designated personnel, in terms of performance data and ability to control data, such as remotely shutting off gas operations.
The Automatic Meter Reading (AMR) meters device segment is expected to have the largest market share during the forecast period, owing to the cost effectiveness and its preference for smaller utilities, as it is cheaper and offers benefits, such as accurate meter readings and improved & transparent billing processes.
The professional services segment is expected to have the largest market share during the forecast period owing to the deployment of AMI meters, need of technological consulting, and continuous support & maintenance activities carried out in the gas industry.
As per the geographic analysis, North America is expected witness significant growth in the smart gas market over the forecast period due to massive upcoming projects. North America has the highest installation rate (over 50%) of AMR devices. Over the past few years, numerous utilities in the US have boarded advanced smart gas schemes, wherein their main objectives are to deploy second-generation advanced metering infrastructure, communication modules, asset management, workforce management, security features, analytics, and Meter Data Management (MDM).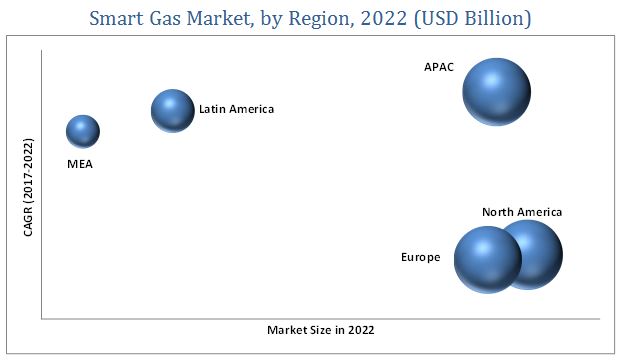 A few of the restraining factors that affect the market growth include the lack of strong business case for the deployment of smart gas meters limiting the investment and high Capital Expenditure (CAPEX) on the smart gas infrastructure. The smart gas market vendors profiled in the report include ABB Group (Switzerland), Aclara Technologies LLC (US), Badger Meter, Inc. (US), Cap Gemini S.A. (France), CGI Group Inc. (Canada), Diehl Stiftung & Co. KG (Germany), Elster Group SE (Germany), General Electric Company (US), IBM Corporation (US), Itron, Inc. (US), Landis+Gyr (Switzerland), Oracle Corporation (US), Schneider Electric SE (France), Sensus USA Inc. (US), Silver Spring Networks, Inc. (US), and Verizon Communications, Inc. (US)
The growth of smart gas market depends on the factors, such as replacement of aging infrastructure, growing demand for energy efficient solutions, and increasing adoption of integrated wireless communication solutions.
Various established players and new entrants in the industry are offering smart gas solutions to ensure better productivity and optimization of the resources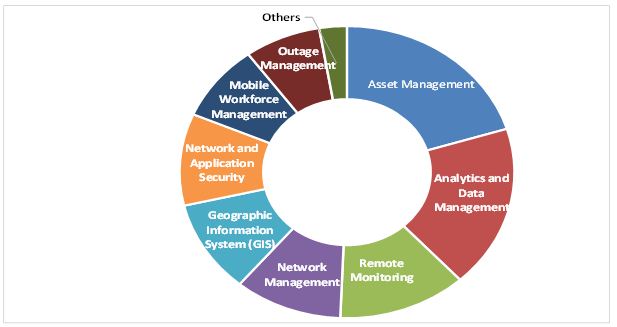 Asset Management
Distribution pipelines are a critical asset for gas utilities. Owing to the aging infrastructure of the pipelines and the amount of risk associated with gas pipelines, asset management is indispensable for gas utility operations. Asset management for gas utilities helps in optimally and sustainably managing gas pipelines. In order to achieve the organizational strategic plan, the associated performance, risks, and expenditures over the lifecycles of the assets are taken care of by asset management solutions. These solutions generally include type and asset tracking, work order creation, maintenance, repair and operations inventory and procurement, asset tracking, and planned maintenance history.
Analytics and Data Management
Meter data analytics solution unlocks smart meter data from both AMR and AMI sources, turning them into actionable information for gas utilities. It is a prepackaged spatial and graphical dashboard, which enables the company staff to track performance and analyze trends using the information from the core gas utility applications. It helps to improve customer service quality and cut costs by Integrating Voice Response (IVR) systems, steering customers to self-service web sites, and varying billing cycles so that call volumes are relatively level throughout the month. It also reduces gas loss resulting from pipe leaks and breaks by analyzing smart gas market sensor data in near real time to detect unusual flow rates and automatically notify dispatchers and field technicians about likely emergencies. Other important benefits include reduction in capital expenditure, optimization of cash flows, and reduction of IT risk.
Remote Monitoring
Gas monitoring was carried out through Programmable Logic Controller (PLC) systems, satellite communications, or by physical monitoring. The first method involves complex wired processes, the second is cost intensive, while the third involves time and labor cost. Remote monitoring solutions for gas utilities deal with remotely controlling the essential types: hardware and software such as Programmable Logic Controller (PLC), Human Machine Interface (HMI), and SCADA systems. With the evolution of Internet of things (IoT), the entire landscape has changed. Wireless IoT solutions can remotely monitor the gas utilities with just the addition of sensors.
The solution has the ability to track asset performance, which provides real-time data during gas operations. Factors such as production time, leakage rate, energy usage, and climatic conditions can all be collected and analyzed and presented to the responsible personnel in terms of performance data and ability to control data such as remotely shut off gas operations. This solution benefits in terms of saving money that would otherwise have been spent on sending the workforce on-site to troubleshoot an issue.
Network Management
The gas distribution network monitoring software solution absorbs the data collected from utility SCADA systems and other gas distribution network assets, such as sensor networks and smart meters. Further, rich algorithms analyze this data to detect meter and equipment failures, leaks, bursts, and other anomalies. After analysis, real-time alerts generated by the network monitoring systems inform the network operators of anticipated anomalies in distribution network behavior and geo-locate events. Network monitoring systems thus result in better customer service, enhanced operational efficiency, and reduced maintenance time and cost. The network management helps the utilities to transform their gas related operations over an integrated network. The network management separates the infrastructure communication network management and the utility operational applications communication network.
Geographic Information System (GIS)
GIS helps the gas utilities in maintaining, mapping, and reporting utility infrastructure and pipelines. It provides mobile capabilities to the field employees in moving critical data and keeping information records up to date. It allows gas utilities to assess and prioritize construction and maintenance activities, complete risk and integrity analyses, and ensure regulatory compliance. GIS allows building a detailed connectivity model for distribution network of pipelines, provides tools to establish standards and processes for maintaining this model, and provides a complete base for sharing these data across the organization. GIS technology provides a common geographic platform to the organizations to easily access business data and efficiently manage infrastructure and assets.
Network and Application Security
The gas utilities deal with a large amount of sensitive and organizational content of vital importance to the enterprises. Gas utilities have critical operational and controller applications, which are prone to cyber-attacks and cause massive operational damages and monetary losses. Securing these networks, applications, and programs from these attacks is one of the major priorities for the gas utilities. There is an increased need to secure vital sensitive organizational data from insider theft or external cyber-attacks, as the intruder or hacker always targets entry to the network to gain access to the running applications and then carry out malicious activities. The network security solutions which are of the utmost importance include Identity and Access Management (IAM), firewalls, update and patch management, Security Information and Event Management (SIEM), incident response and disaster recovery, SCADA network security, and Unified Threat Management (UTM) solutions.
Mobile Workforce Management
Mobile workforce management automates the scheduling of tasks and assignments of field resources and equipment to various employees. It helps in generating optimal schedules based on the number of resources, priority of work, duration of work, operational constraints, and work objectives. It also allows the development of virtual scenarios to analyze workloads. The solution assists people in selecting optimal routes, while moving from one place to another. It also enables communication in areas where cellular coverage is unavailable. The solution allows employees to get access to the desired information using a smartphone, from any location.
Outage Management
Outage management is an integration of software, hardware, communication technology, and utilities operation policies that assist the gas utilities to manage power outage situations. The outage management software helps the utilities to reduce the economic impact of service interruption by re-establishing the power in an efficient manner. It uses real-time as well as historical customer data to alert any system-wide issue, beforehand of customer report generation. This saves time and allows the focus on the most important task of restoring power back to customers. It also eliminates capital investments such as IT resources, extra office space, or specialized resources. The software indicates the service outage location, calculates and manages Estimated Time of Restoration (ETR), and alerts messaging regarding outage to utility, customers, and other stakeholders. In recent time, increase in smart devices used for data collections, advancement of technology, and big data analytics have collectively created a robust system, which is capable of handling and processing huge bulks of data to detect and restore the power and predict the nature of outage management.
Others
The others section covers the billing & subscription and CIS. The residential and Commercial and Industrial (C&I) both have become gradually cost aware and more prejudiced of the inadequacies and obstinacies of the system. Today, customer satisfaction has become a pressing issue for the utility industry marked by high churn. CIS and utility billing system help utilities reduce operational overhead costs in terms of human and financial resources and also provide efficient billing and collection capabilities which results in increased collection rates. C&I customers are a significant revenue stream for utilities and utility billing. CIS software can help implement Time-of-Use (TOU) pricing for residential and large C&I customers as well as integrate CRM processes for managing these customers.
Key questions
What are the core areas of smart gas market which are expected to generate the highest opportunity for solution vendors and system integrators?
How is the decreasing cost of sensors and connected hardware boosting the adoption of smart water management solutions and services in emerging economies? How vendors are optimizing the opportunities generated due to increased connectivity requirement across utilities?
How much time does it take to attain the break-even point for utilities? What steps are being taken by the utilities to overcome this challenge?
What key development strategies are being adopted by your major competitors? How these strategies are going to re-shape the smart gas market?
To speak to our analyst for a discussion on the above findings, click Speak to Analyst