An Electronic Medical Record (EMR) is the digital version of paper-based medical record. It is owned by a single healthcare provider organization such as a hospital or physician and contains detailed information of the care provided at every encounter of the provider. EMR contains the data captured or transcribed in the electronic format from several other adjunctive departments such as laboratory, pharmacy, or radiology. In addition to this, modern EMR may contain digitized images of paper documents; along with images of diagnostic procedures such as X-rays and EKGs. In the U.S., EMR have evolved into EHR solutions having an ability to form an integrated network when interconnected. Many EMR vendors across the U.S. have modified their offerings into EHR solutions for the healthcare community.
An EMR is a structured and integrated method of gathering, storing and retrieving, and sharing of a particular patient's healthcare record. Electronic Medical Record (EMR) is an evolving concept, starting from storing medical records on computers - moving to computerized patient records, and recently being developed as an Electronic Health Records (EHR) system. Effective implementation of EMR helps in reducing administrative overheads that may add up to the bottom line profits for healthcare providers. In addition to this, it may result in increased revenue through effective utilization of resources, resulting in greater number of patients being attended to. However, the lack of standards for development of EMR solutions has resulted in a number of EMR solutions in the market that lack integration and interoperability among themselves.
EMR solutions help to achieve paperless administration across the healthcare industry. This form of administration facilitates creation of a centralized patient repository. The records generated through successful implementation of EMRs in healthcare practices can be used for various purposes such as patient care, administration, research, healthcare quality improvement, and processing of reimbursements. EMR is a part of healthcare information technology that is used to make paperless computerized patient data in order to increase efficiency of hospital systems and reduce chances of errors in medical records. A substantial growth rate (more than 16%) of the U.S. healthcare IT spending and the government initiatives towards development of a nationwide healthcare information network are expected to push EMR implementation across the healthcare sector in the U.S. As per a study by Harvard Medical School in 2008, administrative automation may result in saving 5% of the total healthcare spending or $100 billion in the U.S. by reducing adverse events such as adverse drug events, medical errors, and complications of interventions including hospital acquired infections. Similarly, overuse of emergency departments and unnecessary ordering of clinical and radiology tests result in loss of $55 billion, which could be saved by implementation of EMR systems at healthcare practices.
EMR helps to improve clinical efficiency in the following ways:
Providing improved accessibility to patient records

Improved communication between provider and clinical departments such as pharmacy, laboratory, and radiology departments

Improved communication among healthcare facilities

Reduced transcription cost and lesser number of chart pulls

Improved clinical decision making through CDSS functions
The rising demand for the healthcare cost containment and need to improve the quality of healthcare service are driving the growth of the EMR market in the U.S. The U.S. EMR market is expected to grow from $2,177 million in 2009 to $6,054 million in 2015 at an estimated CAGR of 18.1% during the forecast period 2010-2015.
Though large-sized healthcare practices prefer on-site/client-server based EMR systems, web-based EMR solutions or ASP models are gaining higher popularity within the small sized healthcare practices and private physician offices.
The U.S. EMR market space is highly fragmented with more than 1000 players in the market. In 2010, Allscripts emerged as a market leader with 15.7% market share in the physician office EMR market; whereas Meditech led the hospital EMR segment with an overall market share of 24.9%.
Get online access to the report on the World's First Market Intelligence Cloud
Easy to Download Historical Data & Forecast Numbers
Company Analysis Dashboard for high growth potential opportunities
Research Analyst Access for customization & queries
Competitor Analysis with Interactive dashboard
Latest News, Updates & Trend analysis
Request Sample
Click on image to enlarge
Scope of the Report
The report evaluates the U.S. EMR market with respect to its sub-segments on the basis of end users, components, and applications.
Each section provides market data, market drivers, trends and opportunities, top-selling products, key players, and competitive outlook. This report also provides market tables for covering the sub-segments and micro-markets. In addition, the report also provides more than 20 company profiles covering all the sub-segments.
Customer Interested in this report also can view
The rising demand for healthcare cost containment and need to improve quality of healthcare service are driving the growth of the U.S. EMR market. In addition to this, the federal incentives of $20 billion for healthcare providers to achieve "meaningful use" of EMR solutions by 2015 are expected to drive the EMR market during the forecasted period. The U.S. EMR market is expected to grow from $2,177 million in 2009 to $6,054 million in 2015, at a CAGR of 18.1% from 2010 to 2015.
FRAMEWORK OF integrated EMR SYSTEM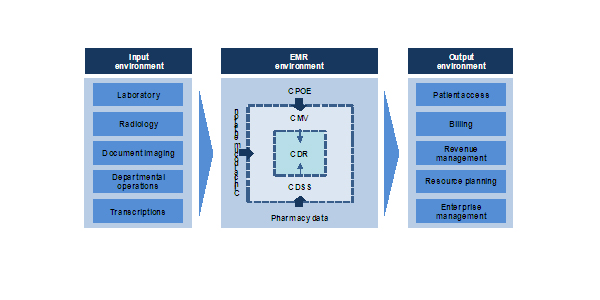 At present, the market players are focusing on development of interoperable EMR solutions. Many companies have opted the route of agreements and partnerships to pull technical expertise and achieve their objective. Lowering the cost of EMR implementation is another burning issue within the industry that has driven growth of web-based EMR solutions within the industry. Though the client-server based EMRs formed approximately 76% of the EMR software market in 2009, web-based EMRs are gaining greater popularity within the smaller healthcare practices and expected to gain higher market share by 2015.
Industry players with the most significant developments include Allscripts, Cerner, McKesson, EMIS, and NextGen. They are undergoing consolidation to achieve marketing and distribution synergy and develop an interoperable EMR solution.