Wireless backhaul is a part of the network that carries voice and data traffic from the mobile base to the operators' core network. The global backhaul equipment market is growing tremendously mainly due to the increasing number of 3G subscribers all over the world. The increasing high-end applications such as mobile video conferencing, music downloading, and mobile internet games form the main market drivers for the wireless and mobile backhaul equipment market.
The market for wireless and mobile backhaul technology is getting oriented towards providing high data bandwidth and more cost-effective solutions. Besides, the overall growth is also being boosted by the growing popularity of WiMAX-based wireless broadband services with speeds higher than cable internet broadband. WiMAX and other evolving wireless and mobile technologies such as evolution data optimized (EVDO), high speed packet access (HSPA), and long term evolution (LTE) are bandwidth-intensive services that need backhaul technologies to support huge data transmission requirements.
The market, on the whole, is segmented into following sub categories: microwave, TDM & ATM, pseudowire, All-IP RAN, free space optics, satellite. Backhaul technologies play a vital role in enabling wireless and mobile services providers to offer subscribers high quality service while simultaneously increasing average revenue per user (ARPU). Backhaul technology is influenced by various factors such as bandwidth requirements, geographical location of cell site, and local regulations. Remote cell sites that are difficult to connect through physical links use a microwave backhaul to connect to mobile core network. Backhaul architecture consists of either one or a combination of more than one transport mechanisms.
An ideal backhaul technology should: have high capacity and flexibility to support the existing network infrastructure, be able to deliver extensive service provisioning, reduce CAPEX and ongoing OPEX associated with backhauling, and provide a future-proof architecture to address evolving 4G wireless needs. Wireless backhaul technology enables a variety of applications, including cellular backhaul, building-to-building connectivity, and video surveillance backhaul. Cellular backhaul reduces network operation costs by wirelessly connecting cellular towers and transferring data from cell sites to the core network. Building-to-building backhaul connects buildings on campuses and across long distances without trenching fiber. Video surveillance backhaul offers the high throughput required for video applications such as close circuit camera. Broadband connectivity backhaul expands broadband links to remote areas.
Market players are focusing on providing high capacity, scalability, and reliable backhaul solutions to gain a competitive edge in the market. In the next few years, backhaul is expected to play a vital role in gaining new subscribers and retaining existing ones. First mover advantage in providing next generation network services
such as 4G will help operators gain a competitive edge.
The global wireless and mobile backhaul equipment market is segmented into four geographies: The U.S., Europe, Asia, and ROW. The U.S. formed the largest wireless and mobile equipment market in 2007. However, Asia is expected to be the largest market for backhaul equipments by 2014, mainly as Asia is expected to have the highest number of new cell sites deployment in next few years.
Get online access to the report on the World's First Market Intelligence Cloud
Easy to Download Historical Data & Forecast Numbers
Company Analysis Dashboard for high growth potential opportunities
Research Analyst Access for customization & queries
Competitor Analysis with Interactive dashboard
Latest News, Updates & Trend analysis
Request Sample
Click on image to enlarge
Scope of the Report
This research report categorizes the global wireless and mobile backhaul equipment market on the basis of different sub-types and countries; forecasting revenues, and analyzing trends in each of the sub segments.
On the basis of sub-types:
Microwave
TDM & ATM
Pseudowire
All-IP RAN
Free space optics
Satellite
On the basis of applications:
Cellular backhaul
Building-to-building connectivity
Video surveillance backhaul
On the basis of network topologies:
Point-to-point network configuration
Point-to-multipoint configuration
Wave properties
On the basis of geography:
Each section will provide market data, market drivers, trends and opportunities, top-selling products, key players, and competitive outlook. This report will also provide market tables for covering the sub-segments and micro-markets. In addition, the report also provides more than 45 company profiles covering all the sub-segments.
Customer Interested in this report also can view
Mobile and Wireless Backhaul Market by Equipment (Microwave, Millimeter Wave, Sub 6 GHZ, Test and Measurement), by Services (Network, System Integration, Professional) - Worldwide Market Forecasts and Analysis to 2015 - 2020
Global Wireless and Mobile Backhaul Equipment Market (2009-2014)
The growing trend of globalization is playing a critical role in the market growth of telecommunications; and hence acts as a market driver for the wireless backhaul market. The economic growth of developing nations and the spread of internet and mobile communication technologies have opened up new markets for wireless backhauling. The wireless backhaul market is, thus, set for huge growth and wireless backhaul is expected to become a mainstream data transfer technology within the next five years. The two major drivers of the backhaul equipment market include the increasing number of high-end mobile phone applications (such as mobile video conferencing, and mobile internet) and the increasing number of 3G subscribers.
The global wireless and mobile backhaul equipment market is estimated to reach $33.9 billion in 2014, at a CAGR of 17.5% from 2009 to 2014. The wireless and mobile backhaul equipment market is analyzed for technologies, applications, and topologies. The U.S. was the leading market for wireless and mobile equipment market in 2007. However, by 2014, Asia is expected to be the largest market for backhaul equipments, as indicated in the figure below.
GLOBAL BACKHAUL MARKET, BY GEOGRAPHY (2009)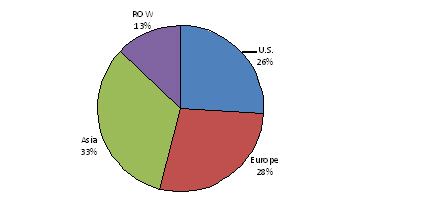 Source: MarketsandMarkets