EUROPE CUSTOMER SUMMIT - SPEAKER BIO
ConnecTED Session 1
---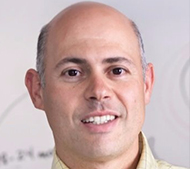 Peter Marcotullio
Vice President, Commercial Development at SRI International
With more than 20 years of business development experience, Peter Marcotullio directs commercial sector business development for SRI International. Focusing on strategic, long-term partnerships with clients, he directs market research and analysis, intellectual property management, commercialization and business strategy development, new venture creation, and marketing.
His prior management experience includes various venture, business development, and merger-and-acquisition positions with Thermo Electron's Ventures Group, Primex Technologies and Olin Corporation. Marcotullio holds five patents, and he led the creation of several SRI venture companies.
Before joining SRI, Marcotullio was a venture manager with Thermo Technology Ventures based in Waltham, Massachusetts, where he participated in the founding and financing of more than a dozen new companies. At Primex Technologies (acquired by General Dynamics) Marcotullio led research, development and planning for the $500 million defense and aerospace firm that was spun-out from Olin Corporation in 1996. His direct responsibilities included oversight of a 30-person R&D organization with a $20 million annual budget, including $15 million of U.S. government-funded R&D contracts.
Marcotullio holds a B.S. degree in mechanical engineering from Lehigh University. He has taken graduate and executive management courses at Northwestern University's Kellogg School of Management and Stanford University School of Business. Marcotullio is also a graduate of the Defense Acquisition University's Defense Systems Management College.
Topic - Innovation from Lab to Market
SRI's mission, since its founding by Stanford University in 1946, has been to both create technology breakthroughs and to actively transition those breakthroughs to have impact for economic and social benefit. In order to meet that mission over its 70 years history, SRI has had to create and participate in many waves of innovation. The presentation will discuss recent SRI advanced research and its technology transition to new products, services and ventures.
---
ConnecTED Session 2
---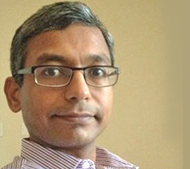 SRIDHAR SUDARSAN
CTO at SparkCognition
Sridhar Sudarsan is Chief Technology Officer at SparkCognition. As CTO, Sridhar is responsible for driving SparkCognition's product and technology strategy and leveraging next-generation artificial intelligence systems to secure and optimize assets across industries. With over two decades of technology leadership experience, Sridhar has been at the helm of several complex products and projects, collaborating with global customers on cutting-edge technologies. Previously, Sridhar was the CTO for IBM Watson Platform and Partnerships, where he led the technology strategy and architecture of the IBM Watson platform, ecosystem and strategic partnerships. Sridhar is widely recognized as an expert on the business potential and application of AI, IoT, Machine Learning, Deep Learning, Big Data and Natural Language Processing. He provides thought leadership on AI solutions and patterns for clients, partners, academia, and R&D teams. He holds over 14 patents in the areas of AI and distributed computing, has published white papers and articles, and is a featured speaker at conferences and universities. Sridhar currently serves on the Advisory Board for Markets & Markets.
Topic - Data, Insights and the AI Horizon - Building Intelligent, Data-Driven ecosystems
The notion of Enterprise connectedness and co-opetition has been evolving rapidly in recent times. While the boundaries between various "segments" are blurring, it is catalyzing new ways of assessing key markets and players in the value chain. For any business, there's exponential promise in the future if you're wise enough to lay the foundation now by finding innovative ways to address real challenges in the known and unknown unknowns. From predicting asset health by conceptualizing data and automating human capabilities to harnessing real-time infrastructure data for risk mitigation, the need for curated data and the importance of continuously deriving intelligent insights is growing every day. Data is the foundation for any effective AI and ML based technology that can help transform your business.
---
ConnecTED Session 3
---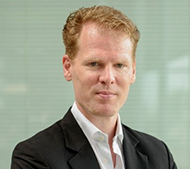 Christian Prickaerts
Director MDR/ MSS at Fox-IT – International
Mr. Christian Prickaerts has more than 20 years of experience in the IT industry. The last 15 years as an IT security professional his focus has been towards helping organizations deal with the effects of cybercrime. Mr. Prickaerts has held various positions within Fox-IT, focused on digital forensics and incident response. He is a highly experienced and well regarded trainer, has been involved with the SANS Institute for 5 years teaching digital forensics and frequently provides expert witness testimony in the courts on IT security related topics. During his career he has worked side-by-side with some of the most experienced security professionals in the IT security field. Mr. Prickaerts is the director of Fox-IT's Managed Detection services, where he is responsible for worldwide security monitoring activities. In his current role part of his responsibilities involve, working together with security teams of large corporate and government organizations, building threat intelligence position and enhancing overall detection capability.
Topic - Managed Detection & Response, the key to combatting advanced cyber threats
While many malicious actors groups in cyber space are evolving rapidly, organizations are struggling to keep pace. It is not uncommon to detect a breach that has been on going for months on end. The more traditional detection and response approach is lacking in effectiveness, from very basic cyber threats to the more advanced attacker activities. A response to this development can be seen in Managed Detection & Response (MDR). What differentiates MDR from more traditional detection capabilities? How Threat Intelligences plays a key role and which type of analists are best qualified to lead a proper response.
---
ConnecTED Session 4
---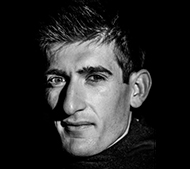 Yannick Willemin
Head Futurist @ SGL Group
Yannick is a Swiss Army knife at the cross section of languages, business, tech and interpersonal skills. His journey has taken him from his degree in material engineering to R&D in the automotive field, then tech sales in the steel industry, purchasing in the graphite industry and now futurist at SGL Group, where he has a unique chance to shape an innovation-friendly ecosystem following the motto "Forecasting is nice, shaping is best".
In this position, he is at the forefront of the SGL innovation team, building relationships with both future customers and potential partners (investors, corporates, startups, public entities). He believes that the technologies of today and tomorrow have the power to radically improve the way we work and live. In times of converging innovations in material and digital fields, those new solutions have to be carefully integrated into people's everyday lives. Bridging that gap is a challenge, but he is up for it!
Last but not least he is a loving husband and dad, a fierce cyclist and runner, a patient ears for others, an arts collector, a hotel owner, a real-estate and cryptocurrency investor…
Topic - Let's Make it Anisotropic and Active - A Future Based on Converging Technologies to Go Beyond Inert Materials
An Innovation Strategy department obviously works on future markets and technologies. While SGL Carbon is well known for its focus on carbon materials, the organization has gone through major changes over the last years. SGL Carbon now thrives on developing its ability to deliver solutions for existing and future markets based on following aspects: focus on customer requirements, tailor- made solutions, and differentiation through integration.
What is innovation? Where does innovation start? We are convinced that innovation needs to be everywhere in an organization. Everybody is an actor of innovation by being open-minded and creating momentum. The complexity of the market applications requires a strong and tight network of innovations to convince through performance, thus supporting the idea of converging innovations.To develop true value-adding solutions, and cope with both the complexity and the pace of innovations, organizations nowadays need to collaborate.
This presentation brings you on a short journey, showing some of the major challenges as well as exciting prospects for hardware-producing organizations like SGL Carbon.
---
ConnecTED Session 5
---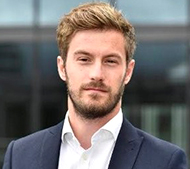 Matthew Thaxter
Analyst at Deloitte
Matthew is a Research Analyst at Deloitte's UK Centre for Health Solutions, the independent research arm of Deloitte LLP's healthcare and life sciences practice. He supports the Healthcare and Life Sciences practice by producing independent and objective business research and analysis into key industry challenges and associated solutions. Matthew's previous experience is in market research and he has authored a number of reports on the current and future landscape of healthcare and pharmaceutical markets. Matthew holds an MSc in Immunology from King's College London.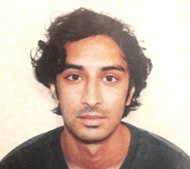 Amen Sanghera
Analyst at Deloitte
Amen is a Research Analyst at Deloitte's UK Centre for Health Solutions, the independent research arm of Deloitte LLP's healthcare and life sciences practice. His remit is to use primary and secondary research and rigorous analysis to develop insights that inform stakeholders across healthcare and life sciences about emerging trends, challenges, opportunities and examples of good practice. Amen has a background in healthcare market research where he has authored several reports on the current and future state of medical devices and pharmaceuticals markets, such as coronary stents and contrast media. Amen also holds an MSc in Nanotechnology and Regenerative Medicine from University College London.
Topic - Medtech and the Internet of Medical Things (IoMT)
New research from Deloitte's UK Centre for Health Solutions examines how the IoMT is transforming medtech's role in health care. It outlines how medtech companies can get digital transformation right – whether through adapting their existing business models, inventing new ones or both. The industry's future will depend on its ability to demonstrate to providers and payers how connected medical devices contribute to the new value-based paradigm.
---