[129 Pages Report] The 3D animation market is projected to grow from USD 12.01 Billion in 2017 to USD 21.05 Billion by 2022, at a Compound Annual Growth Rate (CAGR) of 11.9%. The base year considered for the study is 2016, and the market size forecast is from 2017 to 2022.
Request New Version to get the global 3D animation market forecasts to 2025
Objectives of the 3D Animation Market Study:
To define, describe, and forecast the market for 3D animation technologies — 3D modeling, motion graphics, 3D rendering, and Visual Effects (VFX) on the basis of various parameters
To forecast the market size for various technologies with respect to five main regions — North America, Europe, Asia-Pacific (APAC), Middle East & Africa (MEA), and Latin America
To provide detailed information regarding the major factors influencing the growth of the 3D animation market (drivers, restraints, opportunities, and industry-specific challenges)
To analyze each sub segment with respect to individual growth trends, future prospects, and contribution to the total market
To analyze the opportunities in the market for stakeholders by identifying high-growth segments of the market
To profile key players in the market and comprehensively analyze their core competencies in the market
To track and analyze competitive developments, such as new product launches, mergers & acquisitions, partnerships, agreements, and collaborations in the market.
The research methodology used to estimate and forecast the 3D animation market begins with the collection and analysis of data on key vendor revenues through secondary research such as annual reports and press releases, investor presentations of companies, conferences and associations such as Animation Association, International Animated Film Association, Society for Animation, white papers, technology journals, certified publications, and articles from recognized authors, directories, and databases. The vendor offerings have also been taken into consideration to determine the market segmentation. The bottom-up procedure was employed to arrive at the total market size of the 3D animation market from the revenue of the key 3D animation providers in the market. After arriving at the overall market size, the total market was split into several segments and sub segments, which were then verified through primary research by conducting extensive interviews with key people, such as CEOs, VPs, directors, and executives. The data triangulation and market breakdown procedures were employed to complete the overall market engineering process and to arrive at the exact statistics for all segments and sub segments. The breakdown of profiles of primary is depicted in the below figure: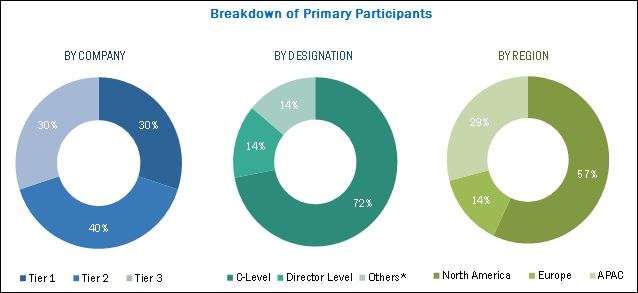 To know about the assumptions considered for the study, download the pdf brochure
The 3D animation market ecosystem comprises vendors providing 3D animation technology and services to their commercial clients. Companies such as Adobe Systems Inc. (California, U.S.), Autodesk Inc. (California, U.S.), AutoDesSys (Ohio, U.S.), Corel Corporation (Ottawa, Canada), Maxon Computer (Friedrichsdorf, Germany), NewTek Inc. (Texas, U.S.), NVIDIA Corporation (California, U.S.), Pixologic Inc. (California, U.S.), SideFx Software (Toronto, Canada), The Foundry VisionMongers Ltd. (London, U.K.), Trimble Navigation Ltd. (California, U.S.), and Toon Boom Animation Inc. (Montreal, Canada) have adopted partnerships and collaborations as their key strategy to expand their market reach. This strategy accounted for the largest share of the total strategies adopted by the market players. These 3D Animation Software Vendors are rated and listed by us on the basis of product quality, reliability, and their business strategy. Please visit 360Quadrants to see the vendor listing of 3D Animation Software.
Target Audience for 3D Animation Market
3D animation vendors
3D animation service providers
Third-party system integrators
Consultancy / advisory firms
3D animation professionals
3D animation consultants
Production houses / Animation studios
Investors and Venture capitalists
"Study answers several questions for the stakeholders, primarily which market segments to focus in next two to five years for prioritizing the efforts and investments."
Scope of the 3D Animation Market Research Report
| | |
| --- | --- |
| Report Metric | Details |
| Market size available for years | 2017–2022 |
| Base year considered | 2016 |
| Forecast period | 2017–2022 |
| Forecast unit | Value (USD Billion) |
| Segments covered | Technology, Vertical, Services, Deployment, and Region |
| Geographies covered | North America, Europe, Asia Pacific (APAC), Latin America, and Middle East and Africa (MEA) |
| Companies covered | Adobe Systems (California, U.S.), Autodesk (California, U.S.), AutoDesSys (Ohio, U.S.), Corel Corporation (Ottawa, Canada), Maxon Computer (Friedrichsdorf, Germany), NewTek, Inc. (Texas, U.S.), NVIDIA Corporation (California, U.S.), Pixologic, Inc. (California, U.S.), SideFX (Toronto, Canada), and Toon Boom Animation, Inc. (Montreal, Canada) |
The research report segments the market into the following submarkets:
By Technology
3D Modeling
Motion Graphics
3D Rendering
Visual Effects (VFX)
Others
By Service:
Consulting
Support and Maintenance
Integration and Deployment
Education and Training
By Deployment:
3D Animation Market By Verticals:
Media and Entertainment
Construction and Architecture
Healthcare and Lifesciences
Manufacturing
Education and Academia
Others
By Region:
North America
Europe
Asia-Pacific (APAC)
Middle East and Africa (MEA)
Latin America
Available Customizations
With the given market data, MarketsandMarkets offers customizations as per the company's specific needs. The following customization options are available for the report:
Geographic Analysis
Further breakdown of the Europe 3D animation market
Further breakdown of the APAC market
Company Information
Detailed analysis and profiling of additional market players
Growing adoption of visual effects technology in movies and increasing demand for 3D mobile applications and games to drive the global 3D animation market to USD 21.05 billion by 2022
The 3D animation technology is growing at a significant pace and is instrumental in delivering detailed visual effect and highly graphical data for various industry verticals. The effectiveness and strength of 3D animation lies in the fact that it is a widely useful technology which can be used to produce realistic, fantastic, pragmatic, and innovative imagery.
Industry verticals including healthcare, media and entertainment, architecture, gaming, construction, education and academia, and others are using 3D technology extensively. In healthcare, 3D animation provides viewers a greater sense of perspective, and enables users to gain clear understanding of the key concepts in the forensic case. Moreover, anatomy of human and other animals can easily be portrayed and studied with the help of animated media such as images and video tutorials. In addition to healthcare, the application of 3D animation is used in the manufacturing industry. The 3D animation technology helps users to simulate a concept or idea in the form of illustrations, thus making it an excellent tool for communication. If explained by verbal testimony rather than using 3D animation, the concept/idea would remain an abstraction. Thus, 3D animation in manufacturing helps users to create a concept/design of any product/machine that is still in the developmental stage, and examine, analyze, test, or approve the same. This helps manufacturing companies to avoid costly mistakes and gain control over the product or machine from the point of origin. Architects and civil engineers also use the 3D modeling technology in order to conceptualize their building plans/models.
Emergence of virtual reality and artificial technologies are major opportunities in the 3D animation market
Virtual Reality (VR) technology generates realistic images, sounds, and other perceptions that replicate a real environment or create an imaginary scenery. 3D animation using VR can simulate the user's physical presence in the virtual environment. It majorly simulates the realistic and immersive replication of a 3D – 360-degree virtual environment which offers interactive and real-time simulation or experience controlled by body movements of an individual. VR in coordination with 3D animation is majorly used in video games, which have an ability to transmit vibrations and other sensations to the user through the game controller. Various 3D animated games are available in the market, which uses the VR technology featuring real -time simulation and superior experience to the users.
Artificial Intelligence (AI) and natural language processing with cognitive modeling approach is used by 3D animators to augment and virtualize the animation process for controlling the simulation and user experience in the 3D games. AI offers smart virtual cognitive simulation and automation, which makes the animation process smart, automated, and efficient, thereby boosting the performance of games and user experience. Major technology vendors offer AI-based interactive systems which assist animators or game developers to graphically simulate the task-oriented activities of several human agents, thereby offering a virtual simulated environment to the users. As a result, these emerging smart technologies are adopted by animators and game developers to technologically advance and to offer advance 3D animated games and movies to the commercial users.
Market Dynamics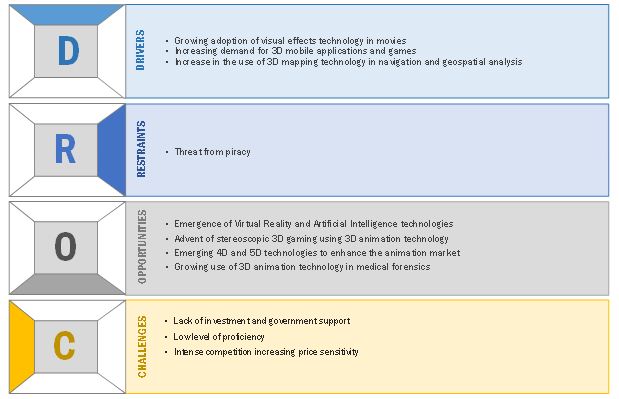 MarketsandMarkets forecasts the 3D animation market size to grow from USD 12.01 Billion in 2017 to USD 21.05 Billion by 2022, at a Compound Annual Growth Rate (CAGR) of 11.9%. Growing adoption of visual effects technology in movies, increasing demand for 3D mobile applications and games, and increase in the use of 3D mapping technology in navigation and geospatial analysis are some of the driving factors for the growth of 3D animation technology
3D animation market is segmented based on technology, service, vertical, region, and deployment model. 3D animation technology segment is categorized into modelling, motion graphics, rendering, visual effects (VFX), and others. 3D modelling holds the largest market share in the technology segment, as it is the most important stage for developing a 3D animation project. Services segment is categorized into consulting, support & maintenance, integration & development, education & training. Education and training segment is growing at the rapid pace as compared to other, owing to increase in the use and awareness of 3D animation in various verticals. 3D animation software can be deployed in two different ways, namely on-premises and on-demand. The geographic market is divided into five different regions, namely North America, Europe, Asia-Pacific, Latin America and MEA. The vertical market segment is categorized into media & entertainment, construction & architecture, healthcare & life sciences, manufacturing, education & academia and others. The 3D animation is widely used in films, gaming and other infotainment documentaries owing to which the media and entertainment vertical is dominating the market. In addition, the 3D modeling technology is being used to create 3D representations of objects with the help of weight control points and digital sculpting.
North America holds the largest market share and APAC is growing at the highest CAGR in the 3D animation market, however MEA and Latin America are still in the initial phase of growth stage. Lack of government initiatives and poor finance are some of the major factors, which are restraining the growth of 3D animation in these regions.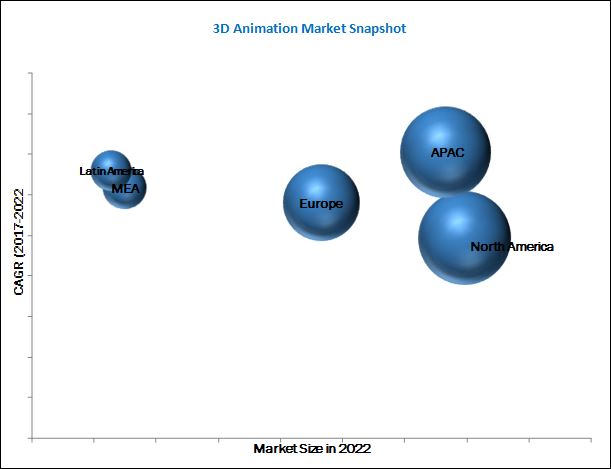 North America is expected to hold the largest market share and would dominate the 3D animation market from 2017 to 2022. This region has the major dominance with sustainable and well-established economies, empowering them to strongly invest in R&D activities, thereby contributing to the development of new technologies in modeling and 3D rendering. Further, the government support and heavy investments by various well-established production houses are driving the growth of the market in North America region.
APAC has witnessed the highest CAGR in the 3D animation market, owing to dynamic adoption of new 3D animation technologies and holding of the production facilities for most of the western industry leaders. Countries such as Japan, China, Singapore, Australia, and India are gaining traction and are taking various initiatives in-terms of research & development and supporting animation studios.
The 3D animation market is rapidly gaining traction, which is evident from recent developments, new product launches, and acquisitions by the major market players, such as Autodesk, Maxon, NewTek Inc., and NVIDIA Corporation who offer 3D animation software and services to the commercial clients. The market study also measures and evaluates the offerings of key vendors in the market, along with vendors who are offering highly innovative offerings, such as Pixologic, SideFX, 3D Coat, and Hash Inc. Despite the rapid adoption of 3D animation in various verticals, the continuous exposure to corruption & piracy, low level of proficiency, intense competition, and price sensitivity are some of the challenging factors for the growth of the 3D animation market.
The growth of 3D animation market is depending on the factors, such as growing demand of 3D mobile games and applications, increase in the use of 3D mapping technology in navigation and geospatial analysis are expected to drive the market growth.
Apart from established players in the industry, the new entrants in the market are introducing new 3D animation solutions to lure customers across multiple applications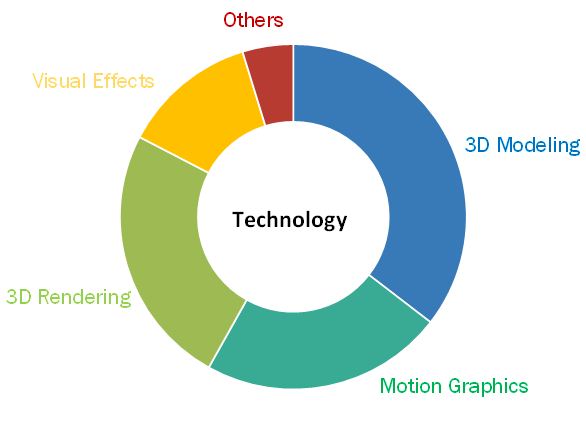 3D Modeling
3D modeling is a process of creating a 3D representation of an object by simply manipulating polygons, vertices, and edges in simulated 3D space. The modeling is achieved by using the specialized 3D production software for creating and deforming the polygon surfaces by simply scanning the objects into a set of data points, used to represent the objects. The advantages of 3D modeling process are increased speed, precision & control, scenario visualization, and reduced lead times. The 3D modeling process consists of three popular methods to represent the model: polygonal modeling, curve modeling, and digital sculpting. Polygon modeling is an approach to approximate the surfaces using polygons; curve modeling defines the surface by curves, which are influenced by weighted control points; and digital sculpting helps to manipulate digital objects to make it a real-life substance. 3D modeling is used in a wide range of fields, such as entertainment, engineering, film, design, and commercial advertising. 3D modeling software has the largest market size and would continue to evolve and grow in the years to come. The major market dynamics that are driving this market are increase in 3D content, improvement in 3D acquisition devices, and increasing availability of 3D display devices.
Motion Graphics
The motion graphics segment refers to generating three-dimensional moving images in a digital environment. The manipulation of 3D models is carried out with the help of a 3D software for exporting pictures and giving them the illusion of movement. Motion graphics consists of varying properties of a three-dimensional scene defined in numerical quantities. A 3D model can change properties, such as position, shape, rotation, and style of the surface. The process of motion graphics is categorized into three main sections, namely, modeling, layout & animation, and rendering. Modeling describes the procedure of generating 3D objects with respect to a particular scene. Layout and animation describes the process followed for positioning and animating the object. Lastly, rendering helps to figure out the end result of the completed computer graphics. For motion graphics, models are created on computer screens and 3D figures are equipped with an imagery skeleton, whereas in 2D animations, objects and distinct transparent layers are used with or without a virtual skeleton.
3D Rendering
3D rendering consists of producing images based on three-dimensional data kept in a computer program. This process is analogous to photography or cinematography, where images are produced using lighting and staging. The scenes shot are fictional, and everything appearing in a typical 3D rendering job needs to be created on the computer first before being rendered. This allows for enormous creative control over appearance and depiction of the scenes. The three-dimensional data that is portrayed could be a scene that has geometric replicas of various three-dimensional things, buildings, lands, and characters. Before rendering can be performed, the scenes are created using modeling and animating. To perform rendering on an object, we need a photograph of the object from a specific angle. The rendering process represents the three-dimensional scene as a picture, captured from a particular location and predefined viewpoint, then forming an image using 3D model and adding live effects, such as alignment & orientation of the camera, suitable lighting, and appropriate backgrounds to it. The primary use of 3D rendered images is to develop animations to add a supplementary visual appeal to the objects in the animation.
Visual Effects
The VFX segment includes the creation of scenes, characters, and objects that is difficult or impossible to be enacted in real life using high-end VFX. It involves integration of actual video footages and artificial imageries to create scenes that look realistic. VFX add more life and appeal to the videos, thereby making the content and message more interesting and rich. VFX are mostly applied post-production but for this it must be shot accordingly during production. VFX are mainly divided into three types, namely, simulation effects, matte painting, and composition. VFX are simulation of physical systems, such as static body dynamics, soft body dynamics, and fluid dynamics to use it in games, films, and animations. Matte painting is the depiction of a suitable environment, landscape, or location, which is not present in the actual filming. It helps get more life to the action footage of the film. Lastly, compositing helps bring together all the visual elements from various sources, such as scenes, 2D images, and graphics into a single film, thereby making it look like a real-life film, image, or animation.
Others
The other technologies considered in the report include texturing, painting, lighting, and shading. 3D animation helps give a realistic feel to the characters and scenes depicted in it with the help of texturing, which includes functions, such as creation of a texture from the base and editing the existing texture to use it again. In this phase, the background is made to depict the real world. Using texturing it is possible to create walls, flooring, scenes, and background images. The intensity of shading can be decided during the texturing phase where textures are first created like maps and then deployed over a particular scene or model. Characters in 3D animation are made with the help of rigging, where the rig is a digital skeleton bound to the 3D net. Just like a real skeleton, a rig comprises of joints and bones, each of which acts as a holder that animators can use to move the character into a particular position. A rig may range from a simple to a sophisticated and complex character. A fully articulated rig for a film might take days or weeks before it is ready for a high-level animation. By using lighting, the characters and scenes in the animation are given a realistic effect. The image or scene comprises different components of it and collaboration of all such components that goes into the making of an animation video is known as compositing.
Key questions
Which are the substitute products and how big is the threat from them?
Which are the top use cases where 3D animation can be implemented for revenue generation through new advancements such as artificial intelligence, IoT, and cloud computing?
What should be your go-to-market strategy to expand the reach into developing countries across APAC, MEA, and Latin America?
To speak to our analyst for a discussion on the above findings, click Speak to Analyst