AI Camera Market
AI Camera Market by Offering (Image Sensor, Al Processor, Memory), Technology (Deep Learning, Computer Vision, Language Processing), Product(Smartphone, DSLR, CCTV), Biometric (Image, Facial, Speech, OCR), Connectivity & Region - Global Forecast to 2028
Report Code: SE 8794
Sep, 2023, by marketsandmarkets.com
The global AI camera market in terms of revenue was estimated to be worth USD 7.6 billion in 2023 and is poised to reach USD 22.1 billion by 2028, growing at a CAGR of 23.9% from 2023 to 2028. The new research study consists of an industry trend analysis of the market.
AI cameras generate vast amounts of data. Companies are leveraging this data for actionable insights, which can be used to optimize operations, improve customer experiences, and drive business growth. These drivers collectively contribute to the development of the AI camera market, making it a dynamic and promising industry with a wide range of applications across multiple sectors.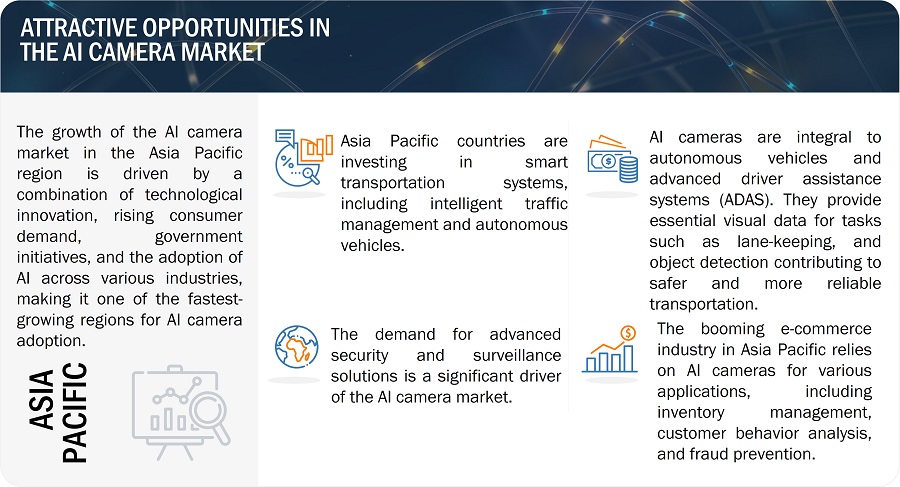 AI Camera Market Forecast to 2028
To know about the assumptions considered for the study, Request for Free Sample Report
AI camera market dynamics
Driver: Rising demand for surveillance solutions
The increasing need for advanced surveillance and security systems in various sectors, including commercial, industrial, and residential, is driving the adoption of AI cameras. The industrial sector is increasingly adopting AI cameras to improve efficiency and safety. Industries like manufacturing and logistics leverage AI cameras for quality control, safety monitoring, and process optimization. These cameras can detect product defects on assembly lines or monitor worker safety compliance.
Restraint: Concern regarding data security
Storing and processing the vast amounts of data generated by AI cameras poses significant data security restraints for businesses and individuals. AI cameras have advanced sensors and capabilities for facial recognition, object detection, and behavior analysis tasks. These cameras continuously capture and process video and image data, often in real-time, leading to substantial data volumes. Managing and securing such massive datasets can be a daunting task. Storing this voluminous data requires robust infrastructure, including secure servers, data centers, and cloud storage solutions. The choice of storage technology and its security measures is crucial to prevent data breaches.
Opportunity: Integration of AI cameras in healthcare
The healthcare industry is witnessing a transformative shift towards digitalization and automation. AI cameras, equipped with advanced computer vision capabilities, are poised to play a pivotal role in this transformation by enhancing patient care, optimizing processes, and improving overall healthcare outcomes. AI cameras can provide high-definition video and audio for telemedicine consultations, improving the quality of remote healthcare interactions. AI cameras can capture high-resolution images of skin conditions and wounds, aiding dermatologists and wound care specialists in diagnosis and treatment planning.
Challenge: Lack of standardization
Lack of standardization can lead to interoperability issues between AI cameras and other smart devices or software applications. For instance, an AI camera system may not communicate effectively with other IoT devices or surveillance software, limiting its ability to work collaboratively in a networked environment. Integrating AI camera systems into existing infrastructure or security systems can take time and effort without standardized interfaces and communication protocols.
Ai Camera Market Ecosystem
The AI camera market is dominated by established and financially sound manufacturers with extensive experience in the industry. These companies have diversified product portfolios, cutting-edge technologies, and strong global sales and marketing networks. Leading players in the market include Sony Group Corporation from Japan, Panasonic Corporation from Japan, Hangzhou Hikvision Digital Technology Co., Ltd. from China, Samsung from South Korea, and Axis Communications AB from Sweden.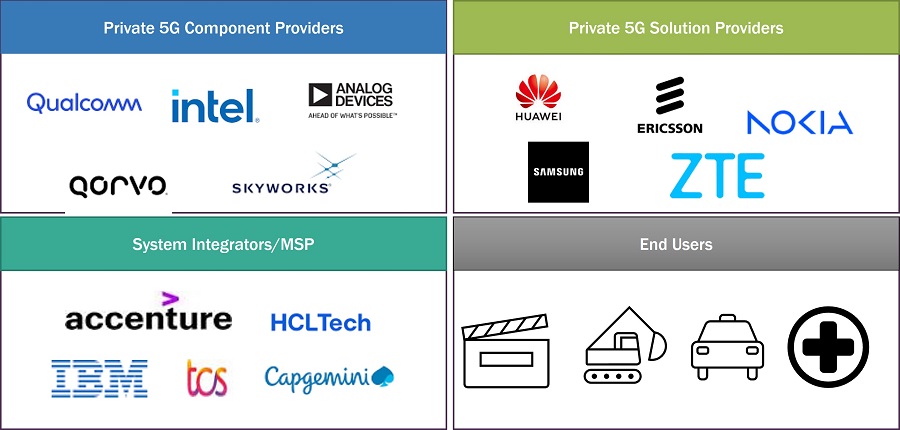 Based on offering, the image sensor for AI cameras to hold the second largest market share during the forecast period
The increasing adoption of AI in various industries, including security, automotive, healthcare, and industrial automation, has led to a surge in the demand for AI cameras. These cameras rely on advanced image sensors to capture high-quality visual data for AI algorithms. AI cameras are capable of performing tasks like object detection, facial recognition, and image analysis. Image sensors that work seamlessly with AI algorithms are essential for enabling these advanced features, making them indispensable in the market.
Based on technology, the computer vision for AI camera market to hold the highest CAGR during the forecast period
The growth of the AI camera market for computer vision technology is driven by its versatility, cost-effectiveness, and the increasing demand for automation and data-driven solutions across various industries. Businesses are increasingly turning to automation to improve efficiency and reduce labor costs. AI cameras are essential for automation applications, such as quality control in manufacturing, autonomous vehicles, and agricultural robotics.
Based on product type, the compact cameras for AI camera market holds the second highest market share during the forecast period.
The growth of the AI compact cameras market is driven by their versatility, affordability, and applicability across a wide range of industries and use cases, including consumer electronics, security, IoT, and healthcare. Consumers are increasingly interested in AI-powered devices that offer advanced features and convenience. AI compact cameras are used for purposes such as home security, smart home automation, and even vlogging, driving demand in the consumer market.
Based on connectivity, the wired for AI camera market holds the largest market share during the forecast period.
Wired connections, such as Ethernet, provide a highly reliable and stable connection. This is critical for AI cameras, especially in applications where uninterrupted data transmission is essential, such as security surveillance and industrial automation. The wired connectivity-based AI camera market is growing due to its reliability, low latency, high bandwidth, security, power supply capabilities, scalability, consistency, cost-effectiveness, compliance with regulations, and suitability for latency-sensitive applications.
Based on biometric method, facial recognition for AI camera market holds the largest market share during the forecast period.
Many smartphones and consumer electronics devices integrate facial recognition for device unlocking, secure app access, and personalized user experiences. Facial recognition is used in healthcare for patient identification and authentication, ensuring the correct patient receives care. It is also applied in telemedicine for remote patient verification. The growth of facial recognition methods for AI cameras is driven by their enhanced security, biometric authentication capabilities, applications in surveillance and law enforcement, integration into consumer electronics, healthcare uses, data security, AI algorithm advancements, and regulatory compliance.
Based on end-user, AI camera market for consumer electronics holds the largest market share during the forecast period.
AI-powered cameras enhance the photography and videography capabilities of consumer electronics, such as smartphones. Features like image stabilization, scene recognition, and advanced image processing improve the quality of photos and videos. AI cameras in consumer electronics can recognize and respond to environmental conditions, adjusting settings like display brightness and camera focus based on ambient light and user preferences. The AI camera market for consumer electronics is growing due to advancements in photography and videography, augmented reality, smart assistants, biometric authentication, and evolving user expectations.
AI camera market in North America to hold the second largest market share during the forecast period
North America strongly emphasizes security and surveillance across various sectors, including residential, commercial, and government. AI cameras with features like facial recognition, object tracking, and automated alerts are in high demand for enhancing security systems. North American cities are investing in IoT and smart city initiatives. AI cameras play a crucial role in traffic management, public safety, and urban planning, contributing to the growth of this market segment.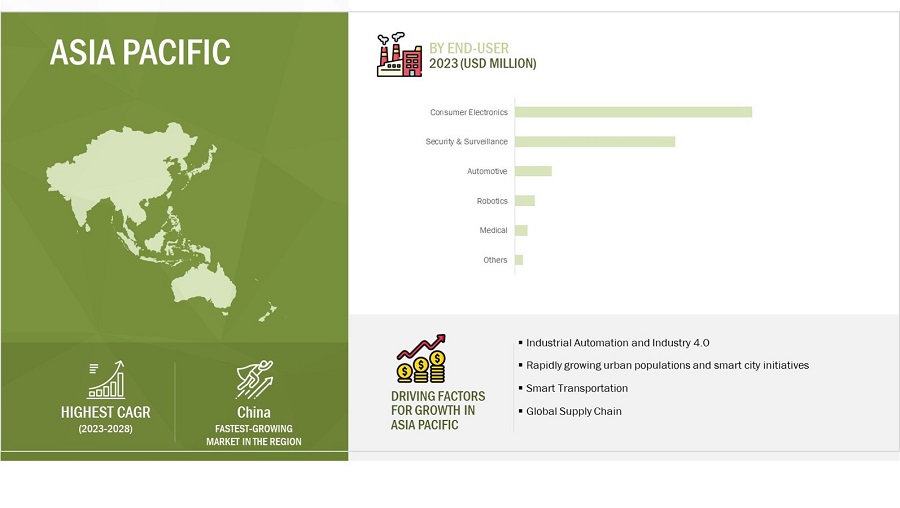 AI Camera Market by Region
To know about the assumptions considered for the study, download the pdf brochure
AI Camera Market Key Players
The AI camera companies is dominated by players such as Sony Group Corporation (Japan), Panasonic Corporation (Japan), Hangzhou Hikvision Digital Technology Co., Ltd. (China), Samsung (South Korea), Axis Communications AB (Sweden), and others.
AI Camera Market

Get online access to the report on the World's First Market Intelligence Cloud

Easy to Download Historical Data & Forecast Numbers
Company Analysis Dashboard for high growth potential opportunities
Research Analyst Access for customization & queries
Competitor Analysis with Interactive dashboard
Latest News, Updates & Trend analysis

Request Sample

Click on image to enlarge

Scope of the Report
Report Metric

Details

Estimated Market Size

USD 7.6 billion

Projected Market Size

USD 22.1 billion

Growth Rate

23.9

Market size available for years

2019-2028

Base year considered

2022

Forecast period

2023-2028

Forecast units

Value (USD Million/Billion)

Segments covered

By Offering, By Technology, By Product Type, By Connectivity, By Biometric Method, and By End-user

Geographies covered

North America, Europe, Asia Pacific, and RoW

Companies covered

The major market players include Sony Group Corporation (Japan), Panasonic Corporation (Japan), Hangzhou Hikvision Digital Technology Co., Ltd. (China), Samsung (South Korea), Axis Communications AB (Sweden), VIVOTEK Inc. (Taiwan), Zhejiang Dahua Technology Co., Ltd. (China), Robert Bosch GmbH (Germany), Honeywell International Inc. (US), Hanwha Vision Co., Ltd. (China), Apple Inc. (US), Alphabet Incorporation (US), Huawei Technologies (China). (Total 28 players are profiled)
AI Camera Market Highlights
The study categorizes the AI camera market based on the following segments:
Segment

Subsegment

By offering

Image Sensor
Processor
Memory & Storage
Software

AI Analytics

Analytics at Edge
Analytics at Server

By technology

Deep learning
Natural Language Processing
Computer Vision
Context-Aware Computing

By product type

Compact Cameras
DSLR Cameras
CCTV Cameras

Dome
PTZ
Box & Bullet
Panoramic, and Fisheye

360 Degree Cameras

By connectivity

Wired
Wireless

Bluetooth
WiFi
Cellular (4G/5G)

By biometric method

Image Recognition
Facial Recognition
Voice/Speech Recognition
Optical Character Recognition

By end-user

Consumer Electronics
Security & Surveillance
Automotive
Robotics
Medical
Others (Transportation, Infrastructure, etc.)

By region

North America
Europe
Asia Pacific
RoW
Recent Developments
In August 2023, Sony announced the new ZV-E1, an interchangeable-lens vlog camera with a high-performance 35mm full-frame image sensor for the ultimate content creation experience. The ZV-E1 features AI-based Real-time Tracking4 that can be activated by specifying the subject and half-pressing the shutter button.
In April 2023, Hikvision released five new cameras leveraging its Colorvu technology designed for effective high-quality color images day or night. This camera line offers outstanding 24/7 color imaging paired with Hikvision's AI-driven intelligent event detection that can trigger visible, audible, and network alarms in response to events of interest.
In April 2023, Vivotek launched the first-ever facial recognition camera, FD9387-FR-v2, that integrates edge computing to help enterprises quickly identify the gender and age of people in the video on the edge and those wearing masks.
In March 2023, Sony announced the Alpha 7R V (model ILCE-7RM5) as the newest R series camera in its acclaimed Alpha mirrorless interchangeable lens camera line. The Alpha 7R V combines Sony's highest-resolution image sensor with a new AI (artificial intelligence) processing unit dedicated to AI-based image recognition.
In February 2023, Panasonic launched its new hybrid full-frame mirrorless camera -- Lumix S5II. The latest hybrid camera expands the company's Lumix S series lineup. It packs a new Phase Hybrid auto-focus and built-in image stabilization system that claims to deliver high-resolution images and videos.
In February 2023, Dahua, a world-leading video-centric AIoT solution and service provider, released the latest upgrade of its IPC WizMind 5 series – the IPC WizMind S series. Utilizing AI technology, this series significantly improves image performance, offers rich, intelligent functions, and supports a flexible environment.
In January 2023, Axis Communications announced a new bullet camera featuring a deep learning processing unit (DLPU) to enable intelligent applications based on deep learning on the edge. Built on the latest Axis system-on-chip, it comes pre-installed with AXIS Object Analytics, offering detection and classification of humans, vehicles, and types of cars—all tailored to specific needs.
Frequently Asked Questions:
What are the major driving factors and opportunities in the AI camera market?
Rising Demand for surveillance solutions, Integration with IoT (Internet of Things), Wide applications in retail analytics, and The increasing demand for enhanced video analytics. Moreover, The increase in the number of smart cities, the Potential to improve industrial automation, and the Integration of AI cameras in healthcare are some of the critical opportunities for the AI camera market.
Which region is expected to hold the highest AI camera market share?
Asia Pacific boasts a robust and diverse economy with a heavy emphasis on industries that can benefit significantly from AI cameras, such as consumer electronics, automotive, medical, and robotics. The region's economic strength provides companies with the financial resources to invest in and deploy AI cameras to improve their operations and competitiveness.
Who are the leading players in the global AI camera market?
Companies such as Sony Group Corporation (Japan), Panasonic Corporation (Japan), Hangzhou Hikvision Digital Technology Co., Ltd. (China), Samsung (South Korea), and Axis Communications AB (Sweden) are the leading players in the market. Moreover, these companies rely on strategies that include new product launches and developments, partnerships and collaborations, and acquisitions. Such advantages give these companies an edge over other companies in the market.
What are some of the technological advancements in the AI camera market?
Computer vision is the fundamental technology behind AI cameras, enabling them to interpret visual data. It involves using algorithms and machine learning models to process images and videos, extract meaningful information, and make decisions based on what is observed. This technology allows AI cameras to recognize objects, detect motion, identify faces, and perform various tasks that require visual understanding.
What is the impact of the global recession on the AI camera market?
The AI camera industry is expected to be adversely impacted by the recession and rising inflation in 2023. The growth primarily depends on producing and selling a broad range of semiconductor devices, including image sensors, processors, and memory & storage, which are primary components of AI camera systems. With the increased inflation, interest rates, and unemployment, demand for AI camera solutions among consumers and enterprises is bound to be less, which, in turn, will affect production and investments across the globe. Due to the recession, end-user segments, such as consumer electronics, automotive, medical, and robotics, which use AI cameras, would have low CAPEX spending for AI camera-based solution development.
To speak to our analyst for a discussion on the above findings, click Speak to Analyst
TABLE OF CONTENTS
1 Introduction
1.1. Study Objectives
1.2. Market Definition and Scope
1.2.1. Inclusions and Exclusions
1.3. Study Scope
1.3.1. Markets Covered
1.3.2. Geographic Segmentation
1.3.3. Years Considered for the study
1.4. Currency
1.5. Limitations
1.6. Stakeholders
1.7. Impact of Recession
2 Research Methodology
2.1. Research Data
2.1.1. Secondary Data
2.1.1.1. Major Secondary Sources
2.1.1.2. Key Data from Secondary Sources
2.1.2. Primary Data
2.1.2.1. Primary Interviews with Experts
2.1.2.2. Key Data from Primary Sources
2.1.2.3. Key Industry Insights
2.1.2.4. Breakdown of Primaries
2.2. Market Size Estimation
2.2.1. Bottom-Up Approach
2.2.1.1. Approach for Capturing Market Share by Bottom-Up Analysis (Demand Side)
2.2.2. Top-Down Approach
2.2.2.1. Approach for Capturing Market Share by Top-Down Analysis (Supply Side)
2.3. Market Breakdown and Data Triangulation
2.4. Research Assumptions
2.5. Risk Assessment
2.6. Assumptions of Recession
2.7. Limitations of Research
3 Executive Summary
4 Premium Insights
5 Market Overview
5.1. Introduction
5.2. Market Dynamics
5.3. Value Chain Analysis
5.4. Ecosystem Analysis
5.5. Technology Analysis
5.6. Patent Analysis
5.7. Case Study Analysis
5.8. Trends Impacting Businesses of Market Players and Raw Material Suppliers
5.9. Trade Analysis
5.10. Porters Five Force Analysis
5.10.1. Threat from New Entrants
5.10.2. Threat of Substitutes
5.10.3. Bargaining Power of Suppliers
5.10.4. Bargaining Power of Buyers
5.10.5. Intensity of Competitive Rivalry
5.11. Tariff and Regulatory Landscape
5.11.1. Regulatory Bodies, Government Agencies, and Other Organizations
5.12. Key Stakeholders and Buying Criteria
5.12.1. Key Stakeholders in Buying Process
5.12.2. Buying Criteria
5.13. Pricing Analysis
5.13.1. Average Selling Price Trends of Key Players, By Hardware
5.13.2. Average Selling Price Trends, By Region
5.14. Key Conferences and Events (2023-2025)
6 AI Camera Market, By Offering
6.1. Introduction
6.1.1. Image Sensor
6.1.1.1.1. CMOS
6.1.1.1.2. ToF
6.1.2. Processor
6.1.2.1. AI Processing Units
6.1.3. Memory & Storage
6.1.4. Software
6.1.4.1. AI Analytics
6.1.4.1.1. Analytics at Edge
6.1.4.1.2. Analytics at Server
7 AI Camera Market, By Technology
7.1. Introduction
7.2. Deep Learning
7.3. Natural Language Processing
7.4. Computer Vision
7.5. Context-Aware Computing
8 AI Camera Market, By Product Type
8.1. Introduction
8.2. Compact Cameras
8.2.1. Smartphone Cameras
8.2.2. Wearable Cameras
8.3. DSLR Cameras
8.4. CCTV Cameras
8.4.1. Dome
8.4.2. PTZ
8.4.3. Box & Bullet
8.4.4. Panoramic, and Fisheye
8.5. 360 Degree Cameras
8.6. Others (WiFi Cameras, IP Cameras etc.)
9 AI Camera Market, By Connectivity
9.1. Introduction
9.2. Wired
9.3. Wireless
9.3.1. Bluetooth
9.3.2. WiFi
9.3.3. Cellular (4G/5G)
10 AI Camera Market, By Biometric Method
10.1. Introduction
10.2. Image Recognition
10.3. Facial Recognition
10.4. Voice/Speech Recognition
10.5. Optical Character Recognition (OCR)
11 AI Camera Market, By End-user
11.1. Introduction
11.2. Consumer Electronics
11.3. Security & Surveillance
11.3.1. Residential
11.3.2. Commercial
11.4. Automotive
11.5. Robotics
11.6. Medical
11.7. Others (Transportation, Infrastructure etc.)
12 AI Camera Market, By Region
12.1. Introduction
12.2. North America
12.2.1. Impact of Recession
12.2.2. US
12.2.3. Canada
12.2.4. Mexico
12.3. Europe
12.3.1. Impact of Recession
12.3.2. UK
12.3.3. Germany
12.3.4. France
12.3.5. Rest of Europe
12.4. Asia Pacific
12.4.1. Impact of Recession
12.4.2. China
12.4.3. Japan
12.4.4. South Korea
12.4.5. Rest of Asia Pacific
12.5. RoW
12.5.1. Impact of Recession
12.5.2. Middle East & Africa
12.5.3. South America
13 AI Camera Market, Competitive Landscape
13.1. Market Evaluation Framework
13.2. Market Share Analysis, 2022
13.3. Five-Year Company Revenue Analysis
13.4. Company Evaluation Matrix
13.4.1. Stars
13.4.2. Emerging Leaders
13.4.3. Pervasive Players
13.4.4. Participants
13.5. Startups/SME Evaluation Matrix
13.5.1. Progressive Companies
13.5.2. Responsive Companies
13.5.3. Dynamic Companies
13.5.4. Starting Blocks
13.6. Competitive Benchmarking
13.7. Company Footprint
13.8. Competitive Situation and Trends
14 AI Camera Market, Company Profiles
14.1. Key Players
14.1.1. Sony Group Corporation
14.1.2. Panasonic Corporation
14.1.3. HikVision
14.1.4. Samsung
14.1.5. AXIS Communications AB
14.1.6. Vivotek, Inc.
14.1.7. Dahua Technology
14.1.8. Robert Bosch
14.1.9. Honeywell International
14.1.10. Hanwa Vision
14.1.11. Alphabet Incroporation
14.1.12. Apple Inc.
14.1.13. Huawei Technologies
14.2. Other Players
15 Appendix
15.1. Discussion Guide
15.2. Knowledge Store: MarketsandMarkets' Subscription Portal
15.3. Available Customizations
15.4. Related Reports
15.5. Author Details
15.1. Discussion Guide
15.2. Knowledge Store: MarketsandMarkets' Subscription Portal
15.3. Available Customizations
15.4. Related Reports
15.5. Author Details
The study involved four major activities in estimating the current size of the AI camera market. Exhaustive secondary research was done to collect information on the market, peer market, and parent market. The next step was to validate these findings, assumptions, and sizing with industry experts across the value chain through primary research. Both top-down and bottom-up approaches were employed to estimate the complete market size. After that, market breakdown and data triangulation were used to estimate the market size of segments and subsegments.
Secondary Research
Secondary sources for this research study included corporate filings (such as annual reports, investor presentations, and financial statements); trade, business, and professional associations; white papers; certified publications; articles by recognized authors; directories; and databases. The secondary data was collected and analyzed to determine the overall market size, further validated through primary research.
List of major secondary sources
SOURCE

WEB LINK

Federal Communications Commission (FCC)

Federal Trade Commission (FTC)

National Institute of Standards and Technology (NIST)

European Data Protection Supervisor (EDPS)

Ministry of Electronics and Information Technology (MeitY)

Ministry of Industry and Information Technology (MIIT)

Ministry of Internal Affairs and Communications (MIC)
Primary Research
Extensive primary research was conducted after gaining knowledge about the current scenario of the AI camera market through secondary research. Several primary interviews were conducted with experts from both demand and supply sides across four major regions—North America, Europe, Asia Pacific, and RoW. This primary data was collected through questionnaires, emails, and telephonic interviews.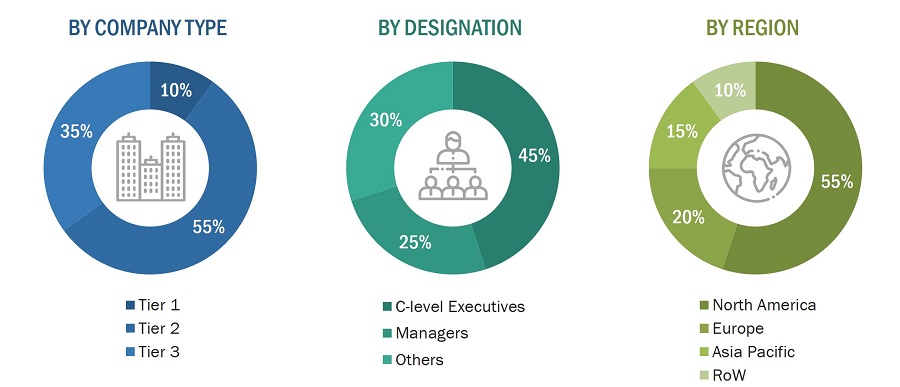 To know about the assumptions considered for the study, download the pdf brochure
Market Size Estimation
Both top-down and bottom-up approaches were used to estimate and validate the size of the AI camera market and its various dependent submarkets. The key players in the market were identified through secondary research, and their market share in the respective regions was determined through primary and secondary research. This entire procedure involved the study of annual and financial reports of top players and extensive interviews with industry leaders such as chief executive officers (CEOs), vice presidents (VPs), directors, and marketing executives. All percentage shares and breakdowns were determined using secondary sources and verified through primary sources. All the possible parameters that affect the markets covered in this research study were accounted for, viewed in extensive detail, verified through primary research, and analyzed to obtain the final quantitative and qualitative data. This data was consolidated and supplemented with detailed inputs and analysis from MarketsandMarkets and presented in this report.
Bottom-Up Approach
The bottom-up approach was used to arrive at the overall size of the AI camera market from the revenues of the key players and their shares in the market. The overall market size was calculated based on the revenues of the key players identified in the market.
Identifying various verticals using or expected to implement AI camera
Analyzing each end-user and use case, along with the major related companies and AI camera providers
Estimating the AI camera market for end-user
Understanding the demand generated by companies operating across different end-use applications
Tracking the ongoing and upcoming implementation of projects based on AI camera technology by end-users and forecasting the market based on these developments and other critical parameters
Carrying out multiple discussions with the key opinion leaders to understand the type of AI camera products designed and developed vertically. This information would help analyze the breakdown of the scope of work carried out by each major company in the AI camera market
Arriving at the market estimates by analyzing AI camera companies as per their countries and subsequently combining this information to arrive at the market estimates by region
Verifying and cross-checking the estimates at every level through discussions with the key opinion leaders, including CXOs, directors, and operations managers, and finally with domain experts at MarketsandMarkets
Studying various paid and unpaid sources of information, such as annual reports, press releases, white papers, and databases

Top-Down Approach
In the top-down approach, the overall market size has been used to estimate the size of the individual markets (mentioned in the market segmentation) through percentage splits from secondary and primary research.
To calculate the market size of specific segments, the most appropriate immediate parent market size has been used to implement the top-down approach. The top-down approach was implemented for the data extracted from the secondary research to validate the market size obtained.
The market share of each company was estimated to verify the revenue shares used earlier in the top-down approach. The overall parent market size and individual market sizes were determined and confirmed in this study by the data triangulation method and the validation of data through primaries. The data triangulation method used in this study is explained in the next section.
Focusing on top-line investments and expenditures being made in the ecosystems of various end-users.
Building and developing the information related to the market revenue generated by key AI camera manufacturers
Conducting multiple on-field discussions with the key opinion leaders involved in the development of AI camera products in various applications
Estimating geographic splits using secondary sources based on various factors, such as the number of players in a specific country and region, the offering of AI camera, and the level of solutions offered in end-user industries
Impact of the recession on the steps mentioned above has also been considered

Data Triangulation
After arriving at the overall market size from the estimation process explained above, the overall market has been split into several segments and subsegments. To complete the overall market engineering process and arrive at the exact statistics for all segments and subsegments, the data triangulation procedure has been employed wherever applicable. The data has been triangulated by studying various factors and trends from both demand and supply sides. Along with this, the market size has been validated using top-down and bottom-up approaches.
Market Definition
An AI camera, also known as an artificial intelligence camera, incorporates artificial intelligence (AI) and computer vision technologies to enhance its functionality and capabilities. Unlike traditional cameras that rely solely on hardware components, AI cameras use software algorithms to process and analyze images and videos in real time.
Key Stakeholders
Manufacturers and Suppliers
Tech Companies
Startups and Innovators
Consumers
Enterprise Customers
Regulatory Authorities
Research and Development (R&D) Institutions
Integration and Installation Services Providers
Software Developers
Retailers and Distributors
Law Enforcement and Security Agencies
Report Objectives
To define, describe, and forecast the AI camera market based on offering, technology, product type, biometric method, connectivity, end-user, and region.
To forecast the shipment data of AI camera market.
To forecast the size of the market segments for four major regions—North America, Europe, Asia Pacific (APAC), and the Rest of the World (RoW)
To provide detailed information regarding the major factors influencing the growth of the market (drivers, restraints, opportunities, and challenges)
To strategically analyze micromarkets1 with respect to individual growth trends, prospects, and contributions to the total market
To study the complete value chain and allied industry segments and perform a value chain analysis of the market
To strategically profile the key players and comprehensively analyze their market shares and core competencies
To analyze the opportunities in the market for stakeholders and describe the competitive landscape of the market
To analyze competitive developments such as joint ventures, collaborations, agreements, contracts, partnerships, mergers & acquisitions, product developments, and research & development (R&D) in the market
To analyze the impact of the recession on the AI camera market
Available Customizations
With the given market data, MarketsandMarkets offers customizations according to the specific requirements of companies. The following customization options are available for the report:
Detailed analysis and profiling of additional market players (up to 5)
Additional country-level analysis of the AI camera market
Product Analysis
Product matrix, which provides a detailed comparison of the product portfolio of each company in the AI Camera market.