Biostimulants Market
Biostimulants Market by Crop Type (Cereals & Grains, Oilseeds & Pulses, Fruits & Vegetables, Flowers & Ornamentals), Active Ingredients (Humic Substances, Seaweed Extracts), Form (Dry, Liquid), Mode of Application and Region - Global Forecast to 2028
Report Code: AGI 2920
Nov, 2023, by marketsandmarkets.com
[250 Pages Report] The biostimulants market is estimated at USD 3.9 billion in 2023 and is projected to reach USD 6.8 billion by 2028, at a CAGR of 11.8% from 2023 to 2028
Climate change and environmental concerns have become paramount in shaping agricultural practices. The unpredictability of climatic conditions, including shifts in temperature and increased frequency of extreme weather events, poses significant challenges to crop production. In this context, biostimulants emerge as valuable tools to help plants adapt to stress conditions induced by climate change. The capacity of biostimulants to enhance plant resilience, mitigate the impact of drought, and aid in acclimatizing crops to extreme temperatures positions them as essential components of climate-smart agriculture. As the agricultural sector grapples with the realities of a changing climate, the role of biostimulants in promoting crop adaptability becomes increasingly crucial for ensuring food security and sustainable farming practices.
The increasing adoption of organic farming practices has become a hallmark of contemporary agriculture, driven by a global shift towards sustainability and environmental consciousness. As consumers increasingly prioritize organic products, farmers are compelled to explore methods that align with these preferences. In this context, biostimulants play a pivotal role in organic farming by enhancing soil health and nutrient availability. Unlike traditional synthetic inputs, biostimulants foster plant growth and development through natural mechanisms, aligning seamlessly with organic farming principles.
To know about the assumptions considered for the study, Request for Free Sample Report
To know about the assumptions considered for the study, download the pdf brochure
Drivers: Strong demand for high-value crops
A high-value agricultural good is one that has a high economic value per kilogram (or pound) per hectare or calorie. Fruits, vegetables, meat, eggs, milk, and fish are examples of high-value items. The main drivers of expanding demand for high-value crops (fruits, vegetables, and plantation crops) are rising incomes, rapid urbanization, and greater awareness of fruits and vegetables' health advantages. Foreign direct investment (FDI) is another element that has accelerated the transition of agricultural production toward high-value agriculture. According to the FAD Statistical Yearbook 2020 Report, primary crop production in 2020 was 9.3 billion tons, up 52% from 2000. Sugar cane, com, wheat, and rice account for half of global primary crop production
Biostimulants are mostly utilized in permanent croplands on which fruits, tree nuts, ornamentals, and plantation crops are grown. The demand for biostimulants has been mostly concentrated in high-value crops, such as fiber crops (jute and cotton), plantation crops (cocoa, pepper, and rubber), and ornamentals, as they require their application to improve crop quality and yield.
Restraints: Commercialization of low-quality biostimulant products
The proliferation of low-quality items is due to a lack of openness in patent protection regulations in many countries. Despite the fact that the biostumulants industry has low entry barriers and has allowed many rivals to begin operations, the market has grown fragmented into smaller pockets of market holdings. This has been a factor in regional or local manufacturers releasing low-quality items into the market in order to capitalize on the increased demand for biostimulants. Farmers are also drawn to these products because of their affordable prices from small-scale domestic manufacturers. Similar product compositions from several competitors undermine both consumer loyalty and product brand value. The biostimulants market is predicted to be a niche industry with significant growth tendencies, which must be capitalized on by producing innovative products that work better on a wide range of crops. When a company fails to build its unique selling proposition in the biostimulants market, it will struggle to expand its presence beyond the regional market.
The regulatory framework for biostimulants, being unclear across many regulatory bodies in the world, has allowed the entry of these duplicate products. The product has been attempted to be defined appropriately only in the European Commission. According to the Biological Products Industry Alliance, the purpose of biostimulants is not treated the same among government authorities in different Asian countries; for instance, in China, it is mostly treated as fertilizers, while in Japan and South Korea, it is considered as plant growth regulators. This somehow restricts the market for biostimulants, as it becomes difficult for the farmers to trust the products with such vagueness about their application.
Opportunities: Technological advancements in the production of biostimulants
Agricultural biostimulants are compounds that can be applied directly to plants or soil to boost the physiological processes and ability of the plant to absorb nutrients from the soil, resulting in greater production and crop quality. Biostimulants are gaining popularity as plant growth boosters in the agricultural industry. Biostimulants were first employed exclusively for vegetables and fruit crops, as well as other high-value crops such as ornamentals and plantation crops. They now serve an essential role in traditional food crops such as com, went, and lovely by being used as a supplement to fertilizers to stimulate the crop's nutrient uptake process. Furthermore, biostimulants are completely compatible with integrated crop management methods that are a subset of sustainable agriculture.
Technological innovation in the biostimulant sector allows manufacturers to develop new products in the biostimulant and plant growth promotor segments. Valagro (Italy), a biostimulant and specialty nutrient manufacturer, has developed the GeoPower technology as the platform for biostimulant products. Under this technology, raw vegetable materials are selected and tested to locate and extract natural active ingredients, further formulated as specific crop nutrient products. Apart from Valagro, Sea6 Energy (India) is also an innovative company developing new technology platforms to manufacture biostimulant products. Sea6 Energy has developed some extraction processes to fractionate sea plants into different components tailored to be used as plant growth promotors and crop nutrient products. TARMA and SPURT are two of the company's technologies provided to growers to enhance crop quality; AgroGain is a biostimulant product offered by the company based on these technologies. UPL has bought a new range of biostimulant products based on GoActiv Technology to Australia and designed to address specific crop physiological pain points or abiotic stresses in fruits, vegetables, tree crops, vines, and broadacre crops.
Challenges: Uncertainty in global biostimulant regulatory framework
Biostimulants are not governed by any uniform classification anywhere in the world. They are not classed as a distinct category with a standardized global definition. According to EBIC, there is disagreement in Europe over whether biostimulants should be classified as plant protection or plant nourishment, resulting in a divided set of contradictory perspectives on the goods. In France, they are classified as additives, whereas in Germany, they are sold as plant straighteners or growth promoters.
The European Biostimulants Industry Consortium (EBIC) has prepared a regulation based on the views and ideas of manufacturers and research institutes and put it for EU approval in order to consolidate the regulatory framework for biostimulants in Europe. However, biostimulant compounds must be repeatedly registered to assure compliance with the rules of each European country. The data requirements and parameter range also differ by EU member country.
Based on the mode of application, foliar treatment is estimated to account for the largest market share of the biostimulants market
Foliar treatments, a subset of biostimulants, involve the application of nutrient-rich solutions directly onto a plant's leaves. This method has gained widespread popularity due to its efficiency in delivering essential nutrients directly to the target plant tissues, bypassing soil-related limitations. As a result, farmers and agricultural professionals are increasingly turning to foliar treatments to maximize crop yields and address nutrient deficiencies. Foliar treatments contribute to sustainable agricultural practices by minimizing nutrient runoff and reducing the need for excessive fertilizer application. This aligns with the global push for environmentally friendly farming methods. Foliar treatments have proven highly effective across diverse crop categories. Horticultural crops, including vegetables, fruits, and ornamental plants, exhibit enhanced yield, quality, and visual appeal through targeted nutrient delivery. High-value crops, such as specialty fruits and herbs, benefit from improved nutrient uptake, elevating their market value. Stress-prone crops, like cereals and legumes, find support in foliar treatments, which bolster resistance to environmental challenges and enhance overall productivity. This versatile agricultural approach is increasingly recognized for its precision and efficiency in addressing the specific needs of different crops, contributing to a more resilient and productive farming landscape.
Based on crop type, fruits & vegetables is anticipated to have the highest growth rate in the market
Increasing consumer awareness regarding the impact of conventional farming on the environment and health has led to a rising demand for fruits and vegetables grown using organic and sustainable practices, further fueling the need for biostimulants. The surge in demand for biostimulants in the fruits and vegetables market reflects a broader shift towards sustainable and environmentally friendly agricultural practices. As the industry continues to evolve, businesses involved in the production and distribution of biostimulants are well-positioned to capitalize on this growing market. Some of the commonly used biostimulants for fruits & vegetables are- Seaweed extracts, another key category, are rich in essential nutrients. These extracts not only stimulate plant growth but also fortify plants against stress, ultimately enhancing their resilience and overall vigor. Their wide array of essential elements contributes significantly to plant health; Derived from decomposed organic matter, humic substances form another vital group of biostimulants. These substances play a pivotal role in enhancing soil fertility, increasing water retention, and improving nutrient availability. The result is a soil environment conducive to robust plant development; Amino acids and protein hydrolysates, as biostimulants, offer plants a readily available source of amino acids. This facilitates critical processes such as protein synthesis, nutrient absorption, and stress tolerance, contributing to the overall well-being of the plant.
By active ingredients, the Microbial amendments segment is projected to witness a higher growth rate during the forecast period
As businesses increasingly recognize the importance of sustainable and eco-friendly agricultural practices, the utilization of microbial amendments has become a focal point in enhancing soil health and promoting plant growth. In this article, we delve into the reasons behind the surge in demand for microbial amendments and explore the specific plant varieties benefiting from these innovative biostimulants. Several factors contribute to the increasing demand for microbial amendments in the biostimulant market. Firstly, the rising awareness of the environmental impact of traditional agricultural practices has led businesses to seek sustainable alternatives. Microbial amendments offer a compelling solution by harnessing the power of beneficial microorganisms to improve soil structure, nutrient availability, and overall plant health. Additionally, the growing emphasis on organic farming practices has spurred interest in biostimulants, as they align with the principles of sustainable and chemical-free agriculture. Microbial amendments, in particular, provide a natural and holistic approach to enhancing crop yields while minimizing the reliance on synthetic inputs.
Plant Varieties Benefiting: A key aspect of the burgeoning demand for microbial amendments lies in their compatibility with various plant varieties. These biostimulants have shown remarkable efficacy across a spectrum of crops, including but not limited to:
Cereals: Microbial amendments have demonstrated success in enhancing the growth and yield of cereal crops such as wheat, rice, and maize.
Fruits and Vegetables: Horticultural crops like tomatoes, peppers, strawberries, and various fruits have exhibited improved resilience and productivity with the application of microbial amendments.
Legumes: Given their ability to fix nitrogen from the atmosphere, microbial amendments are particularly beneficial for leguminous crops like soybeans, peas, and lentils.
The Europe market is projected to contribute the largest share of the global biostimulants market
In Europe, there is a heightened consumer awareness surrounding sustainability and environmental safety, contributing to the region's largest vegan population, notably in the UK and Germany. Veganz, a Berlin-based vegan supermarket chain, conducted a study revealing a doubling of the vegan population from 1.3 million to 2.6 million within four years (2016-2020). This trend is driving an increased demand for high-value crops, particularly vegetables and fruits, throughout the region.
Prominent players in the European biostimulants market, including BASF SE (Germany), Valagro (Italy), Biovert S.L (Spain), Koppert Biological Systems (Netherlands), Tradecorp International (Spain), and AgriTecno (Spain), are actively involved. The European market currently operates with a basic or minimal regulatory framework for biostimulant products. Consequently, a notable influx of startups, particularly in Spain and Italy, is observed. However, insights suggest that the region is on the verge of establishing a comprehensive regulatory framework to ensure the quality of products available in the market.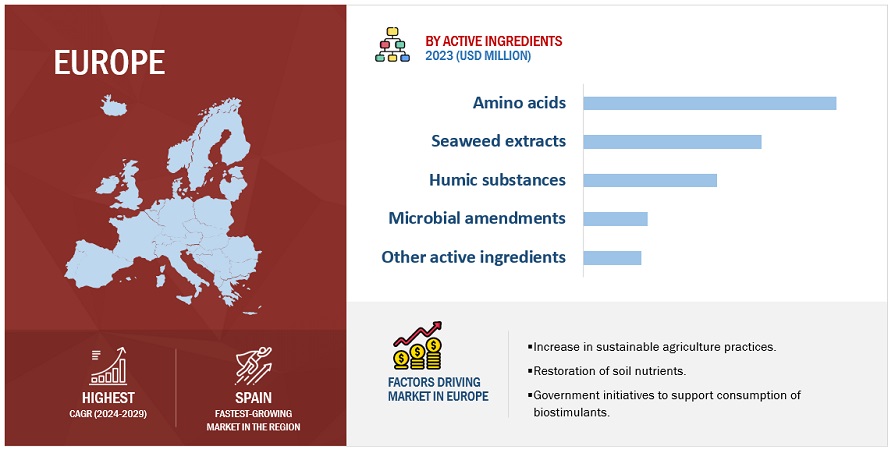 Key Market Players
Key players operating in this market include BASF SE (Germany), UPL (India), Valagro (Italy), Gowan Group (US), FMC Corporation (US), ILSA S.p.A (Italy), Rallis India Limited (India), Haifa Group (Israel), ADAMA (Israel), Biovert-Manvert (Spain), Koppert (Netherlands), and AgriTecno (Spain). These players in this market are focusing on increasing their presence through expansion and collaboration. These companies have a strong presence in North America, Asia Pacific, and Europe.
Get online access to the report on the World's First Market Intelligence Cloud

Easy to Download Historical Data & Forecast Numbers
Company Analysis Dashboard for high growth potential opportunities
Research Analyst Access for customization & queries
Competitor Analysis with Interactive dashboard
Latest News, Updates & Trend analysis

Request Sample

Click on image to enlarge

Scope of the Report
Report Metric

Details

Market size estimation

2023–2028

Base year considered

2022

Forecast period considered

2023–2028

Units considered

Value (USD Million), Volume (KT)

Segments Covered

By Crop Type, By Active Ingredients, By Mode of Application, By Form, and By Region

Regions covered

North America, South America, Europe, Asia Pacific, and Rest of the World

Companies studied

BASF SE (Germany)

UPL (India)

Valagro (Italy)

Gowan Group (US)

FMC Corporation (US)

ILSA S.p.A (Italy)

Rallis India Limited (India)

Haifa Group (Israel)

ADAMA (Israel)

Biovert S.L (Spain)

Koppert (Netherlands)

Tradecorp International (Spain)

AgriTecno (Spain)

Axeb Biotech SL (Spain)

MAFA Bioscience, S.A. (Spain)
Report Scope
Biostimulants Market:
By Crop Type
Cereals & Grains
Oilseeds & Pulses
Fruits & Vegetables
Flowers & Ornamentals
Others Crop types
By Active Ingredients
Humic substances
Seaweed extracts
Amino acids
Microbial amendments
Other active ingredients
By Mode of Application
Foliar treatment
Soil Treatment
By form
By Region
North America
Europe
Asia Pacific
South America
Rest of the World (RoW)
Recent Developments
In May 2022, UPL Limited (India) launched a new biosolution, Zoatin, which effectively facilitates plant uptake and utilization of phosphorus to improve crop health and yield, was launched by UPL and Chr. Hansen Holdings A/S. Zoatin uses microbiological technology to provide phosphorus availability to the soil. This will help both companies penetrate the biostimulant market in several geographies.
In March 2022, Haifa Group (Israel) expanded to Ecuador by signing an agreement to acquire Horticoop Andina, a wholesaler of nutritional products for agriculture. This will help Haifa Group become a strong player in plant nutrition in Latin America..
In March 2021, Gowan Company (US) announced the finalization of the purchase of Isagro S.p.A. Isagro S.p.A is now a privately owned company controlled by Gowan. In the coming months, Gowan will integrate the Isagro business. This purchase would expand Gowan Company's commercial opportunities, deepen its scientific capabilities, and introduce its chemical synthesis.
Frequently Asked Questions (FAQ):
Which region is projected to account for the largest share in the biostimulants market?
The European region accounted for the largest share in terms of value at USD 1.6 billion in 2023 and is expected to grow at a CAGR of 11.5% during the forecast period.
What is the current size of the global biostimulants market?
The biostimulants market is estimated at USD 3.9 billion in 2023 and is projected to reach USD 6.8 million by 2028, at a CAGR of 11.8% from 2023 to 2028.
Which are the major key players in the market?
BASF SE (Germany), UPL (India), FMC Corporation (US), Rallis India Limited (India) and ADAMA (Israel).
What are the factors driving the biostimulants market?
Increasing awareness about the environmental impact of conventional agricultural practices.
Consumer demand for sustainable and eco-friendly agricultural products.
Shift towards organic and sustainable farming practices.
Biostimulants are considered essential in organic farming to enhance soil health and nutrient availability.
Changing climatic conditions and the need for resilient crops. Biostimulants can help plants adapt to stress conditions, including drought and extreme temperatures.
Which segment by active ingredient accounted for the largest biostimulants market share?
Some major players in the property management market include IBM (US), Oracle (US), AppFolio (US), SAP (Germany), Trimble (US), Hitachi Vantara (US), Yardi (US), RealPage (US), SYNDICO SAL (Lebanon), Entrata (US), London Computer Systems (US), Zumper (US), DockMaster (US), Dockwa (US), Avail (US), Property Matrix (US), CoStar Group (US), HappyCo (US), JLL (US), MCS Solution (Belgium), Planon (Netherlands), Accruent (US), RentRedi (US), TurboTenant (US), Hemlane (US), Smart Property Systems (US), Innago (US), breezeway (US), Livly (US), DoorLoop (US), Mynd (US), Eptura (US), and Hive (US). By active ingredient, the Amino acids segment dominated the market for biostimulants and was valued the largest at USD 1. 4 billion in 2023.
To speak to our analyst for a discussion on the above findings, click Speak to Analyst
To speak to our analyst for a discussion on the above findings, click Speak to Analyst
TABLE OF CONTENTS
1 INTRODUCTION
1.1. OBJECTIVES OF THE STUDY
1.2. MARKET DEFINITION
1.3. MARKET SCOPE
1.3.1. MARKET SEGMENTATION
1.3.2. INCLUSION AND EXCLUSIONS
1.3.3. REGIONS COVERED
1.4. PERIODIZATION CONSIDERED
1.5. CURRENCY CONSIDERED
1.6. UNIT CONSIDERED
1.7. STAKEHOLDERS
1.8. SUMMARY OF CHANGES
1.8.1. RECESSION IMPACT
2 RESEARCH METHODOLOGY
2.1. RESEARCH DATA
2.1.1. SECONDARY DATA
2.1.1.1. KEY DATA FROM SECONDARY SOURCES
2.1.2. PRIMARY DATA
2.1.2.1. BREAKDOWN OF PRIMARY INTERVIEWS
2.1.2.2. KEY DATA FROM PRIMARY SOURCES
2.1.2.3. KEY INDUSTRY INSIGHTS
2.2. MARKET SIZE ESTIMATIONS
2.2.1. BOTTOM-UP APPROACH
2.2.2. TOP-DOWN APPROACH
2.3. DATA TRIANGULATION
2.4. RESEARCH ASSUMPTIONS
2.5. RESEARCH LIMITATIONS
2.6. RECESSION IMPACT
3 EXECUTIVE SUMMARY
4 PREMIUM INSIGHTS
5 MARKET OVERVIEW
5.1. INTRODUCTION
5.1.1. MACROECONOMIC INDICATORS
5.2. MARKET DYNAMICS
5.2.1. DRIVERS
5.2.2. RESTRAINTS
5.2.3. OPPORTUNITIES
5.2.4. CHALLENGES
6 INDUSTRY TRENDS
6.1. INTRODUCTION
6.2. VALUE CHAIN ANALYSIS
6.3. SUPPLY CHAIN ANALYSIS
6.4. PRICING ANALYSIS
6.4.1. AVERAGE SELLING PRICE TREND OF KEY PLAYERS, BY TYPE
6.4.2. AVERAGE SELLING PRICE TREND, BY REGION
6.5. ECOSYSTEM MAP
6.5.1. DEMAND SIDE
6.5.2. SUPPLY SIDE
6.6. TECHNOLOGY ANALYSIS
6.7. PATENT ANALYSIS
6.8. PORTER'S FIVE FORCE ANALYSIS
6.9. KEY CONFERENCES & EVENTS IN 2023-2024
6.10. TRENDS & DISRUPTIONS IMPACTING CUSTOMERS
6.11. TRADE ANALYSIS
6.12. TARIFF AND REGULATORY LANDSCAPE
6.12.1. REGULATORY BODIES, GOVERNMENT AGENCIES & OTHER ORGANIZATIONS
6.12.2. REGULATORY FRAMEWORKS
6.13. KEY STAKEHOLDERS & BUYING CRITERIA
6.13.1. KEY STAKEHOLDERS IN BUYING PROCESS
6.13.2. BUYING CRITERIA
6.14. CASE STUDY ANALYSIS
7 BIOSTIMULANTS MARKET, BY ACTIVE INGREDIENTS
7.1. INTRODUCTION
7.2. HUMIC SUBSTANCES
7.3. SEAWEED EXTRACTS
7.4. AMINO ACIDS
7.5. MICROBIAL AMENDMENTS
7.5.1. BACTERIAL BIOSTIMULANTS
7.5.2. FUNGAL BIOSTIMULANTS
7.6. OTHER ACTIVE INGREDIENTS
8 BIOSTIMULANTS MARKET, BY MODE OF APPLICATION
8.1. INTRODUCTION
8.2. SEED TREATMENT
8.3. SOIL TREATMENT
8.4. FOLIAR SPRAY
9 BIOSTIMULANTS MARKET, BY FORMULATION
9.1. INTRODUCTION
9.2. LIQUID
9.3. DRY
10 BIOSTIMULANTS MARKET, BY CROP TYPE
10.1. INTRODUCTION
10.2. CEREALS & GRAINS
10.2.1. CORN
10.2.2. WHEAT
10.2.3. RICE
10.2.4. OTHER CEREALS & GRAINS
10.3. OILSEEDS & PULSES
10.3.1. SOYBEAN
10.3.2. SUNFLOWER
10.3.3. OTHER OILSEEDS & PULSES
10.4. FRUITS & VEGETABLES
10.4.1. POME FRUITS
10.4.2. CITRUS FRUITS
10.4.3. BERRIES
10.4.4. ROOT & TUBER VEGETABLES
10.4.5. LEAFY VEGETABLES
10.4.6. OTHER FRUITS & VEGETABLES
10.5. FLOWERS & ORNAMENTALS
10.6. OTHER CROP TYPES
11 BIOSTIMULANTS MARKET, BY REGION
11.1. INTRODUCTION
11.2. NORTH AMERICA
11.2.1. NORTH AMERICA BIOSTIMULANTS MARKET: RECESSION IMPACT ANALYSIS
11.2.2. US
11.2.3. CANADA
11.2.4. MEXICO
11.3. EUROPE
11.3.1. EUROPE BIOSTIMULANTS MARKET: RECESSION IMPACT ANALYSIS
11.3.2. SPAIN
11.3.3. ITALY
11.3.4. FRANCE
11.3.5. GERMANY
11.3.6. UK
11.3.7. RUSSIA
11.3.8. REST OF EUROPE
11.4. ASIA PACIFIC
11.4.1. ASIA PACIFIC BIOSTIMULANTS MARKET: RECESSION IMPACT ANALYSIS
11.4.2. CHINA
11.4.3. JAPAN
11.4.4. INDIA
11.4.5. INDONESIA
11.4.6. AUSTRALIA
11.4.7. REST OF ASIA PACIFIC
11.5. SOUTH AMERICA
11.5.1. SOUTH AMERICA BIOSTIMULANTS MARKET: RECESSION IMPACT ANALYSIS
11.5.2. BRAZIL
11.5.3. ARGENTINA
11.5.4. REST OF SOUTH AMERICA
11.6. REST OF THE WORLD
11.6.1. REST OF THE WORLD BIOSTIMULANTS MARKET: RECESSION IMPACT ANALYSIS
11.6.2. AFRICA
11.6.3. MIDDLE EAST
12 COMPETITIVE LANDSCAPE
12.1. INTRODUCTION
12.2. MARKET SHARE ANALYSIS FOR KEY PLAYERS, 2022
12.3. KEY PLAYER STRATEGIES/ RIGHT TO WIN
12.4. SEGMENTAL REVENUE ANALYSIS FOR KEY PLAYERS
12.5. ANNUAL REVENUE VS REVENUE GROWTH
12.6. EBITDA OF KEY PLAYERS
12.7. GLOBAL SNAPSHOT OF KEY PARTICIPANTS
12.8. COMPANY EVALUATION MATRIX
12.8.1. STARS
12.8.2. EMERGING LEADERS
12.8.3. PERVASIVE PLAYERS
12.8.4. PARTICIPANTS
12.8.5. COMPANY FOOTPRINT.
12.9. START-UP/ SME EVALUATION MATRIX
12.9.1. PROGRESSIVE COMPANIES
12.9.2. RESPONSIVE COMPANIES
12.9.3. DYNAMIC COMPANIES
12.9.4. STARTING BLOCKS
12.9.5. COMPETITIVE BENCHMARKING
12.10. COMPETITIVE SCENARIO
12.10.1. NEW PRODUCT LAUNCHES
12.10.2. DEALS
12.10.3. OTHERS
13 COMPANY PROFILES
13.1. KEY PLAYERS
13.1.1.1. BASF SE
13.1.1.1.1. COMPANY OVERVIEW
13.1.1.1.2. OPERATIONAL BUSINESS OVERVIEW
13.1.1.1.3. PRODUCT PORTFOLIO
13.1.1.1.4. RECENT DEVELOPMENTS
13.1.1.1.5. MNM VIEW
13.1.1.2. UPL
13.1.1.3. FMC CORPORATION
13.1.1.4. RALLIS INDIA LIMITED
13.1.1.5. ADAMA
13.1.1.6. VALAGRO
13.1.1.7. GOWAN COMPANY
13.1.1.8. ILSA S.P.A.
13.1.1.9. HAIFA GROUP
13.1.1.10. BIOVERT S.L.
13.1.1.11. KOPPERT
13.1.1.12. TRADE CORPORATION INTERNATIONAL
13.1.1.13. AGRITECNO
13.1.1.14. AXEB BIOTECH SL
13.1.1.15. MAFA BIOSCIENCE
13.2. STARTUPS/SMES
13.2.1.1. LAWRIECO
13.2.1.2. DEVI CROPSCIENCE
13.2.1.3. BIOFLORA
13.2.1.4. AGRICEN
13.2.1.5. OMNIA SPECIALITIES PTY
13.2.1.6. KELP PRODUCTS INTERNATIONAL
13.2.1.7. AFRIKELP
13.2.1.8. AMINOCORE
13.2.1.9. APHEA.BIO
13.2.1.10. SOUTH AGRO
14 ADJACENT MARKET
15 APPENDIX
15.1. DISCUSSION GUIDE
15.2. KNOWLEDGE STORE: MARKETSANDMARKETS' SUBSCRIPTION PORTAL
15.3. AVAILABLE CUSTOMIZATIONS
15.4. RELATED REPORTS
The research study involved extensive secondary sources, directories, and databases such as Bloomberg Businessweek and Factiva to identify and collect information useful for a technical, market-oriented, and commercial study of the biostimulants market. In-depth interviews were conducted with various primary respondents—such as key industry participants, subject matter experts (SMEs), C-level executives of key market players, and industry consultants—to obtain and verify critical qualitative and quantitative information and assess prospects.
Secondary Research
The secondary sources referred for this research study include government sources, such as the Food and Agriculture Organization (FAO), the Association of American Plant Food Control Officials (AAPFCO), the Micronutrient Manufacturers Association (MMA), the US Department of Agriculture (USDA), the ministries of the agricultural department in various countries, corporate filings (such as annual reports, press releases, investor presentations, and financial statements), and trade, business, and professional associations. The secondary data was collected and analyzed to arrive at the overall market size, which was further validated by primary research.
Secondary research was mainly used to obtain key information about the industry's supply chain, the market's monetary chain, the total pool of key players, market classification, and segmentation according to industry trends to the bottom-most level and geographical markets. It was also used to obtain information on the key developments from a market-oriented perspective.
Primary Research
The biostimulants market comprises several stakeholders, including raw material suppliers, agrochemical suppliers, and regulatory organizations in the supply chain. Various primary sources from both the supply and demand sides of the market were interviewed to obtain qualitative and quantitative information. Primary interviewees from the supply side include research institutions involved in R&D to introduce technology, manufacturers, importers & exporters of biostimulants. Primary sources from the demand side include distributors, wholesalers, key opinion leaders, growers, farmers, and agronomists through questionnaires, emails, and telephonic interviews.
After the complete market engineering process (including calculations for market statistics, market breakdown, market size estimations & projections, and data triangulation) was done, extensive primary research was conducted to gather information and verify and validate the critical numbers that were arrived at. Primary research was also conducted to identify the segmentation, key players, competitive landscape of market players, market dynamics (drivers, restraints, opportunities, and challenges), and strategies adopted by the leading players.
In the complete market engineering process, top-down and bottom-up approaches were extensively used along with several data triangulation methods to conduct market estimation and forecasting for the overall segments and subsegments listed in this report. Extensive qualitative and quantitative analysis was performed on the complete market engineering process to list key information/insights throughout the report.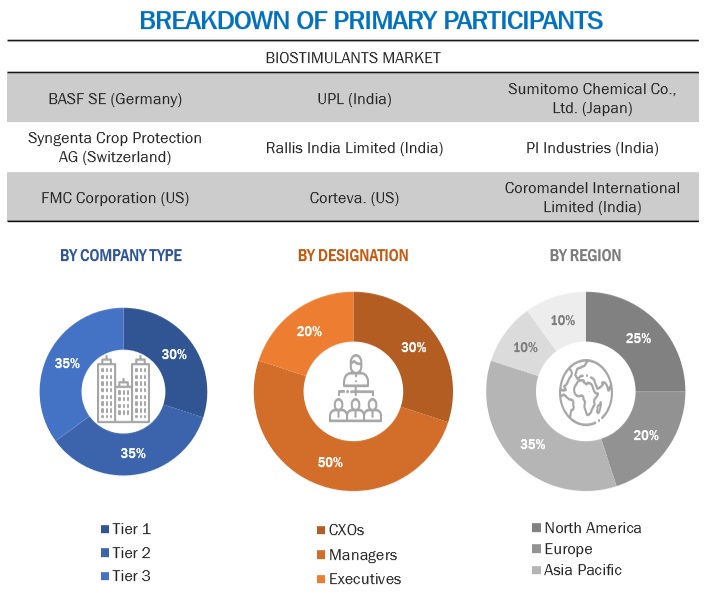 To know about the assumptions considered for the study, download the pdf brochure
Market Size Estimation
Both the top-down and bottom-up approaches were used to estimate and validate the total size of the market. These approaches were also used extensively to estimate the size of various dependent submarkets. The research methodology used to estimate the market size includes the following:
The key players in the industry and markets were identified through extensive secondary research.
All percentage shares, splits, and breakdowns were determined using secondary sources and verified through primary sources.
All possible parameters that affect the markets covered in this research study were accounted for, viewed in extensive detail, verified through primary research, and analyzed to obtain the final quantitative and qualitative data.
The research included the study of reports, reviews, and newsletters of top market players, along with extensive interviews for opinions from leaders such as CEOs, directors, and marketing executives.
Market size estimation: Top-Down approach
In the top-down approach, the overall market size was used to estimate the size of individual markets (mentioned in the segmentation) through percentage splits from secondary and primary research.
The top-down approach used was used to triangulate the data obtained through this study is explained in the next section:
In the global biostimulants market, related secondary sources such as the Europe Biostimulants Industry Alliance (EBIC), Biological product industry alliance (BPIA), and company annual reports of all major players were considered to arrive at the global market size.
The global number for biostimulants was determined after giving certain weightage factors for the data obtained from these secondary and primary sources.
With the data triangulation procedure and data validation through primaries (from both supply and demand sides), the shares and sizes of the regional and individual markets were determined and confirmed.
Data on company revenues, area harvested, product launches, and global regulations for biostimulants in the last four years was used to arrive at the country-wise market size and CAGR estimation of crop type and active ingredient segments was then validated from primary sources.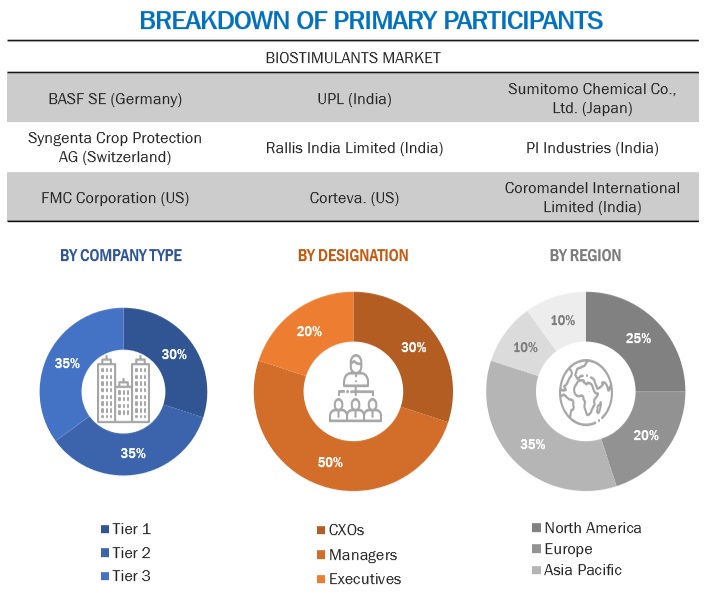 To know about the assumptions considered for the study, Request for Free Sample Report
Market size estimation methodology: Bottom-up approach
The bottom-up approach used the data extracted from secondary research to validate the market segment sizes obtained. The approach was employed to determine the overall size of the biostimulants market in particular regions. Its share in the biostimulants market at the country and regional levels was validated through primary interviews conducted with suppliers, dealers, and distributors.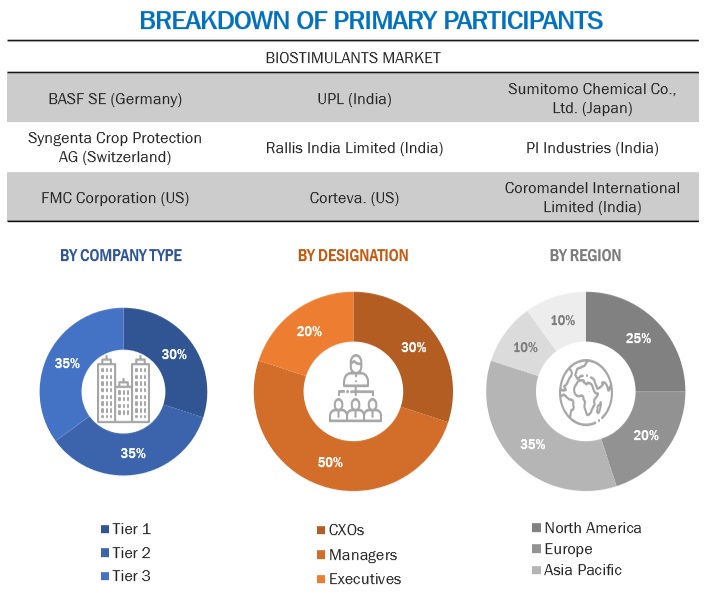 Data Triangulation
After arriving at the overall market size from the estimation process explained above, the total market was split into several segments and subsegments. The data triangulation and market breakdown procedures were employed, wherever applicable, to estimate the overall biostimulants market and arrive at the exact statistics for all segments and subsegments. The data was triangulated by studying various factors and trends from the demand and supply sides. Additionally, the market size was validated using both the top-down and bottom-up approaches.
Market Definition
According to the European Biostimulants Industry Council (EBIC), "plant biostimulants contain substance(s) and/or microorganisms whose function, when applied to plants or the rhizosphere, is to stimulate natural processes to enhance/benefit nutrient uptake, nutrient efficiency, tolerance to abiotic stress, and crop quality."
The definition of biostimulants is largely imprecise. In many instances, an ambiguity exists between biostimulants and biofertilizers. Though organizations such as EBIC have proposed definitions, they are yet to be considered by government regulatory bodies such as the European Union (EU) and the US Department of Agriculture (USDA).
Though derived from natural sources, the active ingredients used in the formulation range from humic and fulvic acids to seaweed extracts, amino acids, and microbial amendments.
Key Stakeholders
Manufacturers, importers, exporters, traders, distributors, and suppliers of biostimulants
Biostimulants laboratories and associations:

Biostimulants Council
The Fertilizer Institute

Biostimulants raw material suppliers and ingredient, intermediate, and end-product manufacturers and processors
Government, research organizations, and academic institutions

World Health Organization (WHO)
Codex Alimentarius Commission (CAC)

Regulatory bodies

Food and Agriculture Organization (FAO)
US Department of Agriculture (USDA)
Biopesticide Industry Alliance (BPIA)
International Biocontrol Manufacturers Association (IBMA)
Japan Biocontrol Association
US Environmental Protection Agency (US EPA)

Commercial research & development (R&D) institutions and financial institutions
Regulatory bodies, including government agencies, NGOs, and large farms
Report Objectives
Market Intelligence
Determining and projecting the size of the biostimulants market on the basis of active ingredient, mode of application, crop type, form, and region, over a five-year period, ranging from 2023 to 2028
Identifying the attractive opportunities in the market by determining the largest and fastest-growing segments across the key regions
Analyzing the demand-side factors on the basis of the following:

Impact of macro- and microeconomic factors on the market
Shifts in demand patterns across different subsegments and regions
Competitive Intelligence
Identifying and profiling the key market players in the biostimulants market
Determining the market share of key players operating in the biostimulants market
Providing a comparative analysis of the market leaders on the basis of the following:

Product offerings
Business strategies
Strengths and weaknesses
Key financials

Understanding the competitive landscape and identifying the major growth strategies adopted by players across the key regions
Providing insights on the trade scenario
Available Customizations
With the given market data, MarketsandMarkets offers customizations according to company-specific scientific needs.
The following customization options are available for the report:
Product Analysis
Product Matrix, which gives a detailed comparison of the product portfolio of each company.
Geographic Analysis
With the given market data, MarketsandMarkets offers customizations according to company-specific scientific needs.
Further breakdown of the Rest of European biostimulants market, by key country
Further breakdown of the Rest of the South American biostimulants market, by key country
Further breakdown of the Rest of Asia Pacific biostimulants market, by key country
Company Information
Detailed analyses and profiling of additional market players