[111 Pages Report] The cloud POS solution enables efficient management of POS terminals across multiple locations. Moreover, this solution provides improved service delivery to its customers. These benefits are expected to drive the demand for the solution. The increasing adoption of eCommerce transactions in the retail and consumer goods application area and the rising number of cashless transactions have further propelled the demand for this solution across the globe. The cloud POS solution has witnessed technological advancements in the past few years, and this has made the solution more secure and easily manageable. Moreover, this solution is integrated with technologies, such as advanced machine learning and artificial intelligence. The solution analyzes the sales data to determine customer behavior. This crucial data can be used to provide exclusive advice on promotional and marketing initiatives.
The global cloud POS market was estimated to be USD 1.34 billion in 2018, and is expected to be worth USD 3.73 billion in 2023
By service, the support and maintenance segment is expected to grow at a higher CAGR during the forecast period
The POS software also safeguards against the threats related to the safety of sensitive cardholder/payment data, with the latest Point-to-Point Encryption (P2PE) technology. Services related to POS include payment services along with management services, gateway services, and maintenance services. These services help organizations in building successful client relationships by continuously supporting them throughout their business tenure. These services also benefit organizations by maximizing resource usage, enhancing the marketing project execution, and streamlining the marketing operations. Traditional POS systems generally charge a software license fee per register and then a yearly maintenance fee of 18–20% for upgrades. SaaS, on the other hand, is more of a partnership model in which monthly fees are paid, and there are no up-front payments made as in the case of a traditional POS system. These monthly fees cover software, support, backups, and future upgrades.
The small and medium-sized enterprises segment is expected to register a higher CAGR during the forecast period
Cloud POS vendors have specific tools for individuals, small businesses, and freelancers. Cost-effectiveness is one of the important needs of small businesses; hence, there are specific vendors available to satisfy the requirements of SMEs. These vendors provide SMEs with simple tools that help them easily manage people, projects, and assets. These simple tools also help the SMEs in fully utilizing the deployed software. The adoption of the cloud POS solution is expected to accelerate in the coming years among SMEs and enable SMEs to have a considerable market size during the forecast period.
Media and entertainment application area is expected to register the highest CAGR during the forecast period
Cloud POS solutions are largely used in the media and entertainment application areas. In this sector, cloud POS is deployed in casinos, movie theaters, theme parks, museums, and sports arenas. It assures a flexible and transparent entertainment business. It also provides better customer service, which in turn, helps in enhancing sales.
Some of the players from the cloud POS market, such as First Data, have started investing in the sports and entertainment application area. First Data collaborated with Bypass in July 2016 to deliver a modern, comprehensive payment solution for sports arenas and concert venues. As part of this unique collaboration, the company blends its innovative Clover family of POS devices and business management tools with the revolutionary cloud-based software and back-office management tools offered by Bypass. The two companies have already collaborated to support major sporting events and concerts across the country.

APAC is expected to be the fastest-growing region during the forecast period
The cloud POS market in APAC has been sub-segmented into China, Japan, India, and Rest of APAC. Rapidly growing customer base, owing to the increasing prominence of SMEs, coupled with the reduction in TCO, is expected to drive the cloud POS market growth in APAC. Benefits associated with cloud POS systems, such as low queue time, a high degree of security, paper-free receipt option, decrease in check-out space requirement, and increase in floor space, would help fuel the growth of the cloud POS market in APAC. The booming retail sector and emerging infrastructures in the region would further facilitate the growth of the cloud POS market in APAC. Moreover, the economic growth in APAC is attracting increased investments from cloud POS suppliers.
The APAC region is one of the potential markets for the growth of the cloud POS market; therefore, many companies are expanding their reach in this region.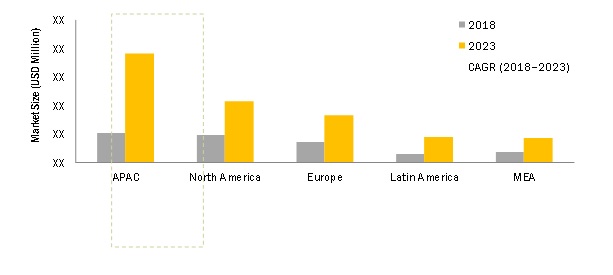 Market Dynamics
Driver: Increased business mobility and flexibility
A cloud-based POS system can be accessed from any device with an internet connection. This provides the flexibility for real-time viewing of labor usage percentages, inventory counts, and productivity reports. The information can be instantly updated and accessed round-the-clock from any remote location. This advantage of cloud POS increases the flexibility in business operations. Moreover, cloud POS can be configured on a portable device, which enables users to move around along with the equipment. It also provides the advantage of adding more mobile devices to your existing system for enhanced mobility. This advantage enables customers to leverage the functionality of a mobile POS (mPOS) system. The increased mobility advantage provided by cloud POS deployments is expected to fuel the demand for cloud POS systems in the future.
Restraint: Skepticism regarding cloud-based offerings
In the complex IT security environment today, the frequency of cyber-attacks is growing exponentially. Many organizations are skeptical about the overall competence of cloud-based offerings regarding security challenges. IT experts who are comfortable with interacting with on-premises POS deployments often experience concern when moving to cloud-based POS, as they fear the loss of ownership and control. There is also a belief that cloud-based POS is not yet mature to handle IT security demands. Furthermore, even though there is an increase in the adoption of cloud-based POS among regions, such as APAC and MEA, the awareness about potential risks, such as cloud security and threats, is low among organizations.
Opportunity: Growing demand for eCommerce transactions in retail and consumer goods applications
The need to adopt cloud POS is increasing due to the increase in the number of eCommerce transactions worldwide. In countries, such as India, consumers prefer paying after receiving the products through the card-on-delivery payment mode. This augments the need for mPOS terminals that can accept payments through cards. As a result, several eCommerce companies are deploying mPOS terminals. Therefore, the upsurge in the number of eCommerce transactions across the world fuels the demand for cloud POS terminals.
Challenge: Lack of standardization and awareness
The main challenge of the cloud POS market is the lack of global standardization of the systems and low consumer awareness about the same. Bringing the consumers onboard and the effective development of vertical markets are the major challenges for cloud POS technology vendors. Consumers are in need of a viable alternative to cash for making payments but are generally not aware of the options available in the market. In developing countries, the consumers are mostly unaware of the wireless payment technologies, while in developed countries, they avoid using wireless payment cards due to the issues related to security. Financial regulators have to make huge efforts to educate the public about the cloud POS systems available to them, which are more scalable and secure.
Get online access to the report on the World's First Market Intelligence Cloud

Easy to Download Historical Data & Forecast Numbers
Company Analysis Dashboard for high growth potential opportunities
Research Analyst Access for customization & queries
Competitor Analysis with Interactive dashboard
Latest News, Updates & Trend analysis

Request Sample

Click on image to enlarge

Scope of the Report
| | |
| --- | --- |
| Report Metric | Details |
| Market size available for years | 2016–2023 |
| Base year considered | 2017 |
| Forecast period | 2018–2023 |
| Forecast units | USD million |
| Segments covered | Component, Service, Organization Size, Application Area, and Region |
| Geographies covered | North America, Europe, MEA, APAC, and Latin America |
| Companies covered | Square Inc (US), Cegid (France), UTC RETAIL (US), Shop Keep (US), PAR Technology (US), Shopify (Canada), B2B Soft (US), Intuit (US), Lightspeed (Canada), Oracle (US), SalonTarget (US), RetailOps (US), Celerant Technology (US), TouchSuite (US), Clover (US), Revel Systems (US), ERPLY (US), Omnico Group (UK), Diaspark (US), Teamwork Retail (US), Jesta I.S. (Canada), One Step Retail Solutions (US), Phorest (Ireland), Poster POS (Poland), and iiko(Russia) |
The research report categorizes the market to forecast the revenues and analyze the trends in each of the following sub segments:
By Component:
By Service:
Training, Consulting, and Integration
Support and Maintenance
By Organization Size:
By Application Areas:
Retail and Consumer Goods
Travel and Hospitality
Media and Entertainment
Transport and Logistics
Healthcare
By Region:
North America
Europe

UK
France
Germany
Other European Countries

APAC

China
Japan
India
Other APAC Countries

MEA

KSA
South Africa
Other MEA Countries

Latin America

Brazil
Mexico
Other Latin American Countries
Key Market Players
Square Inc, Shopify, Oracle, Clover, Lightspeed
Recent Developments
In September 2018, Shopify announced the launch of the new Shopify App Store. App Store is a collection of free and premium apps that extend the functionality of Shopify's merchants' online stores.
In August 2018, Square, Inc. announced an update on its chip card reader to enable faster processing of card payments.
In July 2018, Lightspeed launched an integrated iOS solution for retailers and restaurants. The solution supports better business management, right from planning finances and organizing work schedules to simplifying merchant-to-customer transactions.
In July 2018, ShopKeep announced a partnership with the credit card processing company, Gravity Payments, to offer its POS software for Gravity's transparent payment processing service.
In April 2018, Square, Inc. acquired Zesty to strengthen and scale its growing corporate ordering business.
Critical questions the report answers:
What is the competitive landscape scenario of this market?
Which region is expected to dominate the market during the forecast period?
Which are the key players operating in the market, and what are the factors contributing to their domination over other players?
What are the future hot bets in this market?
To speak to our analyst for a discussion on the above findings, click Speak to Analyst