Decorative Coatings Market
Decorative Coatings Market Resin Type (Acrylic, Alkyd), Technology (Waterborne, Solvent-borne, Powder), User Type (DIY, Professional), Coating Type (Interior, Exterior), Application (Residential, Non-Residential), and Region - Global Forecast to 2026
Report Code: CH 5214
Jan, 2023, by marketsandmarkets.com
[368 Pages Report] The global decorative coatings market size is estimated to be USD 71.3 billion in 2021 and projected to reach USD 91.6 billion by 2026, at a CAGR of 5.1%. The global decorative coatings market is witnessing high growth owing to technological advancements and growing demand in APAC. The economic growth in developing countries, increasing investment in infrastructure, stringent environmental regulations, growing purchasing power, and the rising demand for green and environment-friendly coatings lead to the market growth.
Global Decorative Coatings Market Trends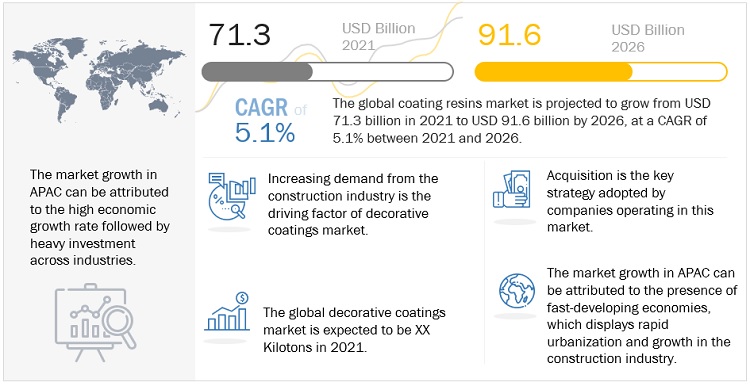 To know about the assumptions considered for the study, Request for Free Sample Report
Decorative Coatings Market Dynamics
DRIVERS: Durable coatings with better performance and aesthetics
The chemicals that are currently used to manufacture coatings are better than solventborne coatings. Products are currently sold with multi-year guarantees against corrosion, mostly due to improvements in the performance of coatings. Decorative coatings can protect the exteriors of the buildings from heavy rainfall, strong wind, and snowfall. These coatings offer several benefits: durability, high flexibility, crack bridging ability, waterproofing & weatherproofing, and resistance to dirt, mildew, and chemicals. In addition, producers are continuously introducing new products that are eco-friendly. The improved durability of coatings leads to the painting of window frames and doors less often, thus reducing the costs incurred by end users. The enhanced scratch resistance allows parquet floors to be renovated less often.
RESTRAINT: Stringent and time-consuming regulatory policies
Regulatory policies have a significant impact on the paints & coatings industry. Potential changes in regulations can create uncertainty throughout the value chain. This uncertainty refers to the time taken by the manufacturers at each node to accept the new regulation and adopt a new technology. Different time-consuming regulatory changes in different regions can affect the raw material producers, formulators, channel partners, and end users. With the increasing number of governments implementing stringent regulatory policies, decorative coating producers must constantly evolve their processes to comply with the new policies and reduce VOC emissions.
OPPORTUNITIES: Opportunities in less-regulated regions
The decorative coating manufacturers in North America and Europe have to follow stringent government rules and policies. However, the developing regions have fewer or no rules for this segment. Hence, the markets for decorative coatings in APAC and other emerging economies are rapidly growing as the developed regions such as Europe have imposed many stringent policies. Thus, until these rules are imposed, the growth opportunities for the market in APAC and other emerging regions are tremendous.
CHALLENGES: Volatility in prices of titanium dioxide
Titanium dioxide (TiO2) is an essential ingredient in the manufacturing of decorative coatings. TiO2 comprises 20–30% of the total expenditure on raw materials. There are many global suppliers for TiO2, and there is no substitute available for this ingredient. TiO2 pigments are traded internationally; however, the fluctuations in the price of TiO2 have increased in both amplitude and frequency in the last decade. These frequent changes in the prices make it difficult for the buyers to plan their spending and affect their profit margin.
Acrylic decorative coatings segment to dominate the market in 2020
Acrylic is an extensively used resin in decorative coatings due to its low cost, good water resistance, and good stain protection. The market for this segment is also projected to witness the highest CAGR during the forecast period. The weathering and oxidation resistance of acrylics is better than oil-based paints, alkyds, or epoxies. The chief components of acrylic polymers provide a polymer structure that has little tendency to absorb UV light. Acrylics possess good color and gloss retention. They are well-known for their durability as they protect the underlying substrate from degradation caused by exposure to rain, snow, wind, and UV light. Acrylic paints & coatings are easy to apply, economical, and can be cleaned up with water.
Waterborne coatings technology to hold largest share of the decorative coatings market in 2020
The main technology type used for decorative coatings is waterborne technology, which accounted for largest share of the overall market, in terms of value, in 2020. The shift from solventborne to waterborne coatings has been witnessed in the sector of decorative coatings. There is increasing demand for green products, which has created the need for green raw materials for coatings, especially waterborne resins. Advances in waterborne alkyd technologies have enabled the production of virtually zero-VOC alkyd resins with the same performance as that of solventborne alkyd.
Residential application is expected to have largest CAGR during the forecast period
Economic growth and higher incomes in the last few years have resulted in the construction of several new houses and the remodeling of old ones. Decorative coatings for residential construction applications include new paint and repainting. These coatings mainly include architectural and functional products, such as paints, stains, lacquers, primers, and cleaners. Decorative coatings are used in both interior and exterior applications in the residential sector. Repainting is associated with giving a new look to an old or worn-out interior and exterior of constructions.
APAC is expected to be the fastest growing region during the forecast period.
APAC is projected to be the fastest-growing decorative coatings market during the forecast period. The market in APAC is witnessing high growth, which is expected to continue because of increasing residential construction and improved home remodeling practices. The leading global companies are shifting their production base, establishing sales offices, and enhancing distribution channels to regions, including APAC, which offer a sustained demand. The gradual shift of manufacturing facilities to countries with high demand and lower production costs positively influences the market's growth.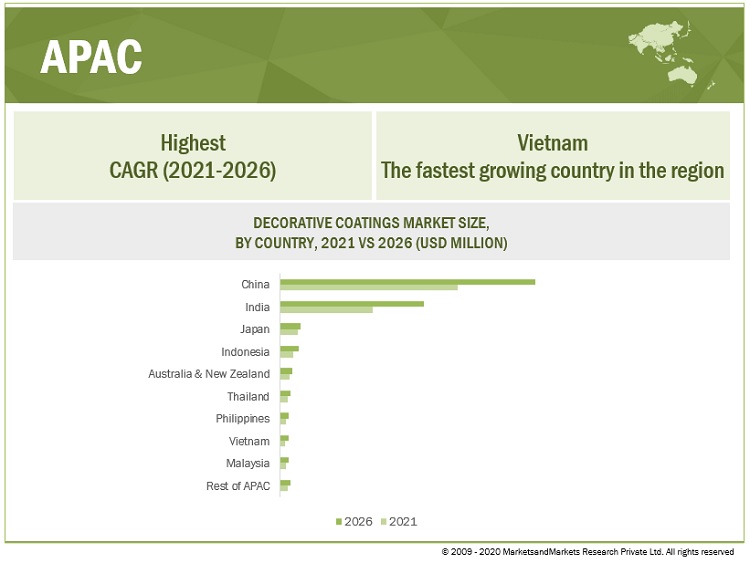 To know about the assumptions considered for the study, download the pdf brochure
Environmentally-friendly coating systems
The increasing demand for environmentally-friendly properties has been one of the most important trends observed in the coatings industry for the last 10 years, largely influenced by stringent EU regulations regarding the reduction of volatile organic compounds (VOC) emissions in the coating life cycle. This has shifted the demand from solventborne coatings to environmentally-friendly products such as waterborne and powder coatings. New rules and regulations such as the Eco-product Certification Scheme (ECS) are set by the European Commission and other federal government agencies. These regulations ensure a green and sustainable environment with minimum or zero harmful VOC emissions. Also, the regulations on lead control in household and decorative coatings were implemented in 2016, after the Quality Council of India (QCI), Pollution Control Board Authorities, and the National Referral Centre for Lead Projects in India (NRCLPI) strongly recommended to the Government of India (GOI) to fix lead content below 90 ppm for all decorative and household paints in the country.
The decorative coatings market is dominated by a few globally established players such as The Sherwin-illiams Company (US), PPG Industries Inc. (US), AkzoNobel N.V. (Netherlands), BASF SE (Germany), Asian Paints Limited (India), among others.
Get online access to the report on the World's First Market Intelligence Cloud

Easy to Download Historical Data & Forecast Numbers
Company Analysis Dashboard for high growth potential opportunities
Research Analyst Access for customization & queries
Competitor Analysis with Interactive dashboard
Latest News, Updates & Trend analysis

Request Sample

Click on image to enlarge

Scope of the Report
Report Metric

Details

Years considered for the study

2016-2026

Base year

2020

Forecast period

2021–2026

Units considered

Value (USD) and Volume (Kiloton)

Segments

By Resin Type
By Technology
By Coating Type
By User Type
By Product Type
By Color Type
By Application
By Region

Regions covered

APAC, Europe, North America, South America, and Middle East & Africa

Companies profiled

The major market players The Sherwin-Williams Company (US), PPG Industries Inc. (US), AkzoNobel N.V. (Netherlands), BASF SE (Germany), Asian Paints Limited (India), Kansai Paints Co., Ltd. (Japan), Nippon Paint Holdings Co., Ltd. (Japan), Masco Corporation (US), Jotun A/S (Norway), and RPM International Inc. (US). (Total of 25 companies)
This research report categorizes the decorative coatings market based on resin type, end-use industry, application, and region.
By Resin Type:
Acrylic
Alkyd
Vinyl
Polyurethane
Others
By Technology:
Waterborne coatings
Solvent-borne coatings
Powder coatings
By Coating Type:
By User type:
By Product Type:
Emulsion
Wood Coatings
Enamels
Others
By Color Type:
By Application:
Residential
Non-residential
By Region:
APAC
Europe
North America
South America
Middle East & Africa
Recent Developments
In June 2021, PPG Industries Inc. announced the completion of its tender offer for all the shares of Tikkurila. The completion of the tender offers more than 66.7% of the outstanding shares of Tikkurila and additional customary conditions to completion. Tikkurila is headquartered in Vantaa, Finland, and is a leading producer and distributor of decorative paints & coatings with operations in 11 countries.
In June 2021, AkzoNobel N.V. expanded its business in South and Central America after acquiring Colombia-based paints and coatings company Grupo Orbis. Grupo Orbis is present in 10 countries in South America and Central America, and the Antilles.
In October 2020, Asian Paints Limited's new Royale Luxury Emulsion Health Shield is the first interior paint effective against COVID-19. It is said to kill 99% of bacteria. The product has a five-year performance warranty with an advanced surface protector, providing stain resistance and purifying the air by neutralizing formaldehyde.
Frequently Asked Questions (FAQ):
What is the total CAGR expected to be recorded for the decorative coatings market during 2021-2026?
The global decorative coatings market is expected to record a CAGR of 5.1% from 2021–2026.
What are the driving factors for the decorative coatings?
Growth of the construction industry, environmentally-friendly coating systems, and durable coatings with better performance and aesthetics.
Which are the significant players operating in the decorative coatings market?
The Sherwin-illiams Company (US), PPG Industries Inc. (US), AkzoNobel N.V. (Netherlands), BASF SE (Germany), and Asian Paints Limited (India) are some of the major companies operating in the decorative coatings market.
Which region will lead the decorative coatings market in the future?
Asia Pacific is expected to lead the decorative coatings market during the forecast period. .
To speak to our analyst for a discussion on the above findings, click Speak to Analyst
TABLE OF CONTENTS
1 INTRODUCTION
1.1 OBJECTIVES OF STUDY
1.2 MARKET DEFINITION
1.2.1 MARKET INCLUSIONS
1.2.2 MARKET EXCLUSIONS
1.3 MARKET SEGMENTATION
1.3.1 REGIONS COVERED
1.3.2 YEARS CONSIDERED FOR STUDY
1.4 CURRENCY
1.5 UNIT CONSIDERED
1.6 STAKEHOLDERS
1.7 SUMMARY OF CHANGES
2 RESEARCH METHODOLOGY
2.1 RESEARCH DATA
2.1.1 SECONDARY DATA
2.1.1.1 Key data from secondary sources
2.1.2 PRIMARY DATA
2.1.2.1 Key data from primary sources
2.1.2.2 Key Industry Insights
2.1.2.3 Breakdown of primary interviews
2.2 MARKET SIZE ESTIMATION
2.2.1 BOTTOM-UP APPROACH
2.2.2 TOP-DOWN APPROACH
2.3 MARKET GROWTH FORECAST APPROACH
2.4 FACTOR ANALYSIS
2.5 DATA TRIANGULATION
2.6 ASSUMPTIONS
2.7 LIMITATIONS
2.8 GROWTH RATE ASSUMPTIONS/GROWTH FORECAST
2.8.1 FACTORS IMPACTING MARKET GROWTH (RECESSION IMPACT)
3 EXECUTIVE SUMMARY
4 PREMIUM INSIGHTS
5 MARKET OVERVIEW
5.1 INTRODUCTION
5.2 VALUE CHAIN ANALYSIS
5.3 MARKET DYNAMICS
5.3.1 DRIVERS
5.3.2 RESTRAINTS
5.3.3 OPPORTUNITIES
5.3.4 CHALLENGES
5.4 PORTER'S FIVE FORCES ANALYSIS
5.4.1 THREAT OF NEW ENTRANTS
5.4.2 THREAT OF SUBSTITUTES
5.4.3 BARGAINING POWER OF BUYERS
5.4.4 BARGAINING POWER OF SUPPLIERS
5.4.5 DEGREE OF COMPETITIVE RIVALRY
5.4 KEY STAKEHOLDERS & BUYING CRITERIA
5.5 MACROECONOMIC INDICATORS
5.5.1 INTRODUCTION
5.5.2 GDP TRENDS AND FORECAST
5.6 INDUSTRY TRENDS
5.6.1 TRENDS AND FORECAST IN END-USE INDUSTRY
5.7 TECHNOLOGY ANALYSIS
5.8 CASE STUDY ANALYSIS
5.9 AVERAGE PRICING ANALYSIS
5.9.1 AVERAGE SELLING PRICE TREND
5.9.2 AVERAGE SELLING PRICE OF KEY PLAYERS
5.10 TRADE DATA STATISTICS
5.11 GLOBAL ECONOMIC SCENARIO AFFECTING MARKET GROWTH
5.11.1 GLOBAL IMPACT OF SLOWDOWN/ RECESSION
5.11.1.1 North America
5.11.1.2 Europe
5.11.1.3 Asia Pacific
5.11.1.4 Rest of the World
5.12 ECOSYSTEM AND INTERCONNECTED MARKET
5.12.1 TRENDS/DISRUPTION IMPACTING BUYERS/CUSTOMERS
5.13 TARIFFS & REGULATIONS
5.14 PATENT ANALYSIS
5.14.1 METHODOLOGY
5.14.2 PUBLICATION TRENDS
5.14.3 TOP JURIDICTION
5.14.4 TOP APPLICANTS
5.12 KEY CONFERENCES & EVENTS IN 2023-2024
6 DECORATIVE COATINGS MARKET, BY TECHNOLOGY
6.1 INTRODUCTION
6.2 WATERBORNE DECORATIVE COATINGS
6.3 SOLVENTBORNE DECORATIVE COATINGS
6.4 POWDER COATING
7 DECORATIVE COATINGS MARKET, BY RESIN TYPE
7.1 INTRODUCTION
7.2 ACRYLIC RESIN
7.3 ALKYD RESIN
7.4 POLYURETHANE RESIN
7.5 VINYL RESIN
7.6 OTHER RESINS
8 DECORATIVE COATINGS MARKET, BY COATING TYPE
8.1 INTRODUCTION
8.2 INTERIOR
8.3 EXTERIOR
9 DECORATIVE COATINGS MARKET, BY USER TYPE
9.1 INTRODUCTION
9.2 DIY
9.3 PROFESSIONAL
10 DECORATIVE COATINGS MARKET, BY PRODUCT TYPE
10.1 INTRODUCTION
10.2 EMULSIONS
10.3 WOOD COATINGS
10.3.1 VARNISHES
10.3.2 STAINS
10.4 ENAMELS
10.5 OTHERS
11 DECORATIVE COATINGS MARKET, BY COLOR TYPE
11.1 INTRODUCTION
11.2 WHITE
11.3 OTHERS
12 DECORATIVE COATINGS MARKET, BY APPLICATION
12.1 INTRODUCTION
12.2 RESIDENTIAL
12.2.1 NEW CONSTRUCTION
12.2.2 REMODEL AND REPAINT
12.3 NON-RESIDENTIAL
12.3.1 COMMERCIAL
12.3.2 INDUSTRIAL
12.3.3 INFRASTRUCTURE
13 DECORATIVE COATINGS MARKET, BY REGION
13.1 INTRODUCTION
13.2 ASIA PACIFIC
13.2.1 CHINA
13.2.2 INDIA
13.2.3 JAPAN
13.2.4 INDONESIA
13.2.6 THAILAND
13.2.5 REST OF ASIA PACIFIC
13.3 EUROPE
13.3.1 GERMANY
13.3.2 RUSSIA
13.3.3 UK
13.3.4 FRANCE
13.3.5 ITALY
13.3.6 SPAIN
13.3.7 TURKEY
13.3.8 REST OF EUROPE
13.4 NORTH AMERICA
13.4.1 US
13.4.2 CANADA
13.4.3 MEXICO
13.5 MIDDLE EAST & AFRICA
13.5.1 SAUDI ARABIA
13.5.2 SOUTH AFRICA
13.5.3 EGYPT
13.5.4 REST OF MIDDLE EAST & AFRICA
13.6 SOUTH AMERICA
13.6.1 BRAZIL
13.6.2 ARGENTINA
13.6.3 REST OF SOUTH AMERICA
14 COMPETITIVE LANDSCAPE
14.1 OVERVIEW
14.2 MARKET RANKING ANALYSIS
14.3 MARKET SHARE ANALYSIS
14.4 REVENUE ANALYSIS OF KEY PLAYERS IN PAST FIVE YEARS
14.5 COMPANY EVALUATION QUADRANT MATRIX, 2021
14.5.1 STAR
14.5.2 EMERGING LEADERS
14.5.3 PERVASIVE
14.5.4 PARTICIPANTS
14.6 SME MATRIX, 2021
14.6.1 PROGRESSIVE COMPANIES
14.6.2 STARTING BLOCKS
14.6.3 RESPONSIVE COMPANIES
14.6.4 DYNAMIC COMPANIES
14.7 STRENGTH OF PRODUCT PORTFOLIO
14.8 COMPETITIVE BENCHMARKING
14.9 COMPETITIVE SCENARIO
14.9.1 MARKET EVALUATION FRAMEWORK
14.9.2 MARKET EVALUATION MATRIX
14.1 STRATEGIC DEVELOPMENTS
14.10.1 DEALS
14.10.2 PRODUCT LAUNCHES
14.10.3 OTHERS
15 COMPANY PROFILES
15.1.1 THE SHERWIN-WILLIAMS COMPANY
15.1.2 PPG INDUSTRIES INC.
15.1.3 AKZONOBEL N.V.
15.1.4 BASF SE
15.1.5 ASIAN PAINTS LIMITED
15.1.6 KANSAI PAINT CO., LTD.
15.1.7 NIPPON PAINT HOLDINGS CO. LTD.
15.1.8 MASCO CORPORATION
15.1.9 JOTUN A/S
15.1.10 RPM INTERNATIONAL INC.
15.2 OTHER COMPANIES
15.2.1 HEMPEL A/S
15.2.2 DAW SE
15.2.3 CROMOLOGY (FORMERLY MATERIS PAINTS)
15.2.4 DIAMOND-VOGEL PAINT COMPANY
15.2.5 BENJAMIN MOORE & CO.
15.2.6 KELLY-MOORE PAINTS
15.2.7 BRILLUX GMBH & CO. KG
15.2.8 BERGER PAINTS INDIA LIMITED
5.2.9 CARPOLY CHEMICAL GROUP CO., LTD.
15.2.10 CLOVERDALE PAINT INC.
15.2.11 STO CORP
15.2.12 LANCO PAINTS
15.2.13 GUANGDONG MAYDOS BUILDING MATERIALS CO., LTD.
15.2.14 H-I-S COATINGS & PAINT MANUFACTURING CO.
15.2.15 FUJIKURA KASEI CO., LTD.
16 APPENDIX
The study involves four major activities in estimating the current market size of decorative coatings. Exhaustive secondary research was done to collect information on the market, the peer market, and the parent market. The next step was to validate these findings, assumptions, and sizing with industry experts across the value chain through primary research. Both the top-down and bottom-up approaches were employed to estimate the complete market size. After that, the market breakdown and data triangulation methods were used to estimate the size of the segments and sub-segments of the overall market.
Secondary Research
In the secondary research process, various secondary sources, such as Hoovers, Bloomberg BusinessWeek, and Dun & Bradstreet, have been referred to identifying and collecting information for this study. These secondary sources also included annual reports, press releases & investor presentations of companies; white papers; certified publications; articles by recognized authors; gold standard & silver standard websites, regulatory bodies, trade directories, and databases.
Primary Research
The decorative coatings market comprises several stakeholders, such as raw material suppliers, processors, end-product manufacturers, and regulatory organizations. The demand side of this market is characterized by the development in applications, such as residential and non-residential. The supply side is characterized by advancements in technology. Various primary sources from both the supply and demand sides of the market were interviewed to obtain qualitative and quantitative information.
Following is the breakdown of primary respondents: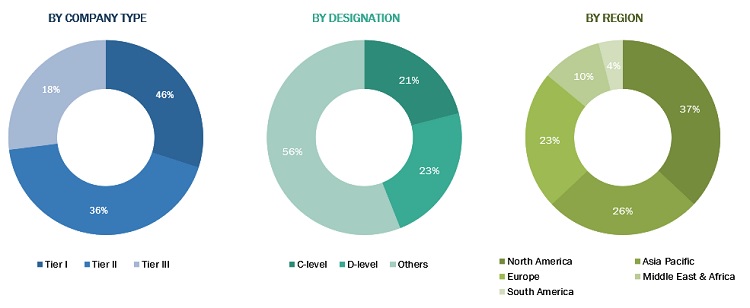 To know about the assumptions considered for the study, download the pdf brochure
Market Size Estimation
Both the top-down and bottom-up approaches were used to estimate and validate the total size of the decorative coatings market. These methods were also used extensively to estimate the sizes of various sub-segments in the market. The research methodology used to estimate the market size includes the following:
The key players in the market have been identified through extensive secondary research.
The industry's supply chain and market size, in terms of value, have been determined through primary and secondary research processes.
All percentage shares, splits, and breakdowns have been determined using secondary sources and verified through primary sources.
Global Decorative Coatings Market Size: Bottom-Up Approach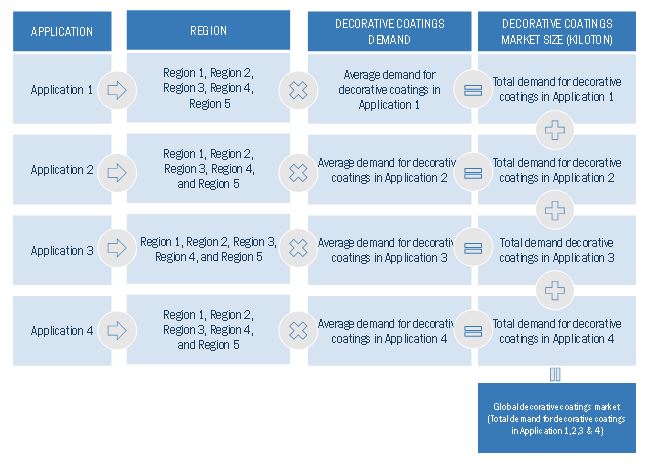 Data Triangulation
After arriving at the overall market size-using the market size estimation processes as explained above-the market was split into several segments and sub-segments. To complete the overall market engineering process and arrive at the exact statistics of each market segment and sub-segment, the data triangulation, and market breakdown procedures were employed, wherever applicable. The data was triangulated by studying various factors and trends from both the demand and supply sides.
Report Objectives
To analyze and forecast the size of the global decorative coatings market in terms of value and volume
To define, describe, and forecast the decorative coatings market by resin type, technology, coating type, product type, user type, application, and region
To forecast the decorative coatings market size with respect to five main regions, namely, North America, Europe, Asia Pacific (APAC), the Middle East & Africa, and South America
To provide detailed information about the key factors (drivers, restraints, opportunities, and challenges) influencing the growth of the market
To strategically analyze micromarkets1 concerning individual growth trends, growth prospects, and their contribution to the overall market
To analyze the opportunities in the market for stakeholders and provide a competitive landscape for the market leaders
To analyze competitive developments, such as acquisitions, new product launches, investments, expansions, agreements, collaborations, and partnerships in the decorative coatings market
To strategically profile the key players and comprehensively analyze their market shares and core competencies2
Note: 1. Micromarkets are defined as the subsegments of the global decorative coatings market included in the report.
2. Core competencies of companies are determined in terms of their key developments and key strategies adopted by them to sustain in the market.
Available Customizations
MarketsandMarkets offers customizations according to the specific needs of the companies with the given market data.
The following customization options are available for the report:
Product Analysis
Product matrix, which gives a detailed comparison of the product portfolio of each company
Regional Analysis
Further breakdown of the decorative coatings market, by country
Company Information
Detailed analysis and profiling of additional market players (up to five)