Get in-depth analysis of how COVID-19 is impacting the Digital Badges Market
Benchmarking the rapid strategy shifts of the Top 100 companies in the Digital Badges Market
Request Now
[86 Pages Report] The global digital badges market size was USD 65.0 million in 2017 and is expected to reach USD 205.6 million by 2023, growing at a Compound Annual Growth Rate (CAGR) of 19.8% during the forecast period. The base year considered for the study is 2017 and the forecast period is 2018–2023.
Objectives of the Study
To determine and forecast the global digital badges market by offering, end-user, and region from 2018 to 2023 and analyze various macroeconomic and microeconomic factors that affect the market growth
To forecast the size of the market segments with respect to 4 main regions, namely, North America, Europe, Asia Pacific (APAC), and Rest of the World (RoW)
To analyze each submarket with respect to individual growth trends, prospects, and contributions to the overall digital badges market
To provide detailed information regarding the major factors (drivers, restraints, opportunities, and challenges) influencing the growth of the market
To profile the key market players; provide comparative analysis based on their business overviews, service offerings, regional presence, business strategies, and key financials; and provide companies with in-house statistical tools to understand the competitive landscape
To track and analyze competitive developments, such as mergers and acquisitions, product developments, partnerships and collaborations, and Research and Development (R&D) activities in the digital badges market
The research methodology used to estimate and forecast the digital badges market began with capturing data on key vendor revenues. The market size of individual segments was determined through various secondary sources including industry associations, white papers, and journals. Vendor offerings were also taken into consideration to determine the market segmentation. The bottom-up approach was employed to arrive at the overall size of the market, by considering the digital badges adoption rate and digital badges pricing by key players, which were then verified through primary research by conducting extensive interviews with key industry personnel, such as Vice Presidents (VPs), directors, and related executives in the digital badges market. Data triangulation and market breakdown procedures were employed to complete the overall market engineering process and arrive at the exact statistics for all segments and sub segments.
The figure below depicts the break-up of the profiles of primary discussion participants: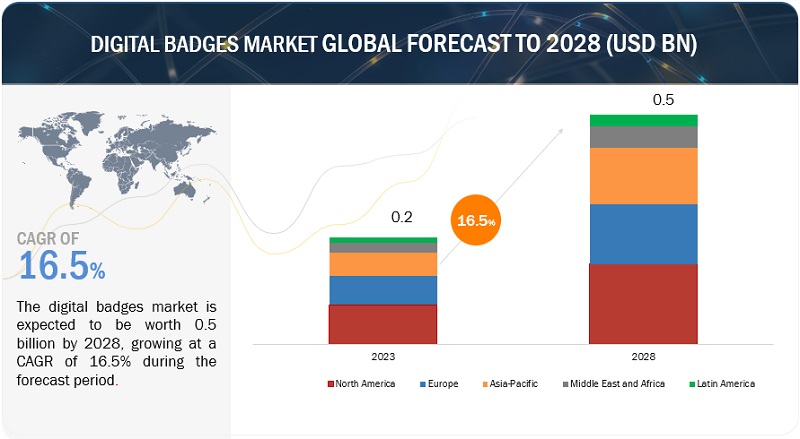 To know about the assumptions considered for the study, download the pdf brochure
The digital badges market ecosystem includes major players, such as Credly (US), Accredible (US), Accreditrust (US), Badgecraft (Lithuania), Badgelist (US), Basno (US), Be Badges (Belgium), Bestr (Italy), Concentric Sky (US), Discendum (Finland), EbizON (India), Forall Systems (US), LearningTimes (US), Nocti Business Solutions (US), Portfolium (US), ProExam (US), and Youtopia (US).
Key Target Audience
Digital badge platform providers
IT service providers
Badge issuers
Digital badge displayers
Digital badge designers
Cloud service providers
Consultants/consultancies/advisory firms
Training and education service providers
Scope of the Report
The report considers platforms, services, and end users to arrive at the global market size for digital badges during the forecast period.
By Offering
By End User
By Region
North America
Europe
APAC
RoW
Drivers
Growth in the adoption of online education
The online education industry is transforming rapidly, and it is evident by the growing adoption of digital learning and social learning. Digital badges have become an integral part of online education. Most of the online education providers in the US and Europe offer digital badges to the learners after the completion of their courses. Digital badges help in gamifying the education industry. They not only motivate the learners but also create competitive environment for accomplishing certain skills.
Increasing focus on employees' professional development
Companies are investing a significant amount on professional development of their employees. Many major companies, such as IBM, SAP, SAS, and Oracle, have launched professional development programs to reinforce the culture of continuous learning and development. The digital badge system helps in promoting the professional development and recognizing the employee skills in a transparent manner.
Restraints
Lack of IT infrastructure in developing countries
Good IT infrastructure is one of the essential parameters for the growth of the digital badges market. Lack of good IT infrastructure hinders the successful implementation of digital badges in educational institutions. For instance, the adoption of digital badges in Africa is still restricted, due to lack of proper IT infrastructures and connectivity solutions.
Opportunities
Growing emphasis on lifelong learning
Lifelong learning is essential as it incorporates skills and talents as per new emerging trends and new developments. Lifelong learning helps employees to easily adapt to changes in business environment and equip them meet professional demands. It facilitates learners to develop their abilities by regularly upgrading their skills and enhancing their knowledge. Digital badges enable learners to showcase their skills, wherever they go, and help them to illuminate their lifelong learning journey
Gamification in the education industry
Gamification is learning through games. It is simply a set of course content that works like a game and is becoming popular among learners. It can be used to apply game-design thinking to involve learners in solving problems. Gamification brings 3 major elements, i.e., mechanical elements, personal elements, and emotional elements in the education industry. It also helps reluctant and unmotivated learners to get involved in the learning activity.
Challenges
Lack of digital badge equivalents
Lack of an equivalence for digital badges is one of the major challenges hindering the scaling of digital badges. The badges that are issued in one country or by one institution are rarely recognized in other countries and institutions. Equivalence is one of the key factors for the implementation of digital badges in academic institutions, such as schools and colleges. The badges need to be both validated and portable. They must contain the same recognizable attributes across a band of issuers and audiences.
Budget constraints for educational institutions
site budget that is required to implement digital learning solutions. Moreover, technology infrastructure varies between districts and organizations and this sometimes acts as a limitation to the overall market growth. Developing countries of APAC and MEA have an enormous potential for this market, but the state budget that is specifically confined to educational technologies is not sometimes sufficient. This makes it challenging for adopters to implement digital solutions.
New Product Launches/Product Enhancements, 2016–2017
| | | |
| --- | --- | --- |
| Date | Nature of Development | Description |
| June 2017 | Product Enhancement | Credly announced the integration of blockchain technology in the verification process. The recording of digital credentials on a blockchain provides an additional level of external verification to the issuers and earners. |
| June 2017 | New Service Launch | Discendum launched a new service called enterprise on the Open Badge Platform (OBP). This service is targeted at big businesses, universities, and associations that have multiple sub-organizations and different user groups to manage. This service offers organizations precise tools for managing their users and badges, and gives them the ability to issue an unlimited number of open badges and advertise their badges in OBP, both at present and in the coming years. Additionally, enterprise customers can install their own dedicated OBP and start using Badge Record Storage to host badges in their servers. |
Mergers and Acquisitions, 2018
| | | |
| --- | --- | --- |
| Date | Company Name | Description |
| July 2018 | Credly (US) and Pearson's Acclaim (US) | Credly acquired Pearson's Acclaim badging business to cater to the growing demand for digital credentialing and talent recognition. This acquisition enables Credly to offer a comprehensive solution suite for skill recognition, credential verification, and talent management. |
Agreements and Partnerships, 2017–2018
| | | |
| --- | --- | --- |
| Date | Company Name | Description |
| April 2018 | ProExam (US) and International Youth Foundation (IYF) (US) | ProExam partnered with the IYF, a global non-profit organization, aimed at empowering today's young men and women to be productive. This partnership combined the expertise of ProExam and IYF. ProExam's expertise in developing research-based, innovative assessments help measure both non-cognitive soft skills and knowledge, along with IYF's Passport to Success (PTS) initiative, a life skills curriculum and training methodology, currently translated into 20 languages and implemented in more than 40 countries. Both organizations bring an extensive global network of partners, dedicated to strengthening and expanding positive youth development and evidence-based assessment across the world. |
| February 2018 | Credly (US) and Naylor Association Solutions (US) | Credly partnered with Naylor Association Solutions, an engagement and revenue tools provider, to deliver end-to-end solutions for issuing, managing, and tracking digital credentials in Naylor's career center. |
Source: Press Releases
Available Customizations
With the given market data, MarketsandMarkets offers customization as per your company's specific requirements. The following customization options are available for this report:
Company Information
Detailed analysis and profiling of additional market players
MarketsandMarkets expects the global digital badges market size to grow from USD 83.3 million in 2018 to USD 205.6 million by 2023, at a Compound Annual Growth Rate (CAGR) of 19.8% during the forecast period. Major drivers of the market include the growing adoption of online learning, increasing focus on employees' professional development, and use of blockchain in digital badges.
The report covers the digital badges market by offering (platform and services), end user (academic and corporate), and region. The platform segment is expected to hold a larger market size and grow at a higher rate during the forecast period. The major driving factor is the increased integration of the platform with the existing Learning Management Systems (LMS). End users are increasingly drawn toward the platform's shareability feature that enables the learner to share badges to different social networks and over emails; embed them in websites or email signatures; and integrate with the ePortfolio, virtual learning environments, blogs, and curriculum vitae.
The academic end-user segment is expected to hold a larger market size during the forecast period, as the segment has started promoting credentials as a way for teachers and others to gain professional learning in discrete topics and practices. Universities and educational institutions are leveraging innovative developments in the education technology to involve students, expand their presence globally, and avoid campus congestion.
In the global digital badges market by region, North America is expected to hold the largest market size during the forecast period. Major growth factors for the North American market include increasing adoption of digital badges driven by their authenticity, a growing demand for specific skills among individuals, increasing collaboration among educational institutions, and rapid technological advancements. Large presence of firms that utilize the digital badge technology would also contribute to the market growth. The digital badges market in APAC is expected to record growth at the fastest rate, as academic institutions and corporate houses in the region have started adopting smart eLearning solutions. Organizations in APAC are trying their best to gain better RoI on talent development, fulfill employee learning requirements, offer proper employee training, and receive quantifiable business outcomes.
Lack of good IT infrastructure hinders the growth of digital badges market in the countries of developing regions. The absence of suitable roadmaps to utilize digital technologies, such as eLearning, social learning, and adaptive learning in developing countries, could also restrain for the market growth. Top vendors in the digital badges market, such as Credly, Accredible, ProExam, Discendum, and Portfolium, have adopted partnerships and collaborations to expand their regional presence and enhance their platform capabilities.
To speak to our analyst for a discussion on the above findings, click Speak to Analyst