[86 Pages Report] The digital badge has become a key component of consumer experience strategy. It is presently gaining pace in the customer engagement and loyalty ecosystem. In 2011, Mozilla Foundation formulated technical standards, Open Badge Infrastructure (OBI), for issuing, collecting, and displaying digital badges. Currently, IMS Global maintains this standard. Increased adoption of online education is a key driver. At the same time, focus on employee's professional development and the use of blockchain in digital badges are the other major driving factors for the market. Most of the online education providers in the US and Europe offer digital badges to learners after the completion of their courses, thus displaying a trend of digital badges becoming an integral part of online education. The digital badges market is expected to grow from USD 83.3 million in 2018 to USD 205.6 million by 2023, at a Compound Annual Growth Rate (CAGR) of 19.8% during the forecast period.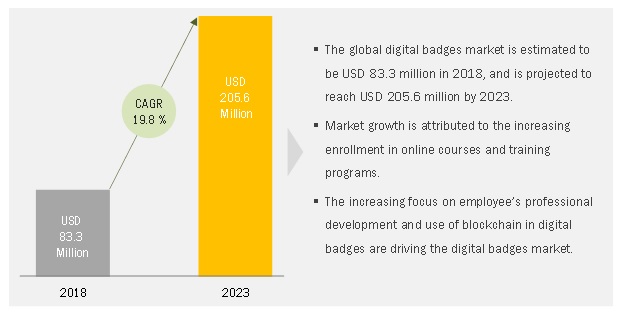 The platform segment is expected to hold the larger market share during the forecast period
A digital badge is the online validation of achievement, a skill, or a credential. The digital badge platform supports the development and deployment of digital badges. The platform enables end-users to design, verify, create, collect, issue, and manage digital badges. Selecting the platform is based on the functional requirements of the issuer and a set of criteria; these criteria could be supported scenarios, variety of badging features, and supported badging and learning practices, among others.
The academic segment is expected to hold the larger market share during the forecast period
The academic sector, which comprises schools, colleges, universities, and private tutorials, has started promoting credentials as a way for teachers and others to gain professional learning in discrete topics and practices. Many institutions are using digital badges to provide the best learning experience to their students. Universities and educational institutions are leveraging innovative developments in education technology to involve students, expand their presence globally, and avoid campus congestion. For instance, the Center for Excellence in Teaching and Learning at Texas Wesleyan University, US, awards badges for participation in academic development programs to recognize soft and technical skill development. Similarly, the Aurora Public Schools, Colorado, US, has implemented a digital badging program, under which students are awarded digital badges for acquiring skills such as collaboration and information literacy.
APAC is expected to grow at the highest CAGR during the forecast period
The APAC region is expected to emerge as the fastest-growing market for digital badges and learning solutions. The region has started adopting smart eLearning solutions for academic institutes and corporate houses. APAC organizations are trying their best to gain better ROI on talent development, fulfill employee learning requirements, offer proper employee training, and receive quantifiable business outcomes. As many organizations have tight learning budgets, they prefer technology-enabled learning approaches, which are also cost-effective, to impart training and supply resources to their learners. Many learning solution vendors are expanding their reach and exploring opportunities in the APAC region by offering personalized learning environments and catering to the fluctuating demands of the market. These vendors are enabling the integration of digital badges in their solutions for social learning, mobile learning, and adaptive learning to provide a continuous learning environment.
Market Dynamics
Driver: Increasing focus on employees' professional development
Companies are investing a significant amount in the professional development of their employees. Many major companies, such as IBM, SAP, SAS, and Oracle, have launched professional development programs to reinforce the culture of continuous learning and development. The digital badge system helps in promoting professional development and recognizing employee skills in a transparent manner. It is designed to motivate employees to participate in the professional development program and acknowledge their completion of learning programs. For instance, in 2015, IBM launched cognitive classes where employees can learn courses, such as Big Data 101 or Machine Learning 101, and earn the badges. Similarly, IBM has launched various courses and provides an opportunity for its employees to learn and showcase their knowledge by earning digital badges.
Restraint: Lack of IT infrastructure in developing countries
Good IT infrastructure is one of the essential parameters for the growth of the digital badges market. Lack of good IT infrastructure hinders the successful implementation of digital badges in educational institutions. For instance, the adoption of digital badges in Africa is still restricted, due to a lack of proper IT infrastructures and connectivity solutions. Countries such as Nigeria, Kenya, and Uganda have very low internet penetration. Moreover, lack of suitable roadmaps to utilize digital technologies, such as eLearning, social learning, and adaptive learning in developing countries, is a restraint for the growth of the digital badges market.
Opportunity: Gamification in the education industry
Gamification is learning through games. It is simply a set of course content that works like a game and is becoming popular among learners. It can be used to apply game-design thinking to involve learners in solving problems. Gamification brings 3 major elements, i.e., mechanical elements, personal elements, and emotional elements in the education industry. It also helps reluctant and unmotivated learners to get involved in the learning activity. Gamification offers a safe environment for learners to solve challenges in real-life situations. This concept is based on offering interactive scenarios for learners to support motivational learning. Many digital badge providers are trying to grab this opportunity in the market. They are offering badging APIs that are integrated with gamification features of learning solutions. Hence, the growing trend of gamification in the education industry would present a sizable opportunity for digital badge platform and service providers.
Challenge: Lack of digital badge equivalents
Lack of equivalence for digital badges is one of the major challenges hindering the scaling of digital badges. The badges that are issued in one country or by one institution are rarely recognized in other countries and institutions. Equivalence is one of the key factors for the implementation of digital badges in academic institutions, such as schools and colleges. The badges need to be both validated and portable. They must contain the same recognizable attributes across a band of issuers and audiences.
Get online access to the report on the World's First Market Intelligence Cloud

Easy to Download Historical Data & Forecast Numbers
Company Analysis Dashboard for high growth potential opportunities
Research Analyst Access for customization & queries
Competitor Analysis with Interactive dashboard
Latest News, Updates & Trend analysis

Request Sample

Click on image to enlarge

Scope of the Report
| | |
| --- | --- |
| Report Metric | Details |
| Market size available for years | 2016–2023 |
| Base year considered | 2017 |
| Forecast period | 2018–2023 |
| Forecast units | USD million |
| Segments covered | Offering, End User, and Region |
| Geographies covered | North America, APAC, Europe, RoW |
| Companies covered | Credly (US), Accredible (US), Accreditrust (US), Badgecraft (Lithuania), Badgelist (US), Basno (US), Be Badges (Belgium), Bestr (Italy), Concentric Sky (US), Discendum (Finland), EbizON (India), Forall Systems (US), LearningTimes (US), Nocti Business Solutions (US), Portfolium (US), ProExam (US), and Youtopia (US). |
The report considers platforms, services, and end-users to arrive at the global market size for digital badges during the forecast period.
By Offering
By End-User
By Region
North America
Europe

UK
Germany
Rest of Europe

APAC

China
Australia & New Zealand
Japan
Rest of APAC

RoW
Key Market Players
Credly, Accredible, Portfolium, Discendum , ProExam ,
Recent Developments
In July 2018, Credly acquired Pearson's Acclaim badging business to cater to the growing demand for digital credentialing and talent recognition. This acquisition enabled Credly to offer a comprehensive solution suite for skill recognition, credential verification, and talent management.
In June 2017, Discendum launched a new service called enterprise on the Open Badge Platform (OBP). This service is targeted at big businesses, universities, and associations that have multiple sub-organizations and different user groups to manage. This service offers organizations precise tools for managing their users and badges, and gives them the ability to issue an unlimited number of open badges and advertise their badges in OBP, both at present and in the coming years. Additionally, enterprise customers can install their own dedicated OBP and start using Badge Record Storage to host badges in their servers.
In February 2016, ProExam launched a product named Tessera, an all-in-one, multifaceted solution that gives students, parents, teachers, and schools a comprehensive view of non-cognitive skills and character strengths.
Critical questions the report answers:
Which end-user segment is expected to witness maximum growth opportunities during the forecast period?
Which would be the leading region to experience the highest CAGR during the forecast period?
How will the market drivers, restraints and future opportunities affect the market dynamics?
What are the prime strategies followed by the market leaders/ key players in the market?
To speak to our analyst for a discussion on the above findings, click Speak to Analyst