[221 Pages Report] The EVA market size is estimated to be USD 9.7 Billion in 2021 and is projected to reach USD 13.6 Billion by 2026, at a CAGR of 6.8%. EVA is the copolymer of ethylene and vinyl acetate. It is an elastic material with the presence of about 10% – 40% of vinyl acetate content. It is also known as polyethylene vinyl acetate (PEVA), with high flexibility and softness. EVA also possesses good clarity and gloss, low-temperature toughness, stress crack resistance, high friction coefficient, hot-melt adhesive waterproof properties, and resistance to UV radiations. These copolymers are used in various end-use industries such as footwear & foams, packaging, agriculture, photovoltaic encapsulation, and others end-use industries.
EVA is a versatile, recyclable, sustainable, and durable material, owing to which it is gaining traction across several industrial applications. Due to its superior properties and the changing government policies such as European Green Deals, the global market for EVA is expected to grow
To know about the assumptions considered for the study, Request for Free Sample Report
COVID-19 pandemic Impact on the Global EVA market
Due to COVID-19 pandemic, the suspension of manufacturing operation, disruption of supply chain, and declining demand for industrial goods had significant impact on the market. However, due to COVID-19 pandemic, the demand for pharmaceutical industry goods has risen, which, in turn, support for the growth of EVA market. At the same time, due to panic situation, people stock the hygiene products across the globe that drives the market. However, the end-use industries like footwear and foam were affected by the pandemic.
EVA market Dynamics
Driver: Significant growth in solar PV installation across the globe to boost the demand for EVA during over the forecast period
The global solar power industry is witnessing experiencing strong growth owing to massive government's large investment by the governments of different developed and developing nations. to promote renewable energy. Solar power is one of the most reliable and clean sources of energy and is a sustainable alternative to fossil fuels that are largely responsible for polluting the environment and contributing to global warming. Ethylene vinyl acetate (EVA) is used in solar modules as an encapsulating agent to provide good radiation transmission and low degradability to sunlight. Also, it is used to forms a sealing and insulating films around the solar cells.
Restraint: Intervention of substitute materials will hamper the market growth
LDPE is considered as one of the substitutes for EVA copolymers soon due to its comparatively low-cost and approximately the same properties. Since EVA with lower vinyl acetate content has faced competition with metallocene LDPE, many producers are focusing on differentiated or value-added products with a high concentration of vinyl acetate by increasing the vinyl acetate content in EVA copolymers.
Opportunities: Introduction of bio-based ethylene vinyl acetate
The replacement of petroleum-based EVA copolymers with bio-based EVA copolymers can prove as a milestone in the polymer industry Bio-based EVA is made from sugarcane, which is a sustainable resource that helps to reduce greenhouse gas emissions by capturing CO2. Green EVA is suitable for usage in footwear, toys, general foams, and a variety of other applications for those looking to incorporate it into a new product concept.
Challenges: Potential problems with ethylene vinyl acetate photovoltaic encapsulation
There are also some drawbacks of EVA copolymers used in encapsulation. EVA copolymers start decomposing when exposed to atmospheric water or ultraviolet radiation and starts producing acetic acid at a slow rate, leading to the a lowered level of pH and increased surface corrosion
High density EVA accounted for the largest share in 2020
Extruded sheets are estimated to be the largest form of EVA. This is due to its advantages, which include clarity, good surface quality, range of colors, easy maintenance, surface hardness, lightweight, and easy fabrication.
Film application accounted for the largest share in 2020
Ethylene Vinyl Acetate (EVA) EVA with 6% – 10% vinyl acetate content is commercially used for film applications. Films manufactured using EVA copolymers became the most widespread due to their properties, such as lower melting point, higher transparency, high impact resistance, thermal stability, elasticity, and hygienic characteristics
APAC is projected to account for the largest share of the EVA market during the forecast period
APAC is estimated to be the largest market for EVA and is projected to reach USD 8,740 Million by 2026. The market in the region is primarily driven by the rising demand for durable plastic products from the footwears, pharmaceuticals, and photovoltaic panels segments.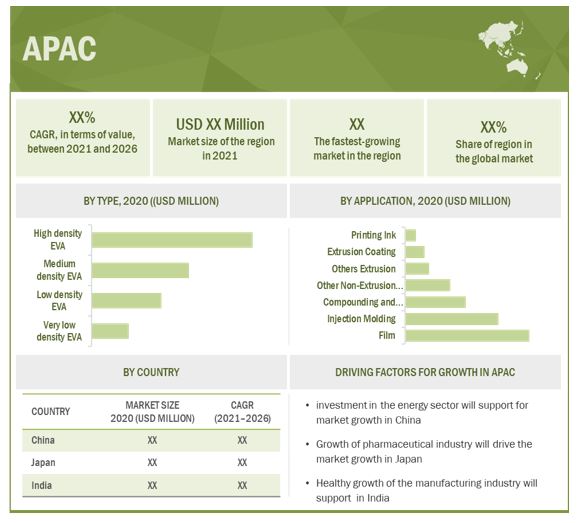 Key Market Players
The EVA market comprises major manufacturers such as ExxonMobil Corporation (US), Dow Inc. (US), SIPCHEM (Saudi Arabia), Formosa Plastics Corporation (Taiwan), and Hanwha Total Petrochemical are the key players operating in the EVA market. Expansions, acquisitions, joint ventures, and new product developments are some of the major strategies adopted by these key players to enhance their positions in the EVA s market.
Get online access to the report on the World's First Market Intelligence Cloud

Easy to Download Historical Data & Forecast Numbers
Company Analysis Dashboard for high growth potential opportunities
Research Analyst Access for customization & queries
Competitor Analysis with Interactive dashboard
Latest News, Updates & Trend analysis

Request Sample

Click on image to enlarge

Scope of the Report
| | |
| --- | --- |
| Report Metric | Details |
| Market size available for years | 2019–2026 |
| Base year considered | 2020 |
| Forecast period | 2021–2026 |
| Forecast units | Value (USD Million) and Volume (Million Square Meter) |
| Segments covered | By Type, Application, End-use and Region |
| Geographies covered | North America, Asia Pacific, Europe, South America, and Middle East & Africa |
| Companies covered | ExxonMobil Corporation (US), Dow Inc. (US), SIPCHEM (Saudi Arabia), Formosa Plastics Corporation (Taiwan), and Hanwha Total Petrochemical |
This research report categorizes the EVA market based on resin type, backing material, a, and region.
EVA market, By Type
Very low density ethylene vinyl acetate
Low density ethylene vinyl acetate
Medium density ethylene vinyl acetate
High density ethylene vinyl acetate
EVA market, By Application
Film
Injection molding
Comp0unding and wire & cable
Others non-extrusion
Others extrusion
Extrusion coating
Printing ink
EVA market, By End-Use Industry
Footwear & foams
Packaging
Agriculture
Photovoltaic panels
Pharmaceuticals
Others
EVA market, By Region
North America
Europe
Asia Pacific
Rest of the World
Recent Developments
In 2020, Tosoh Corporation The company launched the full-scale operation of its new main research building located in Shuan city, China.
In Feb 2020, Dow Inc. The company had announced the expansion of Canada based ethylene production facility by 130 kilotons.
In 2020, Ineos Group acquired 100% shares in its joint venture "Gemini HDPE" with Sasol Chemicals. The company produces high high-density polyethylene in LA Porte, Texas.
Frequently Asked Questions (FAQ):
What are the major drivers influencing the growth of the EVA market?
The major drivers influencing the growth of EVA are increasing demand from the photovoltaic panels and pharmaceutical industry.The major drivers influencing the growth of EVA are increasing demand from the photovoltaic panels and pharmaceutical industry.
What are the major challenges in the EVA market?
The major challenges in EVA market is problem faced in photovoltaic encapsulation.
What are the different applications of EVA?
EVA find their applications in various end-use industries such as footwear & foams, packaging, agriculture, photovoltaic encapsulation, and others. The applications of these have been constantly increasing owing to constant innovation.
What is the impact of COVID-19 pandemic on the EVA market?
Owing to the COVID-19 pandemic, there has been a mixed impact on the EVA market across the globe. The demand from the pharmaceutical industry has increased due to rising health concerns among the consumers, also there is an increase in the demand of films due to high packaging applications whereas in footwears, and in others, the demand for EVA was declined.
What are the industry trends in EVA market?
In the recent past, several manufacturers have expanded their production facilities to cater to the rising demand for EVA and enhance their presence in the target market. Along with this, to alleviate the competitive scenario, these key players are focusing on expanding their regional presence particularly in the Asia Pacific. .
To speak to our analyst for a discussion on the above findings, click Speak to Analyst