Global Femtocell Market
Global Femtocell Market (2009–2014)
Report Code: TC 1099
Mar, 2010, by marketsandmarkets.com
The global femtocell market is projected to grow from $230 million in 2009 to $4.6 billion in 2014. The market is expected to have a high CAGR of 82.6% from 2009 to 2014 due to the large size of the mobile phone market. The U.S. was expected to have the largest femtocell market in 2010 and is also expected to have the highest CAGR of 84.5% from 2009 to 2014.
Femtocell market has grown from a test product to a mainstream market within a short time-span, especially after 2007, when network operators first adopted femtocell equipment. Developed economies such as Western Europe, Japan, and Korea where broadband and mobile penetration is very high are the preferred markets for femtocell vendors in terms of higher revenues and increased market growth. This is due to ease on the part of femtoocell equipment to deploy at places where broadband facility is already available.
Femtocell offers significant benefits to both network operators and end users. The benefits for operators include cost saving for backhauling and reduced churn of subscribers as use of femtocell enables a better network coverage while subscribers enjoy benefits of reduced call charges and better experience of mobile internet applications such as video downloads and games on mobile internet. Network operators are also looking at integrating femtocells into consumer entertainment hardware such as set-top boxes and routers.
While femtocell has its advantages, high cost of the equipment is a major concern. However, several players are looking to enter the femtocell market (especially from Taiwan and Korea) and therefore it is expected that the price of femtocell equipment will come down to $100 in couple of years from the current $250 a unit.
The major factors driving the growth of the global femtocell market are the increasing indoor use of mobile phones, and the impending saturation of the telecommunications market in developed economies. The ability of femtocell to overcome the issues involved with mobile network services are also expected to drive market growth.
Get online access to the report on the World's First Market Intelligence Cloud
Easy to Download Historical Data & Forecast Numbers
Company Analysis Dashboard for high growth potential opportunities
Research Analyst Access for customization & queries
Competitor Analysis with Interactive dashboard
Latest News, Updates & Trend analysis
Request Sample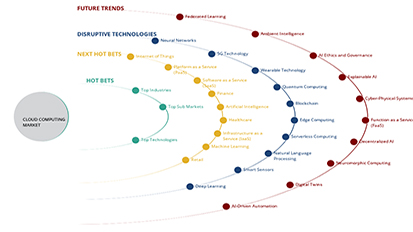 Click on image to enlarge
Scope of the Report
This report aims to analyze global femtocell equipment market according to technologies and applications, providing the market estimates and forecasts for these segments in all major geography markets. The report categorizes the market as follows:
Femtocell equipment market by technologies:
IU-H and IMS/SIP
Femtocell equipment technology market by applications:
Home, small and medium enterprises, remote areas and underground tunnels and basements
Each section will provide market data, market trends, and drivers and opportunities accompanying the market tables for different geographic regions. The report also draws an in-depth competitive landscape, profiling the key players and the top-selling products in the market. In addition to 29 company profiles, the report also identifies the competitive developments in the global femtocell market, including mergers and acquisitions, agreements and collaborations, and new product/technology launch.
Stakeholders
The intended audience of this report includes:
Femtocell manufacturers
Cellular service providers
Networking equipment manufacturers09 – 2014)
Communication transceiver manufacturers
Research labs
Global Femtocell Equipment Market (2009–2014)
Global femtocell market has been categorized on the basis of technology, geography, and applications. IU-H technology currently holds 70% share of the global femtocell market, as these platforms are more suitable for both existing and next-generation network services such as 3G. Femtocells generate higher average revenue per user as the OPEX (Operational Expenditure) involved is negligible in comparison with macro-cells.
Growth of the market is expected to be driven by the worldwide network operators' interest in deployment of femtocell for their network services and large size of the mobile phones market. Market growth will also be boosted by the ability of femtocell to address increasing demand of better indoor coverage and high speed data transfer for applications such as mobile video call and music downloads. Femtocell also enables service providers to offer lower tariffs for mobile calls and other value-added services.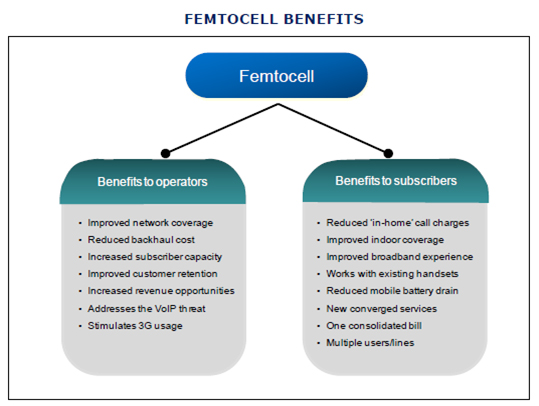 Integrating femtocell solutions with the other network equipment such as set-top boxes forms the major competitive strategy. The early movers in the industry will benefit in terms of market share if they focus on the development of efficient, user-friendly, and competitively priced products. Companies will thus need to make extensive R&D investments to make an impact on the market.
Executive summary
Femtocell market overview
Femtocell technologies
Femtocell applications & deployments
Market trends and opportunities
Market share and pricing analysis
Competitive Landscape
1. Introduction
1.1. Key take-aways
1.2. Report description
1.3. Scope of the report
1.4. Stakeholders
1.5. Research methodology
2. Summary
3. Market Overview
3.1. Femtocell Evolution & Future Offerings
3.2. Femtocell Attributes
3.3. Benefits Of Femtocell Technology
3.3.1. Benefits to Network Operator
3.3.2. Benefits to Subscribers
3.4. Drivers
3.5. Inhibitors
3.6. Adoption Lifecycle
3.7. Factors Influencing Femtocell Market
3.7.1. Supply Side Drivers
3.7.2. Demand Side Drivers
3.7.3. Opportunities
3.7.4. Restraints
3.7.5. Key Competitive Points
3.8. Growing Trends of 3g Subscription
3.9. Market Opportunities
3.10. Factors Causing Subscriber Churn
4. Femtocell Technology
4.1. Overview
4.1.1. Global IU-H Femtocell Technology Market
4.1.2. Global IMS/SIP Femtocell Technology Market
4.2. Challenges For Femtocell Technology
5. Femtocell Applications and Deployments
5.1. Overview
5.2. Operator's Perspective
5.2.1. Operator Strategies
5.2.1.1. Network Coverage
5.2.1.2. Subscribers' Experience
5.2.1.3. Price Promotion
5.2.1.4. Value Added Services (VAS)
5.3. Consumer Perspective
5.4. Applications
5.4.1. Home
5.4.2. Small and Medium Enterprises
5.4.3. Remote Areas
5.4.4. Underground Tunnels and Basements
6. Market Trends and Opportunities
6.1. Global Femtocell Market
6.2. Global Femtocell Subscribers
6.3. Mobile Penetration Rate
6.4. Mobile Data Traffic Origin – Trend Analysis
6.5. Broadband Penetration Rate
6.6. Global Internet Users
6.7. ROI Analysis
6.8. Femtocell Vs. Macrocell
7. Market Share and Pricing Analysis
7.1. Overview
7.2. Key Players of Femtocell Market
7.3. Pricing of Femtocell
7.4. Key Deciding Factors
8. Competitive Landscape
8.1. Overview
8.2. Existing Femtocell Offerings
8.3. Market Shares of U.S. Operators
8.4. Growth Strategy
8.5. New Product Launches
8.6. Agreements and Collaborations
9. Patents
9.1. Patent Analysis by Geography
9.2. Patent Growth Analysis Year on Year
9.3. Patent by Assignees
9.4. Patent Trends
10. company Profile
10.1. 2wire, Inc
10.2. Airvana, Inc.
10.3. Airwalk Communications, Inc
10.4. Alcatel-Lucent
10.5. Analog Devices Inc
10.6. Aricent Inc
10.7. Cisco Systems Inc
10.8. Continuous Computing Corp
10.9. Ericsson Inc
10.10. Gemtek Technology Co., Ltd
10.11. Hsl Systems Ltd
10.12. Huawei Technologies Co., Ltd
10.13. Ip.Access Ltd
10.14. Juniper Networks, Inc.
10.15. Kineto Wireless, Inc
10.16. Mimoon Gmbh
10.17. Motorola, Inc.
10.18. Netgear Inc.
10.19. Node-H Gmbh
10.20. Nokia Siemens Networks
10.21. Picochip Inc
10.22. Radioframe Networks, Inc.
10.23. Rakon Ltd
10.24. Samsung Telecommunication America
10.25. Sonus Networks Inc
10.26. Tatara Systems Inc
10.27. Texas Instruments Inc.
10.28. Ubiquisys Ltd
10.29. Zte Corp
11. Appendix
11.1. U.S. Patents
11.2. European Patents
11.3. Japan Patents
LIST OF TABLES
SUMMARY TABLE GLOBAL FEMTOCELL MARKET 2007 – 2014 ($MILLIONS) 17
TABLE 1 GLOBAL IU-H FEMTOCELL TECHNOLOGY MARKET 2008 – 2014
($MILLIONS) 35
TABLE 2 GLOBAL IMS/SIP FEMTOCELL TECHNOLOGY MARKET 2008 – 2014
($MILLIONS) 36
TABLE 3 PREDICTIVE RETURN ON INVESTMENT FROM FEMTOCELL 50
TABLE 4 MACROCELL VS FEMTOCELL 52
TABLE 5 CURRENT FEMTOCELL OFFERINGS 59
TABLE 6 NEW PRODUCT LAUNCHES IN THE FEMTOCELL MARKET 62
TABLE 7 AGREEMENTS & COLLABORATIONS IN THE FEMTOCELL MARKET 64
LIST OF FIGURES
FIGURE 1 FEMTOCELL EVOLUTION 21
FIGURE 2 FEMTOCELL BENEFITS 23
FIGURE 3 FEMTOCELL ADOPTION LIFECYCLE 27
FIGURE 4 FACTORS INFLUENCING THE FEMTOCELL MARKET 28
FIGURE 5 3G SUBSCRIBERS GROWTH TREND 31
FIGURE 6 MARKET OPPORTUNITIES 32
FIGURE 7 RELATIVE FACTORS ANALYSIS FOR SUBSCRIBER CHURN 33
FIGURE 8 APPLICATIONS OF FEMTOCELL 41
FIGURE 9 GLOBAL FEMTOCELL MARKET (2008 – 2014) 44
FIGURE 10 GLOBAL FEMTOCELL USERS (2008 – 2014) 45
FIGURE 11 GLOBAL MOBILE PHONE PENETRATION (2008 - 2014) 46
FIGURE 12 GLOBAL MOBILE DATA TRAFFIC ORIGIN 47
FIGURE 13 BROADBAND PENETRATION RATE BY GEOGRAPHY (2009) 48
FIGURE 14 INTERNET USERS BY GEOGRAPHY (2009) 49
FIGURE 15 FEMTOCELL KEY EQUIPMENT VENDORS AND RESPECTIVE PRODUCTS (2008 – 2009) 54
FIGURE 16 FEMTOCELL EQUIPMENT PRICING TRENDS (2009 – 2014) 55
FIGURE 17 MARKET SHARES OF U.S. NETWORK OPERATORS (2009) 60
FIGURE 18 INDUSTRY GROWTH STRATEGIES 61
FIGURE 19 PATENT ANALYSIS BY GEOGRAPHY (2004 – 2009) 69
FIGURE 20 YEAR ON YEAR PATENT ANALYSIS (2007 – 2009) 70
FIGURE 21 PATENTS BY ASSIGNEES 71
FIGURE 22 PATENT TRENDS (2004 – 2009) 72
Request for detailed methodology, assumptions & how numbers were triangulated.