Laminating Adhesives Market
Laminating Adhesives Market by Resin Type (Polyurethane, Acrylic, Others), Technology (Solvent-based, Water-Based, Solvent-less), End-Use Industry (Packaging (Food & Beverages, Pharmaceuticals, Consumer Products), Industrial, and Region (2023-2028)
Report Code: CH 2665
May, 2023, by marketsandmarkets.com
The laminating adhesives market is projected to grow from USD 3.6 billion in 2022 to USD 5.1 billion by 2028, at a CAGR of 5.8% between 2023 and 2028. The polyurethane, by resin segment in Asia Pacific region is expecting a boom in the forecasted period and will lead to an increase in the demand for laminating adhesives.
Attractive Opportunities in the laminating adhesives Market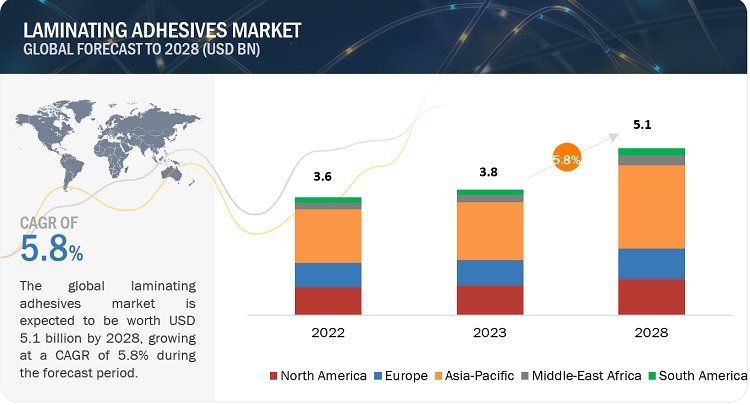 To know about the assumptions considered for the study, Request for Free Sample Report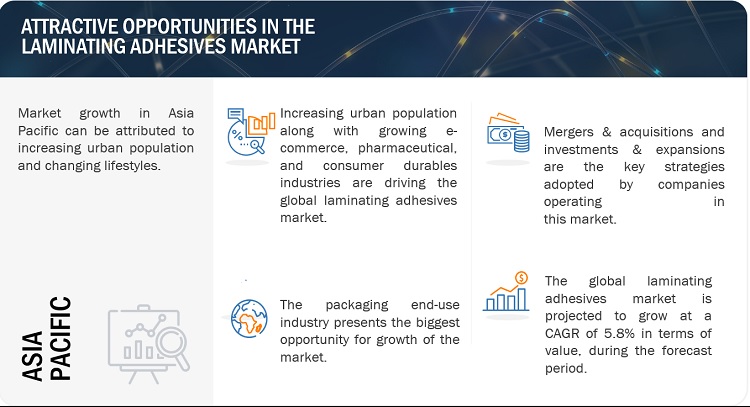 Source: Expert Interviews, Secondary Sources, and MarketsandMarkets Analysis
Laminating Adhesives Market Dynamics
Drivers: Increasing demand for customer-friendly packaging
The use of laminating adhesives is driven by the rising demand for stand-up pouches for packaged meals and microwaveable food items. Glass bottles, boxes, and cans are not necessary when laminating adhesives are used. Due to shifting lifestyles and rising middle-class household wealth, microwaveable food is in high demand. Due to its qualities including aroma preservstion and odour resistance, laminating adhesives are popular for use in food product packaging.
Most food and pharmaceutical products experience quality changes over time. The variations in food's colour and textures make the change in food quality evident. Consumers place a high value on the way foods like dairy, poultry, vegetables, and fruits appearance. Transparent packaging is preferred by consumers over opaque packaging for food products.
Restraints: Environmental regulations in North America and Europe
The Control of Substances Hazardous to Health (COSHH), the European Union (EU), Registration, Evaluation, Authorization and Restrictio of Chemicals (REACH), the Globally Harmonised System (GHS), and the Environmental Protection Agency (EPA) in Europe and North America are among the regulatory authorities that pose challenges to the chemical industry. To lessen VOC emissions, manufacturers in Europe and North America have to comply by certain regulations regarding the production and application of laminating adhesives in various applications. The production of businesses that specialise in making laminating adhesives using solvent-based technology has been impacted by this. Manufacturers are forced to switch from solvent-based to water-based technologies in order to comply with these laws. This is the main barrier for market participants. Additionally, water-based technology has drawbacks including greater production costs.
Opportunities: Growing trend of water-based & solvent-less adhesives
Environmental regulations that are strict are a major factor in the market growth of water-based laminating adhesive. The growing concern over waste generation and emissions has led to an increase in the use of water-based laminating adhesives. In the automotive industry, one-part systems and high-performance laminations are both made with water-based laminating adhesives. The demand for acrylic and maleic resins, which make up the majority of all water-based adhesives produced globally, is anticipated to rise in response to the increased interest in water-based laminating adhesives.
Challenges: Health issues by formation of PAA
Primary aromatic amines (PAAs) are substances which can be transferred from food packaging materials into foods. These substances are possibly carcinogenic to humans. PAAs are formed from multilayer packaging materials which consists of aromatic polyurethane adhesives. PAAs occurs from the reaction between residual isocyanic monomers that have migrated to the surface of the inner layer of the package and water molecules contacting the same plastic surface.
However, acrylic dispersions can be used to produce multi-layer lamination of various films. These water-based adhesives offer high green strength, have short curing times and are free of primary aromatic amines.
Solvent-based, by technology accounted for the highest segment of laminating adhesives market
Solvent-based laminating adhesives have low demand in the developed regions owing to the stringent regulations on the use of these adhesives as they have high VOC emissions. The solvent-based technology segment is projected to register the highest CAGR in Asia Pacific as environmental regulations are not as stringent in this region as in the developed regions such as North America and Europe. There are strict regulations regarding the use of solvents such as toluene, methyl ethyl ketone, and acetone during the drying process because they emit VOC into the environment. The manufacturing of solvent-based adhesive in compliance with environmental norms leads to higher production costs.
To know about the assumptions considered for the study, download the pdf brochure
Middle east & Africa is the fastest-growing laminating adhesives market.
The second-fastest expanding laminating adhesives market is in Asia Pacific. High economic value and significant investment across industries like consumer goods & appliances, automotive, building & construction, and manufacturing are primarily responsible for an increase in demand for laminating adhesives. During the forecasted period, the demand for laminating adhesive is expected to be driven by significant variables including industrialization, an expanding middle-class population, increased disposable income, changing lifestyles, and an increase in the consumption of packaged goods.
Key Market Players
Henkel AG (Germany), 3M (US), H.B. Fuller (US), The Dow Chemical Company (US), Arkema S.A. (France) are the key players in the global laminating adhesives market.
Henkel AG is engaged in adhesive technologies and consumer brands. The company operates through various segments, including adhesive technologies (adhesives, sealants, and surface treatments for consumer and industrial purposes), laundry & home care (household cleaning products such as laundry detergent and dishwashing liquid), beauty care (beauty & oral care products such as shampoos, toothpaste, hair colorants, and shower products), and corporate.
Get online access to the report on the World's First Market Intelligence Cloud

Easy to Download Historical Data & Forecast Numbers
Company Analysis Dashboard for high growth potential opportunities
Research Analyst Access for customization & queries
Competitor Analysis with Interactive dashboard
Latest News, Updates & Trend analysis

Request Sample

Click on image to enlarge

Scope of the Report
Report Metric

Details

Years Considered for the study

2020-2028

Base year

2022

Forecast period

2023–2028

Units considered

Value (USD)

Segments

By Resin
By Technology
By End-use Industry
By Region

Regions covered

Asia Pacific, Europe, North America, Middle East & Africa, South America

Companies profiled

Henkel AG (Germany), 3M (US), H.B. Fuller (US), The Dow Chemical Company (US), Arkema S.A. (France). A total of 25 players have been covered.
This research report categorizes the Laminating adhesives market based on Resin, Technology, End-use Industry, and Region.
By Resin:
By Technology:
Solvent-Based
Water-Based
Solvent-less
Others
By End-use Industry:
Packaging

Food & Beverages
Pharmaceuticals
Consumer Products

Industrial

Insulation
Window Films
Electronics
Other Applications

Automotive & Transportation
By Region:
Asia Pacific
Europe
North America
Middle East & Africa
South America
Recent Developments
In November 2022, Henkel AG went into a strategic partnership cyclos-HTP Institute (CHI), a specialized company in classification, assessment, and certification of recyclability of packaging and goods. This will include access to in-house testing and certification, joint material science R&D.
In Septembber 2022, Henkel acquires advanced materials start-up NBD Nanotechnologies Inc., US-based advanced materials company. This acquisition Henkel aims to strengthen the position of its Adhesive Technologies business unit in the area of functional coatings.
Frequently Asked Questions (FAQ):
What are the growth driving factors of laminating adhesives market?
Increasing demand for customer-friendly packaging.
What are the major end-use for laminating adhesives?
The major end-use industries of laminating adhesives are packaging, Industrial, and Automotives & Transportation.
Who are the major manufacturers?
Henkel AG (Germany), 3M (US), H.B. Fuller (US), The Dow Chemical Company (US), Arkema S.A. (France), are some of the leading players operating in the global laminating adhesives market.
What are the reasons behind laminating adhesives gaining market share?
Laminating Adhesives are gaining market share due to Increasing demand for customer-friendly packaging
Which is the largest region in the laminating adhesive market?
Asia Pacific is the largest region in laminating adhesive market. .
To speak to our analyst for a discussion on the above findings, click Speak to Analyst
Table of Content
1.1 Objective of the study
1.2 Market definition
1.2.1 Market Inclusion
1.2.2 Market Exclusion
1.3 Market Scope
1.3.1 Years considered for the study
1.4 Currency
1.5 Unit Considered
1.6 Stakeholders
1.7 Summary of Changes
1.7.1 Recession Impact
2.1 Research Data
2.1.1 Secondary Data
2.1.1.1 Key data from secondary sources
2.1.2 Primary Data
2.1.2.1 Key data from primary sources
2.1.2.2 Key Industry Insights
2.1.2.3 Breakdown of Primary Interviews
2.2 Market Size Estimation
2.2.1 Bottom-Up Approach
2.2.2 Top-Down Approach
2.3 Market Growth forecast approach
2.4 Impact of Recession
2.5 Data Triangulation
2.6 Assumptions
2.7 Limitations
2.8 Risk Analysis and Factor Analysis
2.9 Growth rate assumptions/growth forecast
5 Market Overview and Industry Trends
5.1 Introduction
5.2 Market Dynamics
5.2.1 Drivers
5.2.2 Restraints
5.2.3 Opportunities
5.2.4 Challenges
5.3 Value Chain Analysis
5.3.1 Raw Material
5.3.2 Manufacturers
5.3.3 Distribution
5.3.4 End-User
5.4 Porter's Five Forces Analysis
5.4.1 Threat of New Entrants
5.4.2 Threat of Substitutes
5.4.3 Bargaining Power of Buyers
5.4.4 Bargaining Power of Suppliers
5.4.5 Intensity of Competitive Rivalry
5.5 Key Stakeholders & Buying Criteria
5.6 Macroeconomic Indicators
5.6.1 introduction
5.6.2 GDP trends and Forecast
5.7 Key Industry Trends
5.7.1 Trends in Automotive Industry
5.8 Technology Analysis
5.9 Case Study Analysis
5.10 Pricing Analysis
5.10.1 Average Selling Price, By Region
5.10.2 Average Selling Price, By Resin Type
5.10.3 Average Selling Price, By Technology
5.10.4 Average Selling Price, By End-use Industry
5.10.5 Average selling Price of Key Players, by End-use Industry
5.11 Trade Data Statistics
5.12 Global Economic Scenario and Impact of Slowdown/Recession
5.13 Laminating Adhesives Ecosystem & Interconnected Markets
5.14 Trends/Disruption impacting buyers/customers
5.15 Tariffs & Regulation landscapes and standards
5.16 Regulatory Bodies, Government Agencies, and Other Organizations
5.17 Patent Analysis
5.17.1 Methodology
5.17.2 Publication Trends
5.17.3 TOP juridiction
5.17.4 Top Applicants
5.18 Key Conferences & Events in 2023-2024
6 Laminating Adhesives Market, By Resin Type
6.1 Introduction
6.2 Polyurethane
6.3 Acrylic
6.4 Others
7 Laminating Adhesives Market, By Technology
7.1 Introduction
7.2 Solvent-based
7.3 Water-based
7.4 Solvent-less
7.5 Others
8 Laminating Adhesives Market, By End-use Industry and Application
8.1 Introduction
8.2 Packaging
8.2.1 Food & Beverage
8.2.2 Pharmaceuticals
8.2.3 Consumer Products
8.3 Industrial
8.3.1 Insulation
8.3.2 Window Films
8.3.3 Electronics
8.3.4 Other Applications
8.4 Automotive & Transportation
9 Laminating Adhesives Market, By Region
9.1 Introduction
9.2 Asia-Pacific
9.2.1 Introduction
9.2.2 Impact of Recession in Asia Pacific
9.2.3 China
9.2.4 India
9.2.5 Japan
9.2.6 South Korea
9.2.7 Taiwan
9.2.8 Thailand
9.2.9 Malaysia
9.2.10 Rest of Asia-Pacific
9.3 North America
9.3.1 Introduction
9.3.2 Impact of Recession in North America
9.3.3 US
9.3.4 Canada
9.3.5 Mexico
9.4 Europe
9.4.1 Introduction
9.4.2 Impact of Recession in Europe
9.4.3 Germany
9.4.4 France
9.4.5 UK
9.4.6 Italy
9.4.7 Russia
9.4.8 Turkey
9.4.9 Rest of Europe
9.5 Middle East & Africa
9.5.1 Introduction
9.5.2 Impact of Recession in Middle East & Africa
9.5.3 Saudi Arabia
9.5.4 South Africa
9.5.5 Rest of Middle East & Africa
9.6 South America
9.6.1 Introduction
9.6.2 Impact of Recession in South America
9.6.3 Brazil
9.6.4 Argentina
9.6.5 Colombia
9.6.6 Rest of South America
(Note: The above listed countries are tentative, it can be modified upon the client's preference)
10.1 Introduction
10.1.1 Overviews of strategies adopted by key players
10.2 Company Evaluation Quadrant Matrix, 2022
10.2.1 Stars
10.2.2 Emerging Leaders
10.2.3 Participants
10.2.4 Pervasive Players
10.3 Strength of Product Portfolio
10.4 START-UPS/SMES Evaluation Matrix, 2022
10.4.1 Progressive Companies
10.4.2 Starting Blocks
10.4.3 Responsive Companies
10.4.4 Dynamic Companies
10.5 Market Share Analysis
10.6 Ranking of Key Players
10.7 Top 5 Key Players Revenue Analysis
10.8 Competitive Benchmarking
10.9 Competitive Scenario
10.9.1 Market Evaluation Framework
10.9.2 Market Evaluation Matrix
10.10 Strategic Developments (Competitive Situations and Trends)
10.10.1 Product Launches
10.10.2 Deals
10.10.3 Others
11.1 Henkel AG
11.1.1 Business Overview
11.1.2 Products Offered
11.1.3 Recent Development
11.1.4 MnM View
11.1.4.1 Key Strengths
11.1.4.2 Strategic Choices Made
11.1.4.3 Threat from Competition
11.2 3M
11.3 H.B. Fuller
11.4 The Dow Chemical Company
11.5 Arkema S.A.
11.6 Sika AG
11.7 DIC Corporation
11.8 Pidilite Industries
11.9 DuPont
11.10 Flint Group
11.11 Other Market Players
11.11.1 COIM Group
11.11.2 Vimasco Corporation
11.11.3 Jubilant Industries
11.11.4 Franklin International
11.11.5 Master Bond Inc.
11.11.6 Fujifilm Corporation
11.11.7 Dymax Corporation
11.11.8 Bond Tech Industries
11.11.9 L.D. Davis
11.11.10 Huber Group
11.11.11 Weilburger Holdings GmbH
11.11.12 Uflex Limited
11.11.13 Toyo-Morton Ltd.
11.11.14 Paramelt B.V.
11.11.15 Chemline India Ltd.
This research study involves the use of extensive secondary sources, directories, and databases, such as Hoovers, Bloomberg L.P., Factiva, ICIS, and OneSource, to identify and collect information useful for this technical, market-oriented, and commercial study of the global laminating adhesives market. Primary sources are mainly industry experts from core and related industries, preferred suppliers, manufacturers, distributors, service providers, and organizations related to all segments of the value chain of this industry. In-depth interviews were conducted with various primary respondents, including key industry participants, subject matter experts (SMEs), C-level executives of key market players, and industry consultants, among other experts, to obtain and verify critical qualitative and quantitative information as well as assess growth prospects of the market.
Secondary Research
In the secondary research process, various secondary sources were referred to for identifying and collecting information for this study. These secondary sources include annual reports, press releases & investor presentations of companies, white papers, regulatory bodies, trade directories, certified publications, articles from recognized authors, gold and silver standard websites, and databases.
Secondary research has been used to obtain key information about the value chain of the industry, the total pool of key players, market classification & segmentation according to industry trends to the bottom-most level, and regional markets. It has also been used to obtain information about key developments from a market-oriented perspective.
Primary Research
In the primary research process, various sources from both, the supply and demand sides were interviewed to obtain and verify qualitative and quantitative information for this report as well as analyze prospects. Primary sources from the supply side include industry experts such as CEOs, vice presidents, marketing directors, technology and innovation directors, and related executives from various leading companies and organizations operating in the laminating adhesives market. Primary sources from the demand side include experts and key persons from the application segment. Extensive primary research has been conducted after understanding and analyzing the current scenario of the laminating adhesives market through secondary research. Several primary interviews were conducted with market experts from both, the demand and supply sides across five major regions: North America, Europe, Asia Pacific, Middle East & Africa, and South America.
Following is the breakdown of primary respondents:
To know about the assumptions considered for the study, download the pdf brochure
Market Size Estimation
The top-down and bottom-up approaches have been used to estimate and validate the laminating adhesives market size and other dependent submarkets. The leading players in the market have been identified through secondary research, and their market shares in the key regions have been determined through primary and secondary research. This entire procedure included the study of the annual and financial reports of the top players and extensive interviews with industry experts such as chief executive officers, vice presidents, directors, and marketing executives, for key insights.
All percentage shares, splits, and breakdowns were determined using secondary sources and verified through primary sources. All possible parameters affecting the markets covered in this study were accounted for, viewed in detail, verified through primary research, and analyzed to get the final quantitative and qualitative data. This data has been consolidated and supplemented with detailed inputs and analysis from MarketsandMarkets and presented in this report. The three figures below represent the overall market size estimation process through the study.
Global Laminating Adhesives Market Size: Top-down Approach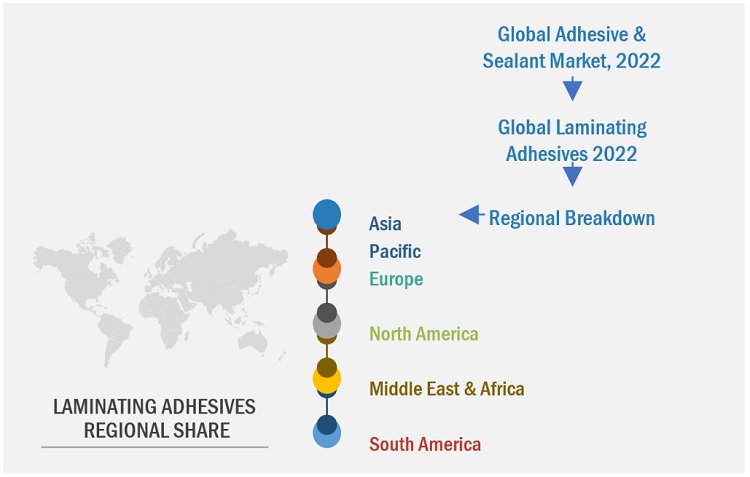 To know about the assumptions considered for the study, Request for Free Sample Report
Data Triangulation
After arriving at the overall market size from the estimation process explained above, the total market has been split into several segments and subsegments. Data triangulation and market breakdown procedures have been used wherever applicable to complete the overall market engineering process and arrive at the exact statistics for all segments and subsegments. The data has been triangulated by studying various factors and trends from both, the demand and supply sides. The market has been validated using both, the top-down and bottom-up approaches.
Market Definition.
Laminating adhesives are adhesives used to fix two or more layers of materials. They offer optical clarity, flame resistance, gas permeability, electrical insulation, thermoforming ability, and resistance from heat and chemical substances. These adhesives are used in packaging materials for snacks, confectionery, meat, cheese, agricultural chemicals, and medical products. They are also widely used in flexible packaging and industrial and automotive applications. They provide superior properties in flexible packaging as compared to rigid packaging.
Key Stakeholders
Senior Management
End User
Finance/Procurement Department
R&D Department
Report Objectives
To define, describe, forecast, and analyze laminating adhesives market based on resin, technology, and end-use industry in terms of value
To describe and forecast the size of the market based on five regions: North America, Europe, Asia Pacific, Middle East & Africa, and South America, along with their respective countries in terms of value
To provide detailed information regarding the drivers, restraints, opportunities, and challenges influencing market growth
To provide ecosystem analysis, case study analysis, patent analysis, technology analysis, pricing analysis, Porter's five forces analysis, key stakeholders and buying criteria, key conferences and events, regulatory bodies, government agencies, and regulations pertaining to the market under study
To strategically analyze micromarkets1 with respect to individual growth trends, prospects, and contributions to the overall market size
To study the complete value chain of the market
To analyze opportunities for stakeholders by identifying high-growth segments of the market
To strategically profile the key players and comprehensively analyze their market positions in terms of their ranking and core competencies2
To analyze competitive developments such as product launches, acquisitions, agreements, investment & expansions, and partnerships in the market
Note: 1. Micromarkets are defined as the subsegments of the global laminating adhesives market included in the report.
2. Core competencies of companies are determined in terms of the key developments and strategies adopted by them to sustain in the market.
Available Customizations
MarketsandMarkets offers customizations according to the specific needs of the companies with the given market data.
The following customization options are available for the report:
Product Analysis
Product matrix, which gives a detailed comparison of the product portfolio of each company
Regional Analysis
Further breakdown of the Laminating adhesives market, by country
Company Information
Detailed analysis and profiling of additional market players (up to five)