[120 Pages Report] The managed detection and response market size is expected to grow from USD 335.5 million in 2016 to USD 1,658.0 million by 2022, at a Compound Annual Growth Rate (CAGR) of 31.6% during the forecast period. Managed Detection and Response (MDR) is a modern approach to proactively detect threats and cyber-attacks and respond to them accordingly, thereby helping enterprises protect their cyberinfrastructure from attacks. MDR services detect threats, intrusions, and malicious activities on organizations' cyberinfrastructure and assist in responding proactively to eradicate and mitigate such attacks. MDR service vendors normally combine a technology solution with in-house security professionals and analysts that help enterprises extend their cybersecurity technologies and workforce. MDR service providers offer real-time protection to organizations and help reduce the risks of potential attacks. The base year considered for the study is 2016 and the forecast period is from 2017 to 2022.
Request for Customization to get managed detection and response market forecasts to 2025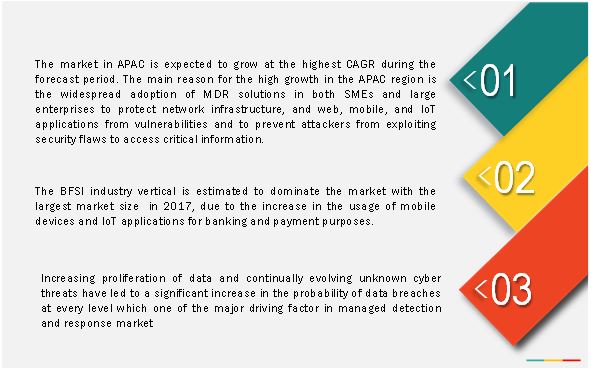 Market Dynamics
Drivers
Growing incidents of cyber-attacks and threats targeting enterprises
Shortage of cybersecurity professionals and budget constraints
Government regulations and need for compliance drive the adoption of managed detection and response market services
Technological proliferation and increasing penetration of IoT
Restraints
Lack of trust in third-party applications
Opportunities
Partnerships with traditional service providers
Introduction of machine learning/AI-powered MDR services
Increasing adoption across SMEs in various industry verticals
Challenges
Partnerships with traditional service providers
Introduction of machine learning/AI-powered MDR services
Growing Incidents of Cyber-Attacks and Threats Targeting Enterprises
In today's business environment, with rapid advancements in technology, there is an increase in the use of digital solutions, connected devices, and IT systems. The foundation of this digital infrastructure is based on the communications between various business-critical applications and data across platforms, devices, and users. With data explosion and frequently increasing cyber threats, chances of data breaches at every level have amplified significantly. Government agencies and businesses across industry verticals are more susceptible to such outbreaks, as hackers and cyber adversaries target the national security, and hit the confidential data, and personal information. Cybercriminals are adopting various hacking techniques to penetrate an organization's infrastructure to gain access to such critical information.
Objectives of the study
To define, describe, and forecast the Managed Detection and Response market by security type, deployment, organization size, industry vertical, and region
To provide detailed information regarding the major factors (drivers, restraints, opportunities, and challenges) influencing the growth of the market
To analyze the micromarkets1 with respect to individual growth trends, prospects, and contributions to the total market
To analyze opportunities in the market for stakeholders by identifying high-growth segments of the market
To forecast the market size of the market segments with respect to the 5 main regions, namely, North America, Europe, Asia Pacific (APAC), Middle East and Africa (MEA), and Latin America
To profile the key players of this market and comprehensively analyze their market size and core competencies2 in the market
To track and analyze competitive developments, such as new product launches; mergers and acquisitions; and partnerships, agreements, and collaborations in the global market
During this research study, major players operating in the reed sensor market in various regions have been identified, and their offerings, regional presence, and distribution channels have been analyzed through in-depth discussions. Top-down and bottom-up approaches have been used to determine the overall market size. Sizes of the other individual markets have been estimated using the percentage splits obtained through secondary sources such as Hoovers, Bloomberg BusinessWeek, and Factiva, along with primary respondents. The entire procedure includes the study of the annual and financial reports of the top market players and extensive interviews with industry experts such as CEOs, VPs, directors, and marketing executives for key insights (both qualitative and quantitative) pertaining to the market. The figure below shows the breakdown of the primaries on the basis of the company type, designation, and region considered during the research study.
The breakdown of the profiles of the primary participants is depicted in the below figure:
To know about the assumptions considered for the study, download the pdf brochure
The managed detection and response market includes various vendors providing MDR solutions, inclusive of hardware appliances, virtual appliances, and cloud-based firewall, to commercial clients across the globe. Companies such as Arctic Wolf Networks (US), BAE Systems (UK), CrowdStrike (US), eSentire (Canada), FireEye (US), F-Secure (Finland), IBM (US), Kudelski Security (Switzerland), mnemonic (Norway), NetWorks Group (US), Optiv Security (US), Paladion (India), Rapid7 (US), Raytheon (US), Redscan Cyber Security (UK), and WatchGuard (US) have adopted partnerships, agreements, and collaborations as the key strategies to enhance their market reach.
Major Market Developments:
In September 2016, eSentire partnered with Carbon Black, a provider of next-generation endpoint security, to offer endpoint detection response capabilities to mid-sized organizations.
In September 2016, Optiv Security unveiled third-party risk managed services that would enable organizations to plan, develop, and manage the complete third-party risk management lifecycle in a better way.
In May 2016, FireEye launched the FireEye Security Orchestrator, a global threat management platform, which orchestrates and automates security operations. The solution unifies security architectures and improves the detection and response capabilities.
Key Target Audience for Managed Detection and Response Market
Managed service providers
Cybersecurity vendors
Consultants
Systems integrators
IT security agencies
Value-added resellers
Government agencies
Investors and venture capitalists
The study answers several questions for the stakeholders, primarily, which market segments to focus on in the next 2 to 5 years for prioritizing efforts and investments.
Scope of the Managed Detection and Response Market Research Report
The research report segments the market into the following submarkets:
By Security Type
Endpoint security
Network security
Application security
Cloud security
Others (ICS security and database security)
By Deployment
By Organization Size:
Small and Medium-sized Enterprises (SMEs)
Large Enterprises
By Industry Vertical:
Banking, Financial Services, and Insurance (BFSI)
IT and telecommunications
Government and defense
Energy and utilities
Manufacturing
Healthcare
Retail
Others (media and entertainment, transport and logistics, and education)
By Region:
North America
Europe
APAC
MEA
Latin America
Critical questions which the report answers
What are new application areas which the MDR service providers are exploring?
Which are the key players in the market and how intense is the competition?
Available Customizations
With the given market data, MarketsandMarkets offers customizations as per the company's specific needs. The following customization options are available for the report:
Geographic Analysis
Further breakdown of the US and Canada market into security type, deployment, organization sizes, and industry verticals
Further breakdown of the UK, Germany, and France market into security type, deployment, organization sizes, and industry verticals
Company Information
Detailed analysis and profiling of additional market players
MarketsandMarkets forecasts the global Managed Detection and Response market size to grow from USD 419.7 million in 2017 to USD 1,658.0 million by 2022, at a Compound Annual Growth Rate (CAGR) of 31.6% during the forecast period.
The market is segmented on the basis of security type, deployment, organization size, industry vertical, and regions. The security type segment is further segmented into endpoint, network, application, cloud, and others. The other security types subsegment comprises Industrial Control System (ICS) security and database security. The deployment segment is further segmented into on-premises, and hosted managed detection and response market services.
Hosted managed detection and response services remotely manage and monitor an enterprises' cyberinfrastructure regardless of Customer Premises Equipment (CPE) and provide the best protection against vulnerabilities, such as malware, phishing, ransomware, and the emerging cyber threats. These cloud-based managed detection and response services provide protection and safeguard the enterprise network, and offer capabilities, such as bot detection and enforcement, access control, malware detection, and threat intelligence. Cloud-based deployment of MDR solutions is projected to gain pace, owing to the increased adoption of cloud computing technologies across organizations operating across various industry verticals. The growth in the hosted managed detection and response market services is attributed to a significant increase in the government regulations and compliance requirements in the global cybersecurity scenario.
Managed Detection and Response is essentially evolved out of Managed Security Services (MSS) and possesses advanced threat detection and incident response capabilities. managed detection and response service enables immediate notification of any threat or vulnerability that allows cybersecurity experts to help an enterprise deal with the problem and provide advice. it helps to save businesses a significant amount of time and money that otherwise would have been spent dealing with problems after suffering an attack. The managed detection and response market is expected to witness increased demand, owing to the increasing adoption of concepts such as enterprise mobility and Internet of Things (IoT), the rise in instances of cyber-attacks, such as fraud, espionage, vandalism, and cyber theft. Stringent government regulations, need for compliance, and shortage of cybersecurity practitioners across enterprises are expected to further proliferate demand for managed detection and response services. Additionally, increasing adoption of services across SMEs and partnerships with traditional managed service providers has opened a wide range of growth avenues for the vendors in the global market space.
Leading managed detection and response market vendors are offering machine learning and Artificial Intelligence (AI) based services, which play vital roles in the arena. Major vendors offer services that are interoperable and enable all the required endpoints, technologies, and applications to interact in the organization's cyberinfrastructure, thus facilitating effective threat detection and response.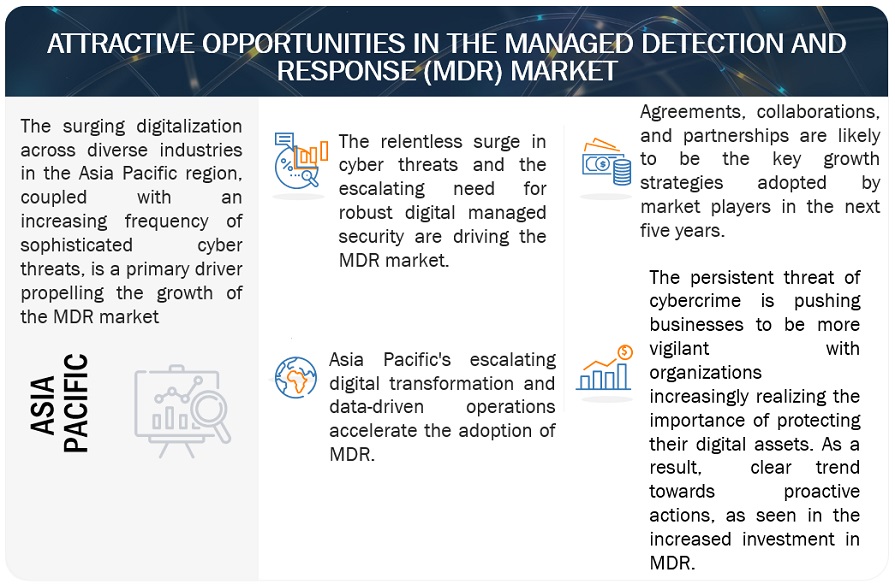 The growth of managed detection and response market is depending on the factors, such as shortage of skilled security practitioners, stringent government policies, and need for compliance are expected to drive the market over the next 5 years
MDR service providers are introducing advanced MDR services integrated with machine learning and artificial intelligence for different security types to identify the anomalies in the organizations' network.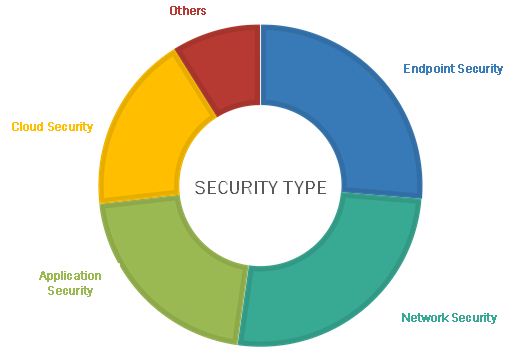 Endpoint Security
Endpoint security is the security provided on network devices, such as servers, desktops, laptops, smartphones, tablets, barcode readers, and Point of Sale (POS), which are connected to a client server. Network devices are nothing but the endpoints. These network devices are connected remotely which creates an entry point for potential cyber threats. Endpoint security solutions include antivirus, antispyware/malware, encryption personal firewall, IDS/IPS, patch and configuration management, behavioral blocking software, and virtualization security. These solutions provide continuous real-time threat detection, prevention, and response to the network devices (endpoints). Rapid growth in the number of mobile devices across the globe is one of the driving factors for this market. Due to the increasing number of mobile devices, networks are getting more vulnerable to cyber-attacks.
Network Security
Network security is needed by organizations to protect their networking infrastructure from numerous threats, such as SQL injection, DDoS attacks, and XSS. Network security involves safeguarding the computer network and network-accessible resources of an enterprise. Network security products and services are used to detect and prevent cyber threats. They include multiple components, such as network monitoring and security software, hardware, and appliances, which work together as layers of comprehensive network security. MDR services deliver advanced threat detection, investigation, and response capabilities to secure the network environment. MDR network services use network sensors to keep track of network communications. Due to the increasing trend of BYOD adoption at the workplace, data access through remote devices, which is not limited to data centers, creates the possibility of data vulnerability.
Application Security
Application security involves software and hardware countermeasures to protect mobile and web applications as well as confidential information from security attacks. It works with a set of security policies applied at 3 layers: the network layer, host layer, and application layer. Application security ensures the confidentiality and integrity of the data transferred between mobile applications. MDR application security services provide countermeasures to secure applications from glitches and external threats, such as DDoS, web attacks, frauds, and site scraping.
Cloud Security
Cloud security includes security product and services that protect the data stored online. Cloud security essentially safeguards organizations' critical assets from threats, such as data loss, data breaches, service traffic hijacking, account hijacking, insecure APIs, and DDoS. In cloud security, service providers follow regulatory requirements for storing sensitive customer data, such as credit card numbers and personal data. Cloud adoption across various industry vertical is increasing due to the cost-effectiveness and scalability of cloud solutions.
Key questions
Which are the substitute products and how big is the threat from them?
Which are the top use cases where managed detection and response services can be implemented for revenue generation through new advancements such as artificial intelligence, IoT, and cloud computing?
What are the potential opportunities in the adjacent markets, such as managed security services and endpoint detection and response?
What should be your go-to-market strategy to expand the reach into developing countries across APAC, MEA, and Latin America?
In 2017, the global managed detection and response market is dominated by North America, as it is considered the most advanced region in terms of the adoption of innovative cybersecurity solutions and services to protect cyberinfrastructure. Additionally, the region is affected by cybersecurity breaches, and as a result, has the largest number of cybersecurity vendors. The growing concern for the security of critical infrastructure and sensitive data has increased government intervention in the recent years. Specific budget allocations, support by the government, and mandated cybersecurity policies have led to an increased adoption of such services, thereby driving the demand for services in the region.
The study measures and evaluates the major offerings and key strategies of the major managed detection and response market vendors, including Arctic Wolf Networks (US), BAE Systems (UK), CrowdStrike (US), eSentire (Canada), FireEye (US), F-Secure (Finland), IBM (US), Kudelski Security (Switzerland), mnemonic (Norway), NetWorks Group (US), Optiv Security (US), Paladion (India), Rapid7 (US), Raytheon (US), Redscan Cyber Security (UK), and WatchGuard (US). These companies have been at the forefront in offering reliable MDR services to the commercial clients across diverse locations.
To speak to our analyst for a discussion on the above findings, click Speak to Analyst