Updated date -
[128 Pages Report] The market size of Methyl Methacrylate Adhesives was USD 1.01 billion in 2017 and is projected to reach 1.56 billion by 2023, at a CAGR of 7.5% during the forecast period.
High demand from automotive & transportation and marine industries
The MMA adhesives market is driven by the growth of the automotive & transportation, marine, and wind energy industries. High growth in the marine industry of North America and APAC plays an important role in driving the demand for MMA adhesives. The US is one of the largest manufacturers of boats, which creates positive demand for these adhesives in North America.
Emerging markets in APAC such as China, India, South Korea, and Southeast Asian countries are attracting global players to set up their manufacturing base in this region, thereby, propelling the growth of various end-use industries including automotive and marine. The increased investments in various technological and infrastructural developments and R&D activities have necessitated adhesive manufacturers to supply qualitative products to end users to capitalize on the increased demand in the region.
Pontoons, deck boats, ski boats, and fishing boats have triggered the growth of the marine industry in the US, thus boosting the need for MMA adhesives. For instance, Statistical Surveys Inc. studied that retail sales of pontoons in the US increased from 36,920 units in 2014 to 39,857 units in 2015.
According to OICA, global vehicle sales have increased from 95.06 million units in 2016 to 97.95 million units in 2017. Apart from this, the rise in demand for classes 4–6 and 8 commercial vehicles in China, India, Australia, Indonesia, Malaysia, the Philippines, Thailand, and South America has triggered the need for MMA adhesives. Rapid urbanization in these countries has led to the increased demand for these vehicles. In addition, improvement in freight transportation, increased infrastructural spending, emission regulations, and rising GDP have driven the demand for commercial vehicles, thereby, propelling the need for MMA adhesives.
GHG emission regulations for 2014–2017 are implemented to reduce fuel consumption, encouraging several OEMs to use lightweight materials and alternative fuel for manufacturing the vehicles. The growth in the use of advanced materials, such as aluminum, fiber-reinforced materials, and magnesium alloys, to replace cast iron and steel for reducing the weight of vehicles and increasing fuel efficiency have also augmented the importance of MMA adhesives for bonding.
Volatility in raw material prices
Price and availability of raw materials are essential factors that help the adhesive manufacturers determine the cost of their products. Raw materials used by the adhesive industry include resins, accelerators, and hardeners. MMA monomers are used as resins for manufacturing MMA adhesives.
From the past 5–6 years, there has been fluctuation in the supply of MMA monomers. Increased production of MMA monomers and low demand from end users have led to oversupply. On the other hand, the supply of MMA monomers reduced gradually owing to the reduction in operating capacity, as the production was less than their actual capacity and a few plants were shut down for maintenance. However, in the present scenario, the demand and supply has stabilized owing to the controlled supply of MMA monomers with the reduction in production and the gradual increase in demand for MMA adhesives from its end-use industries
Petroleum-based derivatives are also used as raw materials of MMA adhesives that are vulnerable to fluctuation in commodity prices. Oil prices have been highly volatile in the past 2–3 years, fluctuating by more than 8.0%. Increasing global demand for petroleum-based derivatives and political unrest in the Middle East have led to the fluctuation in oil prices. The adhesives industry is also affected by high transport costs driven by rising fuel prices and high manufacturing costs owing to the rise in energy costs. Adhesive manufacturers have responded by adding such prices to the end products in a bid to balance their expenses, thus reducing demand from some price-sensitive end-use segments, including low-end adhesive bandages.
Growing popularity of non-hazardous, green, and sustainable adhesives
The growing awareness of reducing emissions, increasing recyclability, and minimizing wastage have encouraged manufacturers to use eco-friendly and sustainable materials for developing end products. The adhesives industry of Europe and North America is facing challenges pertaining to stringent regulations set by HSE, AFSSET, European Union (EU), Registration, Evaluation, Authorisation and Restriction of Chemicals (REACH), Globally Harmonized System (GHS), and Environmental Protection Agency (EPA) on the use of adhesives in various applications. Some industry groups such as BASA (UK) and FEICA (Europe) have also set regulations to monitor environmental issues, such as maintenance of low VOCs and elimination of products that may cause health hazards, which the manufacturers of adhesives have to consider while developing a product.
Manufacturers are striving to develop eco-friendly bonding materials with low VOC that comply with the regulations. Two-component MMA adhesives emit VOCs less than 0.5% and are tolerant to different mix ratio. These adhesives also reduce the issues pertaining to off-gassing. Many industries prefer re-use and recycling of materials. For instance, many players in the automotive industry undertake programs that enable the recovery and recycling of plastics. Incompatibility of adhesives with the plastic recovery process may pose a threat to such manufacturers. Consequently, the use of recyclable adhesives that emit low VOCs is gaining popularity, thus boosting the growth of the MMA adhesives market.
Limited market opportunities in high-end applications
The use of MMA adhesives in high-end applications, such as aerospace, wind energy, automotive, and others industrial sectors is limited owing to approvals and certifications required before the use of such materials. The new adhesive must comply with every stage of approvals and certifications established by the regulating bodies to gain acceptability in the market. In the aerospace industry, materials used for manufacturing aircraft must comply with certifications. For instance, Boeing has established its standards for materials thatrestrict the acceptance of new, modified, and hybrid structural adhesives on a wider scale. Several new adhesives have high-performance characteristics, but are not yet accepted and deployed by the end-use industries owing to these stringent quality standard procedures.
Objectives of the Study
To define, describe, and forecast the market size of Methyl Methacrylate Adhesives, in terms of value and volume
To provide detailed information about the key factors (drivers, restraints, opportunities, and challenges) influencing the market growth
To analyze and forecast the MMA adhesives market on the basis of substrate, end-use industry, and region
To forecast the MMA adhesives market size with respect to four main regions, namely, North America, Europe, Asia Pacific, South America, and the Middle East & Africa
To strategically analyze micromarkets with respect to individual growth trends, prospects, and their contribution to the overall market
To analyze competitive developments, such as investment & expansion, new product launch, merger & acquisition, and partnership & agreement, in the MMA adhesives market
To analyze opportunities in the market for stakeholders and provide a competitive landscape for market leaders
To strategically profile key players and comprehensively analyze their market shares and core competencies
Both, top-down and bottom-up approaches were used to estimate and validate the size of the MMA adhesives market, and to estimate the size of various other dependent submarkets. The research study involves the extensive use of secondary sources, directories, and databases, such as Hoovers, Bloomberg, Chemical Weekly, Factiva, ICIS, and Securities and Exchange Commission (SEC), among other government and private websites, to identify and collect information useful for a technical, market-oriented, and commercial study of the MMA adhesives market.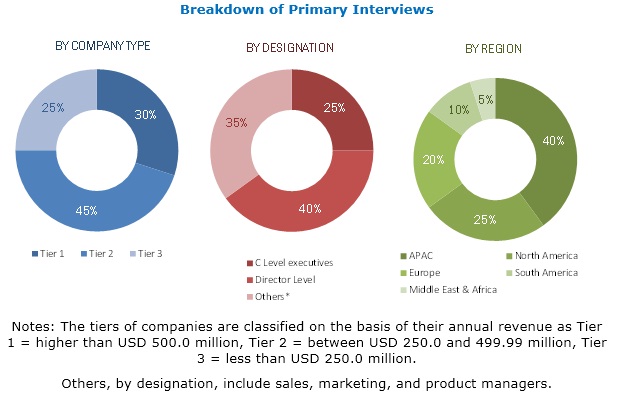 To know about the assumptions considered for the study, download the pdf brochure
The key players profiled in the report include Illinois Tool Works Inc. (US), Arkema (France), SCIGRIP (UK), Scott Bader (UK), Lord Corporation (US), Henkel (Germany), Permabond LLC (US), Parsons Adhesive Inc. (US), Huntsman Corporation (US), and 3M (US).
Target Audience
Manufacturers of MMA adhesives
Chemical suppliers
Traders, distributors, and suppliers of MMA adhesives
Raw material suppliers
Government and research organizations
Industry associations
Scope of the Report:
The MMA adhesives market has been segmented as follows:
MMA Adhesives Market, by Substrate:
Metal
Plastic
Composite
Others
MMA Adhesives Market, by End-use Industry:
Automotive & Transportation
Building & Construction
Marine
Wind Energy
General Assembly
Others
MMA Adhesives Market, by Region:
APAC

China
India
Japan
South Korea
Thailand
Rest of APAC

Europe

Germany
UK
France
Russia
Spain
Rest of Europe

North America
South America

Brazil
Rest of South America

Middle East & Africa

South Africa
Rest of Middle East & Africa
Available Customizations
Along with the market data, MarketsandMarkets offers customizations according to the specific needs of the companies. The following customization options are available for this report:
Product Analysis
A product matrix that provides a detailed comparison of the product portfolio of each company
Regional Analysis
Further breakdown of Rest of APAC MMA adhesives market
The market size of MMA adhesives is estimated at USD 1.09 billion in 2018 and is projected to reach USD 1.56 billion by 2023, at a CAGR of 7.5%. The high demand from the automotive & transportation industry in emerging countries is leading to the increasing consumption of MMA adhesives.
On the basis of substrate, the MMA adhesives market has been segmented into metal, plastic, composite, and others. Metal is the largest substrate, in terms of value, and is expected to dominate the market in the future. While, the composite segment is projected to be the fastest-growing substrate in the global MMA adhesives market, in terms of value. This high growth can be attributed to the growing demand for MMA adhesives for bonding composite components, such as deflectors, bumpers, roofs, composite tanks, blades, car seats, interior body panel structures, and instrument panels of trucks, cars, rails, buses, and tanks.
On the basis of end-use industry, the MMA adhesives market has been segmented into automotive & transportation, building & construction, marine, wind energy, general assembly, and others. The MMA adhesives market exhibits high growth potential owing to increased demand from the automotive & transportation and marine industries. Automotive & transportation is the largest end-use industry because of the increasing use of advanced materials for component manufacturing, which develops a need for bonding technology that can bond dissimilar materials with adjustable assembly time.
Automotive & Transportation
MMA adhesives are used in the automotive & transportation industry for bonding components and supporting assembly functions. The use of MMA adhesives in the automotive & transportation industry is increasing as they reduce the weight of vehicles and offer excellent performance characteristics. These adhesives find application in automotive components as well as in the interiors and exteriors of automobiles. The use of adhesives has revolutionized the building and design processes in the automotive industry.
In automobile manufacturing, adhesives are used for joining seats, spoilers, tailgates, side skirts, bumpers, headlights, dashboards, and others. These adhesives are also used to bond newer materials in the automotive industry such as ABS/PC, CFRP, aluminum, and coated metals. Moreover, the use of MMA adhesives is expected to increase in the future owing to the increased usage of composite materials in the aircraft and automotive manufacturing industries.
Marine
The marine end-use industry includes subsegments such as motorboats, sailboats, canoes, kayaks, ski boats, and other nautical and recreational water activities. MMA adhesives gained acceptance during the mid-1990s, with wider acceptance for recreational boats, as these adhesives can bond fiberglass exterior side walls with aluminum frames. MMA adhesives offer excellent strength, minimal or low surface preparation, ease of application, and an increase in production speed. These adhesives also provide superior performance for laminated joints, reduced gel coat cracking, excellent gap filling, and remarkable open and working times according to need. MMA adhesives can be used to bond radome, radar mount, mullion, swim platform, upper deck bond, stringer, deck to hull, engine cowl, and other parts in boats.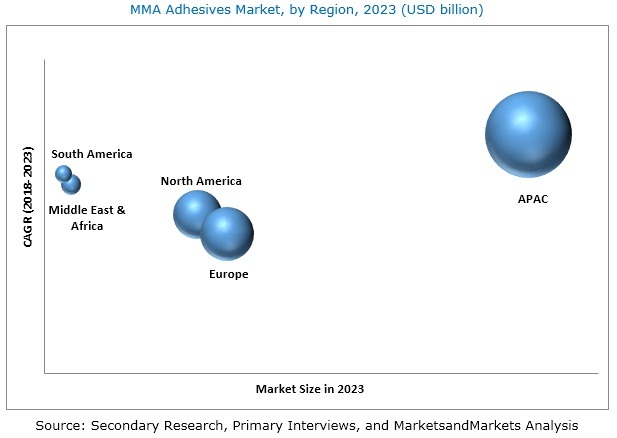 APAC is the largest MMA adhesives market as well as the major producer of MMA adhesives. The automotive end-use industry segment dominates the MMA adhesives market. APAC is increasingly becoming an important global trade and commerce center. The region is currently the fastest-growing and the largest market. With economic contraction and saturation in the European and North American markets, the demand is shifting to APAC. APAC has emerged as one of the leading producers as well as consumers of MMA adhesives due to the increasing domestic demand, rising income levels, and easy access to resources. According to OICA, APAC led the vehicle production market in 2017.
The key players profiled in this report include Illinois Tool Works Inc. (US), Arkema (France), SCIGRIP (UK), Scott Bader (UK), Lord Corporation (US), Henkel (Germany), Permabond LLC (US), Parsons Adhesive Inc. (US), Huntsman Corporation (US), and 3M (US). The players in this market have adopted strategies, such as investments & expansions, new product launches, mergers & acquisitions, and partnerships & agreements to expand their global presence and increase their market share.
To speak to our analyst for a discussion on the above findings, click Speak to Analyst