The mobile substation market was valued at USD 742.4 Million in 2017 and is expected to reach USD 1,136.9 Million by 2023, at a CAGR of 7.57% during the forecast period. The base year considered for the study is 2017, and the forecast period is between 2018 and 2023. The objective of the report is to provide a detailed analysis of the market based on application and region. The study also covers qualitative information of various components used in a mobile substation. The report provides detailed information regarding the major factors influencing the growth of the market. The report also gives a detailed overview of the value chain in the ecosystem of the mobile substation and analyzes the market trends based on the competitive leadership analysis.
The research methodology used to estimate and forecast the mobile substation market begins with capturing data pertaining to the revenues of companies and collecting various data through secondary sources, such as the Indian Electrical and Electronics Manufacturers Association (IEEMA), The Transformer Association, European Power Supplies Manufacturers' Association (EPSMA), and newsletters, whitepapers of leading players. The bottom-up procedure has been employed to arrive at the overall size of the global market from the revenues of key players. After arriving at the overall market size, the total market has been split into several segments and subsegments, which have been verified through primary research by conducting extensive interviews with key experts, such as CEOs, VPs, directors, and executives. Market breakdown and data triangulation procedures have been employed to complete the overall market engineering process and arrive at the exact statistics for all the segments and subsegments. The breakdown of the profiles of primaries is depicted in the below figure: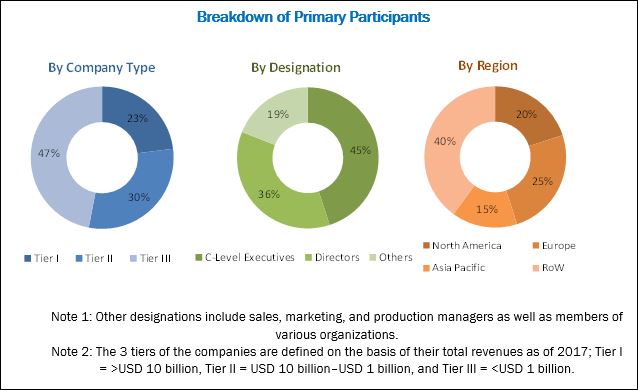 To know about the assumptions considered for the study, download the pdf brochure
The mobile substation value chain comprises the following phases: Tendering or proposal; design & assembly; transportation & commissioning; and End User. After receiving a proposal for a mobile substation, the company either designs and assembles a mobile substation or outsource it from another player. Key players in this market are Siemens (Germany), ABB (Switzerland), Eaton (Ireland), General Electric (US), CG Power (India), and MEIDENSHA (Japan).
Other companies covered in this report are Nari Group (China), WEG (Brazil), TGOOD (Hong Kong), Powell Industries (US), AZZ Inc. (US), Elgin Power Solutions (US), Matelec Group (Lebanon), Aktif Group (Turkey), PME Power Solutions (India), EKOS Group (Turkey), Unit Electrical Engineering (UEE) (Canada), Ampcontrol Pty Ltd. (Australia), Efacec (Portugal), Tadeo Czerweny (Argentina), Jacobsen Elektro (Norway), and Delta Star (US).
Target Audience for the Report:
Component Suppliers
Investors and Venture Capital Firms
Integrated Device Manufacturers (IDMs)
System Integrators
Electric Hardware Equipment Manufacturers
Assembly and Packaging Vendors
Companies in the Electric Utilities Sector
Analysts and Strategic Business Planners
End-use Industries
Governments, Financial Institutions, and Investment Communities
Research Organizations
Forums, Alliances, and Associations
This study answers several questions for stakeholders, primarily which market segments they need to focus upon in the next 2–5 years to prioritize their efforts and investments.
Scope of the Report:
This report categorizes the global mobile substation market on the basis of application and geography.
Mobile Substation Market, by Application
Utilities
Industrial

Oil & Gas
Metals & Mining
Others (Construction, Port, and Data Centers)
Mobile Substation Market, by Region
Americas
Europe
APAC
Middle East & Africa
Available Customizations
With the given market data, MarketsandMarkets offers customizations according to the company's specific needs. The following customization options are available for the report:
Company Information:
Detailed analysis and profiles of additional market players (up to 5)
The mobile substation market is expected to grow from an estimated USD 789.3 Million in 2018 to USD 1,136.9 Million by 2023, at a CAGR of 7.57% between 2018 and 2023. Factors driving the growth of this market include the ease of transportation, flexibility, cost-effectiveness, and easy installation of mobile substations. Moreover, mobile substation is a trailer mounted power solution and can be installed in a limited space and can be easily relocated without difficulty. The mobile substation is a comprehensive solution that is designed, engineered, assembled on trailer, tested, in a factory and delivered on site for power distribution.
Mobile substations are useful for emergency response as back-up units and can also be useful in cases where energy distribution requires to be provided or reinstated in a short span of time. Mobile substation market is fragmented, with the presence of many small and mid-size companies which supply products for utilities applications and primarily serve local markets. Transportability, short startup and commissioning time, reduced mechanical footprint, and non-requirement of construction work are some of the key benefits expected to drive the growth of mobile substations during the forecast period.
Mobile substations are utilized both, in utilities and industrial applications. Planned maintenance, disaster response, rapid expansion of transmission capacity are some uses wherein the mobile substation has delivered proven outcome for utilities. The mobile substation is proven to be an apt solution to provide temporary power supply during unplanned repairs. Moreover, during planned maintenance, mobile substations can reduce or even eliminate the need for extended electricity outages. Thus the utilities application is expected to grow during the forecast period.
Middle East & Africa not only account for the largest market share followed by the Americas, but is also expected to grow at the highest CAGR during the forecast period. Middle East & Africa regions are rich in natural resources, such as oil & gas and metals & mining. Africa is an untapped market for the energy resources. However, countries from these regions, such as Iraq, Algeria, Nigeria have faced many political and social instabilities which have destroyed infrastructure. As a result, these countries have a high demand for energy & power. Due to improvements in situations, governments from these regions are trying to reinstall basic amenities. The Ministry of Electricity of Iraq has ordered mobile substations from various manufacturers, such as Siemens (Germany), Meidensha (Japan), CG Power (India), and Aktif (Turkey).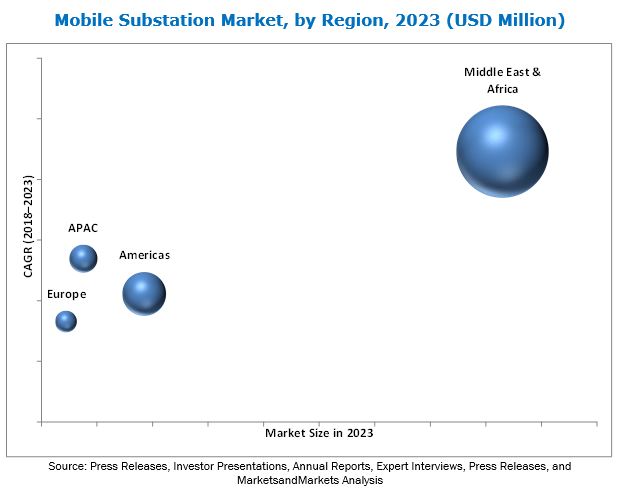 Maintenance is one of the key restraining factors for the mobile substation market as failure may critically affect the operation of various applications. Also, the transportation norms setup by different regional authorities may be a challenge for players. For the US, the Department of Transportation (DOT) has made certain rules and regulations for the transportation of heavy electrical equipment.
Key players in this market, such as Siemens (Germany), ABB (Switzerland), Eaton (Ireland), General Electric (US), CG Power (India), and MEIDENSHA (Japan) are focusing on inorganic strategies, such as contracts to enhance their product offerings and expand their businesses.
To speak to our analyst for a discussion on the above findings, click Speak to Analyst