This report on oilseed market includes the market size of the global oilseed and grain seed in terms of value. The global oilseed and grain seed market is projected to reach $64,113.0 million by 2018. Because of the increase in demand for food, this market is growing at a CAGR of 12.0% during the period under review.
In terms of geographical distribution, the report is segmented into Asia-Pacific, Europe, North America, and Rest of the World (ROW) regions. This market is segmented for major countries from each region. North America was the largest oilseed market. More than 80.0% of the revenue in North America is generated by U.S. Latin America is the fastest growing region for this market with Brazil holding the maximum market share in 2012. Latin America was the largest producer of soybean in 2012. Asia-Pacific led the market for rice and cotton, and ROW for sorghum in 2012. China was the largest market in Asia-Pacific followed by India in 2012.
North America and Europe were major producers of corn, and oilseed and grain seed. The seed with trait is comprised of comprised herbicide resistance, insecticide resistance, and other staked seed. Herbicide resistant seed ruled the seed with trait market. U.S. was the largest market in terms of use of seed with trait. Other seed incorporated all conventionally stored and processed seed. Insect resistant is the second-most developed trait to protect crops. Genetic engineering is used to develop insect-resistant crop, currently. Other stacked trait included abiotic stress tolerance, disease resistance, modified quality pollination control systems, and several others.
Mosanto (U.S.), DuPont (U.S.), Syngenta (Switzerland), and Dow AgroSciences (U.S.) are considered the major players of oilseed market who are present in most of the parts of the world.
Oilseed market and grain seed market is considered to be fast growing crop segments of the agriculture market, due to the growing demand for food with increase in population. In response to end user's demands for healthy and economical food products, farmers are adapting biotech-enhanced traits in seeds to boost yield more efficiently and effectively. Biotechnologically enhanced seeds are consequently seen as those products that can improve the return on investment and to respond to consumer demands for healthier agricultural products. Use of biotech seeds is spreading from developed countries and these seeds have furthered their global reach. The research & development divisions of major companies have developed a range of modified seeds so as to increase channeled production of crops of interest.
Oilseed & Grain Seed: Market Revenue & Share, By Geography, 2011 - 2018 ($Million)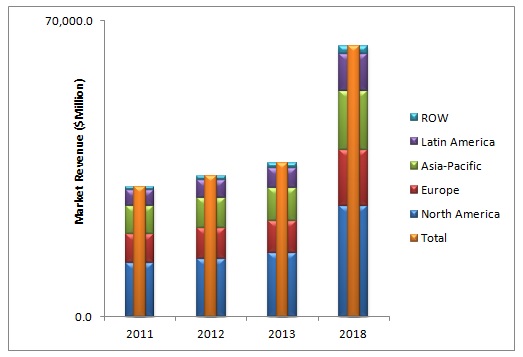 Source: Expert Interviews, Government Authorities, Related Associations/Institutes, Related Research Publication, Government Publication, Company Press Release, Company Annual Report, Company Website, Company Publication, MarketsandMarkets Analysis
The global oilseed market and grain seed market was $33,302.1 million in 2012 and is expected to reach $64,113.0 million by 2018, growing at a CAGR of 12.0% from 2013 to 2018. The global oilseed market and grain seed market was dominated by giant players like Monsanto (U.S.), DuPont (U.S.) and Syngenta (Switzerland) etc.
North American region is the largest market for oilseeds and grain seeds and continues to grow in near future. China, Brazil and India are also important countries for this market, and are adopting new technologies to grow faster. Corn controls the largest market share, followed by soybean, in terms of value.
The size of the overall market was derived using forecasting techniques based on seed types, share of biotech-enhanced seeds, area under crop production, and trade in various regions. The key players in the oilseed market and grain seed market were identified through secondary research and their market revenue was determined through primary and secondary research. It includes study of the annual reports of top market players and interviews with key opinion leaders such as CEOs, Directors, and marketing personnel.