APAC is expected to generate $2.61 billion by 2016 at a CAGR of 21.31%; followed by Europe, North America, and ROW at a CAGR of 14.56%, 13.56%, and 12.94% respectively from 2011 to 2016. Among the countries in APAC, China is expected to be the biggest emerging market for photonic sensors.
Photonic sensing technology incorporates emission of light, transmission, deflection, amplification, and detection by optical components, instruments, lasers, other light sources, fiber optics, electro-optical instrumentation, and sophisticated nanophotonic systems. It provides smaller, cheaper, lighter, and faster components and products, with greater functionality while using less energy.
Off late, photonics has been recognized as an enabling technology that impacts, extends across, and underpins a host of industrial sectors, from healthcare to security, manufacturing to telecommunications, energy to the environment, and aerospace to biotechnology. In all these sectors, photonics sensing activity can be recognized via the intelligent application of light ("optical radiation") either in an entirely novel context such as a new photodynamic medical treatment, or as a replacement to an older, outdated technology such as signage and lighting based on the use of incandescent lamps.
Photonic sensors are now key technologies in oil and gas exploration in the market of Europe, due to which it is the second fastest growing market after APAC.
A market in industrial category requires global commercialization for it to generate revenue for the major players on the continuous basis. Currently, photonic sensors face a major challenge in product compatibility and shortage of skilled and trained personnel who lack the required technical expertise to adapt to the latest technology. From an end-user perspective, it is important to recognize that no matter how good the sensor is, there needs to be some level of incorporation into a system, often an instrument, for it to actually fill an economically useful note.
Regarding laser sensors, the market of Europe is expected to be slow and reluctant in the next five years; Asia is a strong market whereas the U.S. is faced by many highs and lows, mainly due to unstable customer preferences and regularly changing technologies.
Get online access to the report on the World's First Market Intelligence Cloud
Easy to Download Historical Data & Forecast Numbers
Company Analysis Dashboard for high growth potential opportunities
Research Analyst Access for customization & queries
Competitor Analysis with Interactive dashboard
Latest News, Updates & Trend analysis
Request Sample
Click on image to enlarge
Scope of the Report
This photonic sensors market research report segments the global market on the basis of applications, types, and geographical analysis, forecasting revenue, and analyzing trends in the market.
On the basis of application
The application market is segmented into industrial applications. The major applications are further classified into military, homeland security, industrial process, factory automation, civil structures, transportation, and biomedical over wide range of applications. The market trends for these applications are discussed.
On the basis of technology
The types of technologies discussed in the report include Polarization, Spectrally-based fiber optic sensors, Multiplexing, and Distributed Sensors. The distributed fiber sensing technology is further classified into Interferometric, Bragg gratings, Raman scattering, and Brillouin scattering.
On the basis of geography
North America
Europe
Asia-Pacific
ROW
Each section will provide access to market data, market drivers, trends and opportunities, key players, and competitive outlook. It will also provide market tables for covering the sub-segments and micro-markets. In addition, the report provides more than 17 company profiles covering all the sub-segments.
Photonics, as a field, began in 1960, with the invention of the laser, followed in 1970s by the development of optical fibers as a medium for transmitting information using light beams. Until recently, biophotonics was included under the "basic research" segment of photonics science. Photonic sensors have been developed for use in many laboratories and industrial environments for detection of a wide variety of physical, biological, and chemical parameters.
Photonic sensors can be interpreted as the set of techniques and scientific knowledge applied to the generation, propagation, control, amplification, detection, storage, and processing of signals of the optical spectrum, along with their technologies and derived uses.
In recent years, photonic sensors have been recognized as technology that impacts, extends across, and strengthens a whole host of industrial sectors, from healthcare to security, from manufacturing to telecommunications, from energy to the environment, and from aerospace to biotechnology.
Photonic sensors market is categorized mainly by types and applications. Type wise it is categorized into fiber optic sensors, laser-based sensors, and biophotonic sensors. Application wise, it is segmented into construction, energy industry, oil and gas, military and aerospace, medical and industrial application.
Photonic sensors market is diverse and fragmented. This technology has found its way into the industry, surgeries, and the ordinary life besides its use in research laboratories.
Fiber optic sensors market is expected to grow at a very high rate as it is gaining significance in the areas of oil & gas exploration, civil engineering; basically including border security and fencing.
The photonic sensors market is slowly moving from making general purpose instruments to complicated tasks such as aircraft manufacturing applications that require maximized accuracy.
The companies involved in design, development, and supply of photonic sensors are Prime Photonics (U.S.), Smart Fibres (U.K.), and Mitsubishi Electric Corporation (Japan).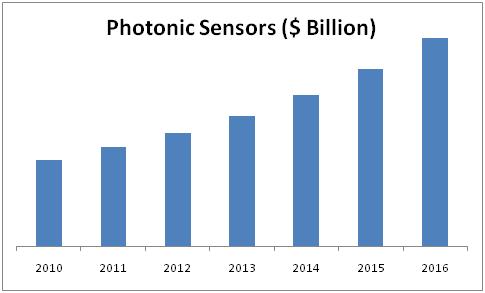 Source: MarketsandMarkets