[155 Pages Report] The global waterproofing systems market size is estimated at USD 52.7 billion in 2020 and is projected to reach USD 72.0 billion by 2025, at a CAGR of 6.4%. The growing demand for waterproofing systems is due to the increasing demands for cost-effective and efficient material and the rising industry of construction in emerging countries.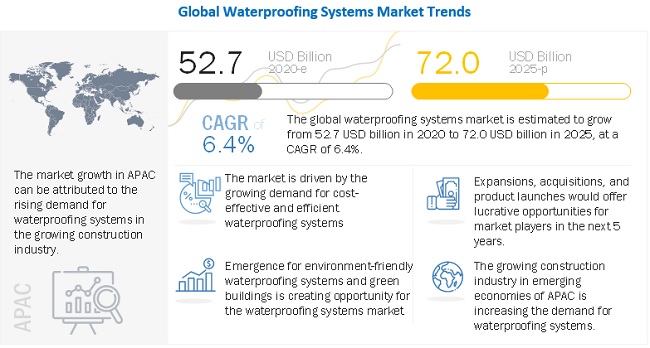 To know about the assumptions considered for the study, Request for Free Sample Report
COVID-19 impact on Global Waterproofing Systems Market
The waterproofing systems are used mainly in the construction industry. COVID-19 has severely impacted this industry.
The lockdown in various countries and logistical restrictions have adversely impacted the construction industry. Supply chain disruptions, workforce unavailability, logistical restrictions, limited availability of components, demand drop, low company liquidity, and shutdown of manufacturing due to lockdown in various countries have adversely affected the industry. Raw material suppliers and other related businesses are forced to re-evaluate their strategies to cater to this industry during this crisis period.
Residential and commercial construction has come to a grinding halt owing to the pandemic. Waterproofing systems demand from this sector is expected to be low to the medium during this crisis period. Some major issues would be a delay in order shipments, supply chain restriction, manpower & equipment shortage, and material shortage. Post conclusion of this crisis, the market is expected to revive, and demand is likely to increase for the waterproofing systems market.
The demand for construction activities has increased in the healthcare sector, owing to the pandemic. A rise in demand for new hospitals and care institutions have provided some stability to the construction sector thus driving the waterproofing systems market
Waterproofing systems Market Dynamics
Driver: Growing demand for cost-effective and efficient waterproofing systems
Waterproofing systems are a significant part of construction projects. Waterproofing systems provide various benefits, including protection from UV radiation, chemical resistance, heat resistance, waterproofing during the rainy season, durability, and strength, all of which help in increasing the life span of a structure. In addition, these systems are easy to install and require low labor input, which also helps in reducing the repair and maintenance costs in the short- and long- runs across various applications. Waterproofing systems based on PVC, EPDM, MB, and TPO are lightweight and easy to transport. Moreover, as compared to built-up roofing, installing waterproofing systems does not require much labor, and the installation cost is much less. The parameters mentioned above further decrease the overall cost of waterproofing systems, hence, making them an excellent choice for residential and commercial sectors to meet their waterproofing needs.
Restrain: Potential health and environmental issues
The use of waterproofing chemicals or membranes poses environmental and human health risks. Waterproofing chemicals, when used in spray form, can be dangerous for the user and also the workers in the vicinity. These chemicals might contain fluorinated compounds, which, when entering the respiratory system, can cause chemical pneumonitis, lung trauma, and other respiratory problems. Similarly, while applying bitumen-based membranes, workers can be exposed to volatile fumes. Extended exposure to these fumes may lead to health issues, such as nasal irritation or bronchitis. In addition, employees with extended lengths of employment have exhibited more nasal, pharyngeal symptoms. Although there is a shifting trend toward synthetic membranes, bitumen still accounts for a significant share among other waterproofing membranes. This means a large section of workers in the roofing industries, especially in emerging economies, are vulnerable. The presence of solvents, diluents, and others in waterproofing systems also harms the environment by releasing toxic fumes and VOCs in the atmosphere. However, the use of respirators, protective clothing, and eco-friendly alternatives can be used to mitigate these factors.
Opportunity: Emergence of environment-friendly waterproofing systems and green buildings
Waterproofing systems are associated with toxicity and VOC content. Sika, Fosroc, Kemper Systems, Pidilite, and other manufacturers provide and have also invested in R&D of solutions, which have minimal environmental and human footprints. Manufacturers are increasingly accrediting their products with green certification for use in sustainable construction projects, such as green roofs and green buildings.
Green roofs are roof structures of any building, which are completely or partially covered with vegetation. Green roofs help in reduction in energy costs and urban heat island effect, removal of harmful air particles, and reduction of stormwater runoff. Green buildings, on the other hand, are buildings which are energy-efficient. Waterproofing is an important aspect of these building structures; it provides efficient protection from water runoff, weather conditions, and also provides energy efficiency. In countries, including Germany and the US, green buildings are witnessing high growth owing to regulations pertaining to emissions from buildings, and also due to the positive impact of these establishments.
Challenge: Volatility in raw material prices
The raw materials used for manufacturing waterproofing systems are extracted primarily from crude oil. Waterproofing systems based on PVC, PU, acrylic, and bitumen are all derived from petroleum sources. Crude oil is one of the important sources of energy that contributed to 27.3% of the global primary energy consumption in 2015, according to the BP Statistical Review of Energy. The average crude oil spot price reached USD 52 per barrel at the end of December 2016 from a low of USD 29.8 per barrel at the end of January 2016. Crude oil price is very much on a recovery path and stabilized in the range of USD 55-60 per barrel in 2017. However, due to the current pandemic situation, almost all countries have banned both domestic and international travel. This has caused a huge drop in the demand for transportation fuel, which has further affected crude oil prices. However, oil prices are expected to rise owing to renewed demand from China. Due to the fluctuating crude oil prices, the prices of raw materials of waterproofing systems are also affected.
The integral systems type segment to register the fastest growth during the forecast period.
The integral system mainly refers to the waterproofing admixtures segment. Waterproofing admixtures are porous materials that absorb water and water-borne contaminants. Integral systems can be faster to apply, cheaper, and more reliable than coating and membrane. These systems prevent the degradation of concrete structures. They increase the durability of the structure and also reduce maintenance costs. These are applied to roofs, basements, walls, as well as can be applied to different locations based on climatic conditions and structural requirements.
Building structure to be the largest consumer of waterproofing systems.
Building structures are areas excluding roofs and walls such as balconies, basements, foundations, retaining walls, storage rooms, belowground constructions, and others. Building structures are often exposed to stresses such as water exposure, water stresses, groundwater chemical exposures, unequal static forces, temperature variations, biological influences, and others. Waterproofing of these structures provide effective and long term protection form these exposures and ensure efficient protection of building structures.
APAC is projected to be the largest waterproofing systems market during the forecast period.
The waterproofing systems market in APAC is projected to register the highest CAGR during the forecast period. The building structures market in APAC is driven by the growing construction industry, increased consumer spending, and strong economic growth.
The recent COVID-19 pandemic is expected to impact the global construction industry. COVID-19 led the construction industry into an unknown operating environment, globally. Government restrictions on the number of people that can gather at one particular place, severely impacted the industry. E.g., the US construction industry relies heavily on imports for materials such as steel, copper, aluminum, stone, and fixtures, especially from China. Logistical constraints, manpower shortages, and government restrictions have forced many of these suppliers of raw materials to close down, hence, disrupting construction activities in the US. Similarly, economies such as China, India, and others are also facing the brunt of the Covid-19 pandemic.
To know about the assumptions considered for the study, download the pdf brochure
Scope of the report
Report Metric

Details

Years considered for the study

2018–2025

Base year

2019

Forecast period

2020–2025

Units considered

Value (USD Billion)

Segments

Type, Application, and Region

Regions

APAC, Europe, North America, South America, and Middle East & Africa.

Companies

Total of 10 major players covered:
Sika AG (Switzerland), BASF SE (Germany), Soprema (France), GCP applied technologies (US), Fosroc (UK), Mapei S.P.A (Italy), Carlisle Construction Company (US), Tremco (US), Pidilite industries (India) and Henkel Polybit (UAE)
This research report categorizes the waterproofing systems market based on type, application, and region.
Based on type:
Waterproofing membranes
Waterproofing chemicals
Integral systems
Based on the application:
Building Structures
Roofing & walls
Roadways
Waste & water management
Others
Based on the region:
APAC
Europe
North America
Middle East & Africa
South America
Key Market Players
The key players profiled in this report include Sika AG (Switzerland), BASF SE (Germany), Soprema (France), GCP applied technologies (US), Fosroc (UK), Mapei S.P.A (Italy), Carlisle Construction Company (US), Tremco (US), Pidilite Industries (India), and Henkel Polybit (UAE). These companies have adopted various organic as well as inorganic growth strategies between 2017 and 2020 to enhance their regional presence and meet the growing demand for waterproofing systems from emerging economies.
Recent Developments
In March 2020, Sika putt into operation a new production facility for the SikaProof structural waterproofing membrane, at Sarnen, Switzerland. This investment in the expansion will boost manufacturing efficiency and enable the company to serve the rapidly growing market.
In April 2019, Fosroc strengthened its position as a market leader in India with the inauguration of a new green-field factory in Keshwana, Jaipur. The new manufacturing facility will enhance Fosroc's geographical coverage and service levels, particularly for customers in North India and Nepal.
In June 2020, Sika acquired Modern Waterproofing Group, a leading manufacturer of roofing and waterproofing systems in Egypt. The acquisition adds the product portfolio of Sika Egypt and offers new opportunities for growth in the Egyptian construction market.
Frequently Asked Questions (FAQ):
What is the current size of the global waterproofing systems market?
Global waterproofing systems market size is estimated at USD 52.7 billion in 2020 and is projected to reach USD 72.0 billion by 2025, at a CAGR of 6.4%.
Are there any regulations for waterproofing systems?
Several countries in Europe and North America have introduced regulations to use environmentally friendly products that do not harm the environment. Hence, various research is being conducted to use environmentally friendly products.
Who are the winners in the global waterproofing systems market?
Companies such as Sika AG, BASF SE, Soprema, GCP applied technologies, and Fosroc falls under the winner's category. These companies cater to the requirements of their customers by providing customized products. Such advantages give these companies an edge over other companies that are component providers.
What is the COVID-19 impact on waterproofing systems manufacturers?
Industry experts believe that COVID-19 could affect construction activities globally. In Southern Europe, building activity is expected to contract by 60% - 70%. Overall, GDP is expected to shrink by 3.0%, as per the International Monetary Fund (IMF). However, the demand is expected to rise post-pandemic, owing to measures including flexibilization, resizing, operational excellence, digitization, and investments in R&D.
What are some of the drivers in the market?
The increasing demand for cost-effective and efficient waterproofing systems and the growing demand from the construction industry of developing economies is driving the market. .
To speak to our analyst for a discussion on the above findings, click Speak to Analyst