[132 Pages Report] The high performance computing(HPC) market size was USD 30.03 billion in 2016 and is projected to reach USD 44.98 billion by 2022, at a Compound Annual Growth Rate (CAGR) of 7.0% during the forecast period. The growing adoption of on-demand (the cloud) HPC solutions is a major growth driver of the HPC market. In this report, 2016 is considered as the base year and 2017–2022 is the forecast period.
Market Dynamics
Drivers
Increasing need for efficient computing, enhanced scalability, and reliable storage
Need to process data with speed and accuracy
Adoption of HPC in the cloud
Restraints
Data security concerns
High CAPEX and OPEX
Opportunities
Increasing focus on hybrid HPC solutions
Advent of exascale computing to maximize the benefits of HPC
Challenges
Lack of knowledge and limited budget among SMEs
Increasing need for efficient computing, enhanced scalability, and reliable storage to drive global High Performance Computing market
Organizations in various verticals, such as manufacturing, energy and utilities, chemicals, government and defense, and academic institutions, need to resolve complex problems and calculations. These complex problems and calculations can be related to any natural phenomenon, such as weather forecasting, climate change, and space explorations. In such areas, IT professionals deal with web data, databases, financial data, and applications that require higher processing power and where speed and performance become the crucial factors. Furthermore, the emergence of big data has increased the demand for systems that can handle data-intensive workloads. HPC clusters are systems that can handle vast volumes of data with ease and can extensively support high performance data analysis. The improved data collection technology and applications require higher processing power and speed for data analysis and results. Better scans, High Definition Television (HDTV), multilayer scans, and enhanced information gathering capabilities all add to the requirements for more Central Processing Units (CPUs) and quicker storage solutions that are delivered through HPC.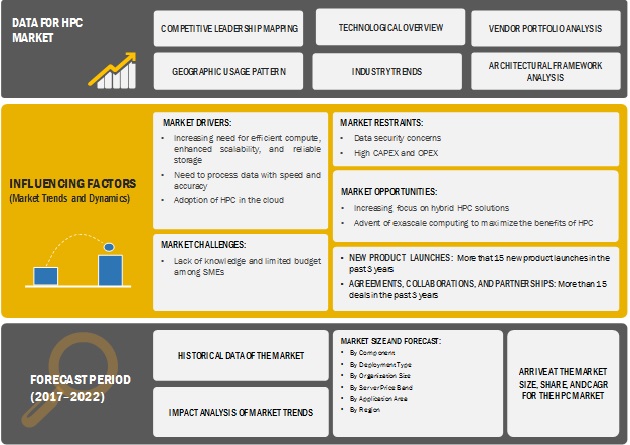 The following are the major objectives of the study.
To describe and forecast the reed sensor market, in terms of value, by type, contact position, and application
To describe and forecast the market, in terms of volume, by type and application
To describe and forecast the reed sensor market, in terms of value, by region–Asia Pacific (APAC), Europe, North America, and Rest of the World (RoW) along with their respective countries
To provide detailed information regarding major factors influencing market growth (drivers, restraints, opportunities, and challenges)
To strategically analyze micromarkets with respect to individual growth trends, prospects, and contributions to the overall market
To study the complete value chain of reed sensor
To analyze opportunities in the market for stakeholders by identifying the high-growth segments of the reed sensor ecosystem
To strategically profile key players and comprehensively analyze their market position in terms of ranking and core competencies, along with detailing competitive landscape for market leaders
To analyze strategic approaches such as product launches, acquisitions, contracts, agreements, and partnerships in the reed sensor market
Research Methodology
The research methodology used to estimate and forecast the HPC market began with capturing data on the key vendors' revenues through secondary research using various sources, such as International Journal of High Performance Computing Applications, and Institute of Electrical and Electronic Engineers (IEEE), and other HPC journals. The vendor offerings were also taken into consideration to determine the market segmentation. The bottom-up procedure was employed to arrive at the overall market size of the global HPC market from the revenues of the key players in the market. After arriving at the overall market size, the total market was split into several segments and subsegments, which were then verified through primary research by conducting extensive interviews with key people, such as Chief Executive Officers (CEOs), Vice Presidents (VPs), directors, and executives. The data triangulation and market breakdown procedures were employed to complete the overall market engineering process and arrive at the exact statistics for all the segments and subsegments. The breakdown of the primary profiles is depicted in the figure below: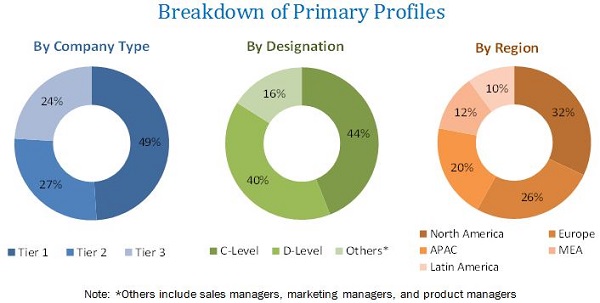 To know about the assumptions considered for the study, download the pdf brochure
The HPC market covers major HPC vendors, such as AMD (US), Atos (France), AWS (US), Cisco Systems (US), Cray(US), DDN (US), Dell(US), Fujitsu (Japan), Hitachi Vantara (US), HPE (US), Huawei (China), IBM (US), Inspur (China), Intel (US), Lenovo (US), Microsoft (US), NEC (Japan), NetApp (US), NVIDIA (US), Oracle (US), Panasas (US), Penguin Computing (US), Spectra Logic (US), Sugon (China), and Xilinx (US).
Major Market Developments
In October 2017, AMD announced the launch of the AMD Embedded Radeon E9170 series GPU. The GPU is ideal for devices that require premium graphics and expanded display capabilities.
In July 2017, Intel launched the Intel Xeon Scalable processors. These processors provide up to 2x floating-point operation/clock improvement with the Intel AVX-512 as well as integrated Intel OPA ports.
In November 2016, HPE announced that it acquired SGI, a provider of high performance solutions for compute, data analytics, and data management. The acquisition was aimed to extend and strengthen HPE's current position in the HPC market.
The target audience of the HPC market report includes the following:
HPC software vendors
HPC hardware vendors
HPC service vendors
HPC cloud solution vendors
Application design and development service providers
System integrators/migration service providers
Consultancy and advisory firms
Training and education service providers
Data integration service providers
Managed service providers
Enterprise customers
Independent Software Vendors (ISVs)
"The study answers several questions for the stakeholders, primarily which market segments to focus on in the next 2–5 years for prioritizing the efforts and investments."
Scope of the Report
The research report categorizes the HPC market to forecast the revenues and analyze the trends in each of the following subsegments:
By Component
Solution

Servers
Storage
Networking Devices
Software

Services

Design and Consulting
Integration and Deployment
Support, Maintenance, and Management
By Deployment Type
By Organization Size:
Small and Medium-sized Enterprises (SMEs)
Large enterprises
By Server Price Bands:
USD 250,000–500,000 and above
USD 250,000–100,000 and below
By Industry:
Government and Defense
BFSI
Education and Research
Manufacturing
Media and Entertainment
Healthcare and Life Sciences
Energy and Utilities
Earth Sciences
Others (Travel and Hospitality, and Retail)
By Region:
North America
Europe
APAC
MEA
Latin America
Available Customizations
With the given market data, MarketsandMarkets offers customizations as per the company's specific needs on best effort basis. For instance, geographic analysis can be provided with further market breakdown of the regions.
The global high performance computing(HPC) market is expected to grow from USD 32.11 billion in 2017 to USD 44.98 billion by 2022, at a Compound Annual Growth Rate (CAGR) of 7.0% during the forecast period. Data center operators face increased needs for data center architecture which supports complex applications, in every business process and research. The HPC technology provides excellent computing power and enhanced performance for running advanced applications. It uses parallel supercomputers and clusters of computers where aggregation of computing power is needed for delivering higher performance. These solutions are fueling the growth of the HPC market, as organizations are adopting them to cater to their complicated business needs.
The market is segmented on the basis of components into solution and services. The solutions considered for the HPC market include servers, storage, networking devices, and software. The services considered for the HPC market include design and consulting; integration and deployment; and support, maintenance, and management. The services segment is expected to grow at a higher CAGR due to the increased need for customized design and improved operability.
The deployment type for the HPC market consists of on-premises and cloud. The cloud deployment type is expected to grow at a higher CAGR. The cloud deployment type helps minimize an organization's operational costs by eliminating the need to buy an additional computing resource. Moreover, the cloud deployment type comes with cost benefits, which has enabled small enterprises to take advantage of its benefits.
The market is also segmented on the basis of organization sizes into Small and Medium-sized Enterprises (SMEs) and large enterprises. The large enterprises segment is expected to have a larger market size, due to a high demand for enhanced HPC systems in their facilities. The growing investments in data center technologies across the world and increasing number of data centers are further fueling the demand for HPC solutions and facilitating the growth of the HPC market.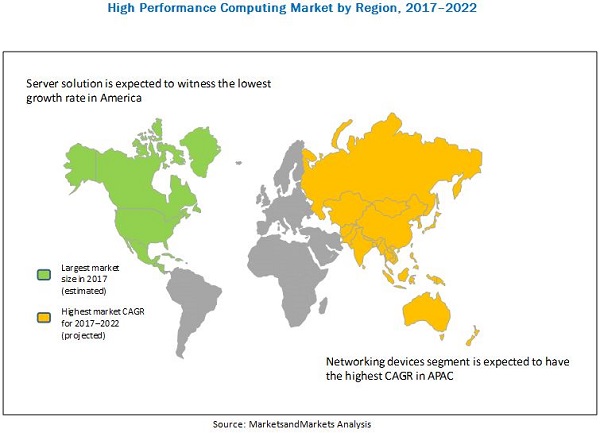 HPC applications Government and Defense, BFSI, Manufacturing, and Education and Research to drive the growth of HPC market
Government and Defense
The government and defense sector is witnessing the rapid adoption of cutting-edge IT infrastructure solutions to improve computing efficiency and further drive the economic growth. Consumers have requirements pertaining to seamless delivery and faster response times while availing services related to the government initiatives. HPC solutions are therefore being widely adopted to provide the consumers with seamless experience and provide high performing infrastructure for economic development. The defense sector is expected with a wider adoption of HPC solutions. HPC solutions can help address a wide spectrum of defense-related requirements including real time data acquisition and analysis, emergency operations preparation, disaster modeling and analysis, simulations, surveillance, and encryption/decryption of confidential information. HPC requirements such as large computations for structural analysis, fluid dynamics, and computer assisted engineering and design are driving the demand of HPC solutions in the aerospace industry.
BFSI
The BFSI industry comprises organizations that are into banking services such as core banking, corporate, retail, investment, private, and cards; financial services such as payment gateways, stock broking, and mutual funds; and insurance services covering both life and general risks. Financial institutes such as insurance companies, banks, and capital markets require innovative IT solutions to manage operational risk, achieve sustainable growth, and deliver new competencies. Moreover, growth in high-frequency trading has resulted in large-scale upgradation of organizations' connectivity, data access, and computational power. Additionally, regulatory requirements for the financial industry have further driven the need for robust HPC solutions for meeting the compliance needs. Thus, organizations are increasingly requiring robust, reliable, and secured HPC systems that are capable of delivering high-end computing solutions and further facilitate mission-critical and increasingly complex BFSI industry.
Education and Research
Increasing computational power has paved the way to execute high-end research projects that were previously inconceivable. HPC solutions can be delivered to facilitate research requirements in structural analysis, computational biology, chemistry, genetics and medicine, electromagnetism, astrophysics and nuclear physics, climate change and meteorology, geophysics statistics, and mathematical modeling. Moreover, with the power of HPC, researches are able to effectively carry out research activities pertaining to modeling, human genome mapping, creation of deep neural networks, and for developing artificial intelligence. HPC vendors are increasingly focusing on delivering tailored HPC solutions for various research needs. These purpose-built solutions are easily deployable and are equipped with common configuration and management tools that are able to adapt quickly to the increasing workloads. Various academic and research institutes are adopting HPC solutions to deliver computational efficiency in initial stages as well as large-scale researches and further driving the growth in the HPC market.
Manufacturing
The manufacturing industry regularly faces challenges with implementing innovative technology solutions, resolving operational challenges and managing supply chain. Moreover, manufacturing companies need to reduce their development cost and their time to market to compete effectively. Manufacturing industries have implemented Computer Aided Engineering (CAE) and simulation to develop enhanced products at reduced costs. These design and simulation systems require large computational power to run multiple instances and derive outputs. Moreover, as these instances are computation-intensive, they require a lot of time to execute. The manufacturing industry can benefit from the use of HPC for computational structural mechanics, computational fluid dynamics, and computational electromagnetics in the manufacturing sector are therefore actively looking for HPC solutions for improving computing speed, efficiency, and overall performance by enabling faster access to data. HPC vendors also provide energy efficient, dense, and modular HPC solutions that are flexible in their configuration and capable of addressing a wide variety of problems.
Critical questions the report answers:
Where will all these developments take the industry in the mid to long term?
What are the upcoming industry applications for HPC solutions?
The report covers all the major aspects of the HPC market and provides an in-depth analysis across the regions of North America, Europe, Asia Pacific (APAC), Middle East and Africa (MEA), and Latin America. The market in North America is expected to hold the largest market share, due to the presence of major vendors, and increasing adoption of associated services. The APAC region is expected to provide several growth opportunities in the HPC market and is projected to grow at the highest CAGR during the forecast period.
However, the cost for setting up an HPC and maintaining it is high and it may restrain the market growth. Various vendors provide HPC solutions to help enterprises reduce their Capital Expenditure (CAPEX). HPE is one of the major vendors of HPC solutions. It offers solutions for solving large scientific, engineering, and data analysis problems. Other major vendors in the HPC market include AMD (US), Atos (France), AWS (US), Cisco Systems (US), Cray (US), DDN (US), Dell (US), Fujitsu (Japan), Hitachi Vantara (US), Huawei (China), IBM (US), Inspur (China), Intel (US), Lenovo (US), Microsoft (US), NEC (Japan), NetApp (US), NVIDIA (US), Oracle (US), Panasas (US), Penguin Computing (US), Spectra Logic (US), Sugon (China), and Xilinx (US). These market players have adopted various strategies, such as partnerships, collaborations, and expansions, to remain competitive in the HPC market.
To speak to our analyst for a discussion on the above findings, click Speak to Analyst