[220 Pages Report] The automotive differential market is estimated to grow from USD 20.0 billion in 2022 and reach USD 23.7 billion by 2027, at a CAGR of 3.5%. The growth of the automotive differential market includes the advanced comfort and automatic safety features premium SUVs offer and the benefits like better maneuverability, larger space, and better comfort compared with sedans, which are drawing the consumer inclination towards SUVs in developing and developed countries. On the other hand, as heavy-duty engine demand is growing in construction and infrastructure projects, there is a tremendous growth opportunity for the differential in the heavy trucks segment. Rising farm mechanization level leads to agricultural tractors, rapid urbanization, and growing e-commerce and logistics activities boosted the forklift market. Subsequently, growth in these off-highway vehicles would bring immense growth potential to the differential manufacturers for this segment
To know about the assumptions considered for the study, Request for Free Sample Report
Automotive Differential Market Dynamics
DRIVER: The rising in demand for commercial and Heavy-Duty Vehicles
The demand for heavy commercial and light commercial vehicles has increased globally in recent years due to increased logistics and transportation activities, industrialization, rising e-commerce demand, and the growing economic growth of developed and developing countries. Asia Pacific dominates the heavy trucks market contributing around ~79% of total global demand. The growth is mainly driven by rising industrialization, infrastructure development, and manufacturing growth in these countries, and demand is expected to remain strong in the future. The demand for light commercial vehicles and heavy trucks is expected to increase, ultimately creating the demand for the automotive differential in the coming years.
Most heavy trucks are rear-wheel drives, and in some models, it comes with all-wheel drive/4WD drive options such as 4x4, 6x4, 8x4, 8x6, etc. The differentials in commercial vehicles are always fitted on live/drive axles. Hence, the number of drive axles is directly proportional to the number of differentials used in vehicles. FWD and RWD require one differential, whereas, in all-wheel drive/ 4-wheel drive, there is a requirement of 2-3 differential owing to the high number of live axles. Commercial vehicle manufacturers such as Volvo Trucks, EZ Trac, and Tata Motors are producing 4WD and AWD heavy commercial vehicles. Some heavy commercial trucks with AWD/4WD systems are Tata Novus, Volvo FMX, and Freightliner M2.
Thus, demand for automotive differentials would simultaneously increase with the growing market of heavy trucks with AWD/4WD systems across all regions. This will create an opportunity for the automotive differential in the heavy-duty commercial vehicle segment.
RESTRAINT: Rise in demand for electric passenger cars and commercial vehicles
Electric vehicles use differentials that are different from the traditional mechanical differential used in traditional ICE vehicles as these are heavy-weight and unsuitable for EVs. Usually, automatic limited-slip, automatic locking, and electronically selectable locking differentials are used in electric vehicles. These differentials work with command signals from the steering wheel, throttle position, and motor speed. This helps supply each wheel with desired torque to provide adequate power. Thus, rising EV adoption may negatively impact the market growth of traditional differential suppliers for ICE vehicles.
OPPORTUNITY: Advancement in differential technology
The rise in electric and hybrid vehicle sales has created a demand for various electrical components such as electrical differentials, traction motors, electric motors, electric compressors, batteries, power electronics, and e-beam axles. In conventional vehicles, multi-speed transmission is required, whereas, in electric vehicles, single-speed transmission is used. The gearbox transfers the power from the electric motors to the wheels of the electric vehicle. In contrast, the differential used in electric vehicles provides variable torque to rotating wheels at different speeds during turning. Furthermore, the mechanical differential is getting replaced by an electronically controlled differential. Using electronic control unit, an electric limited slip differential can provide sufficient torque to different wheels of vehicles. This system is most suitable in a slippery road where the extra torque is required for the wheels with the most traction. The system offers better handling during high-speed curves and lane changes. For instance, Mitsubishi's Active Center Differential allows drivers to choose specific presets for driving on the road, gravel, and snow. American Axle & Manufacturing offers a portfolio of TracRite differentials that help enhance comfort and improve battery electric vehicles' performance, including pickup trucks and SUVs. Other global tier-1 suppliers such as Eaton, Dana Inc. and American Axle have started focusing and developing differentials for electric vehicles. Thus, with increasing electrification of the vehicle, the demand of differentials for electric vehicles would grow rapidly which subsequently lucrative business opportunities for differential suppliers by developing ELSD, automatic locking differentials, and torque-vectoring differentials etc. for the OEMs.
CHALLENGE: Presence of local and Regional Suppliers.
Established and prominent players such as Eaton Plc, Dana Inc., American Axle & Manufacturing Company, Linamar Corporation, and GKN driveline offer a wide range of differential products and other driveline components for the OE market. These companies are actively looking after sales service support for this product. With rise in passenger cars and heavy commercial vehicles the opportunity of automotive differential would also increase.
In addition to these established players some local and regional players such as Amtech International, Auburn Gear, and PowerTrax are also operating in automotive differential components for passenger cars, commercial vehicles, and buses. These local and regional players mainly focus on aftermarket demand of automotive differential, creating competition for established companies. Local or regional players offer differential and its component at a lower cost than well-established players, creating a challenge for developed/well-established companies. Similarly, increasing adoption of electric vehicles will replace the mechanical or traditional differential by electrical differential, which will impact the revenue of companies who manufacture mechanical differential for ICE vehicles.
Automotive Differential Market Ecosystem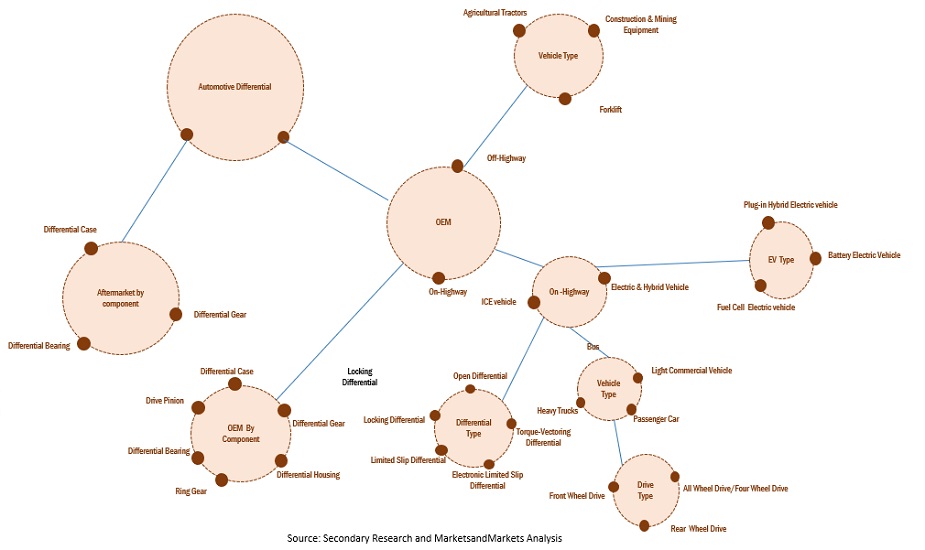 To know about the assumptions considered for the study, download the pdf brochure
The heavy trucks segment is estimated to be the fastest-growing segment during the forecast period
Heavy Trucks are projected to register the fastest growth rate for automotive differential under the review period. These trucks carry heavy loads and require the best pulling capacity, and the drivers must achieve better control over the vehicle than passenger cars. Differential installed in trucks varies based on trucks' axle configuration, and the number of differentials depends upon the number of live axles in trucks. Due to this, every heavy truck is rear-wheel drive, and most trucks and semi-trailers up to 25-30 tons is a rear-wheel drive configuration. Additionally, few OEMs, such as Freightliner, Acela Truck, Mercedes Benz, Volvo, and MAN Trucks, among others, are offering 4WD/AWD trucks in Europe and North American countries. Hence, rising industrialization and growing e-commerce and logistics activities will boost the heavy trucks and differentials market simultaneously for this segment
The plug-in hybrid vehicle is projected to be the largest segment for the electric & hybrid vehicle differential market
Plug-in hybrid vehicles are estimated to hold the largest share of the electric & hybrid vehicle differential market. The plug-in hybrid fulfills the gap between ICE and electric cars with optimum fuel performance and improved performance with substantial comfort and safety features. Major PHEV manufacturers such as Toyota Motor Corporation (Japan), Volkswagen AG (Germany), Mercedes-Benz (Germany), BMW Group (Germany), Mitsubishi Motors (Japan), BYD Company Ltd. (China), Li Auto (China), have launched several plug-in hybrid SUVs that have a high demand in the market. Toyota RAV4 was the best-selling PHEV outside China, followed by Mitsubishi Outlander in 2021. These plug-in hybrid SUVs and premium cars are RWD or AWD/4WD and are usually installed with open differentials and have an installation rate of ELSD and torque vectoring differentials. The RAV4 Hybrid and 2019 Prius AWD are some models equipped with an advanced AWD-i system to secure handling in slippery conditions. Thus, with the expected upcoming PHEVs promised by leading European and American OEMs, the market for differentials from PHEVs is expected to boost.
Differentials for the Two-wheel drive segment is expected to be the largest in the Tractor differential market
Two-wheel drive tractors lead the differential market for this segment owing to the high demand of small tractors in major countries, China, India, and the USA. These countries have small farming land and lower mechanization rates, especially in China and India, due to which two-wheel drive tractors are highly preferred. Two-wheel drive tractors are installed with a single unit of differential. With lack of skilled farm labor, increasing labor costs, and a rising need for operational efficiency and profitability are expected to drive the differentials in the two-wheel drive tractors segment.
Asia Pacific holds the dominant position in the regional market for automotive differential
The market growth in Asia Pacific countries such as China, Japan, and India can be attributed to the increasing demand for vehicles owing to changing consumer preferences, increasing per capita income of the middle-class population, and cost advantages to global OEMs. Due to the increased vehicle production and sales, China is estimated to be the largest market for automotive differentials. As demand for passenger cars is growing, the consumer preference for comfort and advanced safety features has increased. Further, OEMs in this region offer SUVs and medium to premium range sedan cars at competitive pricing, which resulted in shifting consumer preference towards feature-rich vehicles at a higher price tag. Further, the demand for heavy commercial vehicles has also increased due to increasing government infrastructure spending, growing road, construction, and real estate investments, and increasing e-commerce activities. Thus, rising vehicle production and consumer inclination for advanced safety and comfort features will bring more lucrative growth opportunities for automotive differential market in the coming years.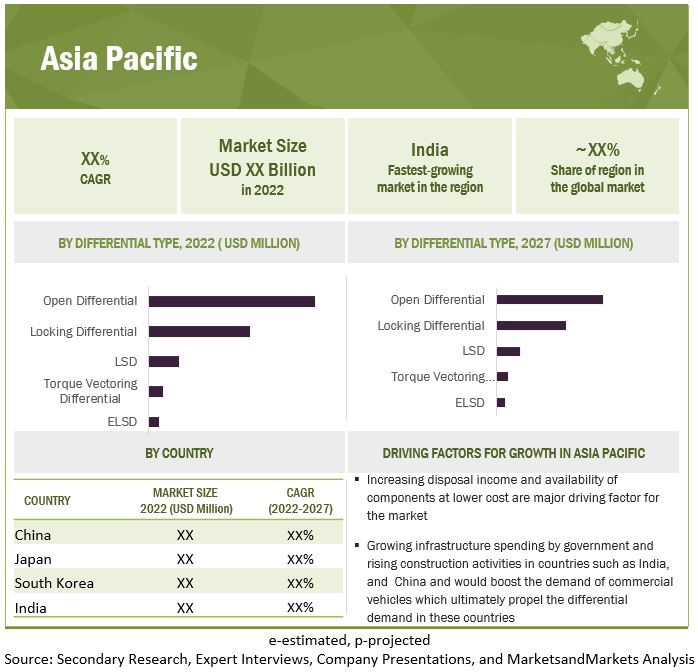 Key Market Players
GKN Driveline (UK), Eaton Plc (Ireland), American Axle & Manufacturing Company (US), Dana Incorporation (US), Linamar Corporation (Canada) and BorgWarner Inc. (US). These companies adopted new product launches and expansion to gain traction in the automotive differential market
Get online access to the report on the World's First Market Intelligence Cloud

Easy to Download Historical Data & Forecast Numbers
Company Analysis Dashboard for high growth potential opportunities
Research Analyst Access for customization & queries
Competitor Analysis with Interactive dashboard
Latest News, Updates & Trend analysis

Request Sample

Click on image to enlarge

Scope of the Report
| | |
| --- | --- |
| Report Metrics | Details |
| Market size available for years | 2018–2027 |
| Base year considered | 2021 |
| Forecast period | 2022–2027 |
| Forecast units | Value (USD Million/Billion) |
| Segments covered | By Differential Type (ICE), By Drive Type (ICE), By Vehicle Type (ICE), By Component (OE & Aftermarket), Electric & Hybrid Vehicle (By Differential Type & EV Type), Off-Highway, By Equipment Type and Region |
| Geographies covered | Asia Pacific, Europe, North America, and ROW |
| Companies covered | GKN Driveline (UK), Eaton Plc (Ireland), American Axle & Manufacturing Company (US), Dana Incorporation (US), BorgWarner Inc. (US), Linamar Corporation (Canada), Schaeffler AG(Germany), JTEKT Corporation (Japan), ZF (Germany), and Hyundai Wia Corporation (South Korea) |
This report categorizes the automotive differential market based on Differential Type, Drive Type, Vehicle Type, Component, Electric & Hybrid Vehicle differential By Differential Type, Component (Aftermarket), Off-highway differential market By Equipment Type, and Region.
By Differential Type (ICE)
Open
Locking
Limited Slip
Electronic Limited Slip
and Torque-Vectoring
By Drive Type
Front Wheel Drive
Rear Wheel Drive
and All Wheel Drive/ 4 Wheel Drive
By Vehicle Type (ICE)
Passenger Car
LCV, Truck
and Buses
By Component (OE)
Pinion Gear
Side Gear
Ring Gear
Differential Housing
and Differential Bearing
Electric & Hybrid Vehicle differential, By Differential Type
Open
Locking
Limited Slip
Electronic Limited Slip
and Torque-Vectoring
By Electric & Hybrid Vehicle differential, By EV Type
By Component (Aftermarket)
Differential Bearings
Differential Gears
Differential Gaskets
and Differential Seals
Off-highway differential market, By Equipment Type
Agricultural Tractors
and Forklift
By Region
Asia Pacific
Europe
North America
and ROW
Recent Developments
In June 2022, the company planned to supply electric drive unit to Mercedes-AMG GT 63 S E Performance. The AAM's electric drive unit provides superior vehicle performance in a compact, power dense design. Innovative design of electric drive unit includes an electromechanical actuated two-speed gearbox and electromechanical controlled limited slip differential (eLSD) providing shifting time and traction.
In January 2022, Dana Inc. launched new planetary drives with improved torque density, design flexibility for wide range of wheeled, tracked, and winch application. These new planetary drives could be configured with Dana TM4 electric motors for wide range of conventional and electrified machines such as crawler cranes, pilling rings, drill rings, and track tool carriers.
In August 2021, Eaton launched extensive line up of specialized differentials for electrified vehicles with comparable performance to traditional internal combustion engine (ICE) vehicles. Eaton launched full range of differentials for electrified including automatic limited-slip, automatic locking, and electronic selectable locking differentials.
In July 2021, GKN Automotive increased the effort to develop e-Drive technologies in response to the rapidly increasing global demand for electrified vehicles. Future eDrive technologies, using 800V technology, promise many benefits for EV owners including faster charging times and superior performance.
In July 2021, Eaton Vehicle group launched aftermarket Elocker differential for Jeep Wrangler and Gladiator JT equipped with both manual and automatic transmissions. The electric locking differentials are a dependable option for the off-road enthusiast, needing just one wire to actuate and requiring no additional components such as airlines and compressors.
In August 2020, Eaton introduced an electronically controlled, scalable limited-slip differential that functions across multiple vehicle platforms to enhance performance and ensure driver safety.
In February 2020, GKN has developed the two-speed transmission and torque vectoring system for model Jeep Renegade, the 'GTD19' demonstrator has undergone extensive testing program in Arieplog, Sweden, and showcased how automakers can use drivetrain innovations to achieve industry-leading standards of efficiency, safety, and driving dynamics in BEV models.
Frequently Asked Questions (FAQ):
What is the current size of the global automotive differential market?
The global automotive differential market is estimated to be USD 20.0 billion in 2022, with Asia Pacific dominating the market.
Which differential type is currently leading the automotive differential market?
Open differential segment is leading differential type in the automotive differential market.
Many companies are operating in the automotive differential market space across the globe. Do you know who are the front leaders, and what strategies have been adopted by them?
GKN Driveline, Eaton Pl, American Axle & Manufacturing Company, Dana Incorporation, BorgWarner Inc and Linamar Corporation. These companies adopted new product launches and expansion strategies to gain traction in the automotive differential market.
How is the demand for differential varies by region?
Asia Pacific is estimated to be the largest market for automotive differential. The Asia Pacific region has emerged as a hub for automotive production in recent years. Europe and North America are also expected to grow at a decent pace during the forecast period due to the increasing demand of luxury and premium vehicles with AWD/4WD drive system in the region.
What factors would drive the aftermarket demand?
Rising average vehicle driven range would create more wear and tear of differential components such as differential bearings, seals, and gears. To prevent the considerable damage, it needs to be replaced over fixed interval of time which will create aftermarket demand for differential component.
What are the revenue shifts which would be observed be observed in this market?
Rising sales of electric vehicles would create the demand for electronically controlled differential for EVs. Advancement in differential technology would create the demand for electric limited slip differential and torque-vectoring differential.
What are the drivers and opportunities for the automotive differential manufacturer?
Rising sales of passenger cars and heavy trucks, increasing demand of luxury and premium SUVs and Cars, advancements in mobility solutions and increase in demand of electric vehicles. .
To speak to our analyst for a discussion on the above findings, click Speak to Analyst