[218 Pages Report] The global automotive axle and propeller shaft market size is expected to grow at a CAGR of 3.2%, by value, during the forecast period. As per our post-COVID forecasts, the market is estimated to reach USD 21.7 billion in 2020 and is projected to achieve USD 25.4 billion by 2025. Post-COVID, factors that push the market forward are a steady increase in vehicle production, demand for luxury vehicles, AWD vehicles, and commercialization of new technologies towards light-weighting of the overall vehicle is expected to drive the automotive axle and propeller shaft market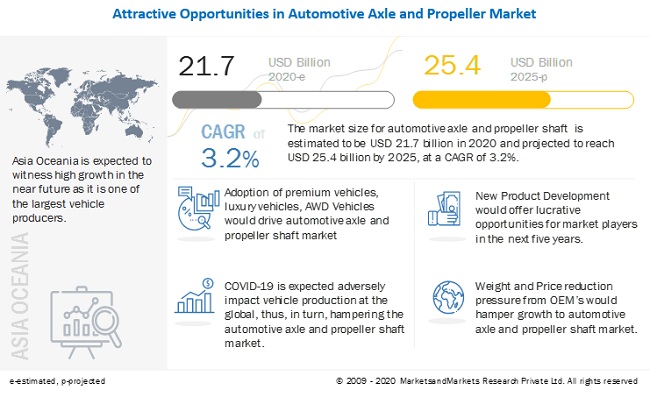 To know about the assumptions considered for the study, Request for Free Sample Report
Covid-19 Impact On Automotive Axle and Propeller Shaft Market
The automotive axle and propeller shaft market includes major Tier I and II suppliers like ZF, GKN Automotive, Dana Incorporated, Meritor, Automotive axle & manufacturing, and others. These suppliers have their manufacturing facilities spread across various countries across Asia Pacific, Europe, North America, South America, and Middle East & Africa. COVID-19 has impacted all of its businesses globally; these players have announced a temporary shutdown of production due to lockdown and also to protect the safety of their employees, which basically created lowered demand and supply chain disruptions in US, France, Germany, Italy, and Spain during the COVID-19 pandemic. As a result, the demand for overall automotive production has decline, which directly affects the automotive axle and propeller shaft market in 2020. Going forward, manufacturers are likely to adjust production to prevent bottlenecks and plan production according to demand from OEMs and tier 1 manufacturers.
Major OEM manufacturers lost revenues in Q1 and Q2 2020, in Q3 2020. Vehicle production is likely to resume, however, not at full capacity due to the severity of the pandemic, due to which, especially in the US and major European countries, tier 1 players suspect a further decline in revenue in the remaining quarters of 2020.
Automotive Axle and Propeller Shaft Market: Market Dynamics:
Driver: Increase In Demand For Vehicle Production
The stringent fuel efficiency regulations in developed, as well as developed markets, have fueled the R&D of better technologies. The research is focused on the development of drivetrain & chassis components that minimize power loss and increase the efficiency of the vehicle by transferring more power from the engine to the wheels. With increasing power requirements in heavy-duty applications, shafts with higher stress handling capabilities are being demanded. This reduces the maintenance cost and downtime of the vehicle, which improves the efficiency of the commercial vehicles in terms of operation. Japan is a technologically advanced automotive market where small cars are preferred owing to their fuel efficiency and lower CO2 emissions. Japan is home to OEMs such as Honda Motor Company, Ltd., Mitsubishi Motors Corporation, and Toyota Motor Corporation, which have successfully established a global footprint with a specific focus on quality and fuel-efficient vehicles. Japan is also a leader in the usage of carbon fiber in automotive applications, and companies such as Mitsubishi Rayon Co., Ltd. and Toray Industries, Inc. serve the carbon fiber automotive market in Japan. Axles and propeller shafts are being developed to handle increased operating stress in sectors such as construction, long haul, and mining to reduce downtime. Thus, advancement in technologies to optimize overall vehicle performance would boost the axle and propeller shaft market.
Restraint: Fluctuating prices of raw materials
The global commodity market has been experiencing price volatility in the current years. This has adversely affected commodities like steel and aluminum, the principle raw materials of the axle, and the propeller shaft market. Along with raw materials, the prices of semi-finished products such as castings, forgings, bearings, and other components have also witnessed a similar trend. Suppliers, as well as manufacturers, are also under constant pressure from OEMs to reduce their prices. This trend might affect the automotive axle and propeller shaft market. However, the impact will be limited.
Opportunity: Growing market for AWD vehicles
The market demand for AWD vehicles is increasing owing to the increased need for stability, safety, and driving dynamics from end-users. AWD vehicles offer the advantage of better traction in harsh weather conditions and off-road applications along with an increase in fuel efficiency than conventional drivetrains. The increase in the adoption of such vehicles is directly proportional to the increasing demand for propeller shafts.
The market for AWD vehicles is also growing owing to the increased demand for SUVs—one of the biggest adopters of this drivetrain. Currently, many passenger cars and SUVs in the US have an RWD or AWD drivetrain. Hence, the demand for live axles has grown consistently in North America. Thus, the market for automotive axle and propeller shaft would rise.
Challenges: Growing government initiative for weight and cost reduction
As environmental norms become more stringent and consumers demand vehicles with better fuel efficiency, automotive suppliers are looking at lighter components for weight reduction to meet the demand for lower emissions and better mileage. High strength steel and aluminum offer approximately 20% and 40% weight advantage but at an increased cost range of 15–30%. Tier I suppliers are developing lightweight solutions through technological advancements without compromising on the structural strength of the components. For instance, the use of carbon fiber epoxy composite instead of conventional metals for manufacturing propeller shafts. But the cost of using such advanced and expensive technologies has resulted in increasing the overall production cost.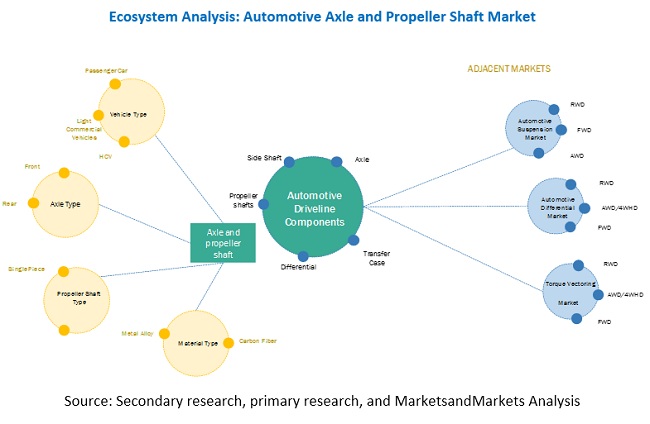 Single Piece Leads the Automotive Propeller Shaft Segment Under the Forecast Period
The single piece is estimated to be the largest market for automotive propeller shaft market during the forecast period. The single-piece propeller shaft is usually preferred in light-duty vehicles owing to the lesser distance between the engine and the rear axle along with benefits such as minimal frictional as well as mechanical losses. Also, these single-piece shafts are lighter in weight than multi-piece, which offers efficient performance at a higher speed. Due to these factors, the single-piece propeller shaft holds the largest share during the forecast period.
Live Axle Segment is Expected to be the Largest Market, by Axle Type, During the Forecast Period
The live axle segment is set to register the largest market as compared with dead and tandem axles. Increasing focus towards optimizing vehicle performance and delivering higher torque would augment the live axle market. Also, growing vehicle production, as well as engineering advancements to cater to the changing customers' needs, would drive the market.
Alloy is Estimated to be the Highest Consumed Material During the Forecast Period
Alloys hold the maximum market share in the passenger car propeller industry. A majority of passenger car and light commercial vehicles are installed with propeller shaft made up of alloy material owing to its benefits such as satisfactory strength, stiffness, and lower cost. However, in case of high-speed performance, and efficient torque requirement, either the diameter of the metal shaft needs to be increased, or manufactured in the form of two or three-piece component. The shaft joints and couplings handle the service loads, high angles, terrain change, and need to have a support structure that further results in increased weight. Hence, the ongoing trend is shifting to design and develop propeller shafts, which are lightweight and cost-effective. As a result, suppliers are now more inclined toward using lightweight materials (carbon fiber) with high durability and comfort factors while designing drivetrain components, especially propeller shafts.
Asia Oceania is Expected to Account for the Largest Market During the Forecast Period
Europe is estimated to be the second-largest and established market for automotive axle and propeller shafts and is projected to witness stable growth in the coming years. The major growth driver is expected to be stringent fuel-economy norms, which would encourage companies to invest in R&D to develop lightweight solutions for vehicles. The high demand for vehicles in Germany, the UK, and France compared with other countries, along with the rise in premium vehicle sales, are estimated to drive the demand for axle and propeller shafts. Rising preference for comfort in vehicles by end-users would also positively impact the demand for a better quality of axles and propellers. Also, ZF Friedrichshafen AG (Germany), Dana Incorporated (US), GKN PLC (UK), IFA Rotorion (Germany), and Gestamp (Spain) are the key suppliers in the European market which are continually making R&D efforts to extend further the growth of automotive axle and propeller shaft market in Europe.
The recent COVID-19 pandemic has impacted the global automotive industry, and many manufacturing companies had supply chain disruptions due to China lockdown, where partially most of the parts are imported. For instance, the UK, France, and Spain, which account for significant vehicle sales in Europe, is severely impacted by pandemic. Tier 1 suppliers around the globe have placed production lines on halt or shut them down completely. Also, legal and trade restrictions, such as sealed borders, increased the shortage of required parts. Such disruptions in the supply chain are expected to affect the assembly of OEMs in Europe and North America.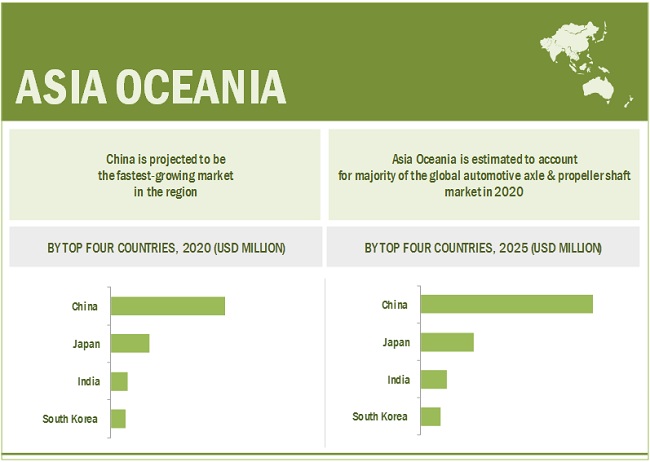 To know about the assumptions considered for the study, download the pdf brochure
Key Market Players
Some of the key players in the automotive axle and propeller shaft market are ZF Friedrichshafen AG (Germany), Dana Incorporated (US), GKN Automotive (UK), American Axle & Manufacturing, Inc. (US), Meritor, Inc. (U.S.), Showa Corporation (Japan), Hyundai Wia Corporation (South Korea), JTEKT Corporation (Japan), and GKN plc (UK). ZF and GKN adopted the strategies of expansion, and new product development, to retain its leading position in the automotive axle and propeller market.
Get online access to the report on the World's First Market Intelligence Cloud

Easy to Download Historical Data & Forecast Numbers
Company Analysis Dashboard for high growth potential opportunities
Research Analyst Access for customization & queries
Competitor Analysis with Interactive dashboard
Latest News, Updates & Trend analysis

Request Sample

Click on image to enlarge

Scope of the Report:
| | |
| --- | --- |
| Report Metric | Details |
| Market Size Available for years | 2016-2025 |
| Base year considered | 2019 |
| Forecast period | 2020–2025 |
| Forecast units | Value (USD Million) and Volume (Thousand Units) |
| Segments covered | By axle type, axle position, propeller shaft type, propeller shaft by position, passenger car propeller shaft material & by Region |
Automotive Axle market, By Type
Automotive Axle market, By Axle Position
Automotive Propeller Shaft Market, By Position
Automotive Propeller shaft market, By Type
Passenger Car Propeller Shaft Market, By Material
Automotive Axle And Propeller Shaft market, By Region
Asia Oceania
Europe
North America
RoW
Recent Developments
In February 2020, Dana Launched the production of the Spicer Electrified eS9000r e-Axle for class 4 and class 5 commercial vehicles in North America and is the only supplier to manufacture all components in a system such as an axle, motor, gear, and invertor.
In January 2020, GKN Automotive and Delta Electronics Inc. announced their collaboration on the joint development that is expected to enable the rapid acceleration of next-generation integrated 3-in-1 eDrive systems of power classes from 80kW to 155kW. The joint development of advanced eDrive technology is expected to see inverters supplied by Delta Electronics Inc. integrated with GKN Automotive's eMotor and gearbox systems in a 3-in-1 solution.
In May 2019, Meritor announced plans to acquire AxleTech for approximately USD 175 million. The addition of AxleTech will enhance Meritor's growth platform, bringing a highly complementary global product portfolio across the off-highway, defense, specialty, and aftermarket segments. AxleTech's offerings include a full product line of independent suspensions, axles, braking solutions, and drivetrain components. These capabilities will enable Meritor to offer global customers a more comprehensive array of differentiated products and solutions while further diversifying the company's portfolio.
In February 2019, ZF's AxTrax AVE electric portal axle was awarded the 2019 EBUS Award in the category "Drives for Battery Buses." AxTrax AVE electric portal axle makes it easier for bus manufacturers and public transport authorities to switch over to quiet, zero local emission drives. This driven axle can be operated by all-electric not only by battery or overhead lines but also in hybrid or fuel cell configurations. The flexibility in configuration options and the selection of energy source makes it the ideal solution for almost any urban environment.
In April 2018, American Axle Manufacturing (AAM) and Liuzhou Wuling Automobile Industry Co. Ltd., a subsidiary of Guangxi Automobile Group Co., Ltd., entered into a joint venture agreement to manufacture driveline systems. Liuzhou AAM plans to provide both conventional and electric drive axles in China. Independent rear axles and driveheads by Liuzhou AAM will meet the needs of the fast-growing segments of multi-purpose vehicles and crossovers, including vans, minivans, and sport utility vehicles.
To speak to our analyst for a discussion on the above findings, click Speak to Analyst