Global Baby Food Market (2009–2014)
The global baby food market is witnessing rapid growth due to the increasing number of working women, and the increasing parental concerns about nutrition. Professionally-made food designed to meet the nutrition requirements of babies also address the problems of paucity of time for preparing baby food at home, as well as non-lactation problems, which may lead to under-nutrition for the baby. Packed and bottled baby food is also considered as a supplement to mother's feeding. The market is growing at a fast pace in developing economies such as China, Vietnam, and India; while the U.S. and Europe markets account for a major share in terms of total revenue generated.
The global market for baby food generated $25 billion in 2008 and is expected to grow at a double digit CAGR in the next few years. A detailed study and analysis of this market will not only define it comprehensively along with market statistics, but will also inform the respective stakeholders about the market drivers and trends. Major players in this market are targeting populous and emerging economies like China and India since the markets in U.S. and Europe have little growth opportunity because of low birth rates and static market conditions. This report analyses the global baby food market and its sub-segments to help stakeholders take strategic decisions based on the upcoming trends and opportunities that this report identifies in the baby food market.
Existing studies and third-party market reports do not provide a comprehensive understanding and classification of the recent developments in the baby food market, such as analysis considering the age group of babies and the nutrient value of baby food. This report breaks the market into smaller product segments which none of the other third-party reports have done so far.
Get online access to the report on the World's First Market Intelligence Cloud
Easy to Download Historical Data & Forecast Numbers
Company Analysis Dashboard for high growth potential opportunities
Research Analyst Access for customization & queries
Competitor Analysis with Interactive dashboard
Latest News, Updates & Trend analysis
Request Sample
Click on image to enlarge
Scope of the Report
This report highlights the basic structure of the baby food market and its various sub-segments based on products, ingredients, and health benefits. These individual markets are further broken down into their respective sub-segments. The products segment for example covers the markets for bottled baby food, baby cereals, baby snacks, baby soups, and frozen baby food.
The report will size all the submarkets and will also give a detailed geographic split among the four major markets of U.S., Europe, Asia, and Rest of the World (ROW). We will provide market trends and forecasts supported by the drivers and inhibitors for each sub-segment. More than 100 market tables and 30 company profiles will provide a deeper insight into the market and the competitive landscape as well. The market tables will also be categorized as per geographic region, ingredients, health benefits, and products.
In addition to the market size, data trends, and forecasts, the report will also highlight key opportunity areas for the relevant stakeholders. We will analyze new product launches in the baby food market and submarkets and profile key market developments of the top 30 companies in this market and its sub-segments while drawing a competitive landscape.
What makes our reports unique?
We provide the longest market segmentation chain in the industry with our three-level market breakdown and our analysis of minimum 40 collectively exhaustive and mutually exclusive micro markets.
We provide 10% customization to ensure that our clients find the specific market intelligence they need.
Each report is about 150 pages, featuring 30+ market data tables, 30+ company profiles, and an analysis of 200 patents.
No single report by any other publisher provides market data for all market segments (i.e. products, services, applications, ingredients, and technology) covering the four geographies of North America, Europe, Asia Pacific, and ROW.
15 pages of high level analysis identifying opportunities, best practices, entry strategies, benchmarking strategies, market positioning, product positioning, and competitive positioning.
Key questions answered
Which are the high-growth segments and how is the market segmented in terms of applications, products, services, ingredients, technologies, stakeholders?
What are market estimates and forecasts; which markets are doing well and which are not?
Where are the gaps and opportunities; what factors are driving market growth?
Which are the key playing fields and winning-edge imperatives?
What is the competitive landscape; who are the main players in each segment; what are their strategic directives, operational strengths, key selling products, and product pipelines? Who is doing what?
Powerful Research and analysis
The analysts working with MarketsandMarkets come from renowned publishers and market research firms globally, adding their expertise and domain understanding. We get the facts from over 22,000 news and information sources, a huge database of key industry participants and draw on our relationships with more than 900 market research companies.
Baby Food Article
The target consumers of commercially-available baby food range from infants (babies aged 6 to 12 months) to toddlers (children up to three years old). Baby food is available in various flavors and in both solid and liquid form. Modern-day time constraints have reduced the use of homemade baby food in both developed as well as developing nations. While U.S. and Europe hold a major share of the global baby food market, emerging economies such as China, India, Brazil, Russia, and Romania also represent a high growth rate.
The baby food market is getting a big boost from the increasing awareness about the role it plays in meeting the nutritional needs of infants and toddlers. The major challenges for the baby food industry are low birth rates, static market conditions in developed countries, and milk intolerance in babies. However, opportunities for the baby food market is immense, as there is large untapped market in developing economies and as evolving food technology and new product developments are expected to attract more customers in future.
The global baby food market is expected to be worth US$37.6 billion by 2014, growing at an estimated CAGR of 5.0% from 2009 to 2014. Bottled baby food forms the largest market segment; and is expected to reach US$9.9 billion by 2014 at a CAGR of 4.9% for the same period. The segment with the highest growth potential is expected to be frozen baby food followed by bottled baby food products and baby cereals. Nestlι SA is the market leader in the global baby food products market. The other key market players are H.J. Heinz, Bristol-Myers Squibb, DANONE and Hero.
The major segments in the baby food product market are baby cereals, bottled baby foods, frozen baby foods, baby snacks and soups. Companies are focusing mainly on developing easily digestible and competitively priced fortified baby food. Evolving food technologies are enabling the market players to offer quality products with enhanced benefits like optimum nutrients content for babies. The growth in the baby food market is primarily due to the increasing demand from the Asian countries.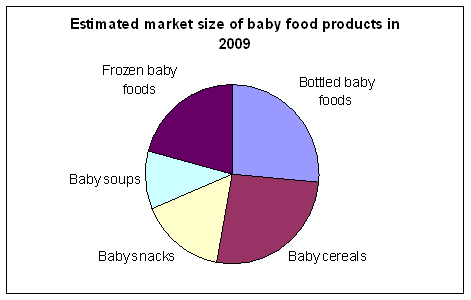 Source: MarketsandMarkets
The accompanying table indicates the estimated market size of baby food products in 2009. The market for bottled baby foods is expected to enjoy the maximum market share followed by the baby cereals. The patent analysis of baby food products indicates that maximum number of patents has been registered for bottled baby food, which accounts for 70% of the total number of patents registered. Baby cereals is second with 16%, followed by baby snacks with 12% of the total patents registered. Geography-wise, the U.S. accounts for 58% of the total patents registered in baby food products followed by Europe with 30%.