[159 Pages Report] Cloud Content Delivery Network market to grow from USD 1.81 Billion in 2016 to USD 6.23 Billion by 2021, at a Compound Annual Growth Rate (CAGR) of 28.0%. 2015 has been considered as the base year, while the forecast period is 2016-2021.
Objectives of the Study
This report aims to estimate the market size and future growth potential of the cloud CDN market across different segments such as types, core solutions, adjacent services, organization sizes, verticals, and regions. The report aims to analyze each segment with respect to individual growth trends and contribution towards the overall Cloud Content Delivery Network market and to provide detailed information regarding the major factors, which influence the growth of the market (drivers, restraints, opportunities, and industry specific challenges). The aim is to deliver competitive intelligence from market analysis and devise revenue growth strategies from the market size and forecast statistics.
Research Methodology
Top-down and bottom-up approaches were used to estimate and validate the size of the global CDN market and to estimate the size of various other dependent subsegments. The key players in the market were identified through secondary research such as Content Delivery Summit, CDN Asia, Streaming Media East, Content Delivery World, and CDN planet and their market shares in respective regions were determined through primary and secondary research. This entire procedure includes the study of annual and financial reports of top market players and extensive interviews for key insights from industry leaders. All percentage shares, splits, and breakdowns were determined by using secondary sources and verified through primary sources. All possible parameters that affect the market are covered in this research study, and have been accounted for, viewed in extensive detail, verified through primary research, and analyzed to get the final quantitative and qualitative data. This data is consolidated and added with detailed inputs. The breakdown of profiles of primary discussion with the participants is depicted in the below figure: extensive interviews with key people such as CEOs, VPs, directors, and executives were conducted. The data triangulation and market breakdown procedures were employed to complete the overall market engineering process and arrive at the exact statistics for all the segments and subsegments. The breakdown of the primary profiles is depicted in the figure below:
To know about the assumptions considered for the study, download the pdf brochure
The prominent players in the Cloud Content Delivery Network market are Akamai Technologies, Inc. (Cambridge, U.S.), Google, Inc. (California, U.S.), Level 3 Communications (Colorado, U.S.), Limelight Networks, Inc. (Arizona, U.S.), Alcatel – Lucent SA (France), Amazon Web Services, Inc. (Washington, U.S.), Internap Corporation (Georgia, U.S.), Ericsson (Sweden), Verizon Communications, Inc. (New York, U.S.), CDNetworks (Seoul, Korea), Tata Communications (Mumbai and Singapore), and Highwinds (Florida, U.S.). The key innovators identified are Cedexis (U.S.), Incapsula, Inc. (California, U.S.), Fastly, Inc. (U.S.), CacheFly (Chicago, U.S.), MaxCDN (U.S.), CloudFlare, Inc. (U.S.), and Conviva (California, U.S.).
Major Market Developments
In February 2016, Akamai launched predictive content delivery solutions to provide instant video start-up on mobile devices
In December 2015, Google launched Alpha Cloud CDN to cater to customers' CDN requirements and increase the speed of delivery of content
In July 2017, Level 3 acquired black lotus to increase its product portfolio in network-based detection and mitigation scrubbing solution alongside network routing, rate limiting, and IP filtering abilities
The target audience of the cloud CDN market report includes the following:
Networking companies
CCDN providers
Data center providers
Cloud Service Providers (CSPs)
Internet Service Providers (ISPs)
Telecom providers
Value Added Resellers (VARs)
Managed Service Providers (MSPs)
Hosting vendors
"The study answers several questions for stakeholders, primarily which market segments to focus on in the next 2–5 years for prioritizing their efforts and investments."
Get online access to the report on the World's First Market Intelligence Cloud

Easy to Download Historical Data & Forecast Numbers
Company Analysis Dashboard for high growth potential opportunities
Research Analyst Access for customization & queries
Competitor Analysis with Interactive dashboard
Latest News, Updates & Trend analysis

Request Sample

Click on image to enlarge

Scope of the Report
The research report categorizes the CDN market to forecast the revenues and analyze the trends in each of the following subsegments:
By Type:
Standard/Non-Video CDN
Video CDN
By Core Solution
Web Performance Optimization
Media Delivery
Cloud Security
By Adjacent Service
Cloud Storage
Analytics and Monitoring
Application Program Interface (APIs)
CDN Network Design
Support and Maintenance
Others (Load balancing, access control & authentication, managed Domain Name Server (DNS), Digital Rights Management (DRM), asset monetization, and cache management solutions)
By Organization Size
Small and Medium Businesses
Large Enterprises
By Vertical
Advertising
Media & Entertainment
Online gaming
E-commerce
Education
Government
Healthcare
Others (BFSI, IT, and Travel & hospitality)
By Region
North America
Europe
Asia-Pacific (APAC)
Middle East & Africa (MEA)
Latin America
Critical questions which the report answers
What are new verticals which the cloud CDN companies are exploring?
Which are the key players in the market and how intense is the competition?
Available Customizations
With the given market data, MarketsandMarkets offers customizations as per the company's specific needs. The following customization options are available for the report:
Product Analysis
Product matrix, which gives a detailed comparison of product portfolio of each company
Company Information
Detailed analysis and profiling of additional market players (up to five)
Also early buyers will receive 10% customization on the CDN market report or other related report. Under customization, further segmentation of regions into different countries can be provided.
The global Cloud Content Delivery Network market size is expected to grow from USD 1.81 Billion in 2016 to USD 6.23 Billion by 2021, at an estimated Compound Annual Growth Rate (CAGR) of 28.0%. Major factors contributing to the growth of the cloud CDN market are growing rich media file contents, video content, increasing use of connected and smart devices, and proliferation of rich media over social sites.
The cloud CDN market is segmented by type, core solution, adjacent services, organization size, vertical, and region. The cloud CDN market type is primarily dominated by video CDN, and is expected to forecast fastest growing trend in the coming years. This dominance is mainly attributed to proliferation of high quality video contents over the websites and live online videos influencing more and more number of users.
Media delivery cloud CDN core solution held the largest market share, owing to large amount of media contents such as podcasts, live RSS feeds, online videos, and others. However, considering the security threats and cybercrimes over the cloud, cloud security solution is expected to witness fastest growing trend by 2021. The Cloud Content Delivery Network market is expected to forecast the highest growth trend in the online gaming vertical as compared to other industries. This growth is attributed to rising trends in online gaming and e-sports. In order to store and retrieve web content without any lag, the cloud storage adjacent service segment is expected to hold the largest market share as compared to other services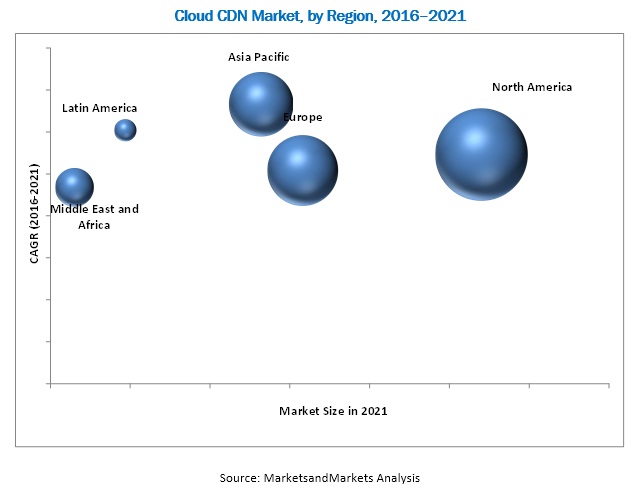 Growing volume of data consumption over internet is a key driver to the growth of the cloud CDN market in media and entertainment and E- commerce verticals
Media and Entertainment
Rising trends in the VoD concept, online audio streaming, podcasts, and live web episodes have boosted the adoption of cloud-based services in order to provide users with un-interrupted access for the data they wish to see. Furthermore, the implementation of cloud CDN plays an active role during peak hours by avoiding data trafficking.
The voluminous increase in the amount of data generated by media and entertainment firms has created a need for reliable CDN solutions. Media production companies, animation companies, TV channel companies, and post-production teams are creating new content at a large scale and delivering to the audiences. Higher resolution imaging standards evolving from HD to 2K and 4K/UHD video quality are creating exponential growth in data sizes. Customers now expect high-quality visualized content on any device with better visibility and without any interruption. The content is delivered to the consumers or the end users in the form of video advertisements and online videos for online campaigns, among others. This factor has provided media companies with a great potential to offer new products, greater reach to their customers, and a higher distinguishing ability. The companies catering to the media and entertainment vertical need to deliver fast, secure, and cloud-based viewing experience to any device and scale to any audience size to gain critical visibility.
E-Commerce
E-commerce websites in the past 5 to 6 years have gained a wide scale popularity as well as customer base as it provides better choices and flexibility to consumers. As the online shopping space is developing, enterprises want to ensure website acceleration along with augmented security functionalities. It has become important for the solution providers to offer an effective web content experience on their websites to the users. The e-tailers need to regularly update their homepage, current content, trends, and improve search engine optimization to offer their customers better visibility. Through cloud-enabled CDN, there has been an easy transmission of data to the end users without latency. E-commerce is gaining wide acceptance across the globe and the e-tailers need to ensure that they provide a high-end shopping experience at anytime, anywhere, and on any device. CDN solutions such as analytics and monitoring enable the providers to keep their customers informed of the latest products and services, further boosting customer relationship. Web performance optimization, transparent caching, cloud storage, and security solutions help in improving the delivery of websites and online applications at high speed on the customer's devices.
Education
Rising adoption of smart classrooms and education technology has led to growing deployment of cloud CDN solutions across the educational vertical. Furthermore, the deployment of learning management system enabled wide scale implementation of cloud CDN in order to provide users with high quality graphical presentations, video seminars & lectures, infographics, audio streaming, and live RSS feeds.
Critical questions the report answers:
Where will all these developments take the industry in the mid to long term?
What are the upcoming industry trends for cloud CDN?
North America is expected to hold the largest market share and dominate the cloud CDN market due to the presence of a large number of CDN vendors, highest internet penetration in the world, large customer base, and its acceptance of technology solutions. However, APAC offers the potential growth opportunities for the cloud CDN market to emerge over the coming years. The key factors driving the growth rate in APAC region are increasing consumption of cloud services, growing penetration of mobile and smartphone devices, and high consumption of video over portable devices. The continuous growth in the integration of various cloud services is further encouraging the overall Cloud Content Delivery Network market to grow.
Latency and connectivity issues are the factors that are majorly restraining the growth of the cloud CDN market.
The major vendors in the Cloud Content Delivery Network market include Akamai Technologies, Inc. (Cambridge, U.S.), Google, Inc. (California, U.S.), Level 3 Communications (Colorado, U.S.), Limelight Networks, Inc. (Arizona, U.S.), Amazon Web Services, Inc. (Washington, U.S.), Alcatel – Lucent SA (France), Internap Corporation (Georgia, U.S.), Verizon Communications, Inc. (New York, U.S.), Ericsson (Sweden), CDNetworks (Seoul, Korea), Tata Communications (Mumbai and Singapore), and Highwinds (Florida, U.S.). The key innovators identified are Cedexis (U.S.), Incapsula, Inc. (California, U.S.), Fastly, Inc. (U.S.), CacheFly (Chicago, U.S.), Conviva (U.S.), MaxCDN (U.S.), and CloudFlare, Inc. (U.S.). These players adopted various strategies, such as mergers, partnerships, collaborations, and new product launches to cater to the needs of the cloud CDN market
To speak to our analyst for a discussion on the above findings, click Speak to Analyst