Hydrogen Detection Market
Hydrogen Detection Market by Technology (Electrochemical, Mems, and Chemo chronic), Range (0-1,000 PPM, 0-2,000 PPM, and 0-4000 PPM), End User (Industrial, Transportation, and Residential & Commercial) and Region − Global Forecast to 2028
Report Code: UC 5907
Jan, 2023, by marketsandmarkets.com
According to MarketsandMarkets, the hydrogen detection market is projected to grow from USD XX million in 2022 to USD XX million by 2027; it is expected to grow at a Compound Annual Growth Rate (CAGR) of XX% from 2022 to 2027. Hydrogen is an odorless, tasteless, and colorless gas, thus requiring mechanical sensors to detect hydrogen leaks. Monitoring hydrogen requires specialized equipment to activate emergency response procedures. Some related solutions include sensors, such as electrochemical and MEMS. It finds its applications in healthcare, semiconductor, energy and utility, and oil & gas.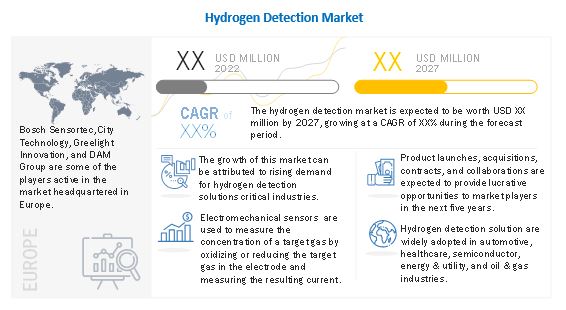 To know about the assumptions considered for the study, Request for Free Sample Report
Market Dynamics
Drivers: The rise in demand for fuel cell vehicles
The adoption of fuel cell vehicles (FCVs) is expected to increase in the near future, owing to the absence of CO2 emissions during vehicle operations. Thus, automotive manufacturers are investing considerably to incorporate fuel cell vehicles in their product offerings. FCVs can convert hydrogen stored on the vehicle via fuel cells into electricity to power the electric motor. The growth in the fuel cell vehicle segment would complement the increase in the adoption of hydrogen detection solutions. Hydrogen detection solutions are an effective method of detecting hydrogen leaks.
Challenge:Intense pricing pressure results in a decline in average selling prices
The widespread applications of hydrogen sensors lead to increased shipments of these sensors; the sales growth is significantly restrained by price erosion. This is partially a result of the intense competition among the rising number of sensor manufacturers. Several companies are channeling their research and development activities toward providing cost-effective sensor solutions that use MEMS technology and developing IoT-compatible sensors. This results in pricing pressure, especially for applications where sensors are used in high volume. Consequently, manufacturers are compelled to decrease the potential price of sensors. While the reduction in ASP benefits consumers, it shrinks suppliers' profit margins. Thus, intense pricing pressure results in a fall in the average selling price (ASP), hampers revenue growth in the highly competitive market.
Key Market Players
A few of the key players in the hydrogen detection market are Aeroqual (New Zealand), Bosch Sensortec (Germany), City Technology (UK), Figaro Engineering Inc. (Japan), Honeywell (US), Hydrogen Sense Technology (China), Greenlight Innovation (Canada), DAM Group (France), Maximator GmbH (Germany), and Horiba Fuelcon (Germany).
TABLE OF CONTENTS
1 Introduction
1.1. Study Objective
1.2. Market Definition
1.2.1. Inclusions and Exclusions
1.3. Market Scope
1.3.1. Markets Covered
1.3.2. Geographic Scope
1.3.3. Years considered for the study
1.4. Currency
1.5. Limitations
1.6. Market Stakeholders
2 Research Methodology
2.1. Research Data
2.1.1. Secondary and Primary Research
2.1.2. Secondar Data
2.1.3. Primary Data
2.2. Market Size Estimation
2.2.1. Bottom-up Approach
2.2.2. Top-down Approach
2.3. Data Triangulation
2.4. Research Assumptions
2.5. Risk Assessment
3 Executive Summary
4 Premium Insights
5 Market Overview
5.1. Introduction
5.2. Market Dynamics
5.2.1. Drivers
5.2.2. Restraints
5.2.3. Opportunities
5.2.4. Challenges
5.3. Value Chain Analysis
5.4. Ecosystem
5.5. Pricing Analysis
5.5.1. Average Selling Prices (ASP) of Key Players
5.5.2. Average Selling Prices (ASP) Trend
5.6. Trends/Disruptions Impacting Customers
5.7. Technology Analysis
5.8. Porterís Five Forces Analysis
5.9. Key Stakeholders & Buying Criteria
5.9.1. Key Stakeholders in Buying Process
5.9.2. Buying Criteria
5.10. Case Study
5.11. Trade Analysis
5.12. Patents Analysis
5.13. Key Conferences & Events
5.14. Tariff and Regulatory Landscape
5.14.1. Regulatory Bodies, Government Agencies, and Other Organizations
5.14.2. Regulations and Standards
6 Impact Of IoT on Hydrogen Detection Market (Qualitative)
6.1. Introduction
6.2. Use Of Different Sensor Technologies in Hydrogen Detection
6.3. Increasing Digitization of Industrial Processes
6.4. Integration Of Hydrogen Detection Sensor with IoT
6.5. Demand For IoT Integration Among End Users for Purposes of Analysis and Decision Support
6.6. IoT Based Gas Detection System for Industrial Safety
7 Hydrogen Detection Market, By Technology
7.1. Introduction
7.2. Electrochemical
7.3. Mems
7.4. Chemo chromic
7.5. Others
8 . Hydrogen Detection Market, By Range
8.1. Introduction
8.2. 0 - 1,000 PPM
8.3. 0 - 2,000 PPM
8.4. 0 - 4,000 PPM
8.5. 0 - 40,000 PPM
9 Hydrogen Detection Market, By End-Use Industry
9.1. Introduction
9.2. Industrial
9.2.1. Oil & Gas
9.2.2. Energy & Power
9.2.3. Chemicals
9.2.4. Pharmaceuticals
9.2.5. Mining
9.2.6. Others (If Any)
9.3. Transportation
9.3.1. Aviation
9.3.2. Aerospace
9.3.3. Railway
9.3.4. Mining
9.4. Residential & Commercial
9.4.1. Gas Transportation/Distribution
10 Hydrogen Detection Market, By Region
10.1. Introduction
10.2. Americas
10.3. EMEA
10.4. APAC
11 Competitive Landscape
11.1. Introduction
11.2. Key Player Strategies/ Right to Win
11.3. Top 5 Company Revenue Analysis
11.4. Market Share Analysis
11.5. Company Evaluation Quadrant
11.5.1. Star
11.5.2. Emerging Leader
11.5.3. Pervasive
11.5.4. Participant
11.6. Startup/SME Evaluation Matrix
11.6.1. Progressive Companies
11.6.2. Responsive Companies
11.6.3. Dynamic Companies
11.6.4. Starting Blocks
11.7. Hydrogen Detection Market: Company Footprint
11.8. Competitive Benchmarking
11.9. Competitive Situation and Trends
12 Company Profiles
12.1. Introduction
12.2. Key Players
12.2.1. Aeroqual
12.2.2. Bosch Sensortech
12.2.3. City Technology Ltd
12.2.4. Figaro Engineering
12.2.5. Honeywell
12.2.6. Hydrogen Sense Technology
12.2.7. Makel Engineering
12.2.8. Membrapor
12.2.9. Neohysens
12.2.10. Nissha FIS
12.2.11. Ntm Sensors
12.2.12. Suzhou Takrmems
12.2.13. Siemens AG
12.2.14. Toshiba
12.2.15. Zhengzhou Winsen Electronics
12.3. Others
13 Adjacent & Related Market
14 Appendix

NOTE: The above-mentioned table of content is tentative, and we may change the content once we start working on the study.

Request for detailed methodology, assumptions & how numbers were triangulated.