[110 Pages Report] The global IoT insurance market is expected to be worth USD 42.76 billion by 2022, growing at a CAGR of 65.89% during the forecast period. In this report, 2015 has been considered as the base year and the period between 2016 and 2022 has been considered as the forecast period for the study of the IoT insurance market.
The objective of the study of this report is:
To define, describe, and forecast the global IoT Insurance market segmented on the basis of insurance type, insurance application, and geography
To forecast the market size, in terms of value, for various segments with regard to four main regions, namely, North America, Europe, Asia-Pacific, and RoW
To provide detailed information regarding the major factors influencing the growth of the market (drivers, restraints, opportunities, and industry-specific challenges)
To strategically analyze the micromarkets1 with respect to individual growth trends, future prospects, and contributions to the total market
To analyze the opportunities in the market for stakeholders by identifying high-growth segments of the global IoT insurance market
To strategically profile key players, comprehensively analyze their market share and core competencies2, and detail the competitive landscape of the market
To analyze competitive developments such as joint ventures, mergers and acquisitions, new product launches and developments, business expansions, and research and development in the global IoT insurance market
To use the PEST analysis to access the IoT insurance market, along with the analysis of the value chain of the IoT Insurance market
Research Methodology
The top-down and bottom-up approaches have been considered to estimate the size of the IoT insurance market. This research study involves an extensive usage of secondary sources, directories, and databases (such as Factiva and OneSource) to identify and collect information useful for the technical and market-oriented study of IoT insurance types and applications.
The points below explain the research methodology applied:
This entire research methodology includes the study of annual and financial reports of top players, presentations, press releases, journals, paid databases, and interviews with industry experts.
To analyze the opportunities in the market for stakeholders by identifying high-growth segments in the global IoT insurance market.
Competitive developments such as mergers and acquisitions, new product launches and developments, and research and development in the global IoT insurance market have been analyzed.
All the percentage splits and segment breakdown of the market are based on secondary and primary research.
The figure below shows the breakdown of primaries on the basis of company types, designations, and regions conducted during the research study.
To know about the assumptions considered for the study, download the pdf brochure
Market Ecosystem:
The IoT insurance ecosystems comprises OEMs such as Google Inc. (U.S.), and Lemonade Inc. (U.S.) among others; the system manufacturers, software providers, and connectivity providers includes SAP SE (Germany), IBM Corporation (U.S.), Cisco Systems, Inc. (U.S.), Oracle Corporation (U.S), Zonoff Inc. (U.S.), and Accenture PLC (Ireland); service providers includes LexisNexis (U.S.), IBM Corporation (U.S.), SAP SE (Germany) and others. The end users are the insurance companies such as AXA Insurance (France), American Family Insurance (U.S.), American International Group, Inc. (U.S.), and Allianz SE (Germany), among others.
The Target Audience:
IoT software solution providers
Cloud service providers
Original equipment manufacturers (OEMs)
IoT product manufacturers
Research organizations
Technology standards organizations, forums, alliances, and associations
Technology investors
Governments, financial institutions, and investment communities
Analysts and strategic business planners
Scope of the Report:
This report categorizes the global market for IoT insurance on the basis of insurance type, insurance application, and region.
By Insurance Type:
Property and Casualty (P&C) Insurance
Health Insurance
Life Insurance
Others

Warranty Insurance
Farmers' Insurance
Cyber Insurance
Pet Insurance
Savings and Investments Insurance
Pension Insurance
By Insurance Application:
Automotive and Transportation
Home and Commercial Buildings
Life and Health
Business and Enterprise
Consumer Electronics and Industrial Machines
Travel
Agriculture
By Region:
North America
Europe
APAC
RoW
Available Customizations
With the given market data, MarketsandMarkets offers customizations according to the company's specific needs. The following customization options are available for the report:
Company Information
Detailed analysis and profiling of additional market players (up to 10)
Growing adoption of Internet of Things (IoT) products in developed and developing economies to drive the global IoT insurance market
Using IoT, insurers are able to create new products and services and attract customers by improving claim management and enhance customer engagement. The penetration of IoT in developed countries such as U.S., Canada, U.K., and Germany is very high. Most of the U.S. based industries such as IBM Corporation (U.S.), Oracle Corporation (U.S.), Microsoft Corporation (U.S.) and Google Inc. (U.S.) has been offering many IoT products and services for insurance industries. For Instance, IBM provides IoT insurance services that enables insurers to manage the risks in real time and improves the relationship with their policyholders. These products and services would help insurers to manage rules for quoting, underwriting, billing, policy management, claim systems and data automation.
In developing economies such as China, Japan, India, and Latin America among others have been adopted IoT based devices and networks for various applications such as energy, manufacturing, commercial and consumer sectors. The IoT insurance is a nascent market in developing regions, however the use of smart phones and broadband technologies would increase the need of IoT in insurance industries.
Market Dynamics
Drivers

Growing adoption of Internet of Things (IoT) products in developed and developing economies Growing demand for cloud and other value added services in insurance industry
Reduction in premium and risk related costs
IoT enabled devices improves the services of insurance industry

Restraints

Communication standards and data privacy concerns

Opportunities

Increase in need of insurance for various IoT enabled applications such as auto, health, life, home and commercial
New developments in insurance models
Data generated from IoT improves business intelligence in insurance industry
Increase in investments in IoT startups

Challenges

Problems posed by legacy systems, and lack in customer engagement, awareness, skills, and procurement policies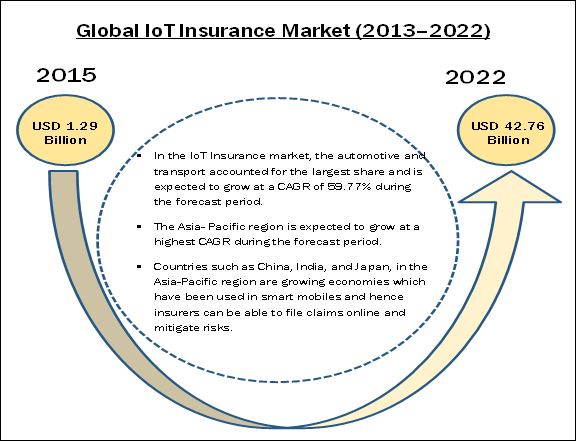 Critical Questions
How IoT will influence the insurance claims process?
How will IoT enable insurers to embrace the shift to paying in advance?
The global IoT insurance market is estimated to grow at a CAGR of 65.89% to reach USD 42.76 billion by 2022. The growing adoption of Internet of Things (IoT) products in developed and developing economies, growing demand for cloud platform and other value-added services in the insurance industry are the major drivers for this market. The IoT-enabled devices provide intelligent data for insurers to help them track health, detect abnormalities, and reduce risks for policyholders. The real-time assessment of data would increase the relationship between the insurers and policyholders.
The IoT insurance market is segmented on the basis of insurance type into P&C insurance, life insurance, health insurance, and others. The property and casualty insurance uses data from IoT-based sensors, actuators, and other smart devices that are connected via the Internet for proactive management of risks and reduction in policy costs. IoT-enabled wearables and fitness devices plays a significant role in providing health-related data to insurers, helping them to monetize health and accordingly offer premiums to policyholders.
The IoT market, segmented by insurance applications, includes automotive and transportation, home and commercial buildings, life and health, consumer electronics and industrial machines, business and enterprise, agriculture, and travel. The automotive and transportation held the largest market share in 2015 due to the early adoption of usage-based insurance (UBI) with telematics in automobiles. Most of the car insurance companies in the U.S. have been offering UBI to their customers. Additionally, the in-built sensors and global positioning systems help insurers to track, locate, and analyze the vehicle and enable insurers to monitor the driving behaviors for claim process.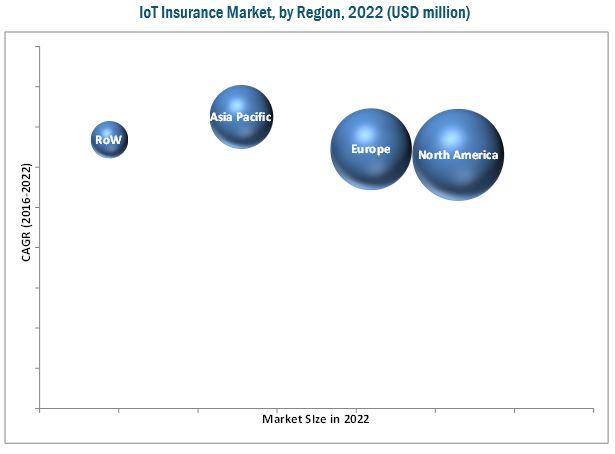 The APAC market is estimated to grow at the highest CAGR between 2016 and 2022. The development of IoT devices such as wearables, drones, Wi-Fi dongles, and inbuilt sensors that provide informative data to insurers would be the driving factor for the IoT insurance market in the APAC region.
IoT systems and software provide large amounts of real-time data that requires strong infrastructure offered by IoT vendors. These may lead to data loss and malfunctioning of the systems due to network failure and need to follow fixed communications standards for data transmission. Also, risks associated with the web of connected devices create privacy concerns, thus hindering the adoption of IoT by the insurers. These factors restrain the growth of IoT insurance in the market.
International Business Machines (IBM) Corporation (U.S.) is one of the major players in the IoT insurance market that offers IoT cloud platforms, IoT Watson, and other insurance services to insurance organizations. The company operates in five business segments, namely, Global Technology Services (GTS), Global Business Services (GBS), software, systems hardware, and global financing. IBM's Watson IoT platform comprises data analytics software and solutions that help insurers to manage data from wearables, weather, and others in terms of insurance-specific analytics. These offerings provide easy and quick claims payments, monitoring, and risk management.
Increase in IoT's real time data gathering and sharing capability would significantly improves the insurance predictive modeling for risk management and accelerate premium growth in the market
Connected Cars
In auto insurance, telematics connects sensors in automobiles with software apps in smart phones and captures driver behaviour for insurer analysis. The insurance business intelligence and insights gained through telematics improves pricing of policies, diminishes costs, and enhances value-added services for policyholders. The connected car implements embedded applications, in-cloud data management and user analytics. These solutions offer services to the insurance industries and insurer to be able to derive data from the sensor connected with cars. These solutions and services help to monitor and manage data from millions of vehicles in real time.
Connected Healthcare
Connected and intelligent devices leverage the opportunity for the health insurance industry. Healthcare and device manufacturing companies are developing the IoT driven healthcare systems with intelligent devices and sensors. These devices have the capability to transmit physiological data and information such as behaviour, environment, genomics, and mental health among others. For example, ITC Infotech's IoT-driven Connected Health enables remote monitoring of a patient's health and environment cost effectively. Data obtained from devices like health wearable are easy to share across system, making health care quick and responsive.
Logistics and Navigation
In insurance industry, the use of drones in logistic plays a major role. Walmart, Amazon, and others are using drones that help in inventory management in their business warehouses. This would enable insurers to track and improve package delivery and cargo delivery with safety. Additionally, for the navigation purpose, drones are used to track the goods from one location to another. These would help insurers to manage the goods where users would be able to identify and correct storage errors and help insurers to improve the overall quality of services provided to their internal or external policyholders. On-board camera and indoor geolocation technology are some of the IoT enabled devices which can be used for such applications.
Critical questions would be;
How IoT will change the insurance industry?
Where will implementation of IoT take the insurance industry in the mid to long term?
What are threats insurance companies can face with the implementation of IoT?