The industrial IoT market was valued at USD 76.7 billion in 2021 and it is expected to reach USD 106.1 billion by 2026, at a CAGR of 6.7% during the forecast period.
The growth of the IIoT industry is driven by factors such as technological advancements in semiconductor and electronic devices, increased use of cloud computing platforms, standardization of IPv6, and support from governments of different countries for R&D activities related to IIoT.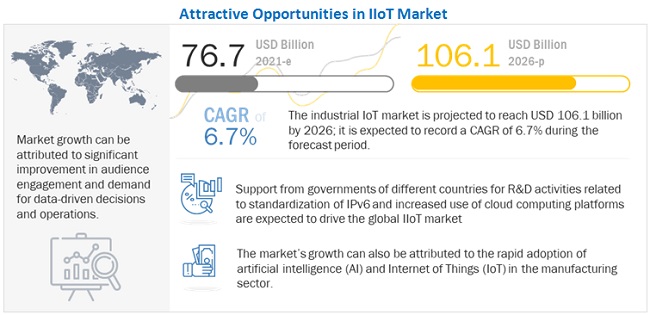 To know about the assumptions considered for the study, Request for Free Sample Report
Impact of COVID on Industrial IoT Market
The COVID-19 pandemic has significantly impacted the industrial IoT market. With the pandemic persisting in North America and developing Asian countries, the manufacturing sector is facing tremendous challenges.
The US automotive industry, one of the biggest in the world, has stagnated since the third quarter of 2020. Various automotive companies have downsized their manufacturing activities across the region, rendering technologies such as IoT, AI, and Blockchain employed in their manufacturing units useless.
Mexico is a big beneficiary of the automotive industry in North America. However, the significantly reduced production of automobiles has resulted in tremendous losses for the Mexican automotive sector.
Industrial IoT (IIoT) Market Segment Overview
Networking technology to dominate the IIoT Market
Networking technologies accounted for the largest market share in 2021. Networking technologies, especially wireless technology, are the backbone of IIoT.
Numerous machines and sensor nodes are connected to the Internet using these technologies to facilitate machine-to-machine communication. These technologies also enable the collection of large volumes of data for improved decision-making.
An extensive range of wireless communication technologies are available based on connectivity range, power requirements, and data transfer rates. The industrial sector is relying increasingly on cellular technologies for machine-to-machine communication.
The industrial IoT market of transit management systems to grow at the highest CAGR during the forecast period
Transit management systems provide accurate information pertaining to the location and performance of vehicles. Vehicles equipped with automatic vehicle location (AVL) technology can be easily tracked.
Transit management systems are also used for tracking, controlling, and monitoring the location of in-transit goods. Users monitoring the location of vehicles get this information through various technologies implemented on the dashboards of vehicles.
Bus rapid transit (BRT) systems are used to provide information related to the transit time of buses. These systems are useful for emergency management systems and travel assistant devices (TADs), which have GPS-enabled mobile phones to assist passengers with special needs.
APAC to hold the largest share of the industrial IoT market.
APAC to hold the largest share of the market, in terms of value, in 2021. Asia Pacific is a major hub for industrial manufacturing and has become a global focal point for significant investments and business expansions.
The growing population, rising investments for R&D activities, and the increasing focus of international and domestic IT companies on the growth of big data analytics and cloud-based services in the region are expected to drive the growth of this market.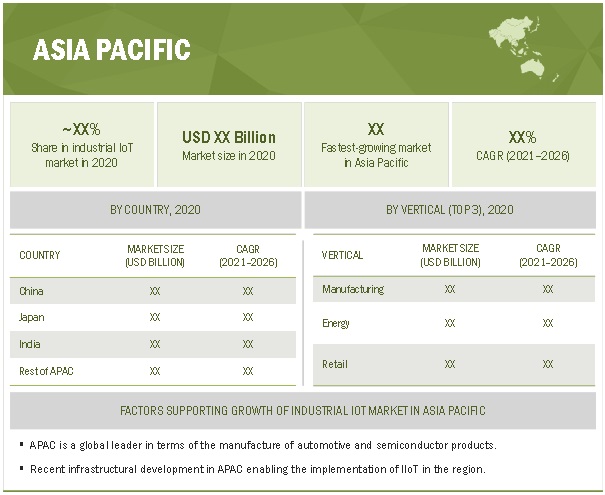 To know about the assumptions considered for the study, download the pdf brochure
Top Key Market Players in Industrial IoT Industry
The leading players in the market are
Huawei (China),
Cisco (US),
GE (US),
Intel (US),
Rockwell Automation (US),
ABB (Switzerland),
Texas Instruments (US),
Honeywell (US),
IBM (US),
KUKA AG(Germany),
NEC Corporation (Japan),
Bosch.IO (Germany),
Siemens AG (Germany), and
SAP (Germany).
Industrial IoT (IIoT) Market Scope
Report Metric

Details

Market Size Value in 2021
USD 76.7 Billion
Market Size Value in 2026
USD 106.1 Billion
Growth Rate
6.7%

Market Size Available for Years

2018–2026

Base Year

2021

Forecast Period

2021–2026

Forecast Unit

Value (USD Million/Billion)
Volume (Thousand Units)

Segments Covered

By Device & Technology,
Connectivity Type,
Software, Vertical and Geography

Geographic Regions Covered

North America,
Europe,
Asia Pacific, and
RoW (includes Middle East, Africa, and South America)

Companies Covered

Huawei (China),
Cisco (US),
GE (US),
Intel (US),
Rockwell Automation (US),
ABB (Switzerland),
Texas Instruments (US),
Honeywell (US),
IBM (US),
KUKA AG(Germany),
NEC Corporation (Japan),
Bosch.IO (Germany),
Siemens AG (Germany), and
SAP (Germany).
Market Dynamics of Industrial IoT Market
Drivers : Rapid adoption of artificial intelligence (AI) and Internet of Things (IoT) in the manufacturing sector
Since the inception of Industry 4.0, the penetration of AI and IoT technologies in the manufacturing sector has been increasing rapidly.
AI- and IoT-integrated systems allow optimization of manufacturing processes, send early alerts, contribute to quality control, and forecast equipment failure in machinery. By gathering precise data, manufacturers can develop innovative AI applications to differentiate themselves from their competitors.
The outbreak of the COVID-19 pandemic in 2020 resulted in a testing time for the manufacturing sector. Restrictions on movement, stringent lockdowns, and unavailability of workforce forced manufacturers to improvise their production processes. This resulted in an accelerated use of AI and IoT in manufacturing processes. Activities such as condition monitoring and equipment maintenance were carried out with the help of AI and machine learning (ML) algorithms in the absence of a regular workforce in manufacturing units.
Standardization of IPv6
The development of Internet Protocol version 6 (IPv6) has contributed to the growth of the IIoT market, as the number of things connected to the Internet is growing exponentially across the world.
The IP version 4 (IPv4) was unable to effectively support this exponential growth in the number of connected things. According to Google, only 4% of the devices in the world use IPv6 protocol at present, while 96% of the devices still use IPv4 protocol. With the standardization of IPv6, the global demand for IIoT technology is expected to grow significantly.
This protocol supports an open architecture and is proving to be the most suitable protocol for IoT. IPv6 offers features such as advanced security and high reliability, thereby providing an appropriate foundation and platform for innovations in the IIoT landscape.
Restraints : Incompatibility of legacy equipment with communication networks
Machines used in the industrial sector require built-in components to facilitate M2M communication. These components are either connected to a wired network or a wireless network, such as Wi-Fi or RFID module.
The connected components collect relevant data from equipment and transmit it to a central computer for storage and analysis. Machinery in old industrial units might not be equipped with these data transmission components, requiring them to be externally fitted. Some legacy equipment may also require alterations to retrofit these components in them, thereby resulting in increased expenditure. This acts as a major hindrance for organizations using old machinery.
The impact of this restraint is expected to reduce gradually in the next few years, as most of the industries have begun to realize the benefits of M2M communication. A few organizations have already started developing solutions to integrate their legacy equipment with communication networks. For instance, General Electric (US) has developed field agents or gateways that can be attached directly to industrial equipment to facilitate network connectivity.
Opportunities : Growing application of AI and IoT in medical sector during pandemic
AI and IoT technologies have been rapidly penetrating into the medical industry over the last five years. Medical wearables have started using AI and IoT technologies, resulting in an integrated hospital ecosystem.
For instance, through continuous glucose monitoring, a wearable device paired with intelligent algorithms can monitor glucose levels and automatically deliver the correct dosage of insulin to diabetes patients. The onset of the COVID-19 pandemic resulted in a sudden increase in the demand for technologies such as mobile personal emergency response system (mPERS) to facilitate remote patient monitoring.
These systems help keep an eye on patient condition 24/7 without the physical involvement of hospital staff, thereby mitigating the risk of infection. As a result of the fear of contracting COVID-19, people are avoiding emergency rooms and doctors' offices for non-COVID-19 health concerns. This is one of the main drivers for the growth of the remote patient monitoring (PM) market. With COVID-19 surging across the world, healthcare institutions are increasingly deploying.
Challenges : Susceptibility of IoT technologies to cyberattacks
IoT technologies are an integral part of smart manufacturing systems. The interconnectivity of devices across an industrial manufacturing facility creates security holes throughout the facility, which could result in potentially compromised operations.
This is because from a security perspective, it cannot be determined where the data is coming from or where it is going. Hence, data visibility is the biggest cybersecurity challenge for smart manufacturing on a factory floor. For instance, Visser Precision, a manufacturer of space and defense equipment, experienced an attack involving DoppelPaymer ransomware at its Colorado manufacturing facility.
The hackers exploited vulnerabilities in the system, which resulted in the leakage of sensitive documents and nondisclosure agreements. The company suffered an estimated loss of USD 50 million.
Recent Development in Industrial IoT Industry
In April 2021, Intel, in partnership with John Deere, provided its AI technology to help solve a costly, age-old problem in the manufacturing welding process. Deere is piloting a solution that uses computer vision to automatically spot common defects in the automated welding process in its manufacturing facilities.
In February 2021, Cisco partnered with Newark, an Avnet Company, to offer industrial IoT network solutions for harsh and non-carpeted environments to customers across North America.
In March 2021, Plataine partnered with SAP to integrate IIoT and AI-based software for digital manufacturing as part of its business offering. Plataine's cloud-based IIoT and AI-based software for digital manufacturing is now available on SAP Store, which recently merged with SAP App Center as the single digital marketplace for SAP and partner offerings.
In October 2020, Honeywell partnered with Microsoft to integrate the Honeywell Forge industrial analytics platform with the Dynamics 365 Field Service offering and Azure.
In June 2020, Intel, in partnership with Nebbiolo for edge computing software, helped German automaker Audi automate and enhance critical quality-control processes in its factories.
Frequently Asked Questions (FAQ):
How big is the opportunity for the IIoT market? How rising adoption of smart beacons technology can help grasp this opportunity?
The industrial IoT market is expected to reach USD 106.1 billion by 2026 from USD 76.7 billion in 2021 to grow at a CAGR of 6.7%.Smart beacon technology has emerged as an alternative for Wi-Fi in the retail vertical. It is expected to witness increased demand from commercial enterprises and connected homes, and in personal assets tracking applications. Small and large-scale retailers use this technology for collecting data and sending targeted notifications to prospects and customers who have downloaded their apps.
Who are the major players operating in the IIoT market? Which companies are the front runners?
The major market players include are Huawei (China), Cisco (US), GE (US), Intel (US), Rockwell Automation (US), ABB (Switzerland), Texas Instruments (US), Honeywell (US), IBM (US), KUKA AG(Germany), NEC Corporation (Japan), Bosch.IO (Germany), Siemens AG (Germany), and SAP (Germany). ABB, Huawei, Cisco, Siemens, and IBM account for around 41% of the total revenue.
How will the rapid growth in agriculture vertical impact the growth rate of the overall IIoT market?
The global manufacturing vertical is transforming with the introduction of new approaches and technologies, such as smart factories, cyber-physical systems, and intelligent robotics. Governments of countries such as Germany, the UK, France, the US, China, and India have launched several initiatives to advance their manufacturing verticals. These factors are encouraging manufacturers to increase their investments for the adoption of IIoT solutions. .
To speak to our analyst for a discussion on the above findings, click Speak to Analyst