[164 Pages Report] The global IoT solutions and services market size is expected to grow from USD 139.3 billion in 2019 to USD 278.9 billion by 2024, at a Compound Annual Growth Rate (CAGR) of 14.9% during the forecast period. Major growth drivers of the market are the growing need of decentralized monitoring and predictive maintenance and development of wireless technologies.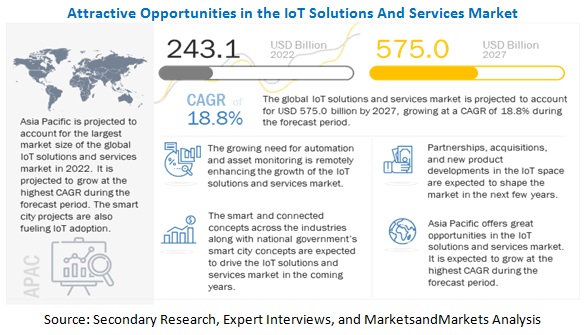 To know about the assumptions considered for the study, Request for Free Sample Report
IoT has changed the ways businesses used to function. Many industries are adopting IoT solutions to improve their existing systems. For instance, healthcare centers use IoT devices to improve their medical outcomes. The manufacturing industry analyzes how their products are being used and determine the usage patterns. This industry witnesses high adoption of IoT solutions to increase efficiency, which helps in day to day operations, facilitates optimization of production quality, and offers high-end safety.
Total number of IoT connections are expected to reach 25 billion by 2025, thus IoT service management is likely to play a major role in ensuring connectivity to maintain business competition. The growing IoT ecosystem will require more robust services; the importance of services will differ across the ecosystem. For instance, mobile operator IoT services can offer better connectivity. However, mobile operators may extend their services to device management, security, application enablement, and others to gain a competitive advantage.
An IoT platform plays a critical role for smart device vendors and startups, who can use it to equip their products with remote control and real-time monitoring functions, configurable alerts and notifications, pluggable cloud services, and integration with consumers' smartphones and other devices. The major application of IoT platforms is cost-optimization for companies in the industrial and transportation sectors through the remote monitoring of devices and vehicles, predictive maintenance of equipment, collecting sensor data for real-time production analytics, and ensuring safety and end-to-end cargo delivery tracking.
Market Dynamics
Driver: DEVELOPMENT OF WIRELESS TECHNOLOGIES
Wireless technology plays a key role in communications, and emerging technologies including robots, drones, self-driving vehicles, and new medical devices will increase the requirement of wireless technologies over the next two years. LPWA networks provide low-bandwidth connectivity for IoT applications in a power-efficient way to support things that need long battery life. They typically cover very large areas, such as cities or even entire countries. Current LPWA technologies include Narrowband IoT (NB-IoT), Long Term Evolution for Machines (LTE-M), LoRa, and Sigfox. The modules are relatively inexpensive, so IoT manufacturers can use them to enable small, low-cost, battery-powered devices such as sensors and trackers. 5G cellular systems are starting to be deployed in 2019 and 2020 an it will play an important role by integrating security into the core network architecture.
Challenge: LACK OF INTEROPERABILITY STANDARDS
Multiple technologies and several competing standards in the connectivity layer of the IoT stack cause interoperability issues. These issues can cause vendor lock-in, difficulty in developing IoT application exposing cross-platform, and/or cross-domain, difficulty in plugging non-interoperable IoT devices into different IoT platforms, and ultimately prevents the emergence of IoT technology at a large-scale. Automation industry is required to operate in a wide array of industrial and manufacturing settings. The major issue is various protocols, such as BLE, ZigBee, Z-Wave, and Thread, are utilized, and there is no standardization that would ensure interoperability. More than 50% of organizations are facing challenges in the adoption of IoT due to uncertain standards.
Opportunity: Increase in the adoption of social media for customer engagement
The European Commission expects that 72% of consumers in the European Union will have smart electricity meters installed in their homes by 2020, and 40% will have a smart gas meter. The EU has been proactive in encouraging its member nations to develop smart cities, and the European Commission has allocated 365 million euros for this purpose. Kansas City uses TrafficVision's technology to more effectively detect traffic incidents from its 300 traffic cameras around the city. This software, paired with the IoT cameras, decreased the city's time to notice issues by 14 minutes. Copenhagen has started using sensors to monitor the city's bike traffic in real-time, which provides valuable data on improving bike routes in the city. This is crucial, as more than 40% of the city's residents commute by bike each day. San Diego has started using cameras built into connected streetlights to monitor pedestrian traffic and reroute cars during peak hours to avoid pedestrian accidents and alleviate congestion.
Managed services is expected to have largest market share during the forecast period
The services segment is divided into consulting, integration and deployment, support and maintenance, and managed services. Factors that drive the global IoT managed services market include the adoption of IoT technologies throughout the industry, increased availability of managed cloud services, and increased government investments in smart cities projects and others. Managed services have major demand from manufacturing industry. Manufacturing industry has been dealing with problems Selecting and implementing right set of IoT solutions that caters to business objective, multi vendor ecosystem and interoperability ( IoT components from different vendors), lack of prerequisite skills to configure, manage, deploy, and integrate IoT solutions, connectivity management of thousands of devices, sceptical on RoI and high initial cost of deployment, high upfront cost and continuous investment on operational expenditure (OPEX) for operation process and handling data, applications, and devices security. Managed service plays key role in successfully implementing IoT solutions in manufacturing with laser focused on delivering services at each layers starting from development, selection, deployment, implementation, and connectivity. Managed service providers focus on delivering end to end IoT services with their core expertize and addresses IoT infrastructure, management, connectivity, and security issues at lower cost and adheres to government regulations .
Smart Energy vertical to hold a second largest market size during the forecast period
Some of the major challenges energy companies are facing are modernizing grid infrastructure, workforce management, and cyberattacks. To overcome these challenges, the energy industry has started adopting the IoT technology along with analytics. IoT platforms are helping energy and utility companies to overcome such challenges by offering applications and capabilities to help improve asset maintenance, asset utilization, and performance management. Also, these platforms help energy companies to integrate IoT assets with existing IT infrastructure and provide real-time data analysis for the same.
North America to hold the largest market size during the forecast period
In North America, the US and Canada are the two major contributors to the overall IoT solutions and services market growth. The number of IoT connections in North America is estimated to reach 5.9 billion by 2025. The major demand for IoT in North America comes from industries such as manufacturing, transportation, and healthcare. The major challenges faced by these industries include data analytics, security of the IoT devices, and complex event processing. This has encouraged IoT companies to focus more on overcoming these challenges.
Key market players
Major vendors in the global IoT solutions and services market Accenture (Ireland) , Atos (France), IBM (US), DXC Technology (US) Deloitte (UK), Cisco (US), Huawei(China), Sierra Wireless (Canada), ARUBA HPE (US), Microsoft (US), AWS (US), PTC (US), and Oracle (US).
Microsoft IoT software helps build and deploy secure, scalable IoT applications using a comprehensive portfolio of managed, platform solutions, and services. The company offers secure, scalable IoT software that collects and analyses real-time device data to trigger automatic alerts and actions, including performing remote diagnostics and automatically initiating maintenance requests. It offers a managed solution that builds apps quickly by reducing the number of decisions that have to be made to achieve results. Most elements of the platform are already coded and managed to focus on adding industrial knowledge and rapidly scaling and connecting devices.
Azure Stream Analytics is a real-time analytics and complex event-processing engine that is designed to analyze and process high volumes of fast streaming data from multiple sources simultaneously. It enhances AI productivity for every developer and digital transformation by collecting untapped data and finding new insights from connected devices, assets, and sensors.
Get online access to the report on the World's First Market Intelligence Cloud

Easy to Download Historical Data & Forecast Numbers
Company Analysis Dashboard for high growth potential opportunities
Research Analyst Access for customization & queries
Competitor Analysis with Interactive dashboard
Latest News, Updates & Trend analysis

Request Sample

Click on image to enlarge

Scope of the Report
| | |
| --- | --- |
| Report Metric | Details |
| Market size available for years | 2016–2024 |
| Base year considered | 2018 |
| Forecast period | 2019–2024 |
| Forecast units | Billion (USD) |
| Segments covered | Component, Solution, Services, Application, Vertical, and Region |
| Geographies covered | North America, Europe, Asia Pacific (APAC), Latin America, and Middle East and Africa (MEA) |
| Companies covered | Accenture (Ireland) , Atos (France), IBM (US), DXC Technology (US) Deloitte (UK), Cisco (US), Huawei(China), Sierra Wireless (Canada), ARUBA HPE (US), Microsoft (US), AWS (US), PTC (US), and Oracle (US) |
This research report categorizes the IoT solutions and services based on component, solution, services, application, vertical, and region.
By component:
Hardware
Platform
Solutions
Services
By solution:
Data Analytics and Machine Learning
Complex Event Processing
Network Management
Cybersecurity
By service:
Consulting
Integration and deployment
Support and maintenance
By Hardware:
Access Points
Antennas
Router/Gateways
By Platform
Data Management
Device Management
Network Management
By Application:
Remote asset monitoring/Predictive maintenance
Product Optimization
Workforce Tracking
Safety and Emergency Management
Identity Access Management
Energy Efficiency
Parking Management
Water Management
Telemedicine
Clinical Operations Management
Imaging and Diagnostics
Remote Patient Monitoring
Energy Consumption
Energy Transmission and Distribution
Production Optimization
Cargo Tracking
Fleet Management
Warehouse Management
By vertical:
Smart Manufacturing
Smart Transportation
Smart Energy
Connected Healthcare
Smart Building
By region:
North America
Europe

United Kingdom (UK)
Germany
France

Asia Pacific (APAC)
Middle East and Africa (MEA)

Saudi Arabia
Latin America
Brazil
Recent Developments
In October 2019, Microsoft announced new capabilities to deliver highly secure IoT solutions for improving safety and addressing social issues by predicting and preventing equipment failures, optimizing smart buildings for space utilization, and energy management..
In February 2020, Cisco announced advancements to its IoT portfolio by introducing innovations to improve management and reduce deployment complexities. This includes ML to improve management, provide smart billing to optimize rate plans, and offer support for global supply chains.
In May 2019, Oracle Malaysia had launched its cloud solution hub to support small and medium enterprises (SMEs) for emerging technologies, such as Blockchain, IoT, ML, AI, Data Analytics, and Autonomous Databases, to drive the business value and growth.
Frequently Asked Questions (FAQ):
What is IoT solutions and services ?
The IoT solutions and services addresses key areas of data analytics with machine learning, network management, cybersecurity, and complex event processing, and associated services for distributed message-based systems, databases, and applications to derive conclusions from data in real-time. These individual and master applications are responsible for data collection, device integration, real-time analytics, and application and process extension within the IoT network.
What are the top vendors in IoT solutions and services market?
Major vendors in the global IoT solutions and services market Accenture (Ireland) , Atos (France), IBM (US), DXC Technology (US) Deloitte (UK), Cisco (US), Huawei(China), Sierra Wireless (Canada), ARUBA HPE (US), Microsoft (US), AWS (US), PTC (US), and Oracle (US).
What are the applications covered in IoT solutions and services market?
The use of IoT solutions and services is specifically seen in applications such as Remote asset monitoring/predictive maintenance, product optimization, workforce Tracking, safety and emergency management, Identity Access Management, energy efficiency, parking management, water management, telemedicine, clinical operations management, imaging and diagnostics, remote patient monitoring, energy consumption, energy transmission and distribution, production optimization, cargo tracking, fleet management, warehouse management.
What are the current trends driving the IoT solutions and services market??
Major growth drivers of the market are the development of wireless technologies and need of decentraliszed monitoring and predctive manitenance. .
To speak to our analyst for a discussion on the above findings, click Speak to Analyst