Membrane Filtration Market
Membrane Filtration Market by Application (Dairy Products, Drinks & Concentrates, Wine & Beer), Module Design (Spiral Wound, Tubular Systems, Plate & Frame and Hollow Fiber), Membrane Material, Type and Region - Global Forecast to 2028
Report Code: FB 6183
Sep, 2023, by marketsandmarkets.com
[400 Pages Report] The membrane filtration market is estimated to be valued at USD 7.0 billion in 2023 and is projected to reach USD 9.9 billion by 2028, at a CAGR of 7.2% from 2023 to 2028.
The membrane filtering industry is seeing tremendous growth, notably in the dairy, food and beverage, and wine and beer industries. This increased interest can be due to a variety of things. Membrane filtration is increasingly being used in the dairy industry to improve the quality and shelf life of dairy products such as milk, cheese, and yogurt while also removing contaminants and germs. Similarly, in the food and beverage industry, membrane filtration is critical for maintaining the freshness and flavor of items such as juices, sauces, and soups by separating solids and pollutants.
This technique is being adopted in the wine and beer industries to produce more clarity, uniformity, and quality in the finished goods, enhancing both flavor and aesthetic appeal. As customer demand for high-quality, safe, and minimally processed food and drinks rises, membrane filtration is positioned to remain a critical solution, propelling continued growth in these industries.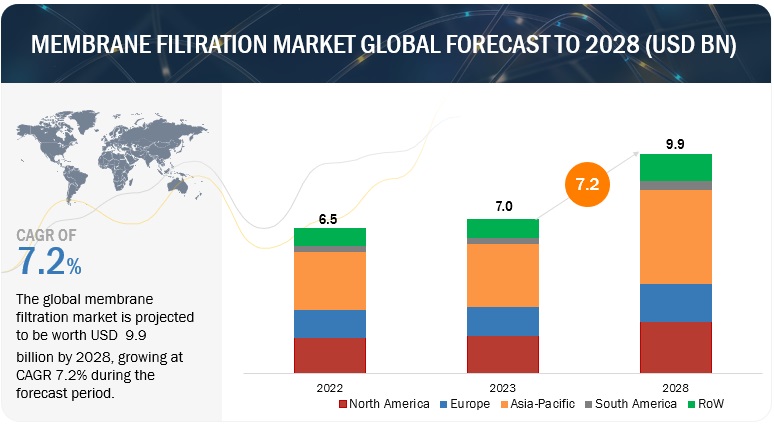 To know about the assumptions considered for the study, Request for Free Sample Report
To know about the assumptions considered for the study, download the pdf brochure
Drivers: 1.3.1.2 Rising demand for premium products
The demand for membrane filtration technologies in food & beverage applications has grown significantly in recent years, owing to its major function of removing harmful microorganisms. Currently, food & beverage manufacturers are increasingly adopting proactive food safety technologies due to the continuous rise in the demand for high-quality, safe, and value-added food products across the world. Membrane technologies are widely used in the food industry because they combine the functions of separation, concentration, purification, and refining as well as the characteristics of high efficiency, energy savings, and environmental protection. Dairy products, soy products, fruit and vegetable juices, the brewing and sugar industries, purification and concentration of enzyme preparations, the concentration of egg whites, and the separation and concentration of food additives such as natural colors and spices are only a few of the major applications.
The food & beverage industry has its own set of trends, processes, and technologies. According to an article published in Filtration+Separation, the growing trend of organic farming and food production has raised issues about food safety; artificial sweeteners continue to pose a threat to the sugar industry and increased awareness of sustainability has also had an impact on the food & beverage industry as more consumers try to minimize their carbon footprints by selecting foods with low "food miles." Food production is also impacted by the disposal of food waste and surplus product packaging intended to keep products fresh. If the appropriate technologies are used, filtration technologies can filter, separate, concentrate, and clarify liquid solutions in addition to complying with regulations.
Wine and beer both go through the processes of clarification and fine filtration. Cold stabilization and sterile membrane filtration are two sterilization techniques used in beer production. Filtration is used in the production of soda to control microorganisms, clarify ingredients and the finished product, and filter and dechlorinate water. Compared to the traditional methods of producing food and beverages, filtration has several benefits. Cold stabilization in the manufacturing of beer is an affordable and effective substitute for flash pasteurization. By utilizing filtration technologies, wine producers can optimize the wine production process and produce high-quality wines in less time. Filtration technologies used in wine production include:
Clarifying or trap filtration: Removes dirt and other foreign objects from wine while also "polishing" it.
Fine filtration: Removes yeast and is frequently used as a pre-sterilization step.
Filtration using sterile membranes: Removes spoilage organisms.
Standardization of milk by UF technology regulates the protein content without the need for adding milk powders, casein, and whey protein concentrates. This improves the appearance and viscosity of milk. This technique is also used in improving the quality of ice cream, yogurt, and cottage cheese. Milk protein concentrates (MPC), with 50–58% protein, are processed through UF and MF, which are used as food additives. Value-added protein ingredients can be achieved by fractionating milk proteins using membrane technology. MF membranes in beer clarification aid in beer yields by separating yeast and microorganisms efficiently without modifying the taste. Applying RO removes 50% of the water from fruit juices before evaporation to produce fruit juice concentrates. This aids in the better retention of sugars, acids, and volatile flavors compared to traditional methods. The production of other functional ingredients such as concentrated whole eggs, chicken blood plasma, and the extraction of vegetable oils also drives the market for membrane filtration in the food industry.
Restraints: High setup costs
Membrane filtration is very effective in terms of purification and reducing the overall operation cost. However, the setup cost for membrane filtration equipment is substantially high, which is expected to be a major challenge during the review period.
Additionally, a process known as fouling affects practically all membrane filtration systems. One of the most common issues that membrane filtration end users deal with is membrane fouling. Fouling can decrease production levels, increase energy consumption, and damage equipment in membrane filtration systems, particularly in microfiltration (MF), ultrafiltration (UF), reverse osmosis (RO), and nanofiltration (NF). All these factors can result in unnecessary expenses for the business. The corrective actions required to maintain the functionality of membranes can be altered even slightly by changes in operating procedures, stream composition, pH, and temperature, among other factors. This makes treating and identifying problems very challenging.
Membrane fouling happens when impurities are left on a filtration membrane's surface, obstructing the flow of liquids through the membrane's pores. Fouling can be caused by several things, including excess metals, biological, colloidal, and/or organic particles in the source water; an incorrect choice of membrane material; unsuitable flow rate, temperature, and pressure; and/or one or more other factors.
In developing countries where membrane filtration technology does not have full penetration yet, the high cost of membrane filtration technology acts as a prominent restraint.
Opportunities: Rising demand for extended shelf life
The rising need for longer shelf life represents a substantial and expanding potential for the membrane filtration industry, notably in the dairy, food and beverage, wine, and beer industries. Consumers' demand for fresher, safer, and longer-lasting products has driven businesses to pursue better preservation technologies, with membrane filtration serving as a crucial enabler.
Perishable dairy products such as milk, yogurt, and cheese are subject to spoiling due to microbial growth and enzymatic activity. Membrane filtration provides a solution by eliminating spoiling microbes, enzymes, and particles, prolonging the shelf life of these items without the need for significant heat treatment or chemical preservatives. This not only improves food safety but also protects nutritional content and quality, which aligns with customers' health-conscious decisions.
Membrane filtration's fine filtering capabilities enable the removal of pollutants that lead to spoiling, such as bacteria and yeast, in the food and beverage sector, where freshness is at a premium. This means longer shelf life without sacrificing taste or nutritional value. Furthermore, in the wine and beer sectors, membrane filtration assists in product stabilization by eliminating undesirable particles, resulting in increased clarity and stability, both of which are critical for sustaining product integrity over time.
The use of membrane filtration not only meets customer desires for longer shelf life, but it also fits with industry goals to decrease food waste. Membrane filtering aids waste reduction at both the consumer and production levels by prolonging the period items stay viable and safe for consumption.
As the emphasis on sustainability grows, the potential for membrane filtration to provide prolonged shelf life becomes increasingly apparent. Manufacturers may make products that fulfill consumer expectations for both quality and environmental responsibility by using fewer artificial preservatives and additives. This intersection of consumer tastes and industry sustainability goals places membrane filtration as a critical technology in satisfying the increased demand for products with prolonged shelf life across all industries.
Challenges: Lack of awareness about the advantages of membrane filtration
Most of the processed water, food, and beverage manufacturers utilize conventional purification and filtration methods such as biological or chemical treatment. Membrane filtration provides high efficiency and requires less preparation in food, beverage, or water processing. Desalination, fractionation, standardization, concentration, and clarifying or separation are some of the main functions of membrane technologies in the food industry. The emulsified oils in foods and beverages are also separated using membrane filtration systems. Membrane filtration has fewer processing stages, allowing for greater levels of purity as well as higher total yields. The technology is employed in numerous industrial large-scale applications, making it possible for industries to run cleaner, more cost-effective, and legal operations free of contaminants and harmful particles. Additionally, it consumes less energy than traditional methods and reduces the total production cost. These are some key advantages that make this technology a vital investment. Yet, due to the lack of awareness regarding the above-mentioned advantages, most food, beverage, and processed water manufacturers still utilize conventional filtration technologies and methods.
Based on type, the reverse osmosis segment is estimated to account for the largest market share of the membrane filtration market.
Reverse osmosis is a highly efficient method for purifying water, capable of removing nearly 99% of most mineral contaminants. In the food and beverage industry, reverse osmosis is a commonly employed water filtration technique that employs pressure to drive water through a semi-permeable membrane, effectively eliminating most impurities, including particles, flavors, colors, and odors. Traditional reverse osmosis systems are designed with multiple stages, each of which filters half of the wastewater generated by the previous stage.
Reverse osmosis has also gained popularity within the beverage industry. Since water is a critical ingredient in beverages, ensuring water quality and sterility is of paramount importance to producers. Typically, water in the beverage industry is sourced from municipal supplies, which may contain hardness or heavy metal deposits, often originating from transportation pipes. These elements in the water can impact the taste of both the water and the beverages produced with it. To mitigate this, reverse osmosis is widely used in beverage manufacturing plants.
Moreover, reverse osmosis finds extensive application in the food sector. It is employed in the concentration process of substances like egg whites, gelatin, and fruit juices. Additionally, it is utilized for the removal of bacteria and brine from meat, as well as the extraction of alcohol from spirits. The dairy, starch, and sugar industries also rely on reverse osmosis for various purposes.
Based on Module design, the spiral wound sub segment of the membrane filtration market is anticipated to dominate the market.
Spiral wound modules play a crucial role in membrane filtration systems used in diverse industries such as water treatment, dairy, food, and beverage production, and more. These modules are essential for effectively separating particles, impurities, and contaminants from liquids, making them an integral part of modern filtration processes.
The structure of spiral wound modules includes a permeate collection tube, a feed spacer, and multiple layers of flat hollow fiber membranes wound together in a spiral arrangement. This design optimizes the available surface area while minimizing the physical footprint, resulting in highly efficient filtration capabilities for various processes.
Spiral wound modules are commonly employed to remove dissolved solids from solutions, especially in nanofiltration and reverse osmosis applications. They are available in various configurations, featuring different types of spacers, membrane materials, lengths, and diameters, which enhances their versatility for multiple filtration tasks. These modules find wide-ranging applications in the processing of bottled water, dairy products, and the beverage industry.
The Asia Pacific market is projected to dominate the food pathogen testing market.
Japan is one of the largest markets for food pathogen testing in the Asia-Pacific region. It is also estimated to be a matured market with a steady growth rate; however, concerns for food safety are still importance to the country owing to which the enforcement of stringent food sanitation laws has become mandatory. The Japanese scrutiny system has revealed food poisoning through pathogens to be the largest outbreak across Japan. E. coli was the major pathogen that caused severe foodborne diseases in Japan.
In Australia, food pathogen testing has gained a significant level of importance owing to frequent increases in the number of foodborne disease outbreaks, increasingly stringent regulations on food safety, a growing level of trade between Australia and other countries, and a sustained number of food recalls, among other reasons. The implementation of a food safety system has reduced the incidences of foodborne diseases in Australia. The development in technologies and the increasing number of regulatory norms have fuelled the growth of this market. The Australian food industry is using strict quality control standards and verifies.
Key Market Players
Alfa Laval (Sweden), GEA Group Aktiengesellschaft (Germany), DuPont (US), Pall Corporation (US), 3M (US) and TORAY INDUSTRIES, INC.(Japan) are among the key players in the global membrane filtration market. To increase their company's revenues and market shares, companies are focusing on launching new services, developing partnerships, and expanding their laboratory facilities. The key strategies used by companies in the food pathogen testing market include geographical expansion to tap the potential of emerging economies, strategic acquisitions to gain a foothold over the extensive supply chain, and new service launches because of extensive research and development (R&D) initiatives.
Get online access to the report on the World's First Market Intelligence Cloud

Easy to Download Historical Data & Forecast Numbers
Company Analysis Dashboard for high growth potential opportunities
Research Analyst Access for customization & queries
Competitor Analysis with Interactive dashboard
Latest News, Updates & Trend analysis

Request Sample

Click on image to enlarge

Scope of the Report
Report Metric

Details

Market size estimation

2023–2028

Base year considered

2022

Forecast period considered

2023–2028

Units considered

Value (USD)

Segments Covered

By Type, By Membrane Material, By Application, By Module Design, and By Region

Regions covered

North America, Europe, Asia Pacific, South America, and RoW

Companies studied

Alfa Laval (Sweden)
GEA Group Aktiengesellschaft (Germany)
DuPont (US)
Pall Corporation (US)
Veolia (France)
3M (US)
Pentair (US)
Porvair Filtration Group (UK)
Donaldson Company, Inc. (US)
MMS Membrane Systems (Switzerland)
Koch Separation Solutions (US)
ProMinent (Germany)
SPX Flow (US)
Hydranautics- A Nitto group Company (Japan)
Synder Filtration Inc. (US)
TORAY INDUSTRIES, INC. (Japan)
MANN+HUMMEL (Germany)
Graver Technologies (US)
Critical Process Filtration Inc. (US)
Novasep (France)
Nilsan Nishotech Systems Pvt. Ltd (India)
Applied Membranes, Inc. (US)
ZwitterCo (US)
Membrane Solutions (Nantong) (China)
Membrane System Specialists, Inc. (US)
Imemflo (Germany)
Membrane Filtration Market:
By Type
Reverse Osmosis
Microfiltration
Ultrafiltration
Nanofiltration
By Module Design
Spiral Wound
Tubular Systems
Plate & Frame and Hollow fiber
By Membrane Material
By Application
Dairy Products
Liquid Milk
Milk Protein Fractionation
Milk Pre-Concentration
Milk Concentration
Water Recovery
Other Dairy Products
Milk
Milk and whey-based ingredients
Cheese
Drinks & Concentrates
Wine & Beer
Other Food & Beverage Applications
By Region
North America
Europe
Asia Pacific
South America
Rest of the World (RoW)
Other food & beverage applications include sugar, fish, and poultry products .
RoW includes the Middle East & Africa.
Recent Developments
In February 2021, TORAY INDUSTRIES, INC. (Japan) launched the PVDF UF membrane. This product launched a Polyvinylidene fluoride (PVDF) ultrafiltration (UF) membrane with virus removal capabilities and high water permeability. This innovation targets safe and economical water supplies treated with minimal energy for various applications, from food and beverages to wastewater reuse.
In April 2022, SPX Flow (US) acquired Lone Star (US). An affiliate of Lone Star Funds has successfully acquired SPX Flow, a leading provider of process solutions for the nutrition, health, and industrial markets ("Lone Star"). This transaction is the best strategy and achieves the company's desire to maximize value for SPX FLOW shareholders.
Frequently Asked Questions (FAQ):
Which region is projected to account for the largest share in the membrane filtration market?
The Asia Pacific region accounted for the largest share, in terms of value, of USD 2.6 billion, of the global membrane filtration market in 2022 and is expected to grow at a CAGR of 8.4%. The growing consumer base and rising demand for processed and functional foods are expected to drive the growth of the membrane filtration market in emerging countries such as China, India, and Thailand, to name a few.
What is the current size of the global membrane filtration market?
The membrane filtration market is estimated at USD 7.0 billion in 2023 and is projected to reach USD 9.9 billion by 2028, at a CAGR of 7.2% from 2023 to 2028.
Which are the key players in the market?
The key players in this market include Alfa Laval (Sweden), GEA Group Aktiengesellschaft (Germany), DuPont (US), Pall Corporation (US), 3M (US) and TORAY INDUSTRIES, INC.(Japan), Koch Separation Solutions (US), Veolia (France), ProMinent (Germany).
What are the factors driving the membrane filtration market?
Consumers' inclination toward high-quality products.
Which segment by type accounted for the largest membrane filtration market share?
The reverse osmosis segment dominated the market for membrane filtration market and was valued at USD 2.65 billion in 2022. The quality of water used in food and beverage production can have a significant impact on the taste and flavor of the final products. RO-treated water is known for its neutral taste and lack of unwanted odors or flavors, making it ideal for preserving the natural taste of ingredients and beverages. This drives the demand for reverse osmosis in the membrane filtration market.
To speak to our analyst for a discussion on the above findings, click Speak to Analyst
TABLE OF CONTENTS
1 INTRODUCTION
1.1 STUDY OBJECTIVES
1.2 MARKET DEFINITION
1.3 STUDY SCOPE
1.3.1 MARKET SEGMENTATION
1.3.2 INCLUSIONS & EXCLUSIONS
1.3.3 REGIONS COVERED
1.3.4 YEARS CONSIDERED
1.4 UNIT CONSIDERED
1.4.1 CURRENCY/ VALUE UNIT
1.4.2 VOLUME UNIT CONSIDERED
1.5 STAKEHOLDERS
1.6 SUMMARY OF CHANGES
1.6.1 RECESSION IMPACT
2 RESEARCH METHODOLOGY
2.1 RESEARCH DATA
2.1.1 SECONDARY DATA
2.1.1.1 Key Data from Secondary Sources
2.1.2 PRIMARY DATA
2.1.2.1 Key Data from Primary Sources
2.1.2.2 Key Industry Insights
2.1.2.3 Breakdown of Primary Interviews
2.2 MARKET SIZE ESTIMATION
2.2.1 BOTTOM-UP APPROACH
2.2.2 TOP-DOWN APPROACH
2.3 DATA TRIANGULATION
2.4 RESEARCH ASSUMPTIONS
2.4.1 ASSUMPTIONS OF THE STUDY
2.5 LIMITATIONS AND RISK ASSESSMENT
2.6 RECESSION IMPACT ANALYSIS
2.6.1 RECESSION MACROINDICATORS
3 EXECUTIVE SUMMARY
4 PREMIUM INSIGHTS
5 MARKET OVERVIEW
5.1 INTRODUCTION
5.2 MARKET DYNAMICS
5.2.1 DRIVERS
5.2.2 RESTRAINTS
5.2.3 OPPORTUNITIES
5.2.4 CHALLENGES
6 INDUSTRY TRENDS
6.1 INTRODUCTION
6.2 SUPPLY CHAIN ANALYSIS
6.3 VALUE CHAIN ANALYSIS
6.4 TECHNOLOGY ANALYSIS
6.5 PRICING ANALYSIS
6.5.1 INDICATIVE PRICE TRENDS OF KEY PLAYERS, BY TYPE
6.5.2 INDICATIVE PRICE TRENDS, BY REGION
6.6 ECOSYSTEM/ MARKET MAP
6.6.1 DEMAND SIDE
6.6.2 SUPPLY SIDE
6.7 TRENDS/ DISRUPTION IMPACTING THE CUSTOMER'S BUSINESS
6.8 PATENT ANALYSIS
6.9 KEY CONFERENCES & EVENTS IN 2023-2024
6.10 TARIFF & REGULATORY LANDSCAPE
6.10.1 REGULATORY FRAMEWORK
6.10.2 REGULATORY BODIES, GOVERNMENT AGENCIES, & OTHER ORGANIZATIONS
6.11 PORTER'S FIVE FORCES ANALYSIS
6.12 KEY STAKEHOLDERS & BUYING CRITERIA
6.12.1 KEY STAKEHOLDERS IN THE BUYING PROCESS
6.12.2 BUYING CRITERIA
6.13 CASE STUDY ANALYSIS
Note: As this is a technology-based market, trade data is not available, hence, we will not be providing trade data.
7 MEMBRANE FILTRATION MARKET, BY TYPE
7.1 INTRODUCTION
7.2 REVERSE OSMOSIS (RO)
7.3 ULTRAFILTRATION (UF)
7.4 MICROFILTRATION (MF)
7.5 NANOFILTRATION (NF)
8 MEMBRANE FILTRATION MARKET, BY MODULE DESIGN
8.1 INTRODUCTION
8.2 SPIRAL WOUND
8.3 TUBULAR SYSTEMS
8.4 PLATE & FRAME AND HOLLOW FIBER
9 MEMBRANE FILTRATION MARKET, BY MEMBRANE MATERIAL
9.1 INTRODUCTION
9.2 POLYMERIC
9.3 CERAMIC
10 MEMBRANE FILTRATION MARKET, BY APPLICATION
10.1 INTRODUCTION
10.2 DAIRY PRODUCTS
10.2.1 LIQUID MILK
10.2.1.1 MILK PROTEIN FRACTIONATION
10.2.1.2 MILK CONCENTRATION
10.2.1.3 MILK PRE-CONCENTRATION
10.2.1.4 WATER RECOVERY
10.2.2 OTHER DAIRY PRODUCTS
10.2.2.1 WHEY
10.2.2.2 MILK AND WHEY-BASED INGREDIENTS
10.2.2.3 CHEESE
10.3 DRINKS & CONCENTRATES
10.4 WINE & BEER
10.5 OTHER FOOD & BEVERAGE APPLICATIONS
11 MEMBRANE FILTRATION MARKET, BY REGION
11.1 NORTH AMERICA
11.1.1 RECESSION IMPACT ANALYSIS
11.1.2 US
11.1.3 CANADA
11.1.4 MEXICO
11.2 EUROPE
11.2.1 RECESSION IMPACT ANALYSIS
11.2.2 UK
11.2.3 GERMANY
11.2.4 ITALY
11.2.5 FRANCE
11.2.6 SPAIN
11.2.7 NETHERLANDS
11.2.8 DENMARK
11.2.9 REST OF EUROPE
11.3 ASIA PACIFIC
11.3.1 RECESSION IMPACT ANALYSIS
11.2.2 CHINA
11.2.3 SOUTH EAST ASIA
11.3.4 JAPAN
11.3.5 AUSTRALIA
11.3.6 NEW ZEALAND
11.3.7 INDIA
11.3.8 REST OF ASIA PACIFIC
11.4 SOUTH AMERICA
11.4.1 RECESSION IMPACT ANALYSIS
11.4.2 BRAZIL
11.4.3 CHILE
11.4.4 ARGENTINA
11.4.5 REST OF SOUTH AMERICA
11.5 REST OF THE WORLD
11.5.1 RECESSION IMPACT ANALYSIS
11.5.2 AFRICA
11.5.3 MIDDLE EAST
12 COMPETITIVE LANDSCAPE
12.1 OVERVIEW
12.2 MARKET SHARE ANALYSIS
12.3 KEY PLAYERS STRATEGIES
12.4 REVENUE ANALYSIS OF KEY PLAYERS
12.5 KEY PLAYER ANNUAL REVENUE VS GROWTH
12.6 KEY PLAYER EBIT/EBITDA
12.7 GLOBAL SNAPSHOT OF KEY MARKET PARTICIPANTS
12.8 COMPANY EVALUATION MATRIX (KEY PLAYERS)
12.8.1 STARS
12.8.2 EMERGING LEADERS
12.8.3 PERVASIVE PLAYERS
12.8.4 PARTICIPANTS
12.9 COMPANY FOOTPRINT
12.1 START-UP/ SME EVALUATION MATRIX
12.10.1 PROGRESSIVE COMPANIES
12.10.2 STARTING BLOCKS
12.10.3 RESPONSIVE COMPANIES
12.10.4 DYNAMIC COMPANIES
12.10.5 COMPETITIVE BENCHMARKING
12.11 COMPETITIVE SCENARIO
12.11.1 NEW PRODUCT LAUNCHES
11.11.2 DEALS
11.11.3 OTHERS
13 COMPANY PROFILES
13.1 KEY PLAYERS
13.1.1 ALFA LAVAL
13.1.2 GEA GROUP AKTIENGESELLSCHAFT
13.1.3 DUPONT
13.1.4 3M
13.1.5 VEOLIA
13.1.6 PENTAIR
13.1.7 DONALDSON COMPANY, INC
13.1.8 SPX FLOW
13.1.9 NITTO DENKO CORPORATION
13.1.10 PALL CORPORATION
13.1.11 PORVAIR FILTRATION GROUP
13.1.12 MMS MEMBRANE SYSTEMS
13.1.13 KOCH SEPARATION SOLUTIONS
13.1.14 SYNDER FILTRATION INC.
13.1.15 PROMINENT
13.2 KEY PLAYERS
13.2.1 MANN + HUMMEL
13.2.2 GRAVER TECHNOLOGIES
13.2.3 CRITICAL PROCESS FILTRATION
13.2.4 NOVASEP
13.2.5 NILSAN NISHOTECH SYSTEMS PVT. LTD
13.2.6 APPLIED MEMBRANE, INC
13.2.7 ZWITTERCO
13.2.8 MEMBRANE SOLUTIONS
13.2.9 MEMBRANE SYSTEM SPECIALISTS,INC
14.2.10 IMEMFLO
14 ADJACENT & RELATED MARKETS
15 APPENDIX
This research study involved the extensive use of secondary sources—directories and databases such as Bloomberg Businessweek and Factiva—to identify and collect information useful for a technical, market-oriented, and commercial study of the membrane filtration market. In-depth interviews were conducted with various primary respondents—such as key industry participants, subject matter experts (SMEs), C-level executives of key market players, and industry consultants—to obtain and verify critical qualitative and quantitative information as well as to assess prospects.
Secondary Research
The secondary sources referred for this research study include government sources, the EU Commission, the European Food Safety Authority, the German Federal Institute of Risk Assessment, the Food Safety and Standards Authority of India (FSSAI), and the Japanese Ministry of Health, Labor and Welfare have referred to, to identify and collect information for this study. The secondary sources also included membrane filtration annual reports, press releases & investor presentations of companies, white papers, food journals, certified publications, articles from recognized authors, gold & silver standard websites, regulatory bodies, trade directories, and paid databases.
Secondary research was used to obtain key information about the industry's supply chain, the total pool of key players, and market classification and segmentation according to industry trends to the bottom-most level, regional markets, and key developments from both market and technology-oriented perspectives. The secondary data was collected and analyzed to arrive at the overall market size, which was further validated by primary research. It was also used to obtain information on the key developments from a market-oriented perspective.
Primary Research
The membrane filtration market comprises multiple stakeholders, including raw material suppliers, processed food suppliers, and regulatory organizations in the supply chain. Various primary sources from the supply and demand sides of the market were interviewed to obtain qualitative and quantitative information. Primary interviewees from the supply side include research institutions involved in R&D to introduce to the manufacturers, and importers & exporters of membrane filters, from the demand side include distributors, wholesalers, and key opinion leaders through questionnaires, emails, and telephonic interviews.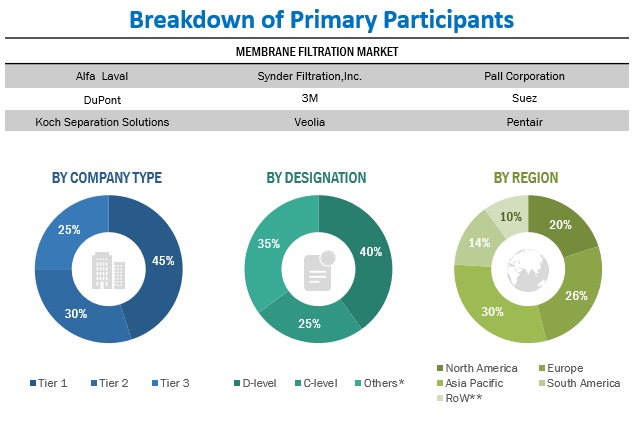 To know about the assumptions considered for the study, download the pdf brochure
Market Size Estimation
Both top-down and bottom-up approaches were used to estimate and validate the total size of the membrane filtration market. These approaches were also used extensively to determine the size of various subsegments in the market. The research methodology used to estimate the market size includes the following details:
The key players in the industry and markets were identified through extensive secondary research.
The membrane filtration market size was determined through primary and secondary research.
All percentage shares, splits, and breakdowns were determined using secondary sources and verified through primary sources.
All the macroeconomic and microeconomic factors affecting the growth of the membrane filtration market were considered while estimating the market size.
All the possible parameters affecting the markets covered in this research study were accounted for, viewed in extensive detail, verified through primary research, and analyzed to obtain the final quantitative and qualitative data.
The research includes the study of reports, reviews, and newsletters of top market players, along with extensive interviews for key opinions from industry experts (such as CEOs, vice presidents, directors, and marketing executives).
The following sections (bottom-up & top-down) (supply-demand) depict the overall market size estimation process employed for this study.
Membrane Filtration Market Size Estimation By Type (Supply Side)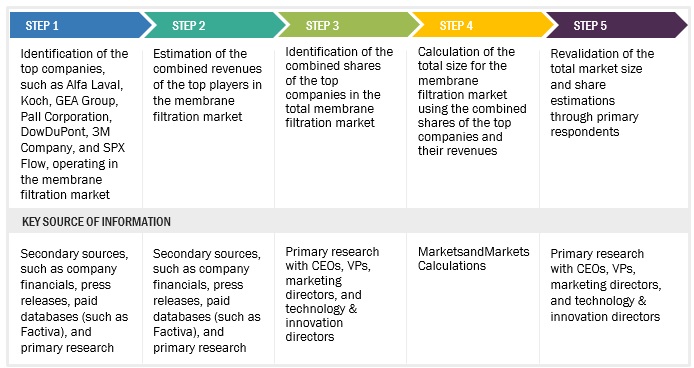 To know about the assumptions considered for the study, Request for Free Sample Report
Membrane Filtration Market Size Estimation, By Type (Demand Side)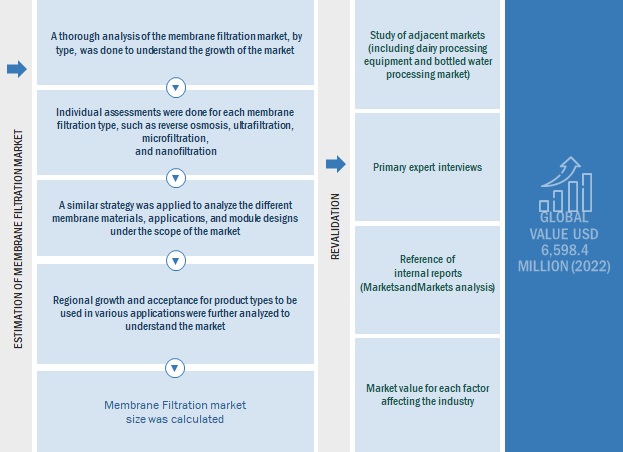 Membrane Filtration Market Size Estimation (Bottom-Up Approach)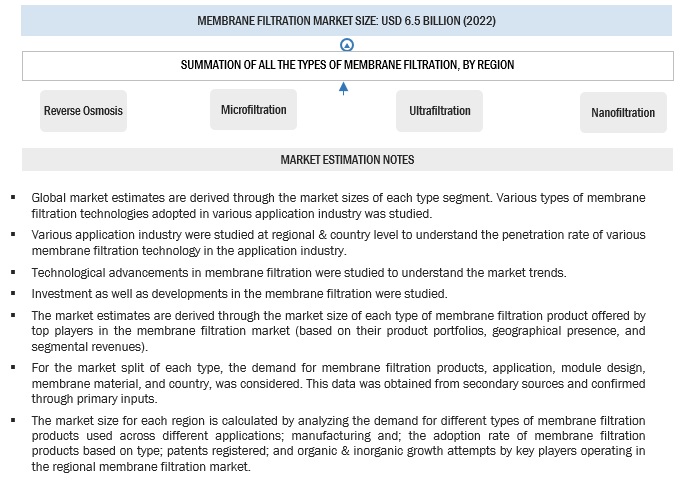 Membrane Filtration Market Size Estimation (Top-Down Approach)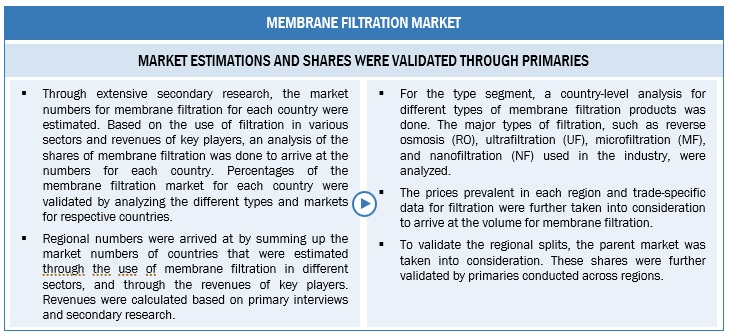 Data Triangulation
After arriving at the overall market size—using the estimation processes explained above—the total market was split into several segments and subsegments. To complete the overall market engineering process and arrive at the exact statistics of each market segment and subsegment, data triangulation and market breakdown procedures were employed, wherever applicable. The data was triangulated by studying various factors and trends from both the demand and supply sides in the membrane filtration industry. The market size was validated using the top-down and bottom-up approaches.
Market Definition
Membrane filtration is a technology used for desalination, separation, concentration, microbial inactivation, and clarification through a semi-permeable membrane of various pore sizes. The market study includes the market size for membrane system applications in the food, beverage, water, and wastewater industries. The study includes the market for overall membranes and modules, which include pumps, filters, and pipeline networks.
Stakeholders
Membrane filtration equipment manufacturers, importers & exporters, traders, distributors, and suppliers
Manufacturers of membrane filtration products for the food & beverage industry
Manufacturers of dairy products, dairy concentrates, wine, and beer
Beverage manufacturers, food processors, and municipal corporations
Research & development institutions
Regulatory bodies: Related government authorities, commercial research & development (R&D) institutions, Food and Drug Administration (FDA), European Food Safety Authority (EFSA), United States Department of Agriculture (USDA), Food Standards Australia and New Zealand (FSANZ), government agencies & NGOs, and other regulatory bodies
Trade associations, industry bodies, and food safety agencies
Report Objectives
Market Intelligence
Determining and projecting the size of the membrane filtration market based on application, membrane material, type, module design, and region over a five-year period ranging from 2023 to 2028
Identifying the attractive opportunities in the market by determining the largest and fastest-growing segments across the key regions
Analyzing the demand-side factors based on the following:
Impact of macro- and microeconomic factors on the market
Shifts in demand patterns across different subsegments and regions
Key drivers and restraints impacting the global market
Competitive Intelligence
Identifying and profiling the key market players in the membrane filtration market
Providing a comparative analysis of the market leaders based on the following:

Product offerings
Business strategies
Strengths and weaknesses
Key financials

Understanding the competitive landscape and identifying the major growth strategies adopted by players across the key regions
Analyzing the supply chain and regulatory frameworks across regions and their impact on prominent market players
Providing insights into the key investments in product innovations and technology
Available Customizations:
MarketsandMarkets offers customizations according to client-specific scientific needs with the given market data.
The following customization options are available for the report:
Product Analysis
Product matrix, which gives a detailed comparison of the product portfolio of each company.
Geographic Analysis
Further breakdown of the rest of Asia Pacific membrane filtration market into South Korea, Taiwan, Pakistan, and Bangladesh
Further breakdown of rest of Europe's membrane filtration market into Finland, and Sweden.
Further breakdown of the rest of South America's membrane filtration market into Bolivia, and Ecuador.
Company Information
Detailed analyses and profiling of additional market players (up to five)