Healthcare providers, payers, and patients are increasingly adopting patient engagement technology, across the globe, particularly in the US. This report provides a qualitative assessment of the patient engagement technology in terms of pricing, vendor replacement trends, and selection criteria for adopting patient engagement technology from the providers' perspective.
The patient engagement technology market is expected to grow as the healthcare industry witnesses a shift to a value-based reimbursement system from the traditional volume-based fee for reimbursement system rapidly. Adoption of patient engagement technology enables the healthcare industry to reduce costs while improving the quality of healthcare. The technology also provides positive returns on investment.
Furthermore, legislative reforms of the Affordable Care Act (ACA) in the U.S., government incentives, and rising aging population has stimulated the adoption of patient engagement technology in the healthcare industry. However, despite the numerous benefits, specific barriers such as huge investment requirements, fragmented end-user market, and security of patient data are restraining the growth of this market.
The pricing of patient engagement technology depends on several parameters that determine the cost of patient engagement technology. These factors are categorized into "Up-front Costs" and "On-going Costs." The report provides a generalized trend of pricing of patient engagement technology.
Mobile health technologies have also emerged as potentially powerful tools to engage patients in healthcare. Mobile health technology can strengthen the care delivery process by improving providers' capacity to reach vulnerable populations and actively engage them in their care. Majority healthcare organizations are providing mobile health technology to their patients.
As the market for patient engagement technology is patient-driven, pleasant patient experience plays a critical role in successful patient engagement. However, the majority of patient engagement technology fails to deliver a positive patient experience, and there have been numerous complaints from the patient population regarding the same, which in turn has triggered providers to replace their current vendors. Thus, the replacement market for patient engagement technology offers significant opportunities for vendors in the market due to the poor usability of current patient engagement technology.
The global patient engagement solutions market is valued at an estimated USD 11.7 billion in 2019 and is projected to reach USD 25.9 billion in 2024, at a CAGR of 17.1% during the forecast period.
Market Dynamics
Driver: Benefits to patients/patient empowerment
Patients will adopt patient engagement solutions if they benefit from their use. In most cases, these benefits are direct monetary benefits. A white paper published by UbiCare stated that due to the use of PES, there is a 25% per day reduction in LOS (length of stay) for hip replacement patients and 13% for knee replacement patients.
Other benefits of these solutions include patient empowerment with higher levels of health literacy, timely appointment scheduling with doctors/caregivers, increased adherence to prescribed medical treatments, and consultation with providers through online tools. The adoption of patient engagement solutions depends on the degree of empowerment they offer to patients. Patients become more active in their care when they have access to their health records and can monitor their health status
Restraint: Lack of HCIT Infrastructure
Limited or poor HCIT infrastructure in developing and underdeveloped countries is resulting in the low awareness and enrolment of patients for PES. The successful implementation of PES requires heavy investments in healthcare IT infrastructure.
Investments are necessary for increasing data storage and processing capabilities.
Web-based and mobile tools such as Android and iOS apps need to be developed to ensure patient participation and exchange of health information.
IT developers are required to create sophisticated tools to store, analyze, and report data as well as support decision-making.
Restraint: High Cost
Certain patient engagement solutions are complex, and their cost can be a burden to patients. As a part of this study involving 250+ participants, MNM found around 29% of physicians are reluctant to encourage patients to adopt these solutions due to their high costs. Around 51–55% of hospital executives and clinical leaders say that payers should incur the cost of adopting patient engagement technologies. Physicians suggest that chronically ill patients must access these tools to understand their treatment regime better, yet they are unable to do so due to the high cost of PES. Lowering the cost of PES would ensure their increased adoption, and a higher number of physicians can recommend these solutions to patients.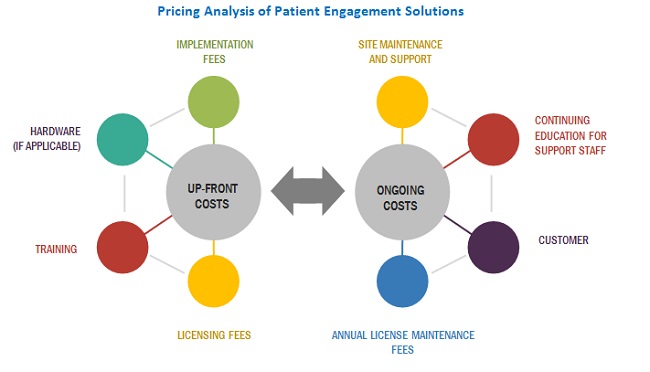 Get online access to the report on the World's First Market Intelligence Cloud

Easy to Download Historical Data & Forecast Numbers
Company Analysis Dashboard for high growth potential opportunities
Research Analyst Access for customization & queries
Competitor Analysis with Interactive dashboard
Latest News, Updates & Trend analysis

Request Sample

Click on image to enlarge

Scope of the Report
This report provides a qualitative assessment of the patient engagement technology in terms of pricing, vendor replacement trends, factors affecting replacement trends, and selection criteria of adopting patient engagement technology from providers' perspective.
End-User Market Potential Analysis (Qualitative Assessment)
Hospitals Buying Behavior Assessment
Purchase intention, by Hospital Size
Purchase intention, by Role
Pricing Analysis of Patient Engagement Technology
Licensing fees
Implementation fees
Annual license maintenance fees
Up-gradation and integration fees
Consulting fees
Patient Engagement Technology Market: Patient Engagement Technology Replacement Trends (Qualitative Assessment)
Factors triggering the replacement of Patient Engagement Technology
Role of Mobile in Patient Engagement
Importance of mobile and mobile health .applications in patient engagement market
Implementation status of mobile health technology
Patient Engagement Technology Market: Selection Criteria for Patient Engagement Technology (Provider Perspective)
Accessibility and ease of use
Data security
Integrated Value-based Care programs
Cost-efficient technology
Integration capabilities
Aligned functionality
Vendor reputation
Recent Developments
In 2019, Northwell Health extended the deployment contract for Allscripts Sunrise (inpatient platform) till December 2027.
In 2019, Opargo and Allscripts Sunrise collaborated to deliver integrated technology to improve healthcare efficiency by enabling real-time schedule optimization.
In 2019, athenahealth, Inc. was acquired by Veritas for approximately USD 5.7 billion. Virence Health, the former GE Healthcare value-based care assets that Veritas acquired in 2018, will combine with athenahealth under the athenahealth name and brand.
In 2019, Cerner acquired AbleVets. This acquisition will provide Cerner with a greater scale and technical expertise in designing and implementing modernization solutions, particularly in the federal space.
In 2019, Phillips and Spencer partnered to introduce a medication adherence and telehealth platform to improve the medication adherence of chronically ill patients.
Key Questions Addressed in the Report
What are the benefits offered to patients by the PES Market?
How has the adoption of mHealth impacted the growth of the PES Market?
How has the deployment of PES revolutionized the treatment and care provided to patients in mid-sized hospitals?
To speak to our analyst for a discussion on the above findings, click Speak to Analyst