Vaccines Market
Vaccines Market by Technology (Recombinant, Toxoid, Conjugate, RNA), Type (Monovalent, Multivalent), Disease (Pneumococcal, Influenza, DTP, HPV, MMR, COVID-19), Route of Administration (IM, SC, Oral), End user (Pediatric, Adult) & Region - Global Forecast to 2028
Report Code: PH 6528
Nov, 2023, by marketsandmarkets.com
The global vaccines market in terms of revenue was estimated to be worth $77.6 billion in 2023 and is poised to reach $93.8 billion by 2028, growing at a CAGR of 3.9% from 2023 to 2028. The new research study consists of an industry trend analysis of the market. The new research study consists of industry trends, pricing analysis, patent analysis, conference and webinar materials, key stakeholders, and buying behaviour in the market. Growth in the vaccines market can be attributed to factors such as the expanding immunization programs and robust government support & funding for vaccine development.
Attractive Opportunities in the Vaccines Market
To know about the assumptions considered for the study, Request for Free Sample Report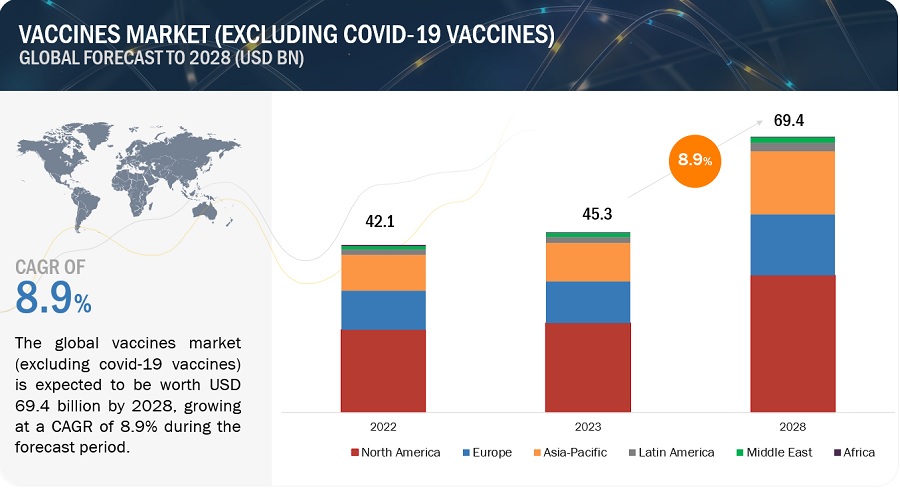 Global Vaccines Market Dynamics
Driver: Rising prevalence of infectious diseases
The prevalence of infectious diseases such as dengue fever, influenza, tuberculosis, malaria, Zika virus, chikungunya, and HIV, has increased significantly. According to the WHO, TB was the 13th leading cause of death worldwide and the second-leading infectious killer after COVID-19 in 2021. globally there were almost 1.6 million deaths reported including 187,000 people with HIV. Also as per European Centre for Disease Prevention and Control data in 2023, around 3.7 million cases of dengue reported and out of which 2000 deaths have been confirmed from 70 countries globally. The rising cases has ultimately built a pressure on vaccine production since more vaccines would be required to cure such contagious disease and resulting in increase in the growth of vaccines market.
Restraint: High Development Cost
The Vaccines have various limitations, such as high development cost, which can hinder the overall market growth. For instance Vaccine development is a costly endeavor, typically spanning a decade to 15 years and incurring expenses ranging from USD 800 million to USD 1 billion. The creation of vaccines demands substantial investments in research, development, and state-of-the-art production facilities. Moreover, it necessitates specialized expertise that is not readily accessible. Achieving success is a rare outcome, posing formidable obstacles for manufacturers seeking financial support to sustain their operations.
Opportunity: Increased focus on therapeutic vaccines
Advancements in immunology have opened doors to therapeutic vaccines, these therapeutic vaccines hold promise for addressing illnesses like cancer, allergies, physiological disorders, and infectious diseases, benefiting a substantial patient base seeking alternative treatments. Scientist are actively involved in developing innovative therapeutic vaccines for conditions such as hypertension, dyslipidemia, Alzheimer's disease, cancer, and inflammatory diseases, targeting specific self-antigens. For instance in 2023, Pfizer received US FDA approval for ABRYSVO which is a (Respiratory Syncytial Virus Vaccine), the company's bivalent RSV prefusion F (RSVpreF) vaccine, for the prevention of lower respiratory tract disease caused by RSV in individuals 60 years and older.
Challenge: Stringent Regulatory Processes
Differences in regulatory rules and procedures between developed and emerging markets are causing delays in vaccine approvals. Developing and emerging countries often have divergent regulatory requirements and processes this variation can hinder the registration of vaccines, making it difficult for vaccine developers to navigate multiple sets of rules and standards to overcome such obstacles regulatory correction are required for instance, International Council for Harmonisation (ICH) which is an international group formed in 1990 by the European Union, Japan, and the United States which is known for developing and promoting the use of a Common Technical Document (CTD), which serves as a standardized dossier for regulatory submissions in ICH member countries.
Vaccines Market Ecosystem
The conjugate vaccines segment is projected to hold the dominant position in the vaccines industry during the forecast period
On the basis of technology, the vaccines market is divided into various segments: conjugate vaccines, recombinant vaccines, inactivated & subunit vaccines, live attenuated vaccines, toxoid vaccines, viral vector vaccines, mRNA vaccines and other technologies. Growing public-private partnership and increased investments by pharmaceuticals companies for the development of conjugate vaccines are driving the growth of vaccines market.
North America was the largest regional market for vaccines industry in 2022.
The vaccines market is segmented into five major regions namely, North America, Europe, the Asia Pacific, Latin America, Middle East and Africa. In 2022, North America accounted for the largest share of the vaccines market, and this trend is expected to continue during the forecast period. high incidence of infectious diseases and augmented investments from both governmental and non-governmental organizations in vaccine development are major factors contributing to the growth of vaccines market.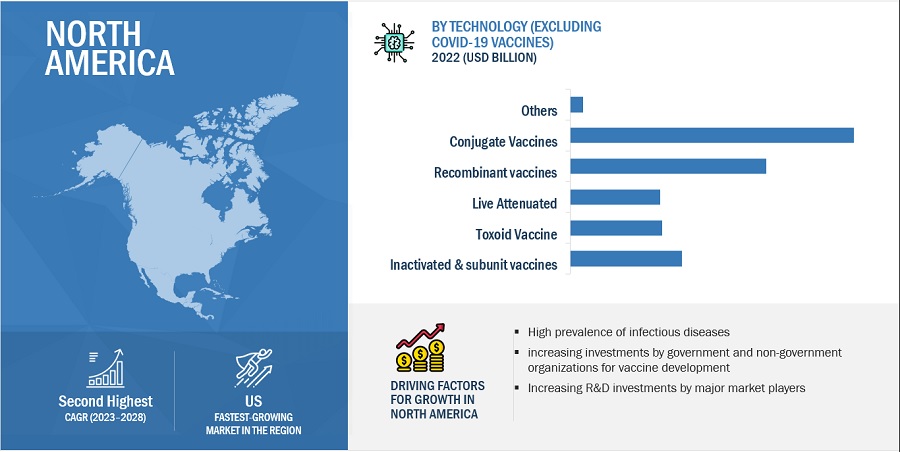 To know about the assumptions considered for the study, download the pdf brochure
Key players in the vaccines market include GSK plc (UK), Merck & Co Inc (US), Pfizer Inc (US), Sanofi (France), CSL (Australia), Emergent (US), Johnson and Johnson Services, Inc. (US), Astrazeneca (UK), Serum Institute of India Pvt Ltd (India), Bavarian Nordic (Denmark), Mitsubishi Tanabe Pharma Corporation (Japan), Daiichi Sankyo Company, Limited. (Japan), Panacea Biotec (India), Biological E Ltd. (India), Bharat Biotech (India), Novavax (US), Inovio Pharmaceuticals (US), Sinovac (China), Incepta Pharma (Bangladesh), Valneva Se (France), VBI Vaccines Inc (US), Bio Farma (Indonesia), FSUE NPO MICROGEN (Russia), Zhi Fei Biological (China) and Indian Immunologicals Ltd. (India) .
Scope of the Vaccines Industry
| | |
| --- | --- |
| Report Metric | Details |
| Market Revenue in 2023 | $77.6 billion |
| Projected Revenue by 2028 | $93.8 billion |
| Revenue Rate | Poised to Grow at a CAGR of 3.9% |
| Market Driver | Rising prevalence of infectious diseases |
| Market Opportunity | Increased focus on therapeutic vaccines |
This report categorizes the vaccines market to forecast revenue and analyze trends in each of the following submarkets:
By Technology
Conjugate Vaccines
Recombinant Vaccines
Inactivated and Subunit Vaccines
Live Attenuated Vaccines
Toxoid Vaccines
Viral Vector Vaccines
m-RNA Vaccines
Others (Subunit Vaccines, Peptide Vaccines, Dna Vaccines)
By Type
Monovalent Vaccines
Mulitvalent Vaccines
By Disease Indication
Pneumococcal Disease
Influenza
Combination Vaccines
HPV
Meningococcal Disease
Herpes Zoster
Rotavirus
MMR
Varicella
Hepatitis
DTP
Polio
Other Disease Indications (Cancer, Covid-19, Dengue, Tuberculosis, Typhoid, Japanese Encephalitis, Rabies, Yellow Fever, And Allergies)
By Route of Administration
Intramuscular & Subcutaneous
Oral
Others Neurology (Intranasal, Intradermal)
By End User
Pediatric Vaccine
Adult Vaccine
By Region
North America
Europe

Germany
UK
France
Italy
Spain
Rest of Europe (ROE)

Asia Pacific

Japan
South Korea
China
India
Rest of Asia Pacific

Latin America
Middle East
Africa
Recent Developments of Vaccines Industry
In August 2022, GSK (UK) acquired Affinivax, Inc. (US) to have access to next-generation 24-valent pneumococcal vaccine candidate.
In October 2022, Merck & Co, Inc. (US) and Moderna (US) entered into a collaboration to develop and commercialize personalized cancer vaccine (PCV) mRNA-4157/V940.
In January 2022, Pfizer Inc. (US) and BioNtech (Germany) entered into an agreement to develop first mRNA-based Shingles vaccine for the prevention of shingles (herpes zoster virus, or HZV.
Frequently Asked Questions (FAQ):
What is the projected market revenue value of the global vaccines market?
The global vaccines market boasts a total revenue value of $93.8 billion by 2028.
What is the estimated growth rate (CAGR) of the global vaccines market?
The global vaccines market has an estimated compound annual growth rate (CAGR) of 3.9% and a revenue size in the region of $77.6 billion in 2023.
To speak to our analyst for a discussion on the above findings, click Speak to Analyst
TABLE OF CONTENTS
1 INTRODUCTION
1.1 OBJECTIVES OF THE STUDY
1.2 MARKET DEFINITION
1.2.1 INCLUSIONS & EXCLUSIONS
1.3 MARKET SCOPE
1.3.1 MARKETS COVERED
1.3.2 YEARS CONSIDERED FOR THE STUDY
1.4 CURRENCY
1.5 LIMITATIONS
1.6 STAKEHOLDERS
1.7 SUMMARY OF CHANGES
1.8 RECESSION IMPACT
2 RESEARCH METHODOLOGY
2.1 RESEARCH DATA
2.1.1 SECONDARY DATA
2.1.2 PRIMARY DATA
2.2 MARKET ESTIMATION METHODOLOGY
2.2.1 PRIMARY INSIGHTS
2.2.2 VACCINE MARKET : SEGMENT ASSESSMENT METHODOLOGY
2.3 MARKET GROWTH RATE ASSUMPTIONS
2.4 MARKET BREAKDOWN AND DATA TRIANGULATION
2.6 STUDY ASSUMPTIONS
2.8 RISK ANALYSIS
2.9 RECESSION IMPACT
3 EXECUTIVE SUMMARY
4 PREMIUM INSIGHTS
4.1 VACCINE MARKET OVERVIEW
4.2 NORTH AMERICA: VACCINE MARKET , BY PRODUCT AND COUNTRY (2022)
4.3 VACCINE MARKET , BY PRODUCT, 2023 VS. 2028
4.4 VACCINE MARKET : GEOGRAPHIC GROWTH OPPORTUNITES
5 MARKET OVERVIEW
5.1 INTRODUCTION
5.2 MARKET SEGMENTATION
5.3 MARKET DYNAMICS
5.3.1 DRIVERS
5.3.2 RESTRAINTS
5.3.3 OPPORTUNITIES
5.3.4 CHALLENGES
5.4 TRENDS/DISRUPTIONS IMPACTING CUSTOMERS' BUSINESSES
5.5 ECOSYSTEM ANALYSIS
5.6 SUPPLY CHAIN ANALYSIS
5.7 VALUE CHAIN ANALYSIS
5.8 REGULATORY LANDSCAPE
5.8.1 REGULATORY BODIES, GOVERNMENT AGENCIES,AND OTHER ORGANIZATIONS
5.9 PRICING ANALYSIS
5.9.1 AVERAGE SELLING PRICE TREND BY KEY PLAYERS, BY TECHNOLOGY
5.9 INDICATIVE PRICING ANALYISIS
5.10 TECHNOLOGY ANALYSIS
5.11 PATENT ANALYSIS
5.12 KEY CONFERENCES AND EVENTS IN 2023–2024
5.13 PORTER'S FIVE FORCES ANALYSIS
5.13.1 THREAT FROM NEW ENTRANTS
5.13.2 THREAT OF SUBSITITUTE
5.13.3 BARGAINING POWER OF SUPPLERS
5.13.4 BARGAINING POWER OF BUYERS
5.13.5 INTENSITY OF COMPETITION RIVARLY
5.14 PIPELLINE ANALYSIS & KEY PIPELINE PRODUCTS
5.15 NEW VACCINE OPPORTUNITIES
5.15.1 HIV
5.15.2 MALARIA
5.15.3 ZIKA
5.15.4 EBOLA
5.16 KEY STAKEHOLDERS AND BUYING CRITERIA
5.13.1 KEY STAKEHOLDERS IN THE BUYING PROCESS
5.13.1 BUYING CRITERIA
6 VACCINE MARKET, BY TECHNOLOGY
6.1 INTRODUCTION
6.2 CONJUGATE VACCINES
6.3 RECOMBINANT VACCINES
6.4 INACTIVATED AND SUBUNIT VACCINES
6.5 LIVE ATTENUATED VACCINES
6.6 TOXOID VACCINES
6.7 VIRAL VECTOR VACCINES
6.8 M-RNA VACCINES
6.9 OTHERS (SUBUNIT VACCINES, PEPTIDE VACCINES, DNA VACCINES)
7 VACCINE MARKET, BY TYPE
7.1 INTRODUCTION
7.2 MONOVALENT VACCINES
7.3 MULTIVALENT VACCINES
8 VACCINE MARKET, BY DISEASE INDICATION
8.1 INTRODUCTION
8.2 PNEUMOCOCCAL DISEASE
8.2 INFLUENZA
8.3 COMBINATION VACCINES
8.4 HPV
8.5 MENINGOCOCCAL DISEASE
8.6 HERPES ZOSTER
8.7 ROTAVIRUS
8.8 MMR
8.9 VARICELLA
8.10 HEPATITIS
8.11 DTP
8.12 POLIO
8.13 OTHER DISEASE INDICATIONS (CANCER, COVID-19, DENGUE, TUBERCULOSIS, TYPHOID, JAPANESE ENCEPHALITIS, RABIES, YELLOW FEVER, AND ALLERGIES)
9 VACCINE MARKET, BY ROUTE OF ADMINISTRATION
9.1 INTRODUCTION
9.2 INTRAMUSCULAR & SUBCUTANEOUS
9.3 ORAL
9.4 OTHERS (INTRANASAL, INTRADERMAL)
10 VACCINE MARKET, BY END USER
10.1 INTRODUCTION
10.2 PEDIATRIC VACCINE
10.3 ADULT VACCINE
11 VACCINE MARKET, BY REGION
11.1 INTRODUCTION
11.2 NORTH AMERICA
11.2.1 US
11.2.2 CANADA
11.2.3 RECESSION IMPACT
11.3 EUROPE
11.3.1 GERMANY
11.3.2 UK
11.3.3 FRANCE
11.3.4 ITALY
11.3.5 SPAIN
11.3.6 REST OF EUROPE
11.3.7 RECESSION IMPACT
11.4 ASIA PACIFIC
11.4.1 JAPAN
11.4.2 SOUTH KOREA
11.4.3 CHINA
11.4.4 INDIA
11.4.5 REST OF APAC
11.4.6 RECESSION IMPACT
11.5 LATIN AMERICA
11.5.1 BRAZIL
11.5.2 MEXICO
11.5.3 ROLATAM
11.5.4 RECESSION IMPACT
11.6 MIDDLE EAST
11.6.1 RECESSION IMPACT
11.7 AFRICA
11.7.1 RECESSION IMPACT
12 COMPETITIVE LANDSCAPE
12.1 INTRODUCTION
12.2 KEY PLAYERS STRATEGIES/ RIGHT TO WIN
12.3 MARKET SHARE ANALYSIS
12.4 REVENUE SHARE ANALYSIS
12.5 COMPANY EVALUATION MATRIX
12.5.1 STARS
12.5.2 EMERGING LEADERS
12.5.3 PERVASIVE PLAYERS
12.5.4 PARTICIPANTS
12.5.5 COMPANY FOOTPRINT
12.6 START-UP/SME EVALUATION MATRIX
12.6.1 PROGRESSIVE COMPANIES
12.6.2 RESPONSIVE COMPANIES
12.6.3 DYNAMIC COMPANIES
12.6.4 STARTING BLOCKS
12.6.5 COMPETITIVE BENCHMARKING
12.7 COMPETITIVE SCENARIO AND TRENDS
13 COMPANY PROFILES
13.1 KEY PLAYERS
13.1.1 GSK PLC
13.1.2 MERCK & CO., INC
13.1.3 PFIZER, INC
13.1.4 SANOFI
13.1.5 CSL
13.1.6 EMERGENT
13.1.7 JOHNSON & JOHNSON SERVICES, INC
13.1.8 ASTRAZENECA
13.1.9 SERUM INSTITUTE OF INDIA PVT., LTD
13.1.10 BAVARIAN NORDIC
13.1.11 MITSUBISHI TANABE PHARMA CORPORATION (MITSUBISHI CHEMICAL GROUP COMPANY)
13.1.12 DAIICHI SANKYO COMPANY, LIMITED.
13.1.13 PANACEA BIOTEC
13.1.14 BIOLOGICAL E LIMITED
13.1.15 BHARAT BIOTECH
13.1.16 NOVAVAX
13.1.17 INOVIO PHARMACEUTICALS
13.2 OTHER COMPANIES
13.2.1 SINOVAC
13.2.2 INCEPTA PHARMA
13.2.3 VALNEVA SE
13.2.4 VBI VACCINES INC
13.2.5 BIO FARMA
13.2.6 FSUE NPO MICROGEN
13.2.7 ZHI FEI BIOLOGICAL
13.2.8 INDIAN IMMUNOLOGICALS LTD.
14 APPENDIX
14.1 DISCUSSION GUIDE
14.2 KNOWLEDGE STORE: MARKETSANDMARKETS' SUBSCRIPTION PORTAL
14.3 AVAILABLE CUSTOMIZATIONS
14.4 RELATED REPORTS
14.5 AUTHOR DETAILS
This study involved four major activities in estimating the current size of the vaccines market. Exhaustive secondary research was carried out to collect information on the market, its peer markets, and its parent market. The next step was to validate these findings, assumptions, and sizing with industry experts across the value chain through primary research. Both top-down and bottom-up approaches were employed to estimate the complete market size. After that, market breakdown and data triangulation procedures were used to estimate the market size of segments and subsegments.
Secondary Research
Secondary research was used mainly to identify and collect information for the extensive technical, market-oriented, and commercial study of the vaccines market. The secondary sources used for this study include World Health Organization (WHO), the Organization for Economic Co-operation and Development (OECD), National Center for Biotechnology Information (NCBI), Centers for Disease Control and Prevention (CDC), the Global Cancer Observatory (GLOBOCAN), the National Institutes of Health (NIH), Center of Disease Control & Prevention (CDC), US Department of Health and Human Services, National Institutes of Health (NIH), National Library of Medicine, National Center for Biotechnology Information (NCBI), National Institute of Allergy and Infectious Diseases (NIAID), World Cancer Research Fund International (WCRF International), European Medicines Agency (EMA), The National Medical Products Administration (NMPA), Global Alliance for Vaccines and Immunization (GAVI), United States Food & Drug Administration (US FDA), Orange book, Purple book, Clinical trials.gov, Pan American Health Organization (PAHO), United Nation International Children's Emergency Fund (UNICEF), Department of health and Human Services (HHS), International Society for Vaccines (ISV). The Central Drugs Standard Control Organization (CDSCO); ACS Journals; Corporate filings such as annual reports, SEC filings, investor presentations, and financial statements; research journals; press releases; and trade, business, and professional associations. Secondary data was collected and analyzed to arrive at the overall size of the global vaccines market, which was validated through primary research.
Primary Research
In-depth interviews were conducted with various primary respondents, including key industry participants, subject-matter experts (SMEs), C-level executives of key market players, and industry consultants, among other experts, to obtain and verify the critical qualitative and quantitative information as well as assess future prospects of the market. Various primary sources from both the supply and demand sides of the market were interviewed to obtain qualitative and quantitative information. The following is a breakdown of the primary respondents:

To know about the assumptions considered for the study, download the pdf brochure
Market Size Estimation
The global size of the vaccines market was estimated through multiple approaches. A detailed market estimation approach was followed to estimate and validate the value of the market and other dependent submarkets. These methods were also used extensively to estimate the size of various subsegments in the market. The research methodology used to estimate the market size includes the following:
The major players in the industry and market have been identified through extensive primary and secondary research.
The revenues generated from the vaccines service business of players operating in the market have been determined through secondary research and primary analysis.
All percentage shares, splits, and breakdowns have been determined using secondary sources and verified through primary sources.
Global Vaccines Market Size: Bottom-Up Approach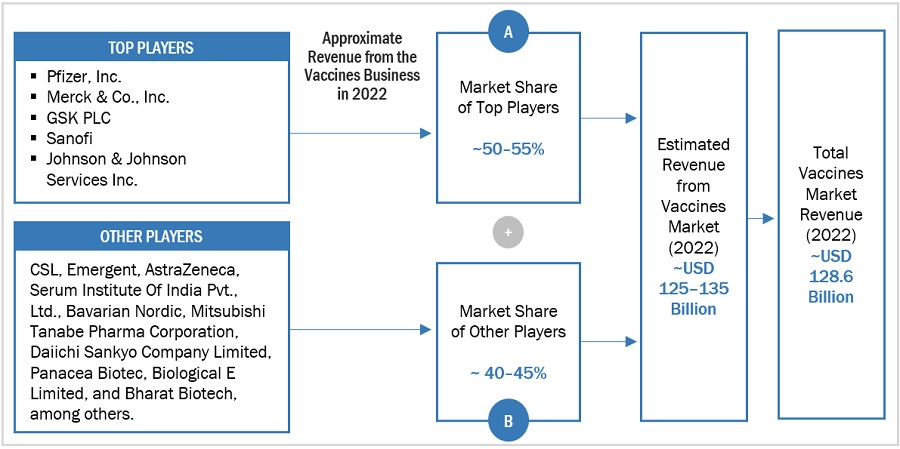 To know about the assumptions considered for the study, Request for Free Sample Report
Top-down Approach-

Data Triangulation
After estimating the overall market size from the market size estimation process, the total market was split into several segments and subsegments. To complete the overall market engineering process and arrive at the exact statistics for all segments and subsegments, data triangulation and market breakdown procedures were employed, wherever applicable. The data was triangulated by studying various factors and trends from both the demand and supply sides.
Market Definition
A vaccine is a biologically formulated product engineered to elicit active acquired immunity against a specific infectious or malignant disease. Vaccines operate by stimulating the immune system to detect and combat harmful agents, such as viruses or bacteria. They usually consist of components that resemble the disease-causing microorganism, often in weakened or deactivated forms, along with their toxins or surface proteins. The report exclusively encompasses human vaccines and does not cover any veterinary vaccines which has been excluded from the scope of our study.
Key Stakeholders
Vaccine product manufacturers and suppliers
Distributors and suppliers of vaccine products
Vaccine research institutes
Biotechnology and biopharmaceutical companies
Contract manufacturing organizations (CMOs)
Contract development and manufacturing organizations (CDMO)
Suppliers and distributors of pharmaceutical products
Research and development (R&D) companies
Drug Manufacturers, Vendors, and Distributors
Immunization centres
Hospitals and laboratories
Trade associations and industry bodies
Regulatory bodies and government organizations
Venture capitalists and investors
Hospitals
Specialty Clinics
Report Objectives
To define, describe, and forecast the vaccines market based on technology, type, disease indication, route of administration, end user, and region.
To provide detailed information regarding the major factors influencing the market growth (such as drivers, restraints, opportunities, and challenges)
To analyze the micromarkets1 with respect to individual growth trends, prospects, and contributions to the overall vaccines market.
To analyze the opportunities for stakeholders and provide details of the competitive landscape for market leaders.
To forecast the size of the market segments with respect to five regions, namely: North America, Europe, the Asia Pacific (APAC), Latin America (LATAM), Middle East and Africa.
To profile the key players and analyze their market shares and core competencies2
To track and analyze competitive developments, such as acquisitions, product launches, expansions, regulatory approvals, agreements, partnerships, and collaborations.
To benchmark players within the market using the proprietary "Competitive Leadership Mapping" framework, which analyzes market players on various parameters within the broad categories of business and product excellence strategy
Available Customizations
With the given market data, MarketsandMarkets offers customizations as per the company's specific needs. The following customization options are available for this report:
Product Analysis
Product matrix, which provides a detailed comparison of the product portfolio of each company in the vaccines Market