[175 Pages Report] The market size of waste heat recovery system (WHRS) was USD 44.14 billion in 2015 and is projected to reach USD 65.87 billion by 2021, at a CAGR of 6.90% between 2016 and 2021. In this report, 2015 is considered as the base year and the forecast period is between 2016 and 2021.
Market Dynamics
Drivers
Rising Energy & Electricity Prices in Emerging Economies
Government Regulations & Incentives
Growing Environmental Concern
Need for Energy Efficient Equipment
Restraints
Rising Energy & Electricity Prices in Emerging Economies
Cost Restriction
Temperature Restraints
Opportunities
Emerging Waste Heat Recovery Technologies
Emerging Economies
Burning Issue
Focus on Cost Efficient Heat Recovery
Growing environmental concerns
Global climate change is the greatest economic, political, developmental, and environmental challenge for counties worldwide. Enhancing energy efficiency is the cheapest and the most reliable method of curbing carbon emissions, thus saving costs. Supplying energy for sustainable economic development is a goal that is shared by both developed and developing countries.
A study on trends in global CO2 emissions estimates that in the current global scenario, about 34.5 billion tons of CO2 is released in 2012, and despite several measures it has been increasing year-on-year. The need for energy has been rising steadily and according to the International Energy Agency's (IEA's) publication on climate change in 2015, the emissions will increase by 120% by 2050, while oil demand will rise by 65%. Apart from this, global warming is adversely affecting the environment. These environmental concerns have led to the increase in number of WHRS installations worldwide. The use of this system across European industries has increased, which resulted in the reduction of CO2 emissions. According to the DOE National Energy Modeling System (NEMS), by 2030, carbon emissions from power plants can be 84% lower than 2005 levels due to increasing environmental awareness and government regulations to reduce these emissions by installing such systems. This will provide impetus to the WHR equipment that helps in providing energy efficiency, thereby driving the market.
The objectives of this study are:
To analyze and forecast the market size of WHR system, in terms of value
To provide detailed information regarding the important factors influencing the growth of the market (drivers, restraints, and opportunities)
To strategically analyze the segmented markets with respect to individual growth trends, prospects, and contribution to the overall market
To identify and analyze opportunities for stakeholders in the market
To define, describe, and segment the WHR system market by application and end-use industry
To forecast the sizes of the market segments based on regions, namely, Asia-Pacific, Europe, North America, the Middle East & Africa, and South America
To analyze competitive developments such as supply contracts, agreements, and partnerships & collaborations in the WHR system market
To strategically profile key players and comprehensively analyze their core competencies
This research study involves the extensive use of secondary sources, directories, and databases (such as Hoovers, Bloomberg BusinessWeek, and Factiva) to identify and collect information useful for this technical, market-oriented, and commercial study of the WHR system market. The primary sources mainly include several industry experts from core and related industries and preferred suppliers, manufacturers, distributors, service providers, and organizations related to all segments of the industry's supply chain. After arriving at the total market size, the overall market has been split into several segments and subsegments. The figure below illustrates the breakdown of the primary interviews based on company type, designation, and region conducted during the research study.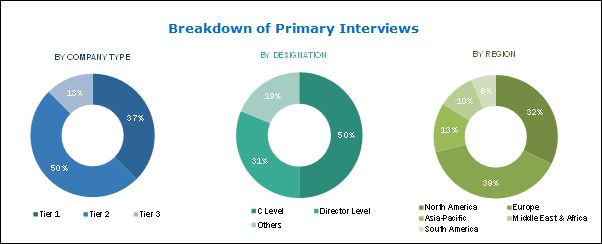 To know about the assumptions considered for the study, download the pdf brochure
The key players in WHRS Market include ABB Ltd. (Switzerland), Amec Foster Wheeler (U.K.), Ormat Technologies Inc. (U.S.), General Electric Co. (U.S.), Mitsubishi Heavy Industries Ltd. (Japan), Echogen Power Systems Inc. (U.S.), Econotherm Ltd. (U.K.), Thermax Limited (India), Siemens AG (Germany), Cool Energy Inc. (Colorado) and others.
Major Market Developments
In August 2016, GE Power, a division of GE, acquired the HRSGs business of Doosan Engineering & Construction (Korea) for USD 250 million. The GE Power's acquired CCPP will utilize HRSG technology.
In July 2015, Echogen Power Systems signed a licensing agreement with Doosan Heavy Industries & Construction to commercialize Echgoen's CO2waste heat to power technology.
In April 2015, Siemens, in collaboration with POSCO Energy & Construction (South Korea), completed the basic engineering and commissioning of Incheon LNG CCPP 7, 8, and 9 CCPP units. The partnership included supply of three power islands, each consisting of an SST6-5000 HI-L steam turbine, an SGT6-8000H gas turbine, a triple-pressure Benson HRSG with SCR, an SGen6-2000H generator, and SPPA-T3000 I&C system for the overall plant.
The target audiences for the WHRS market report are as follows:
WHR system manufacturers
WHR system dealers
WHR system suppliers
End users
Raw material suppliers and others
Get online access to the report on the World's First Market Intelligence Cloud

Easy to Download Historical Data & Forecast Numbers
Company Analysis Dashboard for high growth potential opportunities
Research Analyst Access for customization & queries
Competitor Analysis with Interactive dashboard
Latest News, Updates & Trend analysis

Request Sample

Click on image to enlarge

Scope of the Report:
This report categorizes the WHR system market based on application, end-use industries, and region.
WHRS Market, by Application:
Preheating
Steam & electricity generation
Others
WHRS Market, by End-use Industries:
Petroleum refining
Metal production
Cement
Chemical
Paper & pulp
Others

Food & Beverage
Glass
Primary metal refining
WHRS Market, by Region:
North America
Europe
Asia-Pacific
Middle East & Africa
South America
Critical questions which the report answers
What are new products that WHRS companies are exploring?
Which are the key players in the market and how intense is the competition?
Available Customizations:
Along with the market data, MarketsandMarkets offers customizations according to the company's specific needs. The following customization options are available for the report:
Regional Analysis
Further breakdown of a region with respect to a particular country, additional application, and/or type
Country Information
Additional country information (up to three)
Company Information
Detailed analysis and profiles of additional market players (up to five)
The market size of waste heat recovery system (WHRS) was USD 44.14 billion in 2015, and is projected to reach USD 65.87 billion by 2021, at a CAGR of 6.90% between 2016 and 2021. The focus on cost efficiency and stringent government regulations are expected to drive the demand for the WHR system market.
Waste heat recovery is the process of capturing residual heat from an existing industrial process and using it for other applications. Waste heat refers to the energy generated by various industrial processes. WHR technologies help in reducing the costs of operating facilities by enhancing their energy productivity. The energy recovered during this process is widely used in two major applications, namely, steam & electricity generation and preheating.
The steam & electricity generation application segment dominated the WHR system market in 2015. The market in this application is also expected to witness the CAGR between 2016 and 2021 owing to growing demand for energy in North America, Europe, and Asia-Pacific. The growing construction industry in the Middle East and Asia-Pacific countries such as China, Japan, and India also drive the market in this segment.
The WHRS market is classified based on end-use industry into petroleum refining, metal production, cement, chemical, paper & pulp, and others. The market is dominated by the petroleum refining end-use industry. In this industry, WHRS is used for various processes such as distillation, thermal cracking, catalytic, and treatment. Cement is the fastest-growing end-use industry of WHRS. The most energy-intensive process in the cement industry is clinker production in kilns. The applications of the waste heat recovered from stack exhausts, combustion exhaust gases, and other sources include preheating and power generation.
Currently, Europe is the largest WHR system market, in terms of value, closely followed by North America. North America is expected to witness a moderate growth rate. Some of the factors driving the North American market are stringent government regulation regarding energy saving and energy efficiency, and incentives provided by the governments, including tax rebates. The region is characterized with continuous technological innovations in the WHR industry and presence of some of the major players in the region.
Asia-Pacific is expected to be the fastest-growing WHR system market, which is backed by high demand from WHR system in the cement industry because of the growing construction sector. The presence of major developing countries such as China, India, and South Korea also drive the WHR system market in the region.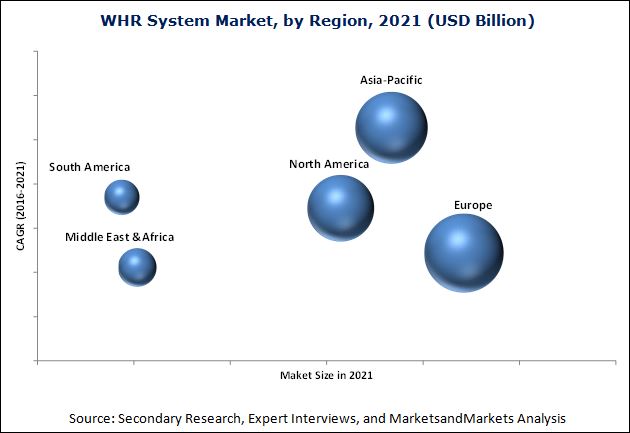 Petroleum refining,chemical and metal production end-use industries to drive the growth of Waste Heat Recovery System Market
Petroleum refining
WHRSs are widely used in petroleum refining processes such as distillation (fractionation), thermal cracking, catalytic, and treatment. The thermal effectiveness of these energy-intensive processes is crucial to the petroleum refining industry and, hence, highly energy efficient WHRS are used for such applications. Many exothermic reactions occur in the refineries that also produce waste heat. Some modern refineries have highly integrated systems that recover heat from one process to use in other processes. However, still many refineries and their operations release high-temperature waste heat, but lack efficient WHRS to recover it for different applications. The growing oil & gas industries in the Asia-Pacific region, and increasing oil production in the Middle East & Africa is driving the demand of WHRS in petroleum refining industry globally.
Chemical
WHRS have been successfully used in the chemical industry for processes such as industrial gases, alkalis and chlorine, cyclic crudes, and intermediates, including ethylene, propylene, benzene/toluene, plastics materials, synthetic rubber, synthetic organic fibers, and agricultural chemicals. High efficiency, operational productivity, and utilization of specialized and customized equipment have made WHRS an important component in chemical production processes. Therefore, growth in the chemical industry is one of the driving factors of the global WHRS market.
Metal Production
Heavy metals manufacturing and refining involves many high-temperature processes from which waste heat can be recovered. Heavy metal foundries commonly recover clean gaseous streams. However, recovering waste heat from heavily contaminated exhaust gas sources such as coke ovens, blast furnaces, basic oxygen furnaces, and electric arc furnaces continue to present a challenge for economical functioning of WHRS. Other sources of waste heat include melting furnace exhaust, ladle preheating, core baking, pouring, shot blasting, castings cooling, heat treating, and quenching. The heat recovered from these sources is used in steam and electricity generation in and is further used as fuel in other processes. This helps the low revenue generating metal industry to boost its energy efficiency, and hence reduce operating costs. The demand of WHRS is increasing in metal production segment, as the metal industry is growing heavily in all the regions.
Critical questions the report answers:
Where will all these developments take the industry in the mid to long term?
What are the upcoming applications in WHRS market?
The major restraints of the market are slow growth of the construction sector in Europe and high cost of these systems. Companies are focusing on various strategies to strengthen their market position such as supply contracts, agreements, and partnerships & collaborations. Supply contract is the most preferred strategy adopted by the key market players to sustain in this highly competitive market. The emerging technologies provide high growth opportunities to WHR system manufacturers. Increase in energy requirements in emerging economies such as China, India, and Brazil also plays an important role in fueling the demand. Some of the important manufacturers are ABB Ltd. (Switzerland), Amec Foster Wheeler (U.K.), Ormat Technologies Inc. (U.S.), General Electric Co. (U.S.), Mitsubishi Heavy Industries Ltd. (Japan), Echogen Power Systems Inc. (U.S.), Econotherm Ltd. (U.K.), Thermax Limited (India), Siemens AG (Germany), and Cool Energy Inc. (Colorado). Companies in this market compete with each other with respect to prices and product offerings to meet the market requirements.
To speak to our analyst for a discussion on the above findings, click Speak to Analyst