While the positioning, navigation, and timing (PNT) data from global navigation satellite system (GNSS) satellites is leveraged to accomplish a multitude of tasks for the global infrastructure, the weak signal from GNSS satellites due to atmospheric phenomena render PNT data vulnerable to a range of threats such as malicious cyberattacks. APNT technologies enhances robustness to existing networks and provides timing information from highly accurate alternative sources.
The global APNT market is expected to grow from USD XX million in 2022 to USD XX million by 2027, at a CAGR of XX%. The evolving need for advanced PNT technologies for supporting upcoming military platforms and weapon technologies is expected to drive the demand for APNT systems, while the lack of regulatory framework and established operational parameters will hinder market growth.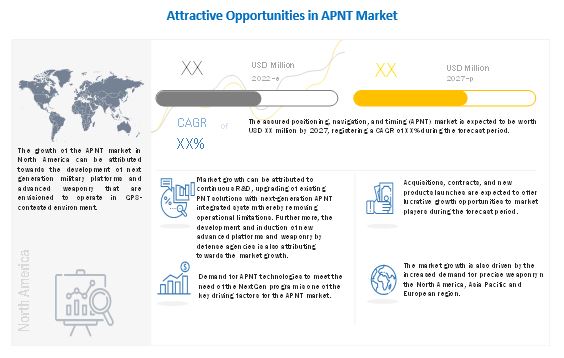 To know about the assumptions considered for the study, Request for Free Sample Report
Assured Positioning, Navigation, and Timing (APNT) Market Dynamics:
Driver: Advent of next generation military platforms and weapon technologies
Most current generation weaponry and platforms are designed to work as per GNSS data that may be susceptible to enemy countermeasures such as signal jamming, which may reduce their effectiveness I combat situations. Thus, system designers are trying to integrate APNT solutions onboard upcoming military platforms to enhance their resilience to hostile countermeasures. On this note, the US Army has made the development of APNT as one its six modernization priorities to aid data assimilation through different sources for enhanced situational awareness. APNT is also being viewed as a critical enabler to achieve the five requirements for accurate fire, that is, the highly technical and very specific data required to be updated by artillery units to use their most accurate and advanced weaponry. Thus, the development and introduction of new platforms and weaponry would also drive the demand for APNT technologies during the upcoming period.
Restraint: Absence of established operational parameters
APNT technologies are still evolving, there is no parity on the standard operational parameters of such technologies. For instance, while all current generation aircraft are equipped with DDI MOPS/TSO standard components, MOPS Changes will be needed to enable RNP accuracy and monitoring & alerting. Besides, the performance of APNT systems may be limited to area navigation (RNAV) 0.6 at best. APNT technologies also do not fulfill Automatic Dependent Surveillance Broadcast (ADS-B) positioning requirements and aircraft operations would still require secondary surveillance radars (SSRs) for operation, especially for general aviation. Besides, APNT requires allocation of additional spectrum bandwidth that narrows the bandwidth availability of the aeronautical radionavigation service (ARNS) portions of the L and VHF bands. Moreover, the creation of a new signal optimized for APNT requires extensive R&D to demonstrate operational capabilities in the targeted spectrum that is already dominated by several other transmissions. Meanwhile, some sort of modification would also be required by the existing ground-based assets to support APNT signal transmissions, which reduces the attractiveness oof the technology by operators and service providers alike. may restrain the growth of the APNT market in the near future.
Opportunity: Ongoing R&D programs
The US Federal Aviation Administration (FAA) is developing APNT technologies to maintain efficient and safe operations even with a degradation of the Global Positioning System (GPS) and GNSS. Several technologies are being studied and developed including terrestrial passive ranging system, upgraded distance measuring equipment (DME) and multilateration (MLAT) based navigation. The FAA is trying to evolve and develop the national airspace as part of the Next Generation Air Transportation System (NextGen) program that relies heavily on GPS and GNSS technologies for navigation and surveillance. While many alternatives to GPS exist in the national airspace, these systems, such as DME and VHF omni directional ranging (VOR), are not capable of supporting the new operations enabled by GPS under NextGen. Without improved capabilities, loss of GPS/GNSS can result in many operational issues, particularly related to the transition to a less capable alternative. In the land domain, the US Army is evaluating various technologies in the areas of APNT, tactical space, and navigation warfare (NAVWAR). Meanwhile, the Aviation & Missile Center is working on projects to integrate and test M-Code GPS receivers and anti-jam electronics on the Patriot launcher and Gray Eagle unmanned aircraft system (UAS). Such programs are envisioned to foster the technology innovation of APNT and drive its adoption and feasibility on a global scale.
Challenge: Limited development of feasible technologies
Since PNT technologies are heavily utilized by critical infrastructure, including telecom, energy, finance, and transportation, these are strategic from a commercial and societal perspective, and it is estimated that PNT services contribute to around 10% of the European GDP and if GNSS is disabled, it would result in potential losses of EUR 1 billion daily. Though there are several ongoing APNT R&D programs across the globe, the results have been less than promising with the technology being favored primarily in the military sector and limited penetration in other sectors. Data is still limited on how APNT systems perform and how they can significantly improve operations of assets in GPS-contested environments.
Assured Positioning, Navigation, And Timing (Apnt) Market Ecosystem
Prominent companies that provide APNT systems, private and small enterprises, distributors/suppliers/retailers, and end customers (defense forces) are the key stakeholders in the APNT market ecosystem. Investors, funders, academic researchers, distributors, service providers, and defence procurement authorities are the major influencers in the avionics market.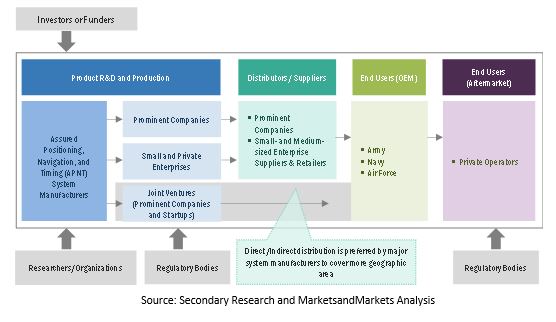 The OEM segment is estimated to account for the largest share of the APNT market during the forecast period
Based on installation type, the APNT market is segmented into OEM and aftermarket. The development and adoption of new generation military platforms and weapons that can even operate in GPS-contested environments would require the integration of APNT technologies, thereby driving the OEM segment of the market in focus as the current and older generation of platforms would lack the prerequisites to fully utilize such advanced systems.
Air segment projected to lead APNT market during forecast period
Based on platform, the APNT market has been segmented into air, land, and sea. An increase in defence budgets of military powers such as the US, China, and Russia, is expected to lead to increased demand for military aircraft and air launched weaponry with APNT technologies to effectively neutralize enemy strongholds even in GPS-contested environments. Moreover, the development of sixth-generation aircraft technology is also envisioned to drive the R&D of new technologies to be integrated onboard such platforms, thereby fostering the growth of APNT based research and driving the demand for APNT solutions for integration onboard both aircraft and weapons alike.
North America is projected to account for the largest share in 2022
North America accounted for the largest market share in 2022 due to significant R&D investments by domestic players in APNT systems. The last five years, the USí aerospace and aviation sector has increased its spending owing to the US governmentís focus on enhancing and maintaining technological superiority against adversaries in a contested environment. The US is likewise investing in the advancement of APNT. Major US-based market players, such as Raytheon Technologies Corporation, Northrop Grumman Corporation, and Leidos Inc. are significantly investing in the development of advanced APNT systems that can be used to withstand enemy countermeasures and enhance mission success probability. These factors contribute to the growth of the APNT market in the region.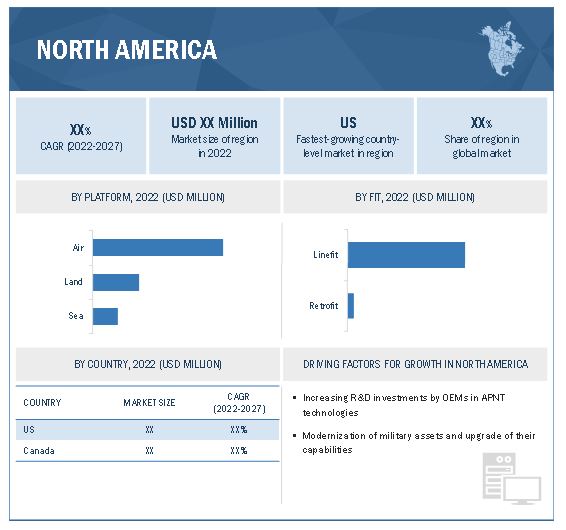 To know about the assumptions considered for the study, download the pdf brochure
Key Market Players
Major players operating in the APNT market include Raytheon Technologies Corporation (US), Leidos Inc. (US), Northrop Grumman Corporation (US), Curtiss-Wright Corporation (US), BAE Systems PLC (UK), Saab AB (Sweden), and Thales (France).
Recent Developments
In February 2022, NextNav showcased in APNT solution called TerraPoiNT at the European Commissionís Joint Research Centre (JRC) APNT evaluation held in Ispra, Italy.
Frequently Asked Questions (FAQs):
What is the current size of the Avionics Market?
The avionics market size is projected to grow from USD XX million in 2022 to USD XX million by 2027, at a CAGR of XX% from 2022 to 2027.
Who are the winners in the Avionics Market?
Major players operating in the avionics market include Raytheon Technologies Corporation (US), Leidos Inc. (US), Northrop Grumman Corporation (US), Curtiss-Wright Corporation (US), BAE Systems PLC (UK), Saab AB (Sweden), and Thales (France).
What are some of the technological advancements in the market?
The APNT market is an advancement of the existing GPS/GNSS based navigation and surveillance systems. Thus, the US Armaments Center is actively collaborating with Joint Program Executive Office for Armaments and Ammunition (JPEO A&A), PEO Missiles and Space, PM PNT, the APNT Cross-Functional Team, Long Range Precision Fires Cross-Functional Team and others to develop advanced APNT technologies for current and next-generation long-range artillery munitions and armaments.
To speak to our analyst for a discussion on the above findings, click Speak to Analyst