Automotive Shielding Market
The automotive shielding market is divided into two parts—heat shields and EMI shields. The heat shield protects the vehicle body and other components from excessive heat generated by the internal combustion engine and the exhaust system of the vehicle. On the other hand, EMI shields are used in electronic devices to eliminate electromagnetic interference (EMI). Electromagnetic interference (EMI) is the disturbance created by external sources, such as electronic devices, which affects the electrical circuitry.
Key Drivers:
Automotive EMC test standards
Demand for EMI protection in advanced electronics
Development of battery systems and electric powertrains
Key Restraints:
Development of products to minimize EMI
Design complexity and risk of failure of EMI shielding systems
Top Players
Tenneco Inc (US)
Laird PLC (UK)
Henkel (Germany)
Dana Incorporated (US)
Morgan Advanced Materials (UK)
3M (US)
Parker Hannifin (Chomerics) (US)
KGS KITAGAWA INDUSTRIES CO (Japan)
Autoneum (Switzerland)
ElringKlinger AG (Germany)
Parker Hannifin (Chomerics) (US): Chomerics designs, develops, and manufactures electromagnetic interference shielding solutions, thermal interface materials, integrated display solutions, and engineered plastics. The company designed PREMIER PBT-225, EMI shielding conductive plastic pellets. PREMIER PBT-225 is specially formulated to deliver excellent hydrolysis resistance, thereby improving long-term aging performance when exposed to typical heat and humidity conditions found on automotive applications. Its single pellet, Polybutylene Terephthalate (PBT)-based formula on electrically conductive plastic delivers superior reliability, making metal to plastic housing conversions possible for demanding automotive electronic applications. These conversions not only eliminate 35% of the housing weight (as compared to aluminum) but also provide up to a 65% cost reduction by eliminating secondary operations such as assembly and machining.
Laird PLC (UK): Laird manufactures and sells components, devices, and systems for electromagnetic interference shielding. The company developed ET series thermoelectric coolers to protect critical electronic devices in emerging applications found in high temperature environments. The ET series shielding is designed for a range of automotive applications such as smart headlights, imaging sensors, and heads-up displays.
Morgan Advanced Materials (UK): Morgan Advanced Materials specializes in specialist ceramics, carbon, and composites. Its principal products include high-temperature insulating fiber products, microporous products, firebricks, monolithic products, heat shields, fired refractory shapes, and structural block insulation products. The company designed its integrated technology heat shields using Superwool Plus, FireMaster, silica, glass fibre and completely encapsulated in stainless steel which provides excellent long life of insulators for automotive applications such as exhaust catalyst, exhaust manifold, and shielding for turbo chargers. This shielding material offers superior heat insulation while delivering design flexibility to the OEMs due to its custom shapes.
Automotive Shielding Market and Key EMI Application:
Electric Motor - Electric motors are increasingly replacing belt-driven mechanical systems. Motors provides precise control over movements and these are more efficient than a mechanical system. In addition, motors are used in convenience features such as seat adjustment, cushion ventilation, lumber adjustment, side mirror folding, and sunroofs. The inclusion of convenience features would enhance the demand for EMI shielding for motors to avoid magnetic interference with other electronic components.
Engine Control Module (ECM) - The ECU gathers data from sensors installed in a vehicle and uses this data to enhance the working of various operations such as timing of fuel injection, spark timing, stability control, and in-vehicle telematics. The EMI shielding for ECM is expected to increase due to the increased use of ECMs in a vehicle. The number of ECMs in a vehicle has increased due to factors such as rising demand for advanced electrical & electronic components, emission regulations, and safety & security concerns.
Infotainment - The demand for infotainment has increased with the increase in consumer preference for premium and luxury cars. Additionally, the increasing penetration of infotainment systems in low and mid-segment cars and telematics mandates in different regions will boost the demand for in-vehicle infotainment systems, which in turn would require more EMI shielding protection.
[150 Pages Report] The global automotive shielding market size is projected to grow from USD 20.2 billion in 2020 to USD 24.7 billion by 2025, at a CAGR of 4.1%. Compliance towards fuel efficiency standards and the adoption of electronics-based driving comfort & safety systems will drive the market for automotive shielding.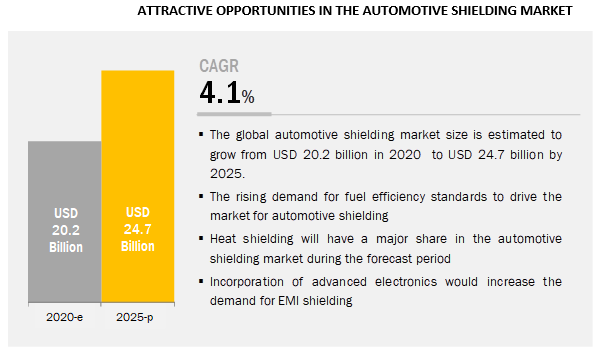 The passenger car segment is expected to be the largest automotive shielding market during the forecast period
The passenger car segment holds the largest market share, by vehicle type. The rising demand for fuel-efficient vehicles coupled with the increasing stringency of emission norms, has propelled the growth of the passenger car segment in the heat shield market. On the other hand, advanced technologies and increased use of electronic components in vehicles are driving the demand for EMI shielding.
High demand for personal mobility, increasing per capita income, and improved lifestyle has enhanced the sales of passenger cars. The adoption of advanced technologies continues to be high in this vehicle segment due to the higher production and sales of passenger cars worldwide in comparison to commercial vehicles. In particular, manufacturers are focusing on luxury passenger vehicles that are equipped with advanced features such as advanced driver assistance systems, advanced instrument cluster, and others. The increasing number of advanced features has boosted the demand for EMI shield to avoid interference among the electronic devices.
Heat shielding will have a major share in the automotive shielding market during the forecast period
Heat shields are used in the engine compartment, exhaust system, turbocharger, and many other applications in a vehicle. The increase in vehicle production worldwide is driving the growth of the heat shield segment. Although the electrification of vehicles can negatively impact the heat shield segment, the demand for heat shields will continue to grow in the commercial vehicle segment. The increasing demand for commercial vehicles in countries such as the US, China, India, Brazil, Japan, Germany, and others has contributed to the growth of heat shields. These vehicles have a high temperature in components such as the engine and exhaust, which drives the demand for heat shields.
Some of the leading manufacturers and suppliers of automotive heat shield are Autoneum (Switzerland), ElringKlinger (Germany), Tenneco Inc. (US), and others. These manufacturers have developed automotive heat shields for various applications, depending on the specific requirements of customers. Also, these players have expanded their regional presence through partnerships, joint ventures, and new establishments in high-growth regions. A comprehensive product portfolio, coupled with a strong regional presence, has helped market leaders strengthen their foothold in the global automotive shielding market.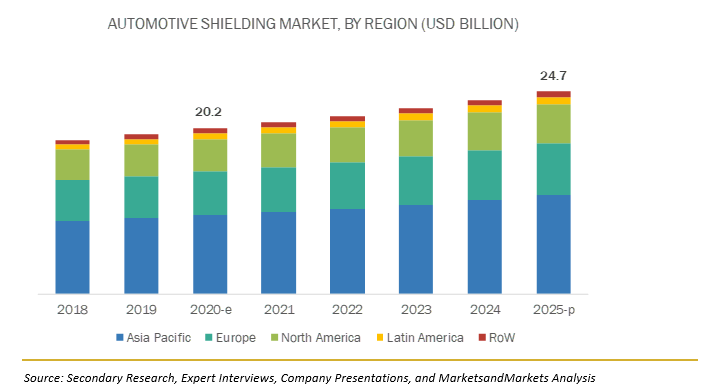 "The Asia Pacific automotive shielding market is expected to hold the largest share during the forecast period."
The key driver for the automotive market in this region is the rapid development of intelligent transport systems and connected mobility in countries such as China and Japan. The governments of these countries plan to incorporate active measures to counter increasing pollution levels in urban regions. For instance, members of the 5G Automotive Association—SAIC Motor, China Mobile, Huawei, and Shanghai International Automobile City have rolled out a roadmap for the world's first 5G-based smart transportation demonstration project from 2020 onward.
The smart mobility project will be opened for the public, and vehicles would communicate through V2V (Vehicle-to-Vehicle), V2I (Vehicle-to-Infrastructure), and V2P (Vehicle-to-Pedestrian) technologies. Such connected systems and real communication systems are prone to interference or cross-talks. OEMs would require superior EMI shielding systems to avoid electromagnetic interference among electronics. In addition, emission norms in countries such as China, India, and Japan would foster the demand for heat shielding systems as well. Demand for fuel-efficient vehicles in this region also a major growth driver for the automotive shielding market. OEMs are incorporating lightweight measures to comply with fuel efficiency standards. Hence, they rely upon lighter heat shielding systems with a higher temperature dissipation rate. Such measures would propel the demand for heat shielding systems in the Asia Pacific region.
Key Market Players
The global automotive shielding market is dominated by major players such as Tenneco Inc (US), Laird (UK), Henkel (Germany), Dana Incorporated (US), and Morgan Advanced Materials (UK), 3M (US), Parker Hannifin (Chomerics) (US), and KGS KITAGAWA INDUSTRIES CO (Japan). These companies have secure distribution networks at a global level. Also, these manufacturers offer a wide range of heat and EMI shielding systems for various applications. The key strategies adopted by these companies to sustain their market position are new product developments, collaborations, and contracts & agreements.
Scope of the Report
Report Metric

Details

Market size available for years

2018–2025

Base year considered

2019

Forecast period

2020–2025

Forecast units

Value (USD Million)

Segments covered

Heat Application, EMI Application, Material Type, Shielding Type, Vehicle Type, and Region

Geographies covered

North America, Asia Pacific, Europe, Latin America, and Rest of the World

Companies Covered

Tenneco Inc (US), Laird (UK), Henkel (Germany), Dana Incorporated (US), Morgan Advanced Materials (UK), 3M (US), Parker Hannifin (Chomerics) (US), and KGS KITAGAWA INDUSTRIES CO (Japan)
More than 20 major players are covered under the report.
This research report categorizes the automotive shielding market based on Heat Application, EMI Application, Material Type, Shielding Type, Vehicle Type, and Region
Based on Heat Application:
Engine Compartment
Exhaust System
Turbocharger
Under Bonnet
Under Chassis
Fuel Tank
Battery Management
Based on EMI Application:
Adaptive Cruise Control (ACC)
Electric Motor
Engine Control Module (ECM)
Forward Collision Warning (FCW)
Intelligent Park Assist (IPA)
Lane Departure Warning (LDW)
Infotainment
Blind Spot Detection (BSD)
Night Vision System (NVS)
Driver Monitoring System (DMS)
Automatic Emergency Braking (AEB)
Based on Material Type:
Based on Shielding Type:
EMI Shielding
Heat Shielding
Based on Vehicle Type:
Passenger Car
Light Commercial Vehicle
Heavy Commercial Vehicle
Based on the Region:
Asia Pacific

China
India
Japan
South Korea
Thailand
Rest of Asia Pacific

North America
Europe

France
Germany
Russia
Italy
Spain
Turkey
UK
Rest of Europe

Latin America

Brazil
Argentina
Rest of LATAM

Rest of the World

Iran
South Africa
Rest of RoW
Critical Questions:
Where will the introduction of stringent emission regulations and fuel efficiency standards take the industry in the long term?
How are increasing light weighting measures going to shape the automotive shielding market?
What will be the impact on the market with respect to the increasing adoption of advanced electronics?
What is the impact of developments in autonomous driving on the automotive shielding market?
What are the upcoming trends in the automotive shielding market? What impact would they make post-2022?
What are the key strategies adopted by top market players to increase their revenue?
To speak to our analyst for a discussion on the above findings, click Speak to Analyst