The study involved four major activities in estimating the current size of the telematics solutions market. Exhaustive secondary research was done to collect information on the market, the peer market, and the parent market. The next step was to validate these findings, assumptions, and sizing with the industry experts across value chains through primary research. The bottom-up and top-down approaches were employed to estimate the complete market size. Thereafter, market breakdown and data triangulation processes were used to estimate the market size of segments and subsegments.
Secondary Research
In the secondary research process, various secondary sources such as company annual reports/presentations, press releases, industry association publications [such as publications of vehicle sales' OEMs, Canadian Automobile Association (CAA), country-level automotive associations and trade organizations, and the US Department of Transportation (DOT)], telematics magazine articles, directories, technical handbooks, World Economic Outlook, trade websites, and technical reports have been used to identify and collect information useful for an extensive commercial study of the telematics solutions market.
Primary Research
In the primary research process, various primary sources from both supply and demand sides were interviewed to obtain qualitative and quantitative information on the market. The primary sources from the supply side included various industry experts, such as CXOs, vice presidents, directors from business development, marketing, product development/innovation teams, and related key executives from different key companies. Various system integrators, industry associations, independent consultants/industry veterans, and key opinion leaders were also interviewed.
Primary interviews have been conducted to gather insights such as vehicle production forecast, connected car market forecast, future technology trends, and upcoming technologies in the related car industry. Data triangulation of all these points was done with the information gathered from secondary research as well as model mapping. Stakeholders from demand as well as supply-side have been interviewed to understand their views on the points mentioned above.
Primary interviews have been conducted with market experts from both the demand- (OEMs) and supply-side (telematics services and hardware providers) players across four major regions, namely, North America, Europe, Asia Pacific, and Rest of the Worl. Approximately 40% and 60% of primary interviews have been conducted from the demand and supply sides, respectively. Primary data has been collected through questionnaires, emails, and telephonic interviews. In the canvassing of primaries, we have strived to cover various departments within organizations, such as sales and operations, to provide a holistic viewpoint in our report.
After interacting with industry experts, we have also conducted brief sessions with highly experienced independent consultants to reinforce the findings from our primaries. This, along with the in-house subject matter experts' opinions, has led us to the findings as described in the remainder of this report.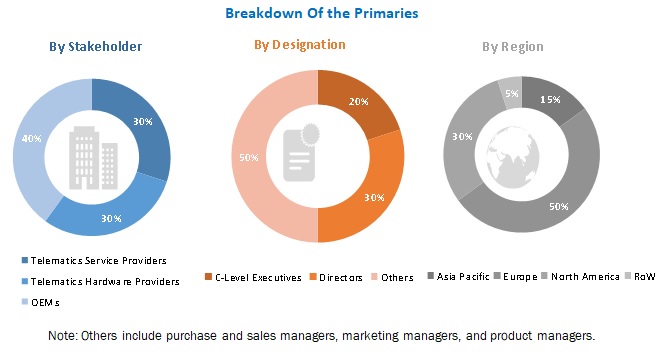 To know about the assumptions considered for the study, download the pdf brochure
Market Size Estimation
The top-down and bottom-up approaches were used to estimate and validate the total market size. These methods were also used extensively to determine the size of various sub-segments in the market. The research methodology used to estimate the market size includes the following:
The key players in the industry and markets have been identified through extensive secondary research.
The industry's supply chain and market size, in terms of value, have been determined through primary and secondary research processes.
All percentage shares, splits, and breakdowns have been determined using secondary sources and verified through primary sources.
Data Triangulation
After arriving at the overall market size-using the market size estimation processes as explained above-the market was split into several segments and sub-segments. To complete the whole market engineering process and arrive at the exact statistics of each market segment and subsegment, the data triangulation, and market breakdown procedures were employed, wherever applicable. The data was triangulated by studying various factors and trends from both the demand and supply sides.
Report Objectives
To define, describe, and forecast the telematics solutions market, in terms of value (USD million), based on the following segments:

By Services [automatic crash notification, emergency calling, navigation, on-road assistance, remote diagnostics, fleet management, insurance risk assessment, driver behavior billing services, and others]
By Form Factor [embedded, tethered and integrated]
By Components [telematics control unit, navigation system, communication devices, audio/video interfaced and CAN bus}
By Vehicle Type [passenger Car, LCV, bus, and truck)
By Connectivity [satellite and cellular]
By Aftermarket [passenger car aftermarket, LCV aftermarket, bus aftermarket and truck aftermarket]
By Service Type (Fleet Management) [consulting, implementation and maintenance]
By Region [Asia Pacific, Europe, North America, and RoW]

To understand the market dynamics (drivers, restraints, opportunities, and challenges) of the telematics solutions market
To analyze the market ranking of key players operating in the telematics solutions market
To understand the dynamics of the telematics solutions market competitors and distinguish them into visionary leaders, innovators, emerging companies, and dynamic differentiators according to their product portfolio strength and business strategies
To analyze recent developments, alliances, joint ventures, mergers & acquisitions, new product launches, and other activities carried out by key industry players in the telematics solutions market
Available Customizations
With the given market data, MarketsandMarkets offers customizations in accordance to the company's specific needs.
Telematics Solutions Market, By Cellular
Telematics Solutions Market, By Vehicle Type Country Wise
Passenger Car
LCV
Truck
Bus
Note: North America (US, Canada and Mexico), Europe (France, Germany, Spain, Italy, UK, Russia and Rest of Europe), Asia Pacific (China, India, South Korea, Thailand and Rest of Asia Pacific) and RoW (Iran, Brazil, Argentin, South Africa and Rest of RoW)