[128 Pages Report] Biomedical textiles are fibrous structures designed for use in specific biological environments. The fibers used in these textiles should possess antimicrobial, fire-resistant, non-allergic, and non-carcinogenic properties. They are produced using weaving, non-weaving, and knitting technologies for surgical sutures, implantable, extracorporeal devices, and non-implantable applications.
The non-implantable application includes bandages, such as gauzes, adhesive, cohesive, and tubular and triangular. Surgical sutures can be made from both biodegradable and non-biodegradable fibers and are used for wound closure in surgeries. Implantable biomedical textiles are made of biodegradable fibers that can be used in specific biological environments and are biocompatible and biostable with cells and biological fluids. Biomedical textiles are also used in extracorporeal devices as mechanical organs that are used for blood purification.
The biomedical textiles market size was USD 11 billion in 2017 and is projected to reach USD 14.50 billion by 2022, at a CAGR of 5.7% during the forecast period. The rising number of surgeries, rapid growth in the aging population, and increased healthcare expenditure in the developing economies are expected to drive the biomedical textile market.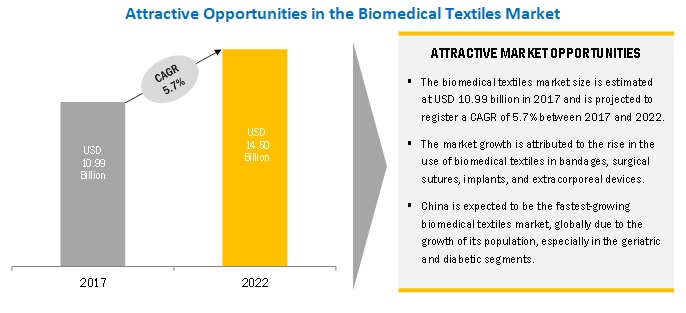 Non-Woven fabric to lead the biomedical textiles market between 2017 and 2022
The segment is projected to register the highest CAGR during the forecast period owing to increased consumption in the non-implantable applications. The increasing awareness and benefits of using this fabric in the healthcare industry are expected to drive its demand between 2017 and 2022.
Non-implantable to be the fastest-growing application of biomedical textiles between 2017 and 2022
The market in the non-implantable application is projected to register the highest CAGR between 2017 and 2022. An increasing number of accidents and surgeries is driving the biomedical textiles market in the non-implantable applications.
APAC to be the fastest-growing biomedical textiles market during the forecast period
The market in APAC is projected to register the highest CAGR during the forecast period. The biomedical textile manufacturing companies have ample growth opportunities in this region in comparison to the European and North American regions owing to the low cost of labor and raw materials. The consumption of biomedical textiles is high in this region due to the densely populated countries such as India and China, the rising income level of the population, and increasing expenditure on healthcare facilities.
China to register the highest CAGR in the biomedical textile market during the forecast period
Biomedical textiles are one of the top growth sectors for the technical textile market in China. The market in the surgical suture application is witnessing significant growth in China owing to an increase in the number of surgeries performed. According to the WHO data of 2012, 39,500,000 patients in China had undergone surgeries. Furthermore, the number of patients suffering from cardiovascular diseases is also increasing in the country, driving the demand for biomedical textiles in implantable products such as grafts and stents.
Market Dynamics
Driver: Growing need for advanced wound dressing material
Changing lifestyle, rising disposable income, and growing awareness about health and hygiene have increased the demand for biomedical textiles with antibacterial, anti-fungal, and easy healing properties. According to a survey conducted by Dow Microbial Control, a business unit of The Dow Chemical Company (US), more than 60% consumers demand advanced wound dressing materials having the ability to resist dust, mold, and parasites as well as bacterial, viral, and airborne infections. The survey also concluded that consumers prefer purchasing premium products to fulfill their requirements for wound dressing products with better performance.
Restraint: High R&D investments
Biomedical textiles are advanced materials that are specifically designed to resist various bacteria, fungi, fire, dirt, and water. The development of these fabrics involves extensive R&D to deliver specialized products that meet healthcare specifications. The R&D costs involved in the manufacturing of high-end fabrics are high as it involves labor, technological, and other related costs.
The production of raw materials such as polyester, cotton, polypropylene, polyurethane, vinyl, and other fibers involves complex processes that require heavy investments. The production of these materials also requires efficient machinery, the latest technology, and adequate supply. Raw materials used in antimicrobial biomedical textiles include various fibers and antimicrobial agents such as silver, copper, and quaternary ammonium, which are highly expensive. Moreover, players in the market need to monitor the production of high-quality textiles as it is a complex process. Thus, the R&D investments required in the manufacturing of these textiles are high, thereby restricting the growth of the market.
Opportunity: Development of smart biomedical textiles
Smart biomedical textiles are wearable materials produced by embedding tiny semiconductors and sensors into the fabrics. The smart biomedical textiles market is expected to grow at a rate of 20% per year. The use of these textiles in the patient's clothing can help monitor heart rate, blood pressure, and pulse rate. They can also help monitor body temperature, respiratory rate, humidity, and pH level.
The European Commission is investing in R&D to develop smart biomedical textiles for various applications in West Sweden. Under this research, projects such as Context, Proetex, Sweet, Stella, Ofseth, Biotex, and Clevertex are being studied. The Context project is focused on the development of materials embedded with capacitive sensors that do not require direct body contact and can monitor a baby's heart rate. Ofseth is working on optical fibers that could measure the oxygen content of blood and monitor patients in MRI chambers.
Challenge: Product marketing
The marketing of biomedical textiles is the biggest challenge for biomedical textiles manufacturers, as the majority of these products have to be marketed directly to hospitals. The hospitals have their own set of standards in terms of color, shape, and size of biomedical textiles, such as non-implantable disposables. In addition, the working capital cycle, especially in government hospitals is long, resulting in the delay of payments. Thus, the marketing of biomedical textiles remains one of the major challenges.
Get online access to the report on the World's First Market Intelligence Cloud

Easy to Download Historical Data & Forecast Numbers
Company Analysis Dashboard for high growth potential opportunities
Research Analyst Access for customization & queries
Competitor Analysis with Interactive dashboard
Latest News, Updates & Trend analysis

Request Sample

Click on image to enlarge

Scope of the Report
| | |
| --- | --- |
| Report Metric | Details |
| Market size available for years | 2015–2022 |
| Base year considered | 2016 |
| Forecast period | 2017–2022 |
| Forecast units | USD million |
| Segments covered | Fiber Type, Fabric Type, Application, and Region |
| Geographies covered | North America (US, Canada, Mexico), Europe (Germany, France, UK, Italy, Spain, and Rest of Europe), Asia Pacific (China, Japan, Australia & New Zealand, India, South Korea, and Rest of Asia Pacific), Middle East and Africa (South Africa, Saudi Arabia, UAE, Rest of MEA), and South America (Brazil, Argentina, Rest of South America) |
| Companies covered | Paul Hartmann (Germany), BSN Medical (Sweden), Royal DSM (Netherlands), Covidien (Ireland), Integra Life Sciences (US), Johnson & Johnson (US), Smith & Nephew (UK), Medline Industries (US), B. Braun Melsungen (Germany), and Cardinal Health (US) |
This research report categorizes the biomedical textiles market based on Fabric Type, Fiber Type, Application, and Region. It forecasts the revenue growth and analyzes trends in each of these submarkets.
By Fiber Type:
Biodegradable
Non-biodegradable
By Fabric Type:
By Application:
Non-Implantable
Surgical Sutures
Others
By Region:
North America
Europe
Asia Pacific (APAC)
Middle East & Africa (MEA)
South America
Note: Other applications include implantable and extracorporeal devices. Other fabric types include braided, knitted, and hollow.
Key Market Players
Royal DSM (Netherlands), Medtronics (US), Cardinal Health (US), Integra Lifesciences Corporation (US), Medline (US)
Recent Developments
In January 2018, Medtronic plc introduced the new SynchroMed(TM) II Intrathecal Drug Delivery system, an implantable pump that provides targeted drug delivery for chronic pain and severe spasticity. The SynchroMed II pump delivers medication directly to the fluid around the spinal cord.
In January 2018, Ethicon launched SURGICEL POWDER ABSORBABLE HEMOSTAT, which is designed to help surgeons control disruptive bleeding more efficiently.
In November 2017, DSM Biomedical developed a novel braiding technology by partnering with Meister & Cie AG. The technology uses UHMWPE fibers, Dyneema Purity fibers, for the design and construction of implantable medical devices. This platform technology offers medical device manufacturers freedom to design and the possibility for device miniaturization, thus enhancing the use of biomedical textiles in various applications.
In October 2017, Smith & Nephew acquired Rotation Medical Inc. (US), the developer of a novel tissue regeneration technology for shoulder rotator cuff repair for USD 125 million. This acquisition will help Smith & Nephew to invest in innovative technologies that meet unmet clinical needs.
In January 2017, Derma Sciences purchased the MEDIHONEY brand and related intellectual property from New Zealand-based Comvita Limiteds. This would help the company to expand its business in the APAC region.
Critical questions the report answers:
What are the prime strategies followed by the market leaders/ key players in the market?
Which market segment will witness an increase or decline in demand during the forecast period?
Which segment or region will lead the market and why?
What will be the revenue generating pockets for the key players in the market/industry?
To speak to our analyst for a discussion on the above findings, click Speak to Analyst