[68 pages Report] MarketsandMarkets forecasts the global biometric-as-a-service market size to grow from USD 1.2 billion in 2019 to USD 2.7 billion by 2024, at a Compound Annual Growth Rate (CAGR) of 17.0% during 2019–2024. Major growth drivers for the market include increasing users and data-security initiatives by government, growing usage of mobile devices, and increasing demand for robust fraud detection and prevention systems.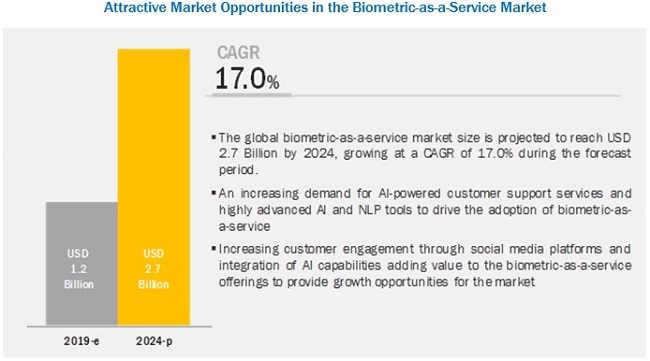 Services segment to grow at a higher CAGR during the forecast period
In the biometric-as-a-service market by offerings, the services segment is expected to grow at a higher CAGR during the forecast period. Services are mostly support services for upgradation or maintenance, which are either a part of the subscription plan or a standalone service. Additionally, services revenues are mostly derived from integration services with complex enterprise applications.
Unimodal segment to hold a larger market size during the forecast period
Unimodal solutions are easy to deploy and less complex than multimodal technologies. However, unimodal technologies are more vulnerable to threats, such as spoofing, and are not as reliable as multimodal systems. These systems are therefore deployed in industries where high levels of security and reliability are not required.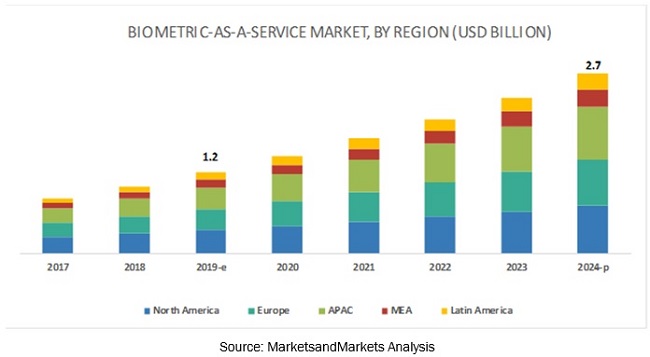 North America to hold the largest market size during the forecast period
North America is expected to contribute the highest market share, in terms of revenues during the forecast period as it is a technologically advanced region, with a high number of early adopters and the presence of major market players. Factors such as large-scale funded programs and employee access monitoring in buildings are driving the revenue growth in this region.
Key Biometric-as-a-Service Market Players
Major vendors in the global market include NEC (Japan), Aware (US), Fujitsu (Japan), Nuance (US), Leidos (US), Idemia (France), M2SYS (US), Smilepass (UK), Certibio (Brazil), HYPR (US), BioID (Germany), Accenture (Ireland), Fulcrum Biometrics (US), and Phonexia (US).
Nuance is a well-established voice biometrics solution and Natural Language Understanding (NLU) solutions provider with a wide geographic presence. The company's segments include healthcare, enterprise, automotive, and imaging. It caters to multiple verticals, such as financial services, government, healthcare, legal, manufacturing, education, and logistics. The company has expanded its biometrics solution portfolio with the addition of behavioral biometrics solutions by partnering with BioCatch, a leading behavioral biometrics solutions provider. This partnership has enabled Nuance to offer multi-factor authentication solutions to customers.
Recent Developments
In May 2019, Fujitsu partnered with Kia to build a biometric-enabled police highway patrol vehicle with a critical information system integrated into the car. Under this partnership, Fujitsu would create a single action button for 3 features, namely, front of the gearstick control, emergency lights, and sirens by embedding its biometrics (Palm Secure) into the gearstick.
In April 2019, NEC partnered with Nagasaki University to establish a program on global health and biometric authentication for Nagasaki University's Graduate School of Tropical Medicine and Global Health Studies.
In February 2018, Nuance upgraded its biometrics security suite with Artificial Intelligence (AI) to curb frauds across voice and digital channels. It introduced ConversationPrint and Intelligent Detectors to streamline omnichannel customer authentication and stop fraudsters across all points of access.
Critical Questions the Report Answers
What are the current trends that are driving the biometric-as-a-service market?
In which application areas biometric-as-a-service can be deployed?
Where will all these developments take the industry in the mid to long-term?
Which companies are the top vendors in the market, and what is their competitive analysis?
What are the drivers and challenges of the market?
To speak to our analyst for a discussion on the above findings, click Speak to Analyst