[161 Pages Report] The overall IoT security market is expected to grow from USD 6.62 billion in 2017 to USD 29.02 billion by 2022, at a CAGR of 34.4% from 2017 to 2022. Security is one of the most important aspect of IoT implementations as the hacking of IoT devices can cause severe issues. In IoT implementations most of the data is stored in the cloud and hence can be encrypted and secured. However, culprit directly attacks the device and install new patches. Secondly, ransomware developers are looking to make the maximum money for the least efforts. Hence, it is easy for them to exploit software such as Adobe Flash or Internet Explorer. IoT security solutions such as identity and access management, intrusion detection and prevention, device authentication, secure communications allow users to secure the IoT implementations. The base year considered for the study is 2016, and the forecast has been provided for the period between 2017 and 2022.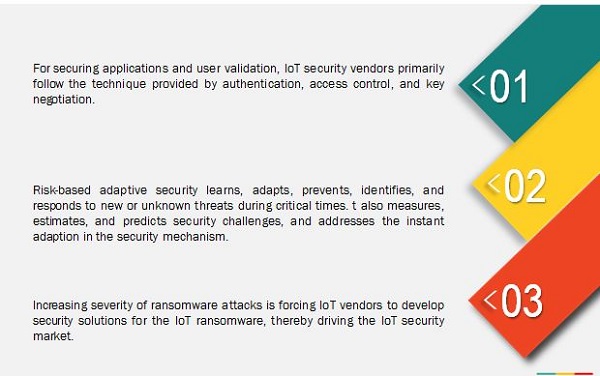 Market Dynamics
Drivers
Increase in ransomware attacks on IoT systems
Securing ubiquitous environment
Mandatory requirement to comply with stringent regulations
Increase in risk-based adaptive security for IoT ecosystem
Restraints
Costly IoT security innovations and budget constaints
Physical restraints of IoT devices and endless variety of IoT applications
Opportunities
Increased data risk in vast IoT networks
Increasing use of freeware IoT operating systems
Challenges
Low awareness about the importance of IoT security
Lack of standardization for IoT solutions
Rise in number of IoT devices and the data generated through them drives the global IoT security market Data-centric security is an approach to emphasize the security of data over the security of networks, servers, or applications. Data is increasing, both in range and volume, because of the increasing use of IoT in various application areas, such as smart manufacturing, healthcare, smart cities, energy and utilities, telecommunication, retail, and BFSI. Businesses are increasingly relying on IoT data for driving their important business decisions with the help of advance intelligent analytics solutions. Hence, securing this data becomes very important for the IoT security vendors. Rise in use of smart devices (mobile phones, laptops, and tablets) and progressive communication technologies (Zig-Bee and 6lowPAN), the private data is rising at a rapid pace. Growing quantity of private data in a digital form is challenging for IoT security providers especially in healthcare applications. It is commonly saved outside the control of user by external companies or websites and for proper data handling users should trust these companies or websites.
Objectives of the study:
The following are the major objectives of the study.
To define, describe, and forecast the IoT security solutions, types, services, and application areas with respect to the individual growth trends and contributions towards the overall market
To provide detailed information regarding the major factors influencing the growth of the market (drivers, restraints, opportunities, industry-specific challenges, and restraints)
To analyze micro markets1 with respect to individual growth trends, prospects, and contributions to the overall market
To analyze the opportunities in the market and the details of the competitive landscape for stakeholders and market leaders
To forecast the market size of segments with respect to five main regions, namely, North America, Europe, Asia-Pacific (APAC), Middle East and Africa (MEA), and Latin America
To profile key players and comprehensively analyze their core competencies2
To analyze competitive developments, such as mergers and acquisitions, partnerships, contracts, and new product developments in the IoT security market
During this research study, major players operating in the IoT security market in various regions have been identified, and their offerings, regional presence, and distribution channels have been analyzed through in-depth discussions. Top-down and bottom-up approaches have been used to determine the overall market size. Sizes of the other individual markets have been estimated using the percentage splits obtained through secondary sources such as Hoovers, Bloomberg BusinessWeek, and Factiva, along with primary respondents. The entire procedure includes the study of the annual and financial reports of the top market players and extensive interviews with industry experts such as CEOs, VPs, directors, and marketing executives for key insights (both qualitative and quantitative) pertaining to the market. The figure below shows the breakdown of the primaries on the basis of the company type, designation, and region considered during the research study.
Breakdown of Primary Participants
To know about the assumptions considered for the study, download the pdf brochure
The ecosystem comprises vendors providing solutions to their commercial clients across the globe. Companies, such as PTC Inc. (US), Symantec Corporation (US), Verizon Enterprises Solutions (US), Trustwave (US), Check Point Security Software Technologies Ltd. (US), Cisco Systems, Inc. (US), IBM Corporation (US), Infineon Technologies (Germany), Gemalto NV (Netherlands), AT&T Inc. (US), Trend Micro Inc.(Japan), and Digicert (US) have adopted new partnerships, agreements, and collaborations as their key strategies to enhance their market reach. This strategy accounted for the largest share of the total strategies adopted by the IoT security market players. These Internet of Things (IoT) Security Solutions Vendors are rated and listed by us on the basis of product quality, reliability, and their business strategy. Please visit 360Quadrants to see the vendor listing of Internet of Things (IoT) Security Solutions.
Major Market Developments
In May 2017, PTC formed a partnership with Ernst & Young, a multinational professional services firm. This partnership enabled PTC and Ernst & YoungY to co-create IoT solutions, to enable the manufacturers to improve end-to-end Product Lifecycle Management (PLM).
In March 2016, Symantec launched its new security solution, Encryption Everywhere to support Symantec security products. This solution has a wide website security package from simple encryption to robust security solutions.
In July 2015, Tustwave introduced new IoT security services to help manufacturers and business users of IoT technology, devices, and applications, to efficiently identify and remediate IoT related threats and vulnerabilities.
Key Target Audience for IoT Security Market
IoT security solution vendors
Third-party system integrators
IoT security professionals and consultants
IoT Security agencies
Machine-to-Machine (M2M), IoT, and telecommunication companies
Consultancy firms/advisory firms
Third Party system integrators
Regulatory agencies
Investors and venture capitalists
Scope of the IoT Security Market Research Report
The research report segments the market into the following submarkets:
By Component
By Type
Network security
Endpoint security
Application security
Cloud security
Others
By Solution
Identity access management
Data encryption and tokenization
IDS/IPS
Device authentication and management
Secure software and firmware update
Secure communications
PKI lifecycle management
Distributed denial of service protection
Security analytics
Others
By Service
Professional services
Integration Services
Support and Maintenance
Consulting Services
Managed services
By Application Area
Smart Manufacturing
Smart Energy and Utilities
Connected Logistics
Consumer Wearables
Connected Healthcare
Smart Government and Defense
Connected Vehicles
Smart Retail
Others
By Region
North America
Europe
APAC
MEA
Latin America
Critical questions which the report answers
What are new application areas which the IoT security companies are exploring?
Which are the key players in the market and how intense is the competition?
Available Customizations
With the given market data, MarketsandMarkets offers customizations as per the company's specific needs. The following customization options are available for the report:
Geographic Analysis
Further breakdown of the North American market into the US and Canada
Further breakdown of the European market into the UK, Germany, and France
Company Information
Detailed analysis and profiling of additional market players
MarketsandMarkets forecasts the IoT security market size to grow from USD 6.62 billion in 2017 to USD 29.02 billion by 2022, at a Compound Annual Growth Rate (CAGR) of 34.4%. The increasing ransomware attacks on IoT systems, securing the ubiquitous environment, and increasing need for data-centric security are some of the driving factors for the growth of Internet of Things (IoT) security market.
The IoT security market is segmented by type, solution, service, application area, and region. The service segment is expected to grow at a higher CAGR than the solution segment during the forecast period because services help organizations to easily deploy the software on the cloud. The services segment is further categorized into professional services and managed services. Furthermore, the professional services segment is classified into consulting service, support and maintenance, and integration services. The integration service segment is growing at a rapid pace as compared to the other professional service segments, owing to the lack of standardization and increase in diverse protocols, and connectivity of technologies and devices.
The data encryption and tokenization solution is the fastest growing solution in the IoT security market, as the problems of data breach and data thefts are increasing in enterprises. Moreover, as numerus devices are connected to each other in an IoT system, the security of data becomes complex due to the non-standardization and non-compatibility of devices. Due to such humungous connectivity, it has become easier for hackers/attackers to perform malicious activities by finding an unsecured link. Thus, solution vendors are investing large capitals in Research and Development (R&D) of security solutions, as data security is also one of the major challenges faced by organizations while deploying IoT solutions.
The professional service is expected to grow at the highest CAGR during the forecast period. These services consist of integration, support and maintenance, and consulting services. These services help in deploying IoT solutions by reducing the overall cost while providing highly flexible and scalable access to the end-users. Moreover, understanding where and how IoT will help the business is a complex task, which is done by the IoT consulting services providers. Furthermore, once the solution is deployed the timely maintenance and support services are also provided by the professional service providers making it important in the IoT security market.
The cloud security type is expected to grow at the highest rate during the forecast period. Cloud security constitutes the perspective of both end-users and services providers. Moreover, the use of cloud in IoT security is increasing at a rapid pace due to ease, efficiency, and affordability. Because of these reasons, cloud data is more susceptible to cyber-attacks and need a versatile security solution.
The application area is categorized into smart manufacturing, smart energy and utilities, connected logistics, consumer wearables, connected healthcare, smart government and defense, smart retail, and other segments. The IoT solutions are widely used in production, procurement, and storage of goods/materials, owing to which, the smart manufacturing application area is expected to dominate the IoT security market.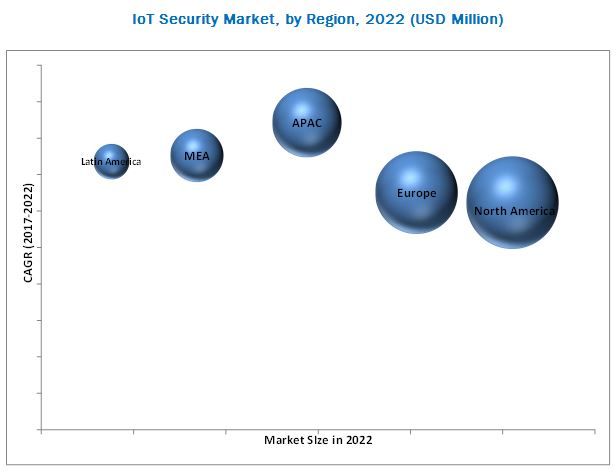 North America is estimated to hold the largest market share and expected to dominate the IoT security market from 2017 to 2022. This region has the major dominance with sustainable and well-established economies, empowering the region to strongly invest in Research and Development (R&D) activities, thereby contributing to the development of new technologies in IoT and analytics. Furthermore, the government's support and heavy investments by various well-established organizations are driving the growth of the market in the North American region.
APAC has witnessed the highest CAGR in the IoT security market, owing to the dynamic adoption of smart cities and the increasing investment by government toward IoT initiatives. Countries, such as Japan, China, Singapore, Australia, and India are gaining traction and taking various initiatives, in terms of R&D and supporting IoT deployments in utilities, and manufacturing and retail.
Despite the rapid adoption of IoT security in various application areas, the continuous exposure to security issues and lack of standardization are some of the challenging factors for the growth of this market.
Smart Manufacturing
Security is one of the most important factors when it comes to the deployment of IoT into manufacturing processes. In most of the manufacturing operations, IoT sensors measure variables, such as speed, pressure, and consumption and temperature, and actuators controlling physical systems, such as brakes, valves, lights, power circuits, or automated drug dispensers. All these applications affect the physical world, control the critical infrastructure, and sometimes gather sensitive information about different operations and smart equipment. Hence, there is a need for IoT security market and privacy protection in an enterprise as some of the devices used in the IoT have limited memory, processing capacity, and battery power; consequently, classical IT security mechanisms are often inadequate to cope with the unique security situations that arise
Smart Energy and Utilities
Smart energy includes smart meters, smart appliances, renewable energy resources, and energy efficient resources. Organizations in this segment primarily focus on three aspects while deploying smart energy systems, namely, distribution of electricity, control of the production and electronic power conditioning. Integration of IoT in all these areas helps reduce the costs to develop, test, and deploy each of the interconnected networks in the ultimate energy grids. Security threats to the energy network includes malware injections, denial of service, attacks on privacy, and theft of data and energy.
Smart utilities primarily consist of 4 essential utilities services, namely, smart waste management, smart energy management system, smart water management, and city gas distribution. Smart utilities is the most important aspect in conceptualizing, developing, and implementing the idea of smart cities. Smart waste management consists of various solutions such as fleet tracking and monitoring, remote device monitoring, mobile workforce management, advanced analytics, data and platform management, network management, and asset management. Smart water management consists of network monitoring, advanced pressure management, smart irrigation management systems, and residential water efficiency. Security is the integral aspect of all these solutions, as in most of the solutions personal data is involved. Hence, smart energy & utilities is the most important application area for the IoT security market.
Connected Logistics
Quality customer experience and accuracy of the operations are the key factors for sustainability of businesses. Logistics plays a vital role in managing business processes. The nature of logistics is fragmented in terms of mode and region. Hence, logistics providers require transparency and real-time visibility of their activities, including asset management, warehouse management, inventory control, workforce management, and transportation. Logistics have evolved through the integration of various independent processes. However, with the advent of internet connections, these processes have been combined to achieve higher efficiency. Benefits of the Internet in logistics spread across the entire value chain which includes freight transportation, warehouse operations, and last mile delivery. With the advancement in integration of IoT, a huge amount of data is generated, which is then collected, processed, and shared with other connected things through various networking devices, such as gateway, Radio Frequency Identification (RFID), and sensors. The data generated is sensitive. Hence, IoT security solutions play a vital role in managing connected logistics deployments.
Smart Government
Smart government is a model which combines cutting-edge technology, smart solutions, and services to incorporate advanced operations and decision-making process in the government. The term "smart" here refers to solutions with applied intelligence that can provide real-time information about the condition and location of assets, workforce, and fleets through monitoring of the overall IoT network. This brings improved integration and forecasting, support and communication, control and maintenance, distribution, and planning capabilities in the delivery systems. The demand for smart government is driven by the digital revolution of the convergent technologies which is leading toward more sophistication of solutions and services. IoT devices in smart government require a highly robust security mechanism to protect devices from unauthorized and fraudulent activities.
To speak to our analyst for a discussion on the above findings, click Speak to Analyst