Digital Asset Management Best Practices and Market
Digital Asset Management Best Practices and Market by application (Asset Management, Digital Asset Management Integration, Intellectual Property Management, Social Media Management, and Analytics) - Global Forecast to 2022
Report Code: TC 7151
Jun, 2019, by marketsandmarkets.com
[111 Pages Report] Digital asset management is adopted by companies across the globe to reduce the rising costs and to standardize business processes across the organization. Thus, due to increased digitization and mobility among enterprises, digital asset management providers are increasing their efforts to boost their revenues. The strategic acquisition is an important strategy adopted by key market players to develop new services and gain traction in the digital asset management market. MarketsandMarkets forecasts the digital asset management market to grow from USD 2.4 billion in 2017 to USD 5.7 billion by 2022, at a CAGR of 18% during the forecast period.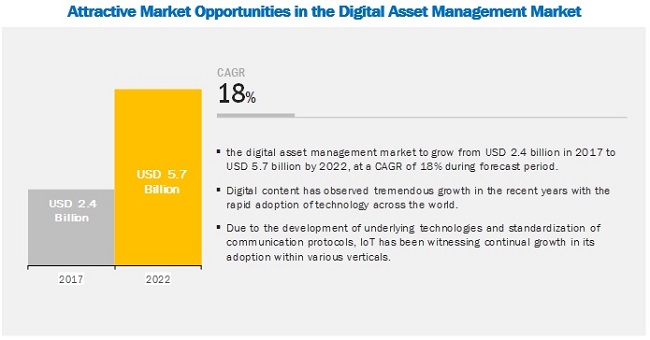 Adoption of digital asset management needs to be justified by calculating financial savings that are an outcome of time savings and corresponding salary savings of associated employees. Hence, organizations create a systematic performance measurement framework to estimate financial savings of digital asset management deployment and corresponding return on investment.

Asia-Pacific is expected to grow at the highest CAGR during the forecast period
The Asia-Pacific market is expected to grow at the highest CAGR during the forecast period. The APAC region comprises emerging economies, such as China, India, Japan, Singapore, Malaysia, and Australia. This region is likely to witness a surge in the implementation of digital asset management systems. This can be majorly attributed to the rising demand for digital marketing and the proliferation of digital content, considering large companies in the US and the UK are targeting developing regions and new avenues in the APAC region.
Key Market Players
Digital asset management includes managed business, network, security, data center, and mobility services. There are several renowned vendors in the digital asset management market, such as Adobe Systems Incorporated (US), OpenText Corporation (Canada), Bynder (Netherlands), MediaBeacon, Inc. (US), Cognizant (US), CELUM (Austria), Canto, Inc. (US), and Widen (US).
Adobe Systems (US) founded in 1982 is a global provider of analytics, social targeting, media optimization, digital experience management, cross-channel campaign management, audience management, and video solutions. Adobe segments its business into three categories - digital media, digital marketing, and print and publishing. It provides its products and services through distributors, value-added resellers, system integrators, independent software vendors, retailers, software developers, and original equipment manufacturers, in addition to its direct sales force, online website, and app stores. The company provides its DAM offerings through the marketing cloud. It caters to both large enterprises and SMEs, providing services in diverse industries, such as media and entertainment, banking, and e-commerce. The company has its presence across North America, Europe, APAC, and MEA.
Critical Auestions the Report Answers
What are the current trends that are driving the digital asset management market?
Where will all these developments take the industry in the mid- to long-term?
Who are the top vendors in the Digital Asset Management market, and what is their competitive analysis?
What are the drivers and challenges of the Digital Asset Management market?
Which segments of the market are anticipated to witness the fastest growth over the forecast period?
To speak to our analyst for a discussion on the above findings, click Speak to Analyst
Table of Contents
1 Introduction
1.1 Research Objectives
1.2 Years Considered for the Study
1.3 Market Definition and Overview
1.4 Market Scope
1.4.1 Market Segmentation
1.4.2 Region
1.5 Stakeholders
2 Research Methodology
2.1 Data Triangulation
2.2 Microquadrant Research Methodology
2.3 Limitation
3 Executive Summary
4 Market Overview
4.1 Market Dynamics
4.2 Overview of Dam Market
4.3 Criteria to Select Digital Asset Management Solutions
4.4 Value Chain Analysis
4.5 Dam: Key Trends
4.6 Dam Key Trends in Selling/Field Selling
5 Competitive Landscape
5.1 Global Dam Market - Competitive Leadership Mapping - 2017
6 Vendor Analysis
6.1 Adobe
6.2 Opentext
6.3 Bynder
6.4 Mediabeacon
6.5 Cognizant
6.6 Celum
6.7 Canto
6.8 Widen
7 Peer Analysis/End-User Analysis
7.1 Asset Management
7.2 Dam Deployment
7.3 Dam Integration Capabilities
7.4 Intellectual Property Management
7.5 Social Media Management
7.6 Digital Asset Management – Analytics
7.7 Measuring ROI/Impact of Digital Assets
7.8 Improvement Initiatives
7.9 Miscellaneous Information
7.10 Challenges and Solutions
8 Appendix
8.1 Discussion Guide
8.2 Knowledge Store: Marketsandmarkets' Subscription Portal
8.3 Available Customizations
8.4 Related Reports
8.5 Authors Details

List of Tables (5 Tables)
Table 1 Key Trends
Table 2 Key Trends in Direct Selling/Field Selling
Table 3 Workflow Management: How Rights are Assigned to Key Users for Workflow Management
Table 4 Permission Management: Examples of Permissions Assigned to Key User Profiles
Table 5 Watermarks for Assets: the Following Table Illustrates Key Factors Associated With the Addition of Watermarks

List of Figures (11 Figures)
Figure 1 Data Triangulation
Figure 2 Software-As-A-Service Model for Digital Asset Management to Act as Attractive Market Opportunities, 2017-2022
Figure 3 Global Digital Asset Management Market -Competitive Leadership Mapping -2017
Figure 4 Company Snapshot: Adobe
Figure 5 Company Snapshot: Opentext
Figure 6 Company Snapshot: Bynder
Figure 7 Company Snapshot: Mediabeacon
Figure 8 Company Snapshot: Cognizant
Figure 9 Company Snapshot: Celum
Figure 10 Company Snapshot: Canto
Figure 11 Company Snapshot: Widen
The study consists of four major activities to estimate the current market size of the digital asset management market. Exhaustive secondary research was done to collect information on the market, peer market, and parent market. The next step was to validate findings, assumptions, and sizing with industry experts across the value chain through primary research. Both top-down and bottom-up approaches were employed to estimate the overall market size. After that, the market breakup and data triangulation procedures were used to estimate the market size of the segments and subsegments of the Digital Asset Management market.
Secondary Research
In the secondary research process, various secondary sources, such as D&B Hoovers and Bloomberg BusinessWeek, have been referred to for identifying and collecting information for this study. Secondary sources included annual reports; press releases and investor presentations of companies; whitepapers, certified publications, and articles by recognized authors; gold standard and silver standard websites; Research and Development (R&D) organizations; regulatory bodies; and databases.
Primary Research
Various primary sources from both the supply and demand sides of the Digital Asset Management market were interviewed to obtain qualitative and quantitative information for this study. The primary sources from the supply side included industry experts, such as Chief Executive Officers (CEOs), Vice Presidents (VPs), technology and innovation directors, hedge fund managers, and related key executives from various vendors offering Digital Asset Management solutions, associated service providers, and system integrators operating in the targeted regions. All possible parameters that affect the market covered in this research study have been accounted for, viewed in extensive detail, verified through primary research, and analyzed to get the final quantitative and qualitative data.
Market size Estimation
For making market estimates and forecasting the Digital Asset Management market and the other dependent submarkets, the top-down and bottom-up approaches were used. The bottom-up procedure was used to arrive at the overall market size of the global Digital Asset Management market using key companies' revenue and their offerings in the market. The research methodology used to estimate the market size includes the following:
The key players in the market were identified through extensive secondary research.
The market size, in terms of value, was determined through primary and secondary research processes.
All percentage shares, splits, and breakups were determined using secondary sources and verified through primary sources.
Report Objectives
To define, describe, and forecast the Digital Asset Management market.
To provide detailed information about the major factors (drivers, restraints, opportunities, and challenges) influencing the growth of the Digital Asset Management market
To strategically analyze the micro-markets with respect to individual growth trends, prospects, and contributions to the overall market
To study the best practices chain of the Digital Asset Management market
To analyze opportunities in the market for stakeholders by identifying the high-growth segments of the Digital Asset Management ecosystem
To strategically profile key players and comprehensively analyze their market positions in terms of ranking and core competencies, along with the detailed competitive landscape of market leaders
Available customizations
With the given market data, MarketsandMarkets offers customizations as per the company's specific needs. The following customization options are available for the report:
Product Analysis
Product matrix provides a detailed comparison of the product portfolio of each company
Geographic Analysis
Further breakup of the North American Digital Asset Management market
Further breakup of the European Digital Asset Management market
Further breakup of the APAC Digital Asset Management market
Further breakup of the Latin American Digital Asset Management market
Further breakup of the MEA Digital Asset Management market
Company Information
Detailed analysis and profiling of up to five additional market players