[111 Pages Report] Digital asset management is adopted by companies across the globe to reduce the rising costs and to standardize business processes across the organization. Thus, due to increased digitization and mobility among enterprises, digital asset management providers are increasing their efforts to boost their revenues. The strategic acquisition is an important strategy adopted by key market players to develop new services and gain traction in the digital asset management market. MarketsandMarkets forecasts the digital asset management market to grow from USD 2.4 billion in 2017 to USD 5.7 billion by 2022, at a CAGR of 18% during the forecast period.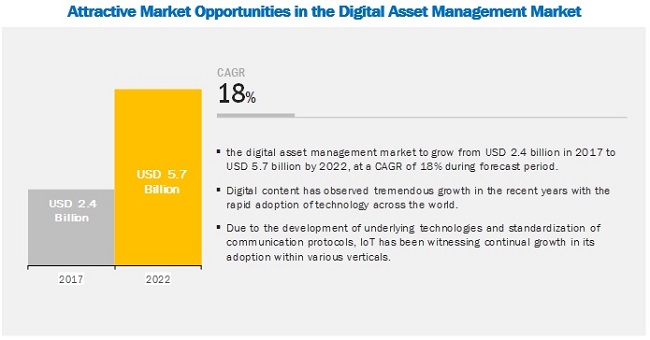 Adoption of digital asset management needs to be justified by calculating financial savings that are an outcome of time savings and corresponding salary savings of associated employees. Hence, organizations create a systematic performance measurement framework to estimate financial savings of digital asset management deployment and corresponding return on investment.

Asia-Pacific is expected to grow at the highest CAGR during the forecast period
The Asia-Pacific market is expected to grow at the highest CAGR during the forecast period. The APAC region comprises emerging economies, such as China, India, Japan, Singapore, Malaysia, and Australia. This region is likely to witness a surge in the implementation of digital asset management systems. This can be majorly attributed to the rising demand for digital marketing and the proliferation of digital content, considering large companies in the US and the UK are targeting developing regions and new avenues in the APAC region.
Key Market Players
Digital asset management includes managed business, network, security, data center, and mobility services. There are several renowned vendors in the digital asset management market, such as Adobe Systems Incorporated (US), OpenText Corporation (Canada), Bynder (Netherlands), MediaBeacon, Inc. (US), Cognizant (US), CELUM (Austria), Canto, Inc. (US), and Widen (US).
Adobe Systems (US) founded in 1982 is a global provider of analytics, social targeting, media optimization, digital experience management, cross-channel campaign management, audience management, and video solutions. Adobe segments its business into three categories - digital media, digital marketing, and print and publishing. It provides its products and services through distributors, value-added resellers, system integrators, independent software vendors, retailers, software developers, and original equipment manufacturers, in addition to its direct sales force, online website, and app stores. The company provides its DAM offerings through the marketing cloud. It caters to both large enterprises and SMEs, providing services in diverse industries, such as media and entertainment, banking, and e-commerce. The company has its presence across North America, Europe, APAC, and MEA.
Critical Auestions the Report Answers
What are the current trends that are driving the digital asset management market?
Where will all these developments take the industry in the mid- to long-term?
Who are the top vendors in the Digital Asset Management market, and what is their competitive analysis?
What are the drivers and challenges of the Digital Asset Management market?
Which segments of the market are anticipated to witness the fastest growth over the forecast period?
To speak to our analyst for a discussion on the above findings, click Speak to Analyst