[159 Pages Report] The global Enterprise Content Management market to grow from USD 31.66 billion in 2017 to USD 67.14 billion by 2022, at a Compound Annual Growth Rate (CAGR) of 16.2%.
ECM solutions are gaining traction because of the increased need for effectively managing the voluminous content that is generated in organizations on a daily basis. These days, digitalization, Bring Your Own Device (BYOD), growth of eCommerce, and increase in the usage of social media have increased the amount of content generated in inter-organizations and intra-organizations. ECM solutions offer clients with the benefit of paper-free workflows, accurate searching of required information, and better information sharing, and also address the required industry regulations and standards. By doing so, ECM solutions help clients manage the essential enterprise information, and save cost and time incurred while searching the required data for making key business decisions. The base year considered for the study is 2016, and the forecast has been provided for the period between 2017 and 2022.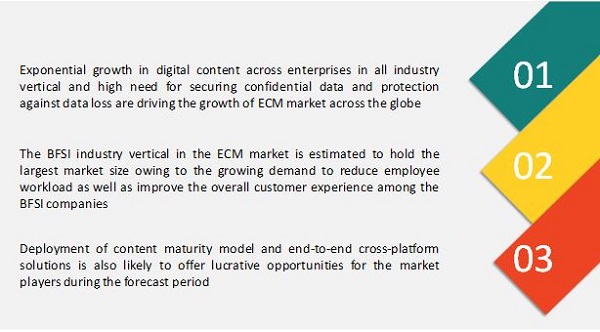 Market Dynamics:
Drivers
Exponential growth in digital content across enterprises
Need for regulatory content management to enhance operations
Increased traction for risk mitigation in content management
High need for securing confidential data and protection against data loss
Restraints
Difficulties in smooth handling of enterprise data in case of mergers and acquisitions
Existence of functional content data silos
Opportunities
Growing adoption by SMEs and cloud-based content management generates new business opportunities
Deployment of content maturity model
End-to-end cross-platform solutions
Challenges
Data migration from legacy systems to new systems
Rise in security issues associated with cloud and mobile technologies
Aligning ECM strategy with the organizational strategic initiatives
Lack of technical proficiency among enterprises
Exponential growth of digital content across enterprises is driving the growth of Market
There is an increased trend in the adoption of digital revolution across all verticals. Enterprises across all domains have been swept by a sudden surplus of exponential growth in data, over the last decade. Data is growing faster than ever before. Almost 90% of the world's existing data has been created in the last few years, and by the end of 2020, it is estimated that the data would grow from 4.4 zettabytes to approximately 44 zettabytes. These factors have made it essential for enterprises to explore efficient database applications and implement scalable content management solutions. ECM captures, stores, manages, and delivers those unstructured data into a structured format without any error or data loss, and within seconds. To work more efficiently, traditional ECM solutions have evolved with new components, such as intelligent information platform, to capture and manage the new variety of data. There are various factors enabling enterprises to adopt ECM solutions, such as increasing business productivity and working efficiency, improving staff engagement, improving data control management, and minimizing the overall cost of data management.
The following are the major objectives of the Study:
To describe and forecast Market in terms of value, by component, deployment type, organization size, business function, vertical.
To describe and forecast the market, in terms of value, by region–Asia Pacific (APAC), Europe, North America, Latin America and Middle East and Africa (MEA) along with their respective countries
To provide detailed information regarding major factors influencing market growth (drivers, restraints, opportunities, and challenges)
To strategically analyze micro markets with respect to individual growth trends, prospects, and contributions to the overall market
To study the complete value chain of ECM
To analyze opportunities in the market for stakeholders by identifying the high-growth segments of the ECM ecosystem
To strategically profile key players and comprehensively analyze their market position in terms of ranking and core competencies, along with detailing competitive landscape for market leaders
To analyze strategic approaches such as product launches, acquisitions, contracts, agreements, and partnerships in the Market
The research methodology used to estimate and forecast the Enterprise Content Management Market begins with the collection and analysis of data on key vendor product offerings and business strategies from secondary sources, such as press releases, investor presentations of companies, white papers, technology journals, certified publications, articles from recognized authors, directories, and databases. The vendor offerings have also been taken into consideration to determine the market segmentation. The bottom-up procedure was employed to arrive at the total market size of the global ECM from the revenue of the key market software tool providers and service providers. After arriving at the overall market size, the total market was split into several segments and subsegments, which were then verified through primary research by conducting extensive interviews with key people, such as Chief Executive Officers (CEOs), Vice Presidents (VPs), directors, and executives. The data triangulation and market breakdown procedures were employed to complete the overall market engineering process and to arrive at the exact statistics for all segments and subsegments. The breakdown of profiles of the primary participants is depicted in the figure below: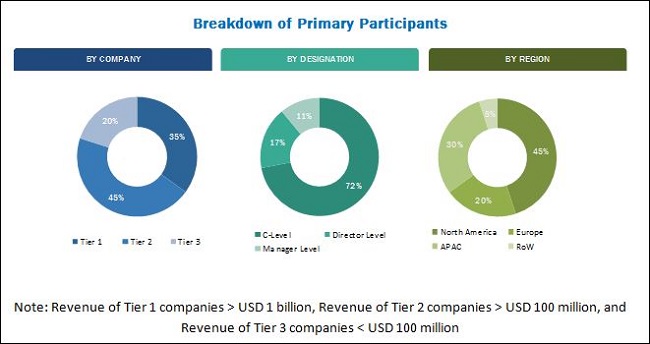 To know about the assumptions considered for the study, download the pdf brochure
Industry Ecosystem
The ECM ecosystem comprises service and solution providers such as Microsoft Corporation (US), IBM Corporation (US), Hyland Inc. (US), OpenText Corporation (US), Oracle Corporation (US), Laserfiche (US), Newgen Software (India), and M-Files (US). These Enterprise Content Management Software Vendors are rated and listed by us on the basis of product quality, reliability, and their business strategy. Please visit 360Quadrants to see the vendor listing of Enterprise Content Management Software.
Major Market Developments
In February 2017, OpenText acquired the enterprise content division of Dell EMC. This acquisition has enhanced the entire length and breadth of product portfolio for content management along with the addition of huge customer base.
In May 2016, Hyland launched its new platform, OnBase16, to help organizations to enhance, combine, and capture the capabilities of ECM, BPM, and case management throughout the information lifecycle.
In February 2016, Alfresco partnered with Kainos Evolve, a leading UK-based provider of IT, consulting, and software solutions. This partnership provides data and content-management solutions to healthcare platforms.
Key Target Audience For Enterprise Content Management Market
Enterprise users
Government agencies
Industrial users
ECM vendors
System integrators
IT developers
Third-party vendors
Cloud service providers
Network operators
Infrastructure providers
Regulatory and compliance agencies
Scope of the Enterprise Content Management Market Research Report
The research report segments into following submarkets:
By Component
The following components play a major role in ECM
Solutions

Content Workflow
Document Management
Imaging and Capturing
Web content Management
Records Management
Digital Asset Management
Mobile Content Management
Case Management
eDiscovery

Services

Implementation Service
Training and Education
Support and Maintenance
By Deployment Type
There are two deployment alternatives for ECM
By Business Function
There are various business functions for ECM
Accounts and Finance
Human Resource
Supply Chain Management
Operations
Marketing
By Organization Size
The various organizations utilizing ECM practices can be broken down into two types:
By Vertical
ECM practices can be adopted across various industries such as
BFSI
Government
Manufacturing
Telecom and IT
Consumer Goods and Retail
Healthcare and Life Sciences
Energy and Utilities
Transportation and Logistics
Others (hospitality, education, and media and entertainment)
By Region
The global market for global ECM can be segmented into following regions
North America
Europe
APAC
MEA
Latin America
Critical questions which the report answers
What are new business functions which the ECM vendors are exploring?
Which are the key players in the market and how intense is the competition?
Available Customizations
With the given market data, MarketsandMarkets offers customizations as per the company's specific needs. The following customization options are available for the report:
Product Analysis
Product matrix which gives a detailed comparison of the product portfolio of each company
Geographic Analysis
Further breakdown of the North American global Enterprise Content Management Market into countries
Further breakdown of the European global market into countries
Further breakdown of the APAC global market into countries
Further breakdown of the Middle Eastern and African global market into countries
Further breakdown of the Latin American global ECM market into countries
Company Information
Detailed analysis and profiling of additional market players
The Enterprise Content Management market is expected to grow from USD 31.66 billion in 2017 to USD 67.14 billion by 2022, at a Compound Annual Growth Rate (CAGR) of 16.2%. Several factors such as increasing need for regulatory content management and increased traction of risk mitigation are responsible for the growth of the ECM market. Verticals such as consumer and goods, government, healthcare and life sciences, manufacturing, IT and telecom, and transportation and logistics have contributed largely to the market.
The market is segmented by component, deployment type, organization size, business function, vertical, and region. The cloud-based ECM deployment is likely to gain traction during the forecast period and grow at highest CAGR as it reduces the total cost of ownership by cutting down the cost associated with installing hardware to support ECM solutions. Cloud-based deployment model also offers higher agility than the on-premises deployment model. Enterprises are considering cloud deployment as solution providers offer remote ECM solutions at competitive pricings.
ECM solutions are estimated to dominate the Enterprise Content Management market in 2017, while ECM services are expected to witness the fastest growth during the forecast period. ECM solutions are gaining popularity as an enormous amount of data being generated by organizations and the need to safeguard a large amount of enterprise data from a centralized place. However, ECM are vital to ensure proper implementation, maintenance, and support of ECM solutions. Leading ECM solutions enable line of business departments to manage user access independently, which means sensitive HR information stays within the HR department, while private financial information stays within the finance department, even if the information is stored in the same repository.
The Small and Medium-sized Enterprises (SMEs) segment is expected to grow at the highest CAGR in the market during the forecast period. SMEs have various personal data related to customers, which is required to be protected from being affected by the vulnerabilities. Increasing awareness and digital transformation has influenced SMEs to adopt cloud-based ECM solutions.
By business function, the supply chain management segment is expected to have the largest market size during the forecast period than the other segments. The supply chain department deals with inventory optimization integrated with global customer requirements. ECM helps all upstream customers and downstream suppliers' records to be integrated into one easy interface. Furthermore, ECM provides additional security for files in terms of document sensitivity and user access levels.
ECM solutions and services are being increasingly adopted by verticals, such as transportation and logistics, healthcare and life sciences, consumer goods and retail, manufacturing, and energy and utilities, to automate and protect the valuable data, thus, fueling the growth of the ECM market across the globe. The consumer goods and retail vertical is expected to hold the largest market size during the forecast period. However, transportation and logistics segment are also expected to represent prospective opportunities during the forecast period for ECM vendors.
The Enterprise Content Management market has been segmented by region into North America, Europe, Asia Pacific (APAC), Middle East and Africa (MEA), and Latin America to provide a region-specific analysis in the report. North America is expected to have the largest market size and is expected to dominate the market from 2017 to 2022, considering the presence of large ECM vendors in the region. The region is also considered to be one of the most advanced regions with regards to the technology adoption and infrastructure.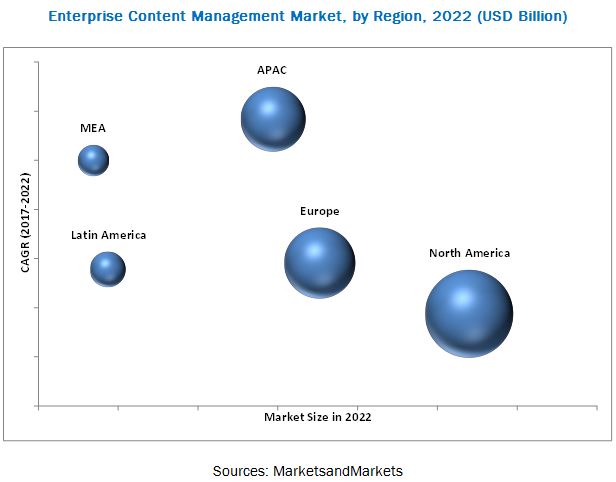 Consumer goods and retail, transportation and logistics, and healthcare and life sciences industry verticals are expected to drive the growth of ECM market
Consumer Goods & Retail
The consumer goods and retail sector is quickly adopting ECM technologies, which support business continuity and enhance the level of competitiveness. With the help of content management systems, most of the retail enterprises are planning to merge their legacy product information management systems with their inventory management systems. Content management systems are vital and required to support B2B trading and manage eCommerce data. Content management by eCommerce companies can be really instrumental in enhancing their competitiveness and reducing the total cost of ownership. Retail ECM can help to simplify the different strategic goals of retailers, such as customer retention, product information lifecycle management, and brand management to maximize efficiency.
Transportation & Logistics
Transportation and logistics organizations need ways to collect, manage, and analyze tremendous volume, variability, velocity, and precision of data, making data consistency in content important. Consistent content can be useful in enhancing the productivity and efficiency of transportation enterprises. Content management in the transportation sector can be instrumental in introducing a visibility and control mechanism by clubbing the national transport policy, national transport strategy, and transport master plan together for better governance.
Healthcare & Life Sciences
Healthcare facilities are complex organizations, consisting of doctors, patients, staffs, administrators, and public, and the content they generate is usually private and highly confidential. ECM systems help health information management departments to reduce document management load by storing online patient data and documents and ensuring secure transaction and processes from one user to another. Alfresco, Streamline Health, EMC, HP Autonomy, Hyland Software, IBM, and Microsoft are some of the healthcare and life sciences ECM solution providers of today.
Critical questions the report answers:
Where will all these developments take the industry in the mid to long term?
What are the upcoming industry applications for ECM?
Difficulties in smooth handling of enterprise data in case of merger and acquisition, the existence of functional content data silos about ECM among enterprises across various industry verticals is restraining the growth of ECM market globally. This is one of the major identified restraints affecting the widespread adoption of ECM in the global market along with the challenge of aligning ECM strategy with the organizational strategic initiatives.
The massive growth in the amount of data with the deployment of Content Maturity Model is expected to provide great opportunities to the ECM solution vendors to grow in the future. The major vendors that offer ECM solutions and services across the globe are Microsoft Corporation (US), IBM Corporation (US), Hyland Software, Inc. (US), OpenText Corporation (US), Oracle Corporation (US), Alfresco Software, Inc. (UK), Everteam (France), Fabasoft (Austria), M-Files Corporation (US), Laserfiche (US), Xerox Corporation (US), Newgen Software Technologies Ltd. (India). These vendors have adopted different types of organic and inorganic growth strategies, such as new product launches, partnerships and collaborations, and mergers and acquisitions to expand their offerings in the Enterprise Content Management market.
To speak to our analyst for a discussion on the above findings, click Speak to Analyst