Click here for an in-depth analysis of the COVID-19 impact on the Digital Twin Market
Benchmarking the rapid strategy shifts of the Top 100 companies in the Digital Twin Market
Request Now
Updated as on-
The digital twin market is estimated to grow from USD 3.8 billion in 2019 to USD 35.8 billion by 2025, at a CAGR of 45.4%. Factors driving the demand for digital twin include the growing adoption of emerging technologies such as IoT and cloud for the implementation of digital twin and promising prospect of digital twin in industries such as healthcare, aerospace & defense, and automotive & transportation.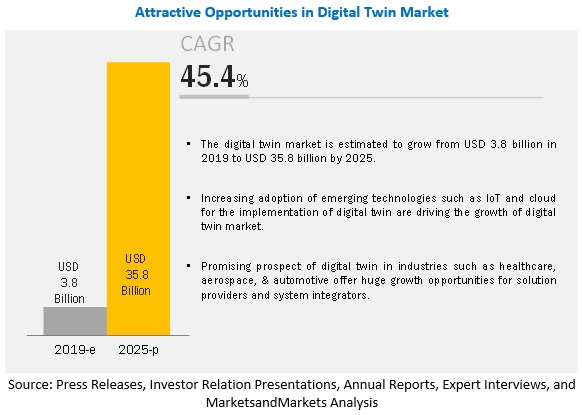 "Digital Twin Market for Automotive & Transportation to account for largest size of market from 2019 to 2025"
Automotive & transportation is expected to be the key end-user industry for digital twin market. This industry is growing rapidly due to the increasing usage of digital twins for designing, simulation, maintenance, repair, and overhaul, production, and after service. Moreover, the automotive & transportation industry is the early adopter of technologies, and there is a rising demand for connected devices in this sector owing to the advancements such as connected cars & autonomous cars, which, in turn, boosts the growth of the market.
"Digital Twin market for system digital twin to boost demand for market during forecast period"
System digital twin is expected to hold the largest share of the digital twin market during the forecast period. This growth is attributed to the increasing demand for system digital twin type from several industries as a system digital twin is a collection of assets/products and processes that together perform as a system- or network-wide function, such as an oil & gas refinery/plant, a production line in a factory, an assembly line, a traffic network, a wind farm, a hospital, and a country. A system twin provides visibility into a set of interdependent equipment.
"Digital Twin Market in North America to hold largest share of market from 2019 to 2025"
North America held the largest share of the overall digital twin market in 2018, and APAC is likely to exhibit the highest CAGR during the forecast period. Major factors driving the growth of the market in North America is due to the strong economic infrastructure and significant presence of digital twin vendors in the region. Moreover, increasing R&D activities in the field of IoT and IIoT, and growing demand for efficient and cost-effective technologies for product manufacturing are the factors driving the market in this region.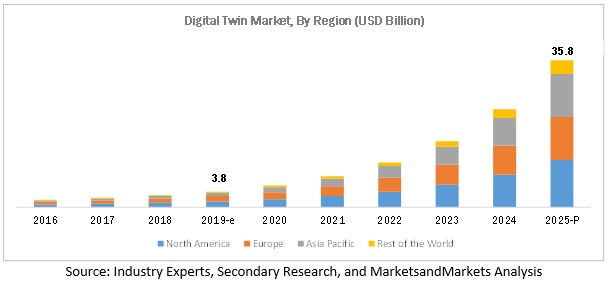 Market Dynamics
Driver: Declining time and cost of product development and unplanned downtime with adoption of digital twin
Elimination of unplanned downtime and reduction of maintenance cost are the major factors considered by companies of various industries to improve productivity and efficiency. According to the Vanson Bourne study conducted in 2017, about 82% of companies have experienced at least one unplanned downtime outage in a span of 3 years. Moreover, as per the independent research (conducted in 2017) of Aberdeen University, unplanned downtime costs about USD 250,000/h to the companies. Such downtimes in companies affect production process, productivity, efficiency, and customer service.
Reduction in downtime can be achieved with the implementation of a digital twin. The deployment of a digital twin helps companies gather data and use it for driving specific business outcomes. The data fetched is analyzed with respect to various parameters, and both preventive and predictive measures are proactively taken up to avoid any harm to a product, process, and system, which would, in turn, help reduce downtime and consequently increase the overall efficiency.
A digital twin is a digital replica of an asset, component, product, process, or a complete system/unit. Digital twins provide visibility with regard to the functioning of a remotely located component, process, or system. It is used along the entire value chain of an asset/product manufacturing process.
The impact of downtime in automotive can lead to huge financial loses. For instance, in CNH Industrial (a company involved in designing and manufacturing a wide range of agricultural, industrial, and commercial vehicles and powertrains), a minute of downtime can cost more than USD 160,000. Thus, the deployment of digital twin by identifying the most critical areas helped CNH Industrial reduce downtime.
Furthermore, in aerospace, unscheduled maintenance events for aircraft cause stress and inconvenience to passengers. According to the Future of Work report published by GE (US), such events are estimated to cost USD 8 billion to the global airline industry. The adoption of digital twin helps predict the downtime, which can mitigate airline costs and the inconvenience caused by travel delays in the aerospace industry.
By implementing digital twins, engineers can optimize product performance by modifying the physical prototype, in which changes are made as per the requirement during the design phase. Therefore, creating a digital prototype with a digital twin to run simulations help in analyzing the process and taking corrective measures at any instance in lesser time and minimal costs. Thus, the deployment of digital twins has the potential to save production cost and time.
Restraint: Risks associated with data security due to the use of IoT and cloud platforms
There is increasing use of digital technologies, such as the cloud, Big Data, IoT, IIoT, and artificial intelligence, in various facets of business. Digital twin involves the integration of various IoT sensors and digital technologies for virtualizing a physical twin. Growing connectivity trend leads to a greater challenge on the level of security, compliance, and data protection, as well as regulations.
Increasing occurrences of viruses and cyberattacks lead to security concerns. Important information can be under threat by malicious viruses, causing a major loss to industries. The failure of IoT infrastructure providers and cloud platform providers to implement proper security measures may lead to the disruption of an entire flow of information. Industries adopting digital twins with such platforms are prone to malware that is targeted at industrial systems due to increasing dependence on web-based data interchange and off-the-shelf IT solutions.
Increasing data leads to security risks; thus, a digital twin helps in gathering information from many aspects of a business into one place. A digital twin is likely to contain data related to companies' IP, sensitive data, and access to the physical assets that are critical to any organization. The vast influx of data is valuable to the company as well as to potential digital predators. Business planning needs to include data security, data integrity, and privacy, as well as compliance considerations. Therefore, it is essential to ensure that stringent security practices are adopted while deploying a digital twin for a product, process, or system.
With the rise in cyberattacks on critical infrastructure over the past decade, cybersecurity has become a major concern among the users and vendors of industrial automation. Therefore, increasing threat pertaining to the security of the data, which is connected to the cloud, is a major restraint for the growth of the digital twin market. To overcome the hindrance of cyberattacks or data security, solution and service providers can add an extra level of security by implementing authentication tools that are periodically checked for authorized credentials and keys. This increases the level of security, and data breach can be avoided to a large extent.
Opportunity: Promising growth of digital twin technology in industries such as healthcare, aerospace, and automotive
Technological innovations are contributing to the growth of various industries. Digital twins have advantages in terms of technology, data and analytics, and innovation, which help these industries to grow. Currently, many companies have been transforming data collection and analytics, organization, and IT infrastructure to increase their performance agility. Principle and framework of a digital twin contribute to creating digital projects for organizations. A digital twin can drive other digital initiatives taken by organizations.
For instance, in 2015, the National Center for Advanced Manufacturing of NASA implemented a digital twin to create, test, and build its equipment in a virtual environment. This helped the institute provide the gathered information for inspecting the physical built of an equipment.
Moreover, in 2018, CNH Industries (a company involved in designing and manufacturing of wide range of agricultural, industrial, and commercial vehicles & powertrains) and Fair Dynamics built a digital twin of the manufacturing line, Iveco van chassis welding of CNH Industries, which focused on 3 major purposes—scheduled maintenance, condition-based maintenance, and predictive maintenance.
Many IoT vendors are collaborating with digital technology providers for efficient development of products and solutions across sectors such as automotive, healthcare, and aerospace. For instance, in 2016, Computer Science Corporation (CSC) (US) partnered with Microsoft Corporation (US) to build machine learning solutions at an industrial scale. The company used the Microsoft Cortana Intelligence Suite to run the digital twin that continuously simulates new methods of developing hybrid cars.
Additionally, Dassault Systemes (France) developed "Build to Operate," a product for manufacturing operations management solution, specifically for aerospace & defense. The solution can monitor, control, and validate all aspects of manufacturing operations, ranging from replicable processes and production sequences to the flow of deliverables throughout their supply chain. Airbus SAS (France), a helicopter manufacturer, deployed this system for its current and future helicopter manufacturing projects.
Challenge: Lack of awareness regarding cost benefits of digital twin adoption
Several companies are unaware of the advantages of adopting digital twins in their production processes. As it is a new technology, the companies are unclear about the economic benefits, investments involved, and cost benefits. Determining the potential of a digital twin is considered to be complex and diverse, which further complicates the adoption of this technology.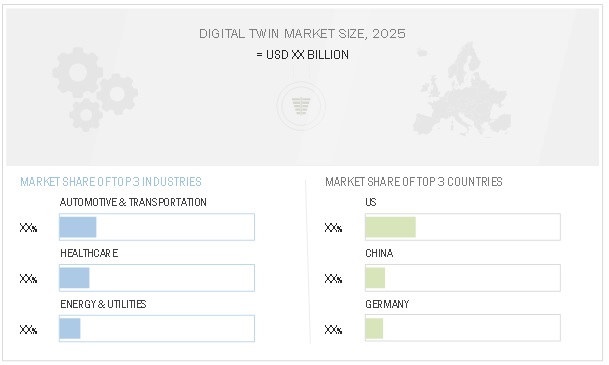 Report Scope
Report Metric

Details

Market Size Available for Years

2016–2025

Base Year Considered

2018

Forecast Period

2019–2025

Forecast Units

USD Billion, USD Million

Segments Covered

Techology, Type, Industry, Region

Regions Covered

APAC, North America, Europe, and RoW

Companies Covered

General Electric (US), IBM (US), PTC (US), Microsoft Corporation (US), Siemens AG (Germany), Ansys (US), SAP (Germany), Oracle (US), Robert Bosch (Germany), and SWIM.AI (US), and among others.
A total of 20 major players have been covered.
Digital Twin Market Segmentation:
This research report categorizes the overall digital twin market on the basis of technology, type, industry, and geography.
Digital Twin Market By Technology:
IoT & IIoT
Blockchain
Artificial Intelligence & Machine Learning
Augmented Reality, Virtual Reality, and Mixed Reality
Big Data Analytics
5G
Digital Twin Market By Type:
Product Digital Twin
Process Digital Twin
System Digital Twin
Digital Twin Market By Industry:
Aerospace & Defense
Automotive & Transportation
Home & Commercial
Healthcare
Energy & Utilities
Oil & Gas
Others
Digital Twin Market By Geography:
North America
Europe

UK
Germany
France
Rest of Europe

Asia Pacific (APAC)

China
Japan
India
Rest of APAC

Rest of the World (RoW)

Middle East
Africa
South America
Key Market Players
Key players in the market include General Electric (US), IBM (US), PTC (US), Microsoft Corporation (US), Siemens AG (Germany), ANSYS (US), SAP (Germany), Oracle (US), Robert Bosch (Germany), and SWIM.AI (US).
General Electric has its headquarters in the US. The business model of GE focuses on the development of the Industrial Internet of Things (IIoT) ecosystem. The company started developing industrial software solutions based on Big Data under its Intelligent Platforms division. The company is one of the founding members of the Industrial Internet Consortium. The company started its new business segment, GE Digital, in December 2018 to offer Predix, a digital software solution, for various industries. With the help of this solution, GE offers its solutions in the digital twin market space. The company strengthened its competitive position through investments in technology, globalization, partnerships, and agreements. The company has been investing in disruptive innovation, which is likely to improve its industrial productivity in the future. For instance, GE and Noble Corporation plc signed a partnership agreement, and through their partnership, they launched the digital drilling vessel, Digital RigSM. This solution helps achieve 20% operational expenditure reduction across the targeted equipment and improve drilling efficiency.
Recent developments
In February 2019, ANSYS launched ANSYS Twin Builder, which empowers organizations to optimize product operations and accelerate product development.
In March 2019, Siemens signed an acquisition agreement with a Saab Medav Technologies GmbH (Germany) for noise, vibration, and harshness (NVH) end-of-line quality testing business of Saab. This acquisition improved the quality testing for Siemens product digital twin.
In June 2018, ANSYS and SAP (Germany) partnered to build unique solutions for predictive maintenance of industrial assets, enabled by ANSYS Twin Builder.
Critical questions the report answers:
What are the key drivers, restraints, opportunities, and challenges pertaining to the digital twin market?
Which industries are the leading adopters of digital twin solutions?
Who are the leading digital twin solution providers in the market?
Who are the leading software providers in the market?
What are the recent developments in the digital twin ecosystem related to mergers and acquisitions, and partnerships?