The study involved four major activities in estimating the current market size of the electric bus market. Exhaustive secondary research was done to collect information on the market, the peer market, and the parent market. The next step was to validate these findings, assumptions, and sizing with the industry experts across value chains through primary research. The top-down and bottom-up approaches were employed to estimate the complete market size. Thereafter, market breakdown and data triangulation processes were used to estimate the market size of segments and subsegments.
Secondary Research
In the secondary research process, various secondary sources such as company annual reports/presentations, press releases, industry association publications [for example, publications of electric bus OEMs, Canadian Automobile Association (CAA), International Energy Agency (IEA), Federal Transit Administration (FTA), American Public Transportation Association (APTA), Regional Transportation Authority (RTA), country-level automotive associations and trade organizations, and the US Department of Transportation (DOT)], electric bus magazine articles, directories, technical handbooks, World Economic Outlook, trade websites, government organizations webistes, and technical articles have been used to identify and collect information useful for an extensive commercial study of the global electric bus market.
Primary Research
Extensive primary research has been conducted after acquiring an understanding of electric bus market scenario through secondary research. Several primary interviews have been conducted with market experts from the demand- and supply-side OEMs (in terms of component supply, country-level government associations, and trade associations) and component manufacturers across three major regions, namely, Asia Pacific, Europe, North America, Latin America, and Middle East & Africa. Approximately 30% and 70% of primary interviews have been conducted from the demand and supply side, respectively. Primary data has been collected through questionnaires, emails, LinkedIn, and telephonic interviews. In the canvassing of primaries, we have strived to cover various departments within organizations, such as sales, operations, and administration, to provide a holistic viewpoint in our report.
After interacting with industry experts, we conducted brief sessions with highly experienced independent consultants to reinforce the findings from our primaries. This, along with the in-house subject matter experts' opinions, has led us to the findings as described in the remainder of this report. Following is the breakdown of primary respondents.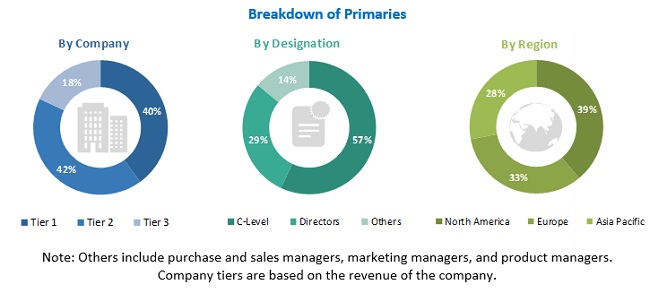 To know about the assumptions considered for the study, download the pdf brochure
Market Size Estimation
The top-down approach was used to estimate and validate the total market size. This method was also used extensively to estimate the size of various subsegments in the market. The research methodology used to estimate the market size includes the following:
The key players in the industry and markets have been identified through extensive secondary research
The industry's supply chain and market size, in terms of value, have been determined through primary and secondary research processes
All percentage shares, splits, and breakdowns have been determined using secondary sources and verified through primary sources
Data Triangulation
After arriving at the overall market size—using the market size estimation processes as explained above—the market was split into several segments and subsegments. To complete the overall market engineering process and arrive at the exact statistics of each market segment and subsegment, data triangulation and market breakdown procedures were employed, wherever applicable. The data was triangulated by studying various factors and trends from both the demand and supply sides.
Report Objectives
To segment and forecast the global electric bus market size in terms of volume
To segment and forecast the market size by propulsion type [battery electric vehicle (BEV), plug-in hybrid electric vehicle (PHEV), and fuel cell electric vehicle (FCEV)]
To segment and forecast the electric bus market size by application (intercity and intracity)
To segment and forecast the market size by range (less than 150 miles, 150–300 miles, and above 300 miles)
To segment and forecast the market size by consumer segment (fleet operator and government)
To segment and forecast the market size by length of bus (less than 9 m, 9−14 m, and more than 14 m)
To segment and forecast the market size by battery capacity (less than 50 kWh, 50-250 kWh, and above 250 kWh)
To segment and forecast the market size by power output (less than 100 kW, 100–250 kW, and above 250 kW)
To forecast the electric bus market size with respect to key regions, namely, North America, Europe, Asia Pacific, Latin America, and Middle East & Africa
To provide detailed information regarding the major factors influencing market growth (drivers, challenges, restraints, and opportunities)
To strategically analyze markets with respect to individual growth trends, future prospects, and contribution to the total market
Available Customizations
With the given market data, MarketsandMarkets offers customizations in line with the company's specific needs.
Electric Bus Market, By Range at country level (For countries covered in the report)
Electric Bus Market, By Length of Bus at country level (For countries covered in the report)
Electric Bus Market, By Application at country level (For countries covered in the report)
Company Information
Profiling of Additional Market Players (Up to 5)