[69 Pages Report] The global facial recognition market size to grow from USD 3.2 billion in 2019 to USD 7.0 billion by 2024, at a Compound Annual Growth Rate (CAGR) of 16.6% during 2019–2024. Major growth drivers for the market include increasing users and data security initiatives by government, growing usage of mobile devices, and increasing demand for robust fraud detection and prevention systems.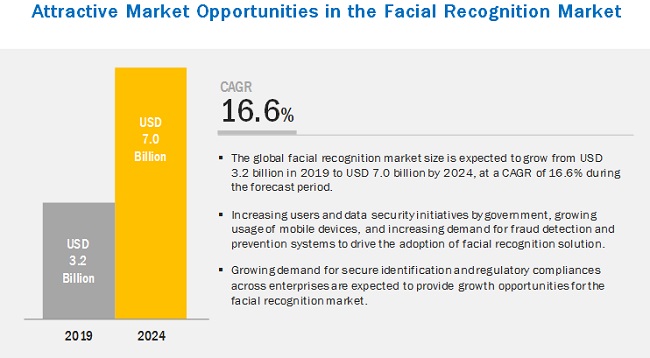 Financial services segment to hold a larger market size during the forecast period
Over the past couple of years, the financial services segment has been investing heavily in technologies including facial recognition-enabled biometrics solution to enhance services such as seamless onboarding process, transaction authentication, and authentic user session monitoring. Additionally, the financial services segment uses facial recognition solution to know your customers history (KYC), customers' loan requirements, and checking and validating customers' documents.
Services segment to grow at the highest CAGR during the forecast period
In the facial recognition market, the services segment is expected to grow at the highest CAGR during the forecast period. Services are mostly offered in governments, homeland security, military, retail, healthcare, and many other verticals. Additionally, facial recognition services are also used for feasibility assessment, analysis, and advisory of large-scale government and military projects. It also includes requirement gathering, biometric security design, technology evaluation, and validation of biometric features.
3D facial recognition software tools to hold the largest market size during the forecast period
3D facial recognition software can identify and verify different facial expressions of an individual even in low light and completely dark areas. Due to which, most of the enterprises and government bodies have started adopting 3D facial recognition software on their premises. Additionally, facial recognition software is used in cross- border monitoring, document verification, and identity management.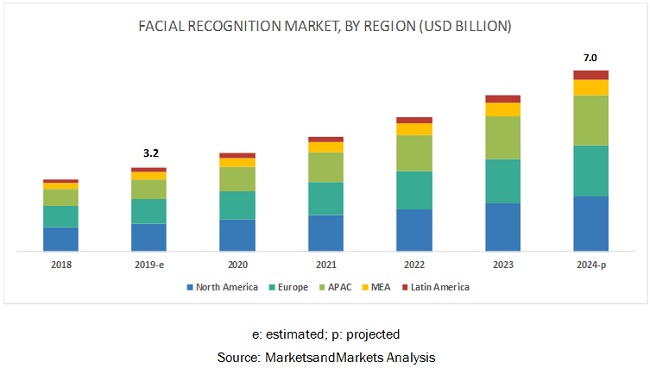 North America to hold the largest market size during the forecast period
North America is expected to contribute to the highest market share in terms of revenues during the forecast period, as it is a technologically advanced region with a high number of early adopters and the presence of major market players. Factors such as large-scale funded programs and employee access monitoring in buildings are driving the revenue growth in this region. Furthermore, mandatory regulations imposed by government regulatory entities to adopt the best-in-class technologies and standards have fueled the market.
Key Facial Recognition Market players
Major vendors in the global market include NEC (Japan), Aware (US), Gemalto (Netherlands), Ayonix Face Technologies (Japan), Cognitec Systems GmbH (Germany), NVISO SA (Switzerland), Daon (US), StereoVision Imaging (US), Techno Brain (Kenya), Neurotechnology (Lithuania), Innovatrics (Slovakia), id3 Technologies (France), IDEMIA (France), Animetrics (US), and MEGVII (China).
NEC (Japan) offers integrated solutions, components, services, and integrated solutions for computing and communications applications. NEC develops and markets its facial recognition offerings under the products segment – public safety, and offers 2 solutions, namely, NeoFace Watch and NeoFace Reveal.
Recent Developments
In April 2019, NEC partnered with Nagasaki University to establish a program on global health and biometric authentication for Nagasaki University's Graduate School of Tropical Medicine and Global Health Studies.
In November 2018, Ayonix partnered with Ipsidy, a biometric solution provider, to offer a new biometric security system. This partnership will help Ayonix 3D facial recognition technology adopt high-speed performance and detection capabilities.
In October 2018, Daon partnered with Avtex, a consulting and technology company, to improve contact center experiences through Daon's IdentityX platform.
Critical questions addressed by the report
What are the current trends that are driving the facial recognition market?
In which application areas are most of the verticals deploying facial recognition solution?
Where will all these developments take the industry in the mid to long-term?
Which companies are the top vendors in the market and what is their competitive analysis?
What are the drivers and challenges of the market?
To speak to our analyst for a discussion on the above findings, click Speak to Analyst