The study involves four major activities to estimate the current market size for feed premixes. Exhaustive secondary research was conducted to collect information on the market, peer market, and parent market. These findings, assumptions, and market size were validated with industry experts across the value chain through primary research. Both the top-down and bottom-up approaches were employed to estimate the complete market size. After that, the market breakdown and data triangulation were used to estimate the market size of segments and subsegments.
Secondary Research
In the secondary research process, various secondary sources such as Hoovers, Bloomberg BusinessWeek, and Dun & Bradstreet were referred to, to identify and collect information for this study. These secondary sources included annual reports, press releases & investor presentations of companies, white papers, certified publications, articles by recognized authors, gold standard & silver standard websites, food safety organizations, regulatory bodies, trade directories, and databases.
Primary Research
The feed premixes market comprises several stakeholders such as manufacturers of feed premixes, suppliers of raw materials, manufacturers of feed products, government & research organizations, and industry bodies. The demand-side of this market is characterized by the rising demand from the feed industry. The supply-side is characterized by advancements in technology and diverse application industries. Various primary sources from both the supply and demand sides of the market were interviewed to obtain qualitative and quantitative information.
To know about the assumptions considered for the study, download the pdf brochure
Market Size Estimation
Both the top-down and bottom-up approaches were used to estimate and validate the total size of the feed premixes market. These methods were also used extensively to estimate the size of various subsegments in the market. The research methodology used to estimate the market size includes the following:
The key players in the industry and markets were identified through extensive secondary research.
The industry's supply chain and market size, in terms of value and volume, were determined through primary and secondary research processes.
All percentage shares, splits, and breakdowns were determined using secondary sources and verified through primary respondents
Data Triangulation
After arriving at the overall market size-using the market size estimation processes, as explained above-the market was split into several segments and subsegments. To complete the overall market engineering process and arrive at the exact statistics of each market segment and subsegment, the data triangulation and market breakdown procedures were employed. The data was triangulated by studying various factors and trends from both the demand and supply sides.
Report Objectives
To define, segment, and project the global market size for the feed premixes market
To understand the structure of the feed premixes market by identifying its various subsegments
To provide detailed information about the key factors influencing the growth of the market (drivers, restraints, opportunities, and industry-specific challenges)
To analyze the micro-markets, with respect to individual growth trends, future prospects, and their contribution to the total infant formula ingredients market
To project the size of the market and its submarkets, in terms of value and volume, with respect to the regions (along with their respective key countries)
To profile the key players and comprehensively analyze their core competencies
To understand the competitive landscape and identify the major growth strategies adopted by the players across key regions
To analyze the competitive developments such as expansions & investments, mergers & acquisitions, new product launches, partnerships, joint ventures, and agreements
Scope of the Report
| | |
| --- | --- |
| Report Metric | Details |
| Market size available for years | 2017-2025 |
| Base year considered | 2018 |
| Forecast period | 2019-2025 |
| Forecast units | Value (USD Million) |
| Segments covered | Ingredient type, livestock, and form |
| Geographies covered | North America, Europe, Asia Pacific, South America, and Rest of World (RoW) |
| Companies covered | Koninklijke DSM N.V. (Netherlands), Nutreco N.V. (Netherlands), Cargill, Incorporated (US), DLG Group (Denmark), Archer Daniels Midland Company (US), Invivo Nutrition ET Sante Animales (France), Charoen Pokphand PCL (Thailand), Land O'lakes, Inc. (US), AB Agri Ltd. (UK), and Phibro Group (US). |
This research report categorizes the feed premixes market based on ingredient ingredient type, form, livestock, and region.
Based on ingredient type:
Vitamins
Minerals
Amino acids
Antibotics
Antioxidants
Nucleotides
Fibers
Others (preservatives, organic acids, enzymes, pigments, and flavors)
Based on livestock
Poultry
Ruminants
Swine
Aquatic animals
Others (Horse and pet animals)
Based on form
Based on the region:
North America
Europe
Asia Pacific
South America
Rest of the World (RoW) (Middle East & Africa)
Available Customizations
Based on the given market data, MarketsandMarkets offers customizations in the reports as per client-specific requirements. The available customization options are as follows:
Regional Analysis
Further breakdown of the Rest of Asia Pacific feed premixes market, by country
Further breakdown of other Rest of Europe feed premixes market, by country
Further breakdown of other Rest of the World feed premixes market, by region
Company Information
Detailed analysis and profiling of additional market players (up to five)
The feed premix market is projected to reach USD 10.26 Billion by 2020, at a CAGR of 3.0%, as studied from 2015 to 2020.
The market for feed premix products has a significant impact on the animal nutrition industry. Feed premix is broadly categorized based on their type into vitamins, minerals, amino acids, antibiotics, and others include enzymes, preservatives, organic acids, antioxidants, pigments, and flavors. The feed premix market is also segmented on the basis of livestock into poultry, ruminants, swine, aquatic animals, and other animals which includes pet animals, birds, and reptiles.
Growing awareness regarding the importance of health and hygiene of livestock has been a significant driving force for this market after immense livestock loss caused by avian flu outbreaks in Asia-Pacific regions. Feed premix products provide a wholesome nutrition, metabolic efficiency, effective growth and development, and health protection to livestock. In order to ensure healthy growth of poultry, swine, and cattle, vitamins and minerals must be supplemented while preparing the feed for consumption.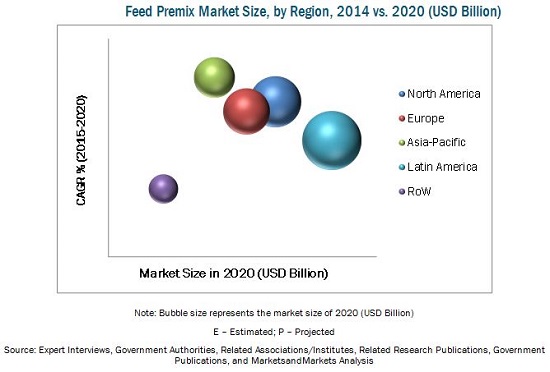 The market for feed premix in North America is projected to reach nearly USD 2.5 Billion in 2020 and is expected to remain as a strong market along with Asia-Pacific region. The Asia-Pacific region accounted for the largest market share in 2015 and is projected to grow be the fastest-growing market during the review period.
The feed premix market of key developing regions such as Asia-Pacific and Latin America witnessed the entry of important market players, business units, and research centers of key players.
The key players in this market have been involved in the process of developing a range of customized solutions to target specific needs of the livestock breeders and cattle owners. Thus, the feed premix market has been gaining more global presence and acceptance among customers. Leading participants in this market include Koninklijke DSM N.V. (The Netherlands), Cargill, Incorporated (U.S.), Nutreco N.V. (The Netherlands), InVivo Nutrition Et Sante Animales (France), DLG Group (Denmark), Archer Daniels Midland Company (U.S.), and AB Agri Ltd. (U.K.). These players have been implementing different strategies to achieve growth and development in this market.
Especially, investments on development of innovative products and capacity expansions exhibit the strong competition to capitalize on the market demand for feed premix products.