[158 Pages Report] The Hyperloop Technology Market report share is estimated to be USD 1.2 billion in 2021 and expected to reach USD 6.6 billion by 2026, at a CAGR of 40.4% from 2021 to 2026.
Few of the drivers for the growth of this market include less expensive and minimum infrastructure maintenance, and decreased travel time and transport costs.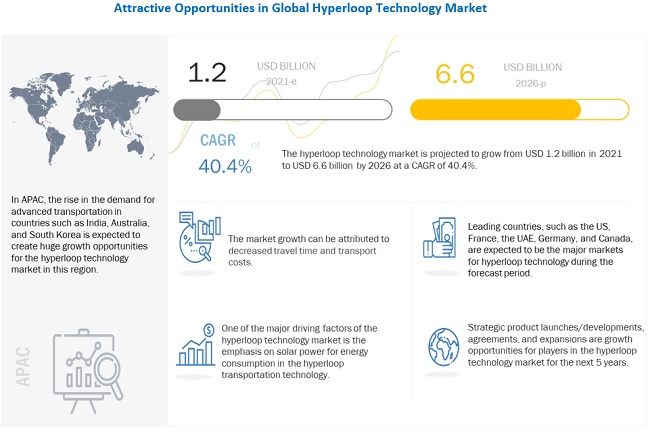 To know about the assumptions considered for the study, Request for Free Sample Report
Hyperloop Technology Market Dynamics
Driver: Creation of hyperloop network requires less land area
An increase in the number of connected devices has led to the requirement for high-speed internet connectivity, especially in digitally-advanced workplaces. With 3G becoming obsolete and 4G expanding its prospects rapidly across different applications, efforts are being made worldwide on a large scale for the development of the 5G technology. The 5G network infrastructures are expected to offer connectivity of ≥1 Gbps as speculated by several leading network providers, such as AT&T, Sprint, and T-Mobile, among others. The 5G network infrastructures are intended to cover end-to-end/point-to-point-based ecosystems to develop a fully connected world using a highly heterogeneous network. The 5G network is expected to offer high-speed data transfer, increased device connection density, and real-time services with minimum latency. This, in turn, is expected to contribute to the increasing requirement for network infrastructure testing services.
Restraint: Safety and security concerns
Passenger safety and security is one of the major concerns for the growth of the hyperloop market. Hyperloop is a new transportation system that is elevated and enables travel at very high speeds of around 650 mph inside a low air-pressure tube. In comparison with bullet trains and airplanes, which have past precedents in the form of regular trains or commercial airplanes, hyperloop has no resemblance to any conventional means of transportation. There is still skepticism about the reliability of hyperloop technology. Governments and capital investors have started believing more in the technology after the first hyperloop became operational. Currently, companies such as HTT and Virgin Hyperloop are conducting trials to expedite the development
Opportunity: Need for urban decongestion
The rapidly increasing population is one of the major reasons for traffic congestion worldwide. Every country in the world is facing problems related to road congestion. Countries such as China, Japan, India, the US, the Netherlands, the UK, and France are facing heavy road traffic issues in metro cities, and it is becoming difficult to control the growing number of vehicles on the roads on a daily basis. Other modes of transport are not always viable; air transport is costly, and water transport is time-consuming. Thus, hyperloop would be an efficient solution to overcome all these problems.
Challenge: Possibility of passenger emergency due to power outage
The possibility of passenger emergency in the case of a power outage is one of the major challenges faced by the hyperloop technology. In case of an emergency, such as human control error or unpredictable weather attacks, the hyperloop has to be able to carry passengers to the nearest station to ensure their safety. Hyperloop pods and tubes need to be equipped with evacuation points such as windows, doors, and other emergency exits. All the capsules should have direct radio contact with station operators, allowing passengers to report any incident, request for help, and receive on-board assistance when required. An emergency situation in a hyperloop capsule requires the system to complete the planned journey and meet emergency personnel at the destination.
Capsules to grow at the highest CAGR in Hyperloop Market, by transportation during the forecast period.
Capsules are expected to grow at the highest CAGR in the coming years owing to additional technological developments in the architecture of capsules. Additionally, freight capsules will require modifications according to the requirements for the forecast period. Freight transportation is expected to grow at the highest CAGR due to less regulations and minimal environmental restraints (for instance, impact of acceleration and pressure) for freight. It is expected to attain higher adoption in the coming years.
Passenger segment to hold largest share of Hyperloop Technology Market during the forecast period
Passenger transportation is expected to hold a major share of the market as most companies are focusing on commuters and connecting major cities and countries to gain a higher share of the market. It is expected to reduce travel time by drastic hours.A passenger carriage pod is designed to carry only passengers. According to the design or prototype, each capsule or pod would be capable of carrying approximately 40 passengers and traveling at the speed of 760 mph (1,220 kmph). According to the Alpha Document by SpaceX, passenger carriage pods are designed to be 7 feet 4 inches (2.23 meters) in diameter. According to different industry experts, passenger hyperloop capsules are expected to be operational after freight hyperloop capsules, considering the possible threats to human health and safety posed by traveling at such high speeds. According to HTT (US), the final operational capsule would be ready for the public in early 2023.
More than 700 kmph speed in Hyperloop Technology Market to register highest CAGR during the forecast period
As vehicles are contained within a solid tube, any change of direction is difficult with hyperloop. As collisions with the tube wall at 1200 km/h are not tolerable, for reasons of weight, energy, and steering, the size of the vehicle is seriously constrained. It is also necessary to avoid curves or gradients of the guideway as much as possible in order to stay within the comfort level, and lateral acceleration of 0.1 g should not be exceeded, which means that at a maximum speed of 1200 km/h, the permitted curve radius would be more than 100 km. Existing interstates are a possibility because public rights-of-way are hundreds of feet wide on either side. Going down the middle is a possibility too. But those are options only if the route is straight. Negotiating a curve is not possible at higher speeds..
High demand for better connectivity in Australia, India and South Korea, to drive the market growth for hyperloop technology in Asia Pacific region
Australia is projected to hold the largest market in Asia Pacific for the forecast period. The proposed route of an Australian hyperloop would be between Sydney and Melbourne, which will reduce the 8-hour car journey to 55 minutes. To achieve this, the hyperloop system would send commuter and freight pods flying through a depressurized tube at speeds in excess of 1,000 km/h. Ultraspeed Australia, the official Australian representative of Virgin Hyperloop has flagged plans to have a functioning hyperloop in Australia.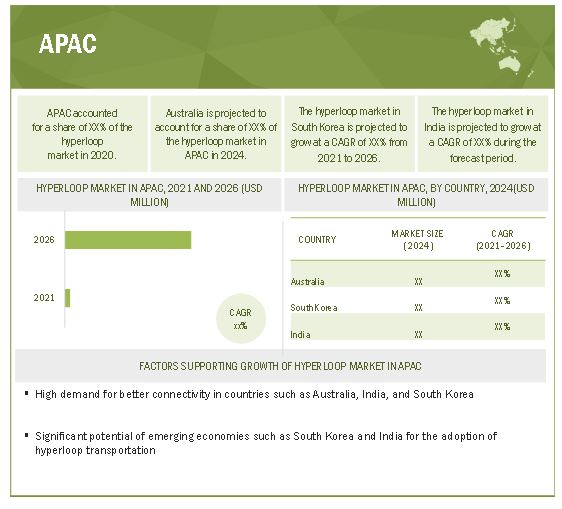 To know about the assumptions considered for the study, download the pdf brochure
Key Players
The hyperloop technology market is dominated by a few globally established players such asVirgin Hyperloop(US), Hyperloop Transportation Technologies (US), Hardt B.V. (Netherlands), Zerelos (Spain), Nelove (Poland), AECOM (US), The Boring Company (US) and Transpod (Canada).
Hyperloop Technology Market Report Scope :
Report Metric

Details

Market Size Value in 2021
USD 1.2 Billion
Revenue Forecast in 2026
USD 6.6 Billion

Historical Data Available for Years

2019–2026

Base Year Considered

2020

Forecast period

2021–2026

CAGR

40.4%

Segments covered

By Transportation System,
By Carriage Type
By Speed

Region Covered

North America,
APAC,
Europe,
RoW

Market Leaders

Virgin Hyperloop (US),
Hyperloop Transportation Technologies (US),
Hardt B.V. (Netherlands),
TRANSPOD (Canada),
Zeleros (Spain).

Key Market Driver
Creation of hyperloop network requires less land area
Key Market Opportunity
Need for urban decongestion
Largest Growing Region
Asia Pacific
Largest Market Share Segment
Passenger segment
Highest CAGR Segment
More than 700 kmph speed in Hyperloop Technology
Largest Application Market Share
Consumer Applications
This report categorizes the Hyperloop Technology Market based on transportation system, carriage type, speed, and region.
Hyperloop Technology Market, by Transportation system:
Capsule
Guideway
Propulsion System
Route
Hyperloop Technology Market, By Carriage Type
Hyperloop Technology Market, By Speed
More than 700 kmph
Less than 700 kmph
Hyperloop Technology Market, by Region:
North America
US
Canada
Europe
Germany
France
Spain
Netherlands
Poland
APAC
Australia
South Korea
India
RoW
South America
Middle East
Recent Developments
In March 2021, Zeleros presented a large vehicle, an impressive 6-meter-long vehicle demonstrator, that will be exhibited from October 2021 at Expo Dubai 2021. The vehicle shows the main technologies of the Zeleros hyperloop transport system, which stands out for its scalability, since it includes most of the technologies integrated in the vehicle that will make long-distance routes profitable and energy efficient, connecting cities such as Barcelona with Paris in a matter of minutes, at speeds of up to 1000 km/h
In July 2020,Hardt presented a fully functional life-size segment of the hyperloop interior, the CABIN-1. For the first time, future travelers can get an impression of what traveling with this new sustainable way of high-speed travel will be like. As soon as the current situation allows for it, CABIN-1 will be visiting public places throughout Europe.
In August 2020, TRANSPOD signed an MoU with the Government of Alberta in Canada to support the development of safe, high-speed transportation in Alberta, based on the 1000 km/h TransPod vehicle
Frequently Asked Questions (FAQ):
What is the current size of the hyperloop technology market?
Hyperloop technology market size is valued at USD 1.2 billion in 2021and is anticipated to USD 6.6 billion by 2026; growing at a CAGR of 40.4% from 2021 to 2026.
What is guideway and why do they hold the largest market share during the forecast period?
Guideway consists of tubes and switches. The hyperloop route is formed with a partially evacuated cylindrical steel tube. The tube is placed on top of the concrete pylons that are placed at a distance of approximately 30 meters, which varies slightly depending on the location. The diameter of the tube permits optimal air flow around the capsule to enhance performance and reduce energy consumption at the expected travel speed. According to the Alpha document by SpaceX (US), the inner diameter of the hyperloop passenger tube is optimized to be 7 feet 4 inches, and that of the freight carriage tube is 10 feet 10 inches. The designated pressure inside the tube would be around 0.015 psi (100 pascals)—1/6th of the pressure on Mars. The low-pressure environment minimizes the drag force on the capsule vehicle and helps maintain high speed as increased drag force leads to additional power consumption.
What are the challenges faced by hyperloop technology market?
Shortages of capital from government and capital investors, possibility of passenger emergency due to power outage and capsule depressurization risk are some of the challenges faced by the hyperloop technology market.
What are the technological trends going inthe hyperloop technology market?
Maglev, also called a magnetic levitation train or maglev train, is a floating vehicle for land transportation that is supported by either electromagnetic attraction or repulsion. Maglevs were conceptualized during the early 1900s by American professor and inventor Robert Goddard and French-born American engineer Emile Bachelet and have been in commercial use since 1984, with several units operating at present and extensive networks proposed for the future.
Which are the major companies in thehyperloop technology market?
Virgin Hyperloop (US), Hyperloop Transportation Technologies (US), and Transpod (Canada)are some of the players dominating the global hyperloop technology market.
To speak to our analyst for a discussion on the above findings, click Speak to Analyst