Impregnating Resins Market
Impregnating Resins Market by Type (Solventless, Solvent Based), Application (Motors & Generators, Home Appliances, Transformers, Automotive Components), Region (North America, APAC, Europe, MEA, South America) - Global Forecast to 2025
Report Code: CH 6756
Mar, 2020, by marketsandmarkets.com
Impregnating Resins Market Size
The global impregnating resins market was valued at USD 1.4 billion in 2020 and is projected to reach USD 1.9 billion by 2025, growing at 6.5% cagr during the forecast period. The major drivers for the market include increasing industrialization, rapid urbanization, and transformations in power generation, distribution & transmission infrastructure. The replacement of combustion engines in automobiles with electric motors is also boosting the demand for impregnating resins.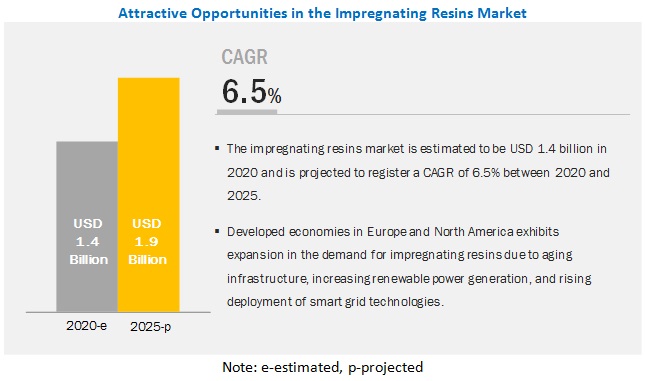 Based on type, the solventless resins segment is projected to lead the impregnating resins market during the forecast period.
Solventless impregnating resins have better properties to sustain secondary insulation. These resin formulations include monomer-based epoxy, alkyd, and polyesteramides resins. Solventless impregnating resins have low viscosity that ensures fast and deep impregnation of rotational machines. Advantages offered by solventless impregnation, such as room temperature impregnation, excellent stability, very high reactivity, and versatile processability, are responsible for the large market size in this segment.
Based on application, the automotive components application segment is projected to register the highest CAGR during the forecast period.
The automotive components segment is projected to register the highest CAGR between 2020 and 2025. Impregnating resins are used for the impregnation of starters & alternators in conventional vehicles and electric motors in electric vehicles. Accelerated decarbonization and stringent regulations to reduce greenhouse gas emission (GHG) are propelling the demand for electric vehicles, which are boosting the consumption of impregnating resins in this segment. Government initiatives, such as the development of charging infrastructure and subsidies on electric vehicles across the globe, are also driving the market in this application.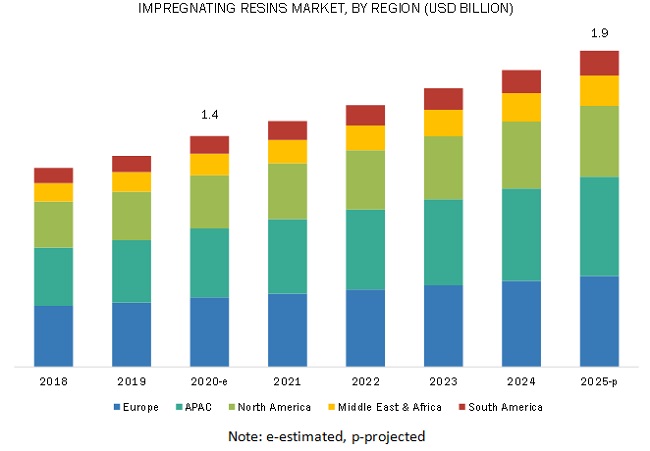 APAC is projected to be the fastest-growing market during the forecast period
The impregnating resins market in APAC has immense growth potential driven by the rapid expansion of the manufacturing sector. APAC consists of some large and rapidly growing economies, such as China, India, Indonesia, Malaysia, Vietnam, and Thailand. Across these economies, local governments are making efforts to build infrastructure for industrial expansion and to attract foreign direct investments (FDI). The major drivers for the impregnating resins market in APAC are the electrification of rural areas in the developing countries, rapid urbanization, availability of low-cost labor, and government reforms to expand the manufacturing industry.
Impregnating Resins Market Players
Elantas (Germany), Axalta Coating Systems (US), Voll Roll Holdings (Switzerland), Kyocera Corporation (Japan), Henkel (Germany), and Hitachi Chemical Co., Ltd. (Japan) are some of the leading players with a substantial market share. Investment & expansion, agreement & collaboration, and new product launch were the major growth strategies adopted by the market players between 2017 and 2019 to enhance their product portfolio and meet the growing demand for impregnating resins in the emerging economies.
Impregnating Resins Market Report Scope
Report Metric

Details

Market Size Value in 2020

USD 1.4 billion

Revenue Forecast in 2025

USD 1.9 billion

CAGR

6.5%

Years considered for the study

2018–2025

Base year

2019

Forecast period

2020–2025

Units considered

Volume (Kiloton), Value (USD)

Segments

Type, Application, and Region

Regions

North America, APAC, Europe, Middle East & Africa, and South America

Companies

Elantas (Germany), Axalta Coating Systems (US), Von Roll Holdings (Switzerland), Henkel (Germany), Kyocera Corporation (Japan), and Hitachi Chemical Co., Ltd. (Japan)
Total 25 major players covered
This research report categorizes the impregnating resins market based on type, application, and region.
By Type:
Solventless
Solvent Based
Others (Waterborne and Solvent-free)
By Application:
Motors & Generators
Home Appliances
Transformers
Automotive Components
Others (Power Tools and Electric Tools)
By Region:
Europe
North America
APAC
Middle East & Africa
South America
Recent Developments
In December 2018, Axalta Coating Systems expanded its product portfolio through the launch of Voltatex 4224. The company was successful in offering low-emission, and styrene, vinyl toluene-free impregnating resin.
In August 2018, Von Roll Holdings signed a five-year supply contract with Renault (Boulogne-Billancourt, France). This agreement resulted in a long-term technical partnership to develop innovative insulation solutions for electric vehicles.
In October 2018, Kyocera Corporation announced to build a manufacturing plant in Kanagawa, Japan. The facility will increase the company's capacity by 50% for conductive and insulation pastes utilized in semiconductors, digital devices, automotive electronics, and energy products, among others. The development will help the company cater to the increasing demand for impregnating resins globally.
In April 2019, the company invested in opening an OEM Application Center in Rocky Hill, US. This investment has helped the company innovate and design products as per the end-use requirements.
Critical questions the report answers:
What are the upcoming hot bets for the impregnating resins market?
How are the market dynamics for different types of impregnating resins?
What are the significant trends in applications influencing the market?
Who are the major manufacturers of impregnating resins?
What are the factors governing the impregnating resins market in each region?
To speak to our analyst for a discussion on the above findings, click Speak to Analyst
TABLE OF CONTENTS
1 INTRODUCTION
1.1 OBJECTIVES OF THE STUDY
1.2 MARKET DEFINITION
1.3 MARKET SCOPE
1.3.1 YEARS CONSIDERED FOR THE STUDY
1.4 CURRENCY
1.5 UNITS CONSIDERED
1.6 LIMITATIONS
1.7 STAKEHOLDERS
2 RESEARCH METHODOLOGY
2.1 RESEARCH DATA
2.1.1 SECONDARY DATA
2.1.1.1 KEY DATA FROM SECONDARY SOURCES
2.1.2 PRIMARY DATA
2.1.2.1 KEY DATA FROM PRIMARY SOURCES
2.1.2.2 KEY INDUSTRY INSIGHTS
2.1.2.3 BREAKDOWN OF PRIMARY INTERVIEWS
2.2 MARKET SIZE ESTIMATION
2.3 DATA TRIANGULATION
2.4 ASSUMPTIONS
3 EXECUTIVE SUMMARY
4 PREMIUM INSIGHTS
5 MARKET OVERVIEW
5.1 INTRODUCTION
5.2 MARKET DYNAMICS
5.2.1 DRIVERS
5.2.1 RESTRAINTS
5.2.2 OPPORTUNITIES
5.2.3 CHALLENGES
5.3 PORTER'S FIVE FORCES ANALYSIS
5.3.1 THREAT OF NEW ENTRANTS
5.3.2 THREAT OF SUBSTITUTES
5.3.3 BARGAINING POWER OF SUPPLIERS
5.3.4 BARGAINING POWER OF BUYERS
5.3.5 INTENSITY OF COMPETITIVE RIVALRY
6 IMPREGNATING RESINS MARKET, BY TYPE
6.1 INTRODUCTION
6.2 SOLVENT-BASED RESINS
6.3 SOLVENT-LESS RESINS
6.4 OTHERS
6.4.1 SOLVENT-FREE RESINS/ VOC-FREE RESINS
6.4.2 WATER BASED RESINS
7 IMPREGNATING RESINS MARKET, BY APPLICATION
7.1 INTRODUCTION
7.2 MOTORS & GENERATORS
7.3 TRANSFORMERS
7.4 HOME APPLIANCES
7.6 AUTOMOTIVE COMPONENTS
7.5 OTHERS
*Only qualitative data will be provided for the sub-segment.
8 IMPREGNATING RESINS MARKET, BY REGION
8.1 INTRODUCTION
8.2 APAC
8.2.1 CHINA
8.2.2 INDIA
8.2.3 JAPAN
8.2.4 SOUTH KOREA
8.2.5 AUSTRALIA
8.2.6 REST OF APAC
8.3 NORTH AMERICA
8.3.1 US
8.3.2 CANADA
8.3.3 MEXICO
8.4 EUROPE
8.4.1 GERMANY
8.4.2 UK
8.4.3 FRANCE
8.4.4 ITALY
8.4.5 SPAIN
8.4.5 REST OF EUROPE
8.5 MIDDLE EAST & AFRICA
8.5.1 SAUDI ARABIA
8.5.2 SOUTH AFRICA
8.5.3 U.A.E
8.5.4 REST OF MIDDLE EAST & AFRICA
8.6 SOUTH AMERICA
8.6.1 BRAZIL
8.6.2 ARGENTINA
8.6.3 REST OF SOUTH AMERICA
9 COMPETITIVE LANDSCAPE
9.1 OVERVIEW
10 COMPANY PROFILES
Business Overview, Strength of Product Portfolio, Business Strategy Excellence, Recent Developments
10.1 AXALTA COATING SYSTEMS GERMANY GMBH & CO. KG
10.2 ELANTAS GMBH
10.3 VON ROLL HOLDING AG
10.4 HENKEL
10.5 HUNTSMAN
10.6 HITACHI CHEMICAL CO., LTD.
10.7 KYOCERA CORPORATION
10.8 AEV LTD.
10.9 3M
10.10 WACKER CHEMIE AG
10.11 OTHERS
10.11.1 MOMENTIVE
10.11.2 VUKI
10.11.3 ADITYA BIRLA CHEMICALS
10.11.4 ROLKEM
10.11.5 CHUO HATSUMEI INSTITUTE CO., LTD.
10.11.6 JYOTI ENTERPRISES
10.11.7 ROBNOR RESINLAB
10.11.8 POLYMER COMPOSITES INC.
10.11.9 BAWA POLYMERS
*Other companies would be added after preliminary secondary research is completed
*Details might not be captured in case of unlisted companies.
11 APPENDIX
11.1 INSIGHTS FROM INDUSTRY EXPERTS
11.2 DISCUSSION GUIDE
11.3 KNOWLEDGE STORE: MARKETSANDMARKETS SUBSCRIPTION PORTAL
11.4 INTRODUCING RT: REAL-TIME MARKET INTELLIGENCE
11.5 AVAILABLE CUSTOMIZATIONS
11.6 RELATED REPORTS
11.7 AUTHOR DETAILS
The study involved four major activities in estimating the current impregnating resins market size. The exhaustive secondary research was done to collect information on the market, peer market, and parent market. The next step was to validate these findings, assumptions, and sizing with industry experts across the value chain through primary research. Both top-down and bottom-up approaches were employed to estimate the total market size. After that, the market breakdown and data triangulation methodologies were used to estimate the market size of segments and subsegments.
Secondary Research
In the secondary research process, various sources were referred to for identifying and collecting information for this study. The secondary sources included annual reports, press releases & investor presentations of companies; white papers; certified publications; articles from recognized authors; authenticated directories; and databases. Secondary research was mainly conducted to obtain essential information about the supply chain of the industry, the monetary chain of the market, the total market players, market classification and segmentation according to industry trends to the bottom-most level, regional markets, and key developments from both the market- and technology-oriented perspectives.
Primary Research
In the primary research process, various primary sources from both the supply sides and demand sides were interviewed to obtain qualitative and quantitative information for this report. The primary sources from the supply side included industry experts, such as chief executive officers (CEOs), vice presidents (VPs), marketing directors, technology & innovation directors, consultants, managers, and related key executives from major companies and organizations operating in the market. The primary sources from the demand side included lab technicians, technologists, and sales/purchase managers from end-use industries.
Following is the breakdown of primary respondents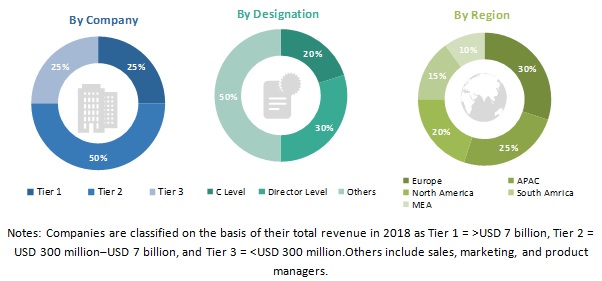 To know about the assumptions considered for the study, download the pdf brochure
Market Size Estimation
Both the top-down and bottom-up approaches were used to estimate and validate the total size of the impregnating resins market. These methods were also used extensively to determine the size of various sub-segments in the market. The research methodology used to estimate the market size includes the following:
The key players in the industry and markets were identified through extensive secondary research.
The industry's supply chain and market size, in terms of value, were determined through primary and secondary research.
All the percentage shares, splits, and breakdowns were determined using secondary sources and verified through primary sources.
Data Triangulation
After arriving at the overall market size-using the estimation processes as explained above-the market was split into several segments and sub-segments. To complete the overall market engineering process and arrive at the exact statistics of each market segment and subsegment, the data triangulation, and market breakdown procedures were employed, wherever applicable. The data was triangulated by studying various factors and trends from both the demand and supply sides in the medical device sector.
Objectives of the Study:
To define, describe, and forecast the impregnating resins market size, in terms of volume and value
To provide detailed information about the key factors (drivers, restraints, opportunities, and challenges) influencing the market growth
To analyze and forecast the market by type and application
To forecast the size of the market for five regions, namely, Asia Pacific (APAC), Europe, North America, South America, and the Middle East & Africa, along with their key countries
To strategically analyze the micromarkets1 for individual trends, growth prospects, and their contribution to the overall market
To analyze the opportunities in the market for stakeholders and provide a competitive landscape for the market leaders
To analyze the competitive developments such as investment & expansion, new product launch, merger & acquisition, and agreement & collaboration in the market
To strategically profile the key players and comprehensively analyze their market shares and core competencies2
Available Customizations:
With the given market data, MarketsandMarkets offers customizations according to the company's specific needs. The following customization options are available for the report:
Regional Analysis:
A country-level analysis of the impregnating resins market is provided based on application.
Company Information:
Detailed analysis and profiles of additional market players.