[148 Pages Report] The electronic chemicals and materials market size is projected to grow from USD 58.8 billion in 2020 to USD 81.7 billion by 2025, at a compound annual growth rate (CAGR) of 6.8% during the forecast period. Increasing demand from the microelectronics and chip manufacturing industries globally is expected to drive the market.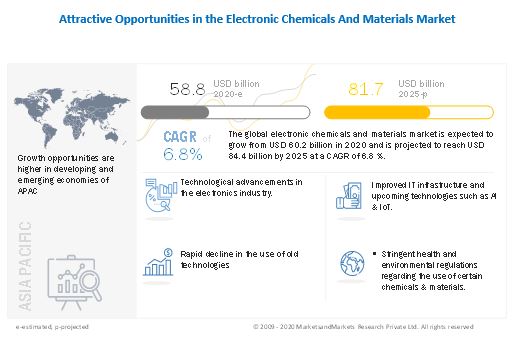 To know about the assumptions considered for the study, Request for Free Sample Report
Ecosystem Map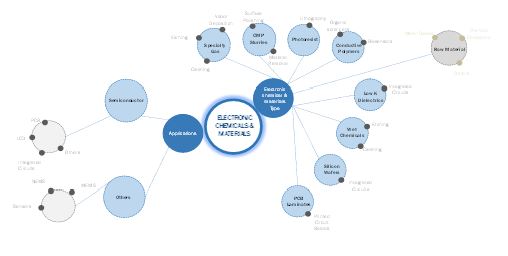 Electronic Chemical and Materials Market Dynamics
Driver: Technological advancements in the electronics industry
The huge acceptance of nanotechnology has contributed to the market shift toward MEMS & NEMS devices. The smaller size, lighter weight, lower power consumption, and cheaper fabrication costs associated with nano-devices have made them acceptable globally. The recent commercialization of nano-based devices has boosted the market potential for photoresist and photoresist ancillaries with various technological advancements. For instance, Intel is moving rapidly toward adopting new technology based on 20nm from 28nm, thus boosting the demand for nanomaterials and, in turn, electronic chemicals and materials in the semiconductor industry.
Restraint: Stringent health and environmental regulations regarding certain chemicals and materials
The use of hazardous chemicals and materials in the manufacturing process of electronic products has led the companies to face various regulations and mandatorily follow several laws that may directly or indirectly impact the profitability of the businesses. The use of silica in the manufacturing of semiconductors has been a significant concern for workers' health. According to the OSHA (Occupational Safety and Hazard Administration), employers must protect workers from respirable crystalline silica in the US. The silica can travel deep into the lungs and cause silicosis, and it can also cause lung cancer and various other pulmonary diseases.
There are other potential hazards, including hydrogen chloride gas, flammable gases, and various types of solvents, which are harmful to the environment and humans.
The electronics industry uses a myriad of materials and chemicals in the manufacturing process of electronics. There are almost 500 existing laws in the electronics industry in Europe alone. The laws vary from requirements relating to energy efficiency, recycling of the product, use of refrigerants in a product, use of the ozone-depleting substance, and conflict minerals in a product. The electronics manufacturer must comply with these regulations to prevent an environmental disaster or a health crisis. The compliance with these regulations has led to a high cost of operation. The regulations add up in the supply chain, and heavy expenses are incurred with raw material procurement, production, packaging, distribution, and final product disposal.
Opportunities: Improved IT infrastructure and upcoming technologies such as AI and IoT.
The advent of new technologies such as IoT (Internet of Things) and AI (Artificial Intelligence) have created a new product subcategory of intelligent home devices. According to the Wall Street Journal, IoT is expected to grow at explosive speed, especially in the industrial segment, with an expected growth of 65%. The total market would reach USD 662 billion. The use of AI-related technology has opened a myriad of opportunities for electronic materials manufacturers. The rising demand for electric vehicles has opened a new revenue application for the electronics materials market. The digital display industry is also set out for better standards by introducing high-end LED and LCD television sets, requiring high-quality electronic materials for production. Thus, new revenue streams can be explored by the players in the electronic chemicals and materials market.
Challenges: A rapid decline in the use of old technologies
Technologies such as memory chips and data centers are declining rapidly due to the introduction of cloud-based storage. The necessity to store data physically has reduced considerably, which is the cause of a decline in the production of memory chips. The manufacturers of electronic materials, especially the smaller players, are not adapting to change frequently. The adaptability to new technology may take up some time, which may eventually lead to loss of profit for the smaller players. Due to the increasing usage of mobile devices, the size of integrated chips and semiconductors is getting smaller; thus, the materials used in manufacturing semiconductors have to be precise and of high quality to produce optimal results. To introduce new products, companies have to invest in building new facilities or remodeling the setup, which will lead to high capital costs and eventually add up to the product cost
The semiconductors segment is projected to be the larger application of electronic chemicals and materials during the forecast period.
A semiconductor is a solid chemical compound or element which can conduct electricity under certain conditions depending upon the dopants added during the manufacturing process. The semiconductor industry is affected by technological advancements in the electronics industry. Apart from the growing demand for circuit boards and memory chips, upcoming technologies such as artificial intelligence (AI) are expected to drive the semiconductor industry. Semiconductor devices require proper maintenance for their functionality; hence, certain electronic chemicals and materials are used to clean, etching, polishing, doping, and servicing semiconductors.
Silicon wafers segment is the largest type of electronic chemicals and materials market.
Silicon wafers are a thin slice of semiconductor, made out of crystalline silicon and a key component in the fabrication of integrated circuits and serve as a substrate for the microelectronics devices. The primary use of silicon wafers is in integrated circuits, which are the basic building block of any electronic devices, such as computers and smartphones. Other uses include tire pressure systems and solar cells. The silicon wafers market is expected to grow with the integrated circuits and solar markets' growth during the forecast period.
APAC is estimated to account for the largest market share during the forecast period.
The rapid growth of the electronics industry worldwide in the past two decades has driven the demand for printed circuit boards in APAC. The printed circuit board industry's growth is related to the developments in telecommunications and IT, smart cards, electronic gaming, and consumer goods (digital cameras, mobile phones, and personal computer electronics) applications.
Key Market Players
The leading players in the electronic chemicals and materials market are Linde plc (Ireland), Air Products and Chemicals (US), DowDuPont (US), Cabot Microelectronics (US), BASF AG (Germany), Hitachi Chemical (Japan), Air Liquide (France), Solvay A.G. (Belgium), Shin-Etsu (Japan), Covestro (France), and Songwon (South Korea).
Scope of the report
| | |
| --- | --- |
| Report Metric | Details |
| Years Considered | 2018–2025 |
| Base year | 2019 |
| Forecast period | 2020–2025 |
| Unit considered | Value (USD Million) |
| Segments | Type, Application, and Region |
| Regions | APAC, North America, Europe, Rest of the World (RoW) |
| Companies | Linde plc (Ireland), Air Products (US), Cabot Microelectronics (US), BASF AG (Germany), Hitachi Chemical (Japan), Air Liquide (France), Solvay A.G. (Belgium), Shin-Etsu (Japan), Covestro (France), and Songwon (South Korea)are the key players covered |
This research report categorizes the global electronic chemicals and materials market based on type, application, and region.
Based on type:
Specialty Gases
CMP Slurries
Conductive Polymers
Photoresist Chemicals
Low K Dielectrics
Wet Chemicals
Silicon Wafers
PCB Laminates
Based on Application:
Semiconductors

Integrated Circuits
Printed Circuit Boards

Others
Based on the region:
APAC
North America
Europe
RoW
The market is further analyzed for the key countries in each of these regions.
Recent Developments
Linde (Ireland) sets up an air separation plant to supply 720 tons per day of high purity nitrogen to Shanghai's Ever Display Optronics Co. Ltd (EDO). Apart from this, the company will supply oxygen, helium, argon, and hydrogen to EDO. The company will also invest USD 1.4 billion to expand its existing gasification complex at Jurong Island, integrating it with ExxonMobil's project to produce and supply additional hydrogen and synthesis gas.
Air Products and Chemicals (US) has announced a second liquid hydrogen production facility in California, US. This production facility will help the company meet the demand for hydrogen fuel cell vehicles (FCV). The company has also invested in six industrial gas plants and a pipeline network in China. These plants will supply nitrogen, oxygen, and other bulk gases. The expansion will support the booming electronics manufacturing industry in China.
Cabot Microelectronics (US) acquired KMG Chemicals (US). The acquisition will complement the existing portfolio of Cabot and increase customer touchpoints with leading semiconductor manufacturers.
BASF (Germany) started a new plant for functionalizing foils in Munster. These foils are used in the protection of thin-film photovoltaics from harmful environmental stress. Other applications for foil include OLED displays and thin-film batteries.
Frequently Asked Questions (FAQ):
What are electronic chemicals and materials?
These are high purity chemicals and materials that are used during manufacturing, cleaning, etching, polishing, doping, and servicing of semiconductors, integrated circuits (ICs), and printed circuit boards (PCBs).
What are the commonly used chemicals and materials in the electronics industry?
The major types of chemicals and materials used in the electronics industry are specialty gases, CMP slurries, photoresists, conductive polymers, wet chemicals, acids, gases, and solvents, and electronic materials such as wafers and laminates.
What are the major applications of electronics and chemicals?
Electronic chemicals and materials are majorly used in the semiconductor industry during the production and servicing of integrated circuits (ICs) and printed circuit boards (PCB).
What are the major drivers of the electronic chemicals and materials market?
Factors such as technological advancement in the electronics industry is increasing the consumption of electronic chemicals and materials and thus driving the market.
What are the upcoming opportunities in the electronic chemicals and materials market globally?
Trends such as increase usage of PCB in telecommunication industry and improving IT infrastructure globally are creating opportunities for the consumption of electronic chemicals & materials. .
To speak to our analyst for a discussion on the above findings, click Speak to Analyst