[124 Pages Report] The insect growth regulators market is estimated to be USD 736.3 million in 2016 and is projected to reach USD 1,054.3 million by 2023, at a CAGR of 6.16% during the forecast period.
The years considered for the study are as follows:
Base year – 2015
Estimated year – 2016
Projected year – 2022
Forecast period – 2016 to 2022
Objectives of the report
To define, segment, and measure the insect growth regulators market on the basis of type, application, form, and region
To provide an analysis of opportunities in the market for stakeholders through the identification of high-growth segments
To understand the drivers, restraints, opportunities, and challenges of the insect growth regulators market
To profile key players in the insect growth regulators market, and a comprehensive analysis of their core competencies
Research Methodology:
Major regions were identified, along with countries contributing the maximum share.
Secondary research was conducted to obtain the value of insect growth regulators market for regions such as North America, Europe, Asia Pacific, South America, and RoW.
Key players were identified through secondary sources such as the Bloomberg Businessweek, Factiva, agricultural magazines, and companies' annual reports while their market share in the respective regions was determined through both, primary and secondary research. The research methodology includes the study of annual and financial reports of top market players as well as interviews with industry experts (such as CEOs, VPs, directors, and marketing executives) for key insights (both quantitative and qualitative) for the insect growth regulators market.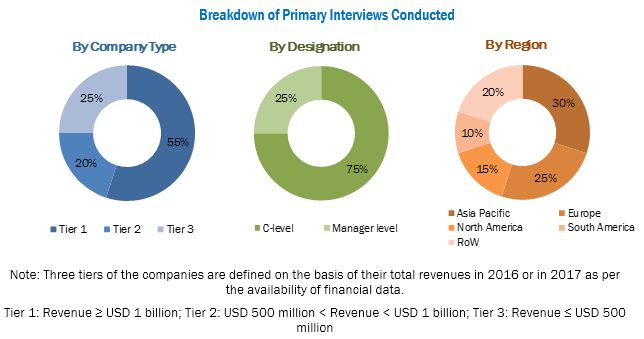 To know about the assumptions considered for the study, download the pdf brochure
The global market for insect growth regulators is dominated by key players such as Bayer CropScience (Germany), The Dow Chemical Company (US), Sumitomo Chemical Company (Japan), Syngenta AG (Switzerland), and Adama (Canada). Some other key players in the market are Platform Specialty Products Corporation (US), Nufarm Limited (Australia), Valent U.S.A Corporation (US), Russell IPM Ltd. (UK), and Central Gardens & Pets Co (US).
Target Audience
The stakeholders for the report are as follows:
Agrochemical importers/exporters
Pesticide manufacturers/suppliers
Crop growers and warehouse owners
Intermediary supplies
Research Institutions and organizations
Regulatory bodies
Get online access to the report on the World's First Market Intelligence Cloud

Easy to Download Historical Data & Forecast Numbers
Company Analysis Dashboard for high growth potential opportunities
Research Analyst Access for customization & queries
Competitor Analysis with Interactive dashboard
Latest News, Updates & Trend analysis

Request Sample

Click on image to enlarge

Scope of the Report
The research report categorizes the market broadly on the basis of type, application, form, and region.
Based on type,the market has been segmented as follows:
Chitin synthesis inhibitors
Juvenile hormone analogs and mimics
Anti-juvenile hormone agents
Based on application, the market has been studied as follows:
Agricultural

Field crops
Horticultural crops
Turf & ornamentals
Others (lawns and gardens)

Livestock pests
Commercial pest control
Based on form, the market has been segmented as follows:
Bait
Liquid
Aerosols
Based on region the market has been segmented as follows:
North America
Europe
Asia Pacific
South America
RoW (Africa and the Middle East)
Available Customizations
With the given market data, MarketsandMarkets offers customizations according to the company's specific scientific needs.
The following customization options are available for the report:
Product Analysis:
Product Matrix, which gives a detailed comparison of the product portfolio of each company
Geographic Analysis
Further breakdown of the Rest of Europe market for insect growth regulators market into Finland, Portugal, and Greece
Further breakdown of the Rest of Asia Pacific market for insect growth regulators into Thailand and Malaysia
Further breakdown of the Rest of South America market for insect growth regulators into Chile and Peru
Company Information
Detailed analyses and profiling of additional market players (up to five)
Growing concerns over environmental toxicity and mammalian safety to increase the demand for biodegradable insect growth regulators
Insect growth regulators (IGRs) are insecticides that halt, slow, and disrupt an insect's maturation process. These regulator products are mixed with other insecticides to slow the rate of pesticide resistance developed among insects. They help to eradicate insects at their early reproductive stage and reduce the risk of pest attacks on fully grown crops to increase the productivity and yield per unit. These attributes of IGRs have led to an increase in demand among producers across the globe.
The global market size is projected to reach USD 1,054.3 million by 2022, at a CAGR of 6.16% from 2017 to 2022. The global market has been witnessing strong growth over the last few years due to the growing shift from the development of neurotoxic, broad-spectrum insecticides toward less toxic and more environment-friendly products.
Low knockdown effect and less effectiveness in the elimination of adult insects are the major restraining factors for the market
IGRs are insecticides that mimic hormones in young insects. They interfere with the growth, development, and the metamorphosis process of insects. However, these regulators are less effective when insects complete one growth cycle and reach the next phase. Also, their effect is recorded negligible on adult insects and restricts their overall effect.
Since the active ingredient in an IGR targeted to work on reproductive processes specific to insects, the knockdown effect is visible after mixing it with the other crop protection chemicals, such as insecticides or pesticides. Hence, when insect growth regulators are used as a standalone method of treatment, a longer period is required for an IGR to be effective. Attributed to these factors, these regulators have low knockdown effect as compared to the other insect control chemicals.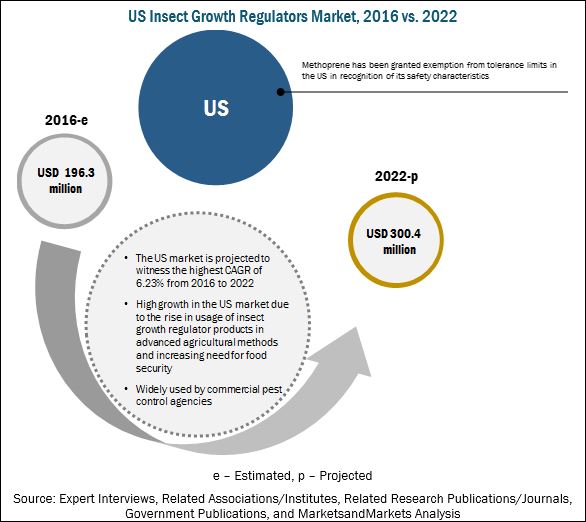 The development of resistance by certain insect species toward insecticides or even to an insect growth regulator has been observed. This behavior is the result of a mutation in genes, which causes the inheritance of resistance toward certain active ingredients. For instance, in 1995, researchers discovered that a high level of resistance was developed by whiteflies toward the application of the insect growth regulator, pyriproxyfen, which is a juvenile hormone mimic. In later years, the results of biological tests showed that the alternative usage of compounds, such as buprofezin and diafenthiuron, lowered the resistance level of the insects, due to which the insect growth regulators were found to be considerably effective on whiteflies.
Market Dynamics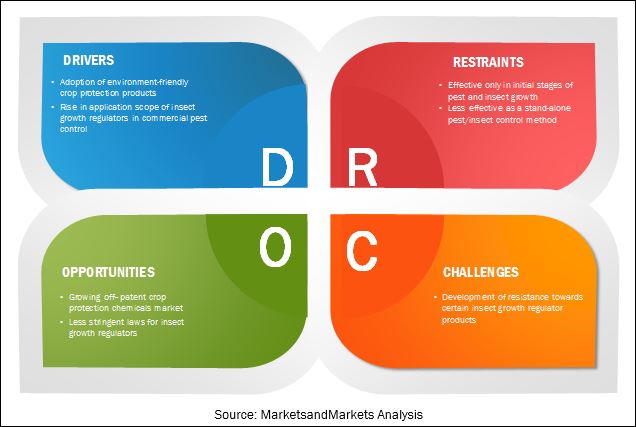 Leading manufacturers offer different types of insect growth regulators to control insects at different growth stages
Chitin synthesis inhibitors: Most widely used for controlling agricultural and livestock pests
Chitin is required for the formation of the exoskeleton in various insects. The chitin synthesis inhibitor compound restricts the growth of chitin, which helps in the growth of the exoskeleton among targeted insects. During the molting process, the insect is unable to develop the outer shell required, which helps in killing these insects. IGRs also affects and kills the eggs of these insects by restricting the development of their embryos. Thus, these continue to remain one of the widely used hormones for the development of insect growth regulator, such as chitin synthesis inhibitors. These are widely used by consumers to control fleas that live on pets and cattle.
Juvenile hormone analogs & mimics: Higher application in commercial pest control
Juvenile hormone analogs & mimics are known to disrupt the insect development. When the normal course of molting converts the larvae to the pupal stage, an abnormally high level of juvenilizing agent would produce another larval stage or larval-pupal intermediate stages. Leading manufacturers are focusing on developing a range of IGRs, such as juvenoid insect growth regulators to reduce the growth of these insects. Manufacturers are developing juvenoid insect growth regulators that can also act on the eggs of these insects. Application of these IGRs can cause sterilization, disrupt behavior, and disrupt diapause (the process that triggers dormancy). Methoprene is a juvenile hormone analog, which is most widely used for controlling horn fly and is available under a number of different brand names.
Pyriproxyfen was introduced in 1980 by Sumitomo Chemical (Japan), which is used as a larvicide to control fleas, mosquitoes, carpet beetles, and ants.
Anti-juvenile hormone agents: Suppresses the effect of juvenile hormone
Anti-juvenile hormone agents in the IGR lowers the effect of juvenile hormones by blocking juvenile hormone production. For instance, an early instar can be treated with an anti-juvenile hormone agent, which molts prematurely into a non-functional adult. However, as IGRs are selective in action and may not be economical for the manufacturers to develop, these factors are likely to remain a headwind for the market growth.
Key Questions
What are the upcoming substitutes and trends that will have a significant impact on the market growth in the future?
Insect growth regulators are gaining importance in the market as larvicides; how will this impact its role in different sectors such as agriculture, pest control service, and public health in the next five years?
What will be the prominent revenue-generating pockets for the market in the next five years?
Most suppliers have opted for key strategies, such as mergers & acquisition as could be seen from the recent developments. Where will it take the industry in the mid to long-term in terms of growth?
The insect growth regulators (IGRs) market is estimated to be USD 736.3 million in 2016 and is projected to reach USD 1,054.3 million by 2022, at a CAGR of 6.16%. The insect growth regulators market is mainly driven by the growing adoption of environmentally safe crop protection products. Furthermore, these compounds are highly convenient for use on crops such as cotton, tomatoes, wheat, and corn, among others.
There is a growing demand for insect growth regulators in commercial pest control management, indoors as well as outdoors. It can be mixed with insecticides to control mosquitoes, fleas, and other insects. Insect growth regulators interrupt the development of juvenile stages of targeted insects such as ants, cockroaches, fleas, ticks, mosquitoes, litter beetles, and flying insects to prevent them from becoming egg-laying adults. Additionally, they have low toxicity levels, and some are even approved to be used in food establishments.
The chitin synthesis inhibitors segment accounted for the largest share among all the types of insect growth regulators, in 2016. The large share of this segment is due to their ability to restrict the early growth among insects by inactivating chitin synthesis, which is responsible for exoskeleton development.
The insect growth regulators market, by application, is estimated to be dominated by the agricultural segment in 2018. This dominance is attributed to the higher use of IGRs on field crops to control the infestation of insects and pests. These are also used for stored grains in warehouses. The crops on which insect growth regulator products are used include soybean and cotton.
On the basis of form, the insect growth regulators market has been segmented into bait, liquid, and aerosol. Liquid insect growth regulators are usually in the form of concentrates and have a longer shelf life. The insect growth regulator products available in the form of concentrates are usually juvenile hormone analogs & mimics. They restrict the larvae from advancing into the adult form. Hence, the liquid form segment is estimated to account for the largest share in 2016.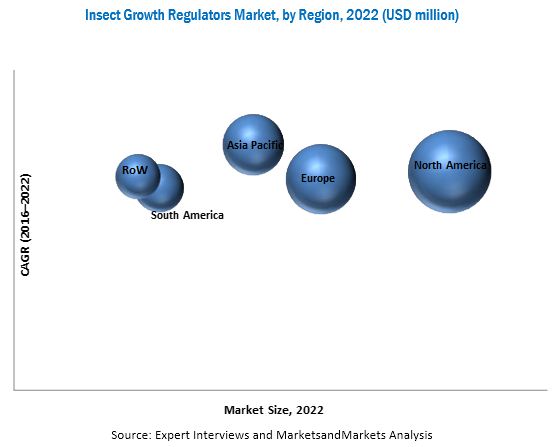 North America is estimated to dominate the insect growth regulators market in 2016. The region's high adoption of modern and less toxic pest control products for different applications is likely to contribute to the growth of this market.
The Asia Pacific insect growth regulators market is projected to have the highest CAGR from 2016 to 2022. The growth in this region can be attributed to the high production of cereals and grains to meet the domestic consumption requirements and the growing usage in warehouses and grain storage units in order to minimize wastage. In terms of market share, the European region was subsequent to North America in 2015.
The major factors restraining the growth of the insect growth regulators market are its less effectiveness as a standalone control method and inability to kill adult insects. However, the market has strong prospects in the coming years, as the market for off-patent crop protection chemicals is growing.
To speak to our analyst for a discussion on the above findings, click Speak to Analyst