[99 Pages Report] The IoT operating systems is projected to grow from USD 289.2 million in 2017 to USD 1,721.3 million by 2022, at a Compound Annual Growth Rate (CAGR) of 42.9%. The report considers 2017 as the estimated year for the study, and the market size forecast is from 2017 to 2022. An operating system is a system software that manages computer hardware and software resources and delivers shared services for computer programs. IoT defines an operating system as the edge gateway that provides connectivity to devices via multiple protocols, and also provides limited edge computing multiple capabilities. It integrates various functions of the connected devices and servers for improving the network communications. It also enables programmers to develop applications on typical IoT devices. The IoT operating systems have the capability to deal with the diverse requirements of heterogeneous hardware platforms and application scenarios, and provide an adaptive Internet Protocol (IP) network stack and a standard developer-friendly Application Programming Interface (API). The forecast has been provided for the period between 2017 and 2022.
Market Dynamics
Drivers
Increased traction for emergence of technologies, such as cloud computing and mobility
Growing online data sharing and BYOD
Adoption by SMEs are popularizing growth of the IoT operating system
Need for data consistency
Restraints
Software licensing and IP violation of the operating system
Lack of consistency among standards for interconnectivity and interoperability
Opportunities
Increased traction for vulnerability assessment and risk mitigation
Deployment of IoT data maturity model
Unified view of resources using operating system for all stakeholders
End-to-end cross-platform solutions
Challenges
Scalability of IoT system and application
Private data of individuals at risk
Aligning IoT data management strategy with organizational strategic initiatives
Increased traction for emergence of technologies, such as cloud computing and mobility drives the global IoT operating systems market
Cloud computing offers a large storage volume, application, and data, which enhances the server processing capacity. Hence, it reduces the operational cost and infrastructural complexity for the enterprises, without investing heavily in support services and expensive hardware. With the increasing rate of portable device adoption, the demand for cloud computing and Bring Your Own Device (BYOD) is growing. The new generation of smartphones, tablets, wearable devices, and other portable devices is much lighter and versatile, and uses computing platforms, such as Android and iOS. The mobility is driven by cloud computing technologies, making mobile devices a vital business platform. To meet the need for agility, analytics, security, and data privacy for users, both cloud computing and mobile devices are mutually linked. Cloud computing provides a platform to the users for easily developing apps and data storage, and it has also enhanced the use of mobile devices. Furthermore, cloud computing is also managing the user's mobility requirement by enabling data access using connected devices and computers running on any operating system.
On a financial aspect, opting for cloud computing is a significant saving for several businesses in various verticals, such as manufacturing, and home and automation. The enterprise saves cost in terms of cloud environment, including network, infrastructural maintenance, and computing. The multi-platform mobility has gained rapid importance because of the emergence of advanced mobile devices, advancement of network technologies, multiple heterogeneous platforms, and growing trend of mobile applications. Multiplatform mobility has been seen to be a strong and emerging trend over the recent years. The advantages of multi-platform mobility are framing better strategies, real-time employee interactions, quick responses for technical issues, and target-oriented operational cost. The demand for multi-platform mobility ensures congruence of goals of employees with heterogeneous devices. This add-on has been instrumental in making the multi-platform mobility a competent driver in the mobility landscape. Therefore, the increased traction for emergence of technologies, such as cloud computing and mobility drives the growth of IoT operating systems market.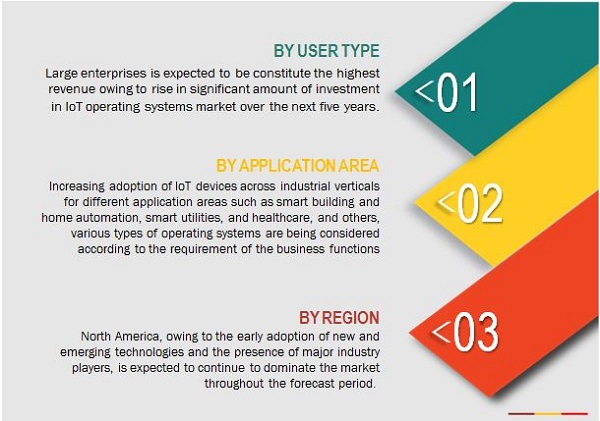 The following are the major objectives of the study.
To define, describe, and forecast the market for IoT operating systems component— Client Side, Server Side and Professional Services on the basis of various parameters
To forecast the market size of IoT operating systems with respect to five main regions — North America, Europe, Asia-Pacific (APAC), Middle East & Africa (MEA), and Latin America
To provide detailed information regarding the major factors influencing the growth of the market (drivers, restraints, opportunities, and industry-specific challenges)
To analyze each sub-segment with respect to individual growth trends, future prospects, and contribution to the total market
To analyze the opportunities in the market for stakeholders by identifying high-growth segments of the IoT operating systems market
To profile key players in the market and comprehensively analyze their core competencies in the market
To track and analyze competitive developments, such as new product launches, mergers & acquisitions, partnerships, agreements, and collaborations in the IoT operating systems market.
The research methodology used to estimate and forecast the IoT operating systems market begins with the collection and analysis of data on key vendor revenues through secondary research such as annual reports and press releases, investor presentations of companies, conferences and associations such as IoT Association, IEEE Standards Association, IoT Alliance Australia, white papers, technology journals, certified publications, and articles from recognized authors, directories, and databases. The vendor offerings have also been taken into consideration to determine the market segmentation. The bottom-up procedure was employed to arrive at the total market size of the IoT operating systems market from the revenue of the key IoT operating systems providers in the market. After arriving at the overall market size, the total market was split into several segments and sub-segments, which were then verified through primary research by conducting extensive interviews with key people, such as CEOs, VPs, directors, and executives. The data triangulation and market breakdown procedures were employed to complete the overall market engineering process and to arrive at the exact statistics for all segments and sub-segments. The breakdown of profiles of primary is depicted in the below figure:
To know about the assumptions considered for the study, download the pdf brochure
The IoT operating systems ecosystems comprises vendors providing IoT operating systems to their commercial clients. Companies such as Google Inc. (California, U.S.), Apple Inc. (California, U.S.), eSOL Co. Ltd (Tokyo, Japan), BlackBerry Limited (Ontario, Canada), ARM Ltd (Cambridge, U.K), ENEA AB (Kista, Sweden), Mentor Graphics Corporation (Oregon, U.S.), Green Hills Software (California, U.S.), SYSGO AG (Klein- Winternheim, Germany), Microsoft Corporation (Washington, U.S.), Wind River (California, U.S.), Kaspersky Lab (Moscow, Russia) and Canonical Ltd (London U.K) have adopted partnerships and collaborations as their key strategy to expand their market reach. This strategy accounted for the largest share of the total strategies adopted by the market players.
Major Market Developments in Internet of Things Operating Systems market
In June 2016, ENEA AB announced the latest version of its RTOS ENEA OSE. It enabled their commercial customers to utilize the full capability of modern 64-bit multicore processors, both in terms of computational intensive applications and usage of large memory areas. The new version also offers robust RTOS with extraordinary real-time characteristics, execution performance, software migration, and portability feature to ENEA's commercial clientele.
In March 2017, eSOL released eMCOS, which is the first commercial RTOS that provides support from single to multicore processors. eMCOS enables the inclusion of AI and sensor fusion into systems used for autonomous driving, robots, medical cameras, and IoT devices. To cater to a vast array of industries, the company's service offerings are spread across various verticals, such as car navigation systems, game consoles, Personal Handy-phone System (PHS) terminals, digital information home appliances, satellite systems, audio equipment's, electric instruments, office equipment's, and network devices.
In December 2016, Green Hills Software partnered with the Curtiss-Wright Corporation, a US-based product manufacturer and service provider. This partnership enabled Curtiss-Wright Corporation to offer complete embedded hardware and software solutions for developers based on the Green Hills INTEGRITY RTOS development tool suite. It offered high-performance modular computing and integrated subsystem applications in the defense and aerospace markets.
Key Target Audience for IoT Operating Systems Market
IoT operating systems provider
IoT platform/middleware providers
Application Developers
Third party integration providers
API Integrators
Consultancy firms & advisory firms
Regulatory agencies
Government
"Study answers several questions for the stakeholders, primarily which market segments to focus in next two to five years for prioritizing the efforts and investments."
Report Scope
The research report segments the IoT operating systems market into the following submarkets:
Scope of the IoT operating systems Market research report
Client Side
Server Side
Professional Services
Consulting Services
Deployment and Integration Services
Maintenance and Support
By User Type:
By Application Area:
Smart Building & Home Automation
Capillary Networks Management
Smart Utilities
Vehicle Telematics
Industrial Manufacturing and Automation
Smart Healthcare
By Region:
North America
Europe
Asia-Pacific (APAC)
Middle East and Africa (MEA)
Latin America
Available Customizations
With the given market data, MarketsandMarkets offers customizations as per the company's specific needs. The following customization options are available for the report:
Geographic Analysis
Further breakdown of the Europe IoT operating systems market
Further breakdown of the APAC IoT operating systems market
Company Information
Detailed analysis and profiling of additional market players
The IoT operating systems market is expected to grow at a CAGR of 42.9% and grow from USD 289.2 million in 2017 to USD 1,721.3 million by 2022 owing to the increase in social networking sites, which has led to sharing of large amount of personal and private data across multiple platforms. The increased traction for emergence of technologies, such as cloud computing and mobility; growing online data sharing and BYOD; adoption by SMEs is driving the growth of the IoT operating systems and need for data consistency are the key factors driving the growth of this market.
The client side architecture of IoT operating systems is designed to provide a consolidated view of the processed and analyzed data. The client side architecture for IoT provides web-based front-end interfaces and portals, which interact with devices and event-processing layers. It also interacts with systems outside this network, using APIs. These APIs are managed and controlled with an API management systems. The API management systems, which, apart from being user-focused, also provides a developer-focused interface, where developers can explore the APIs from the systems. The API management systems support publishers to create, version, and manage the previously published APIs. The client side interface has the ability to discover the services provided by the server, which is also called as service discovery. Using service discovery, the user can choose a particular service from a sensor.
The IoT operating systems market has been segmented, on the basis of user type, into large enterprises, and Small and Medium-Sized Enterprises (SMEs). The market for large enterprises is expected to have the largest revenue between 2018 and 2023. Large enterprises use IoT operating systems to make more informed decisions on the size, speed, and cost of the IoT devices. Moreover, large enterprises are the early adopters of IoT operating systems, as they have a wide portfolio of vendors and service providers in the market. They are more likely to adopt IoT operating systems than the SMEs, due to economies of scale associated with a larger number of IT assets. Large enterprises across various industry verticals are at the forefront in adopting an application performance management solution, due to the voluminous content being generated by applications every second in enterprises, to achieve the business advantage. Industry verticals, such as manufacturing always look to integrate information into some unified operating systems, as it will help their devices and software solutions to collect and process a growing amount of data. Large enterprises make a significant amount of investment to modernize their traditional IT infrastructure to meet the changing application delivery and management trends.
The IoT operating systems market in APAC is expected to grow at the highest CAGR during the forecast period. APAC is the fastest-growing market for IoT operating systems. APAC is characterized by a large presence of manufacturing economies and has one of the largest production networks in the world, wherein the adoption of IoT operating systems is expected to grow, due to reasons, such as the need to align business initiatives of stakeholders and streamline business processes. The countries in APAC are working toward achieving Industry 4.0 initiative, thereby integrating autonomous robots, big data and analytics, augmented reality, additive manufacturing, industrial IoT, horizontal and vertical system integration, simulation, cloud, and cybersecurity, along with increased investments by vendors in the APAC region in large-scale infrastructure projects. Chinese cities are looking to get technologically smart as quickly as possible. A significant amount of China's provinces and municipalities has listed the IoT as a pillar industry in their development plans to manage costs and increase efficiency, which would drive the IoT operating systems market.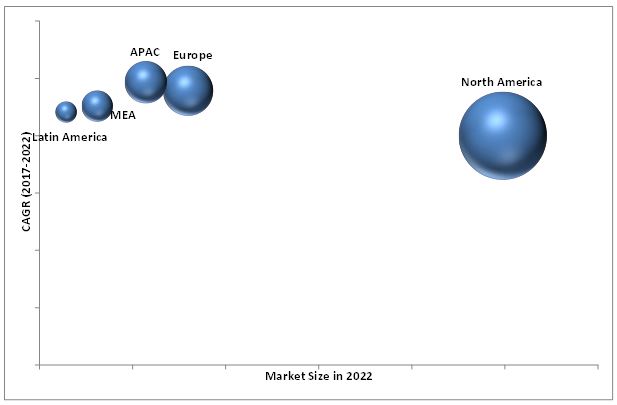 Applications areas in home automation, vehicle telematics, industrial manufacturing and automation, and smart utilities, healthcare, and buildings drive the growth of IoT operating systems market
Smart Building and Home Automation
IoT applications connect, manage, and optimize complex data sets, thereby letting IoT devices better manage building operations, security, and energy. Buildings, be it commercial or residential, are going through the phase of smart transformation by connecting the Heating, Ventilation, and Air Conditioning (HVAC); lighting; environmental sensors; safety equipment; smart grid; and weather. Automated processes make use of real-time IoT information from users, systems, and devices, to optimize the resource efficiency, reduce costs and risks, and improve the visibility of operations. Smart building IoT applications area are readily available in the market today, along with the equipment manufacturers being ready to add value to buildings with the use of IoT. Home automation is about controlling the home appliances using various control system techniques, which primarily include IoT devices. The electrical and electronic appliances in a home, such as the light, fan, fire alarm, door, window, and air conditioner can be controlled using various control techniques. With the availability of advanced operating systems for IoT devices, automation technology is gaining traction in the home automation solutions.
Smart Utilities
The IoT operating systems plays a major role in the devices used for creating smart utilities and smart energy solutions. Smart utilities and energy mainly comprise the monitoring and optimized utilization of energy and water, with proactively managed waste reduction, conservation, and sustainability. Operating systems of the devices used in an IoT-enabled system has its effect on the foundation of connectivity, data, and analytics. For this, different sensors, actuators, and network communication technologies to interconnect people and devices are used to streamline various processes and the information flow.
Vehicle Telematics
Auto Insurers have introduced user-based insurance for the vehicles which includes, closely monitoring driving patter of the vehicle. According to various elements such as driving speed, distance covered on daily or weekly basis, fuel consumed, condition of air bags in the vehicle, etc. the vehicle is considered for insurance. The vehicle which covers longer distances frequently or observed to be driven at higher speed usually is charged more premium for insurance. For this, the use of IoT devices plays an important role. Various sensors are either deployed in the vehicle or come embedded with vehicle. Using IoT sensors, in case of emergency or accident the first responders (police, fire, emergency medical services, etc.) are immediately intimidated about it and required actions are taken to save lives. With the help of cloud technology and IoT devices a vehicle can be controlled remotely, this allows extended safety for the vehicle.
Industrial Manufacturing and Automation
Manufacturing companies are using IoT devices and sensors for predictive maintenance which lowers cost of maintenance unlike in scheduled maintenance. Predictive maintenance makes use of the data gathered by various IoT sensors deployed across a manufacturing plant, and analyses it to trigger required action. It helps increase productivity of the manufacturing unit by reducing or minimizing occurrences of unscheduled downtime. Also, use of IoT devices helps intelligent decision making using prescriptive analytics where, the devices are allowed to determine next best action to be taken.
Critical questions the report answers:
Where will all these developments take the industry in the mid to long term?
What are the upcoming industry applications catered by IoT operating systems?
The lack of consistency among standards for interconnectivity and interoperability & security threats are some of the restraining factors for the IoT operating systems market also, software licensing and IP violation of operating systems is one of the major threat impeding the market growth. However, the recent developments, new product launches, and acquisitions of major market players in the IoT operating systems arena are boosting the growth of the market.
Key players in the market include Google Inc. (California, U.S.), Apple Inc. (California, U.S.), eSOL Co. Ltd (Tokyo, Japan), BlackBerry Limited (Ontario, Canada), ARM Ltd (Cambridge, U.K), ENEA AB (Kista, Sweden), Mentor Graphics Corporation (Oregon, U.S.), Green Hills Software (California, U.S.), SYSGO AG (Klein- Winternheim, Germany), Microsoft Corporation (Washington, U.S.), Wind River (California, U.S.), Kaspersky Lab (Moscow, Russia) and Canonical Ltd (London U.K). These players are increasingly undertaking mergers and acquisitions, and product launches to develop and introduce new technologies and products in the market.
To speak to our analyst for a discussion on the above findings, click Speak to Analyst