[119 Pages Report] Mobile AI (on-device AI) is the ability to process data on devices using a neural processing unit (NPUs) without involving the Internet or the cloud. On-device AI makes use of dedicated AI chipsets and provides several benefits, such as high performance, better reliability, and improved privacy & security to deliver automated personalized services and experiences.
The objective of the report is to describe and forecast the mobile (AI) market, in terms of value and volume, by application, technology node, and geography. The mobile AI market was valued at USD 5.10 billion in 2018 and is expected to reach USD 17.83 billion by 2023, at a CAGR of 28.41% during the forecast period. The base year considered for this study is 2017, and the forecast period is between 2018 and 2023.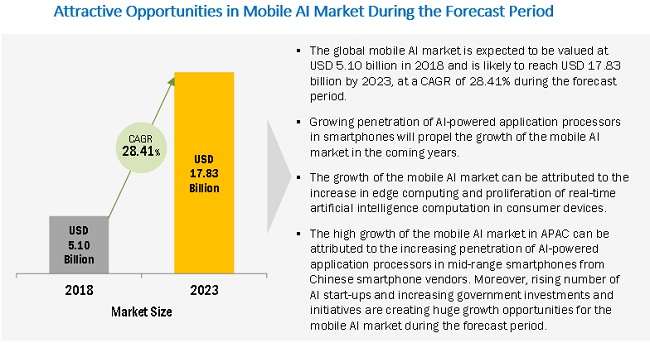 By technology node, 10nm nodes accounted for the largest market share during the forecast period
10nm nodes accounted for the largest share (in terms of volume) of the mobile AI market, by technology node, in 2017 and is expected to register a high CAGR during the forecast period. The growth of this market can be attributed to the increasing penetration of 10nm technology nodes in new high-end smartphones. Advancements in 10nm technology node result in more power-efficient processors and better battery life and performance of smartphones. Most modern high-end smartphones comprise AI chips. The iPhone X consists of Apple's A11 Bionic chip and Galaxy S9 smartphones that are powered by the Exynos 9810 processors, which are built on the advanced 10nm FinFET process for improved performance and long-lasting battery life.
By application, smartphones to hold the largest share of mobile AI market during the forecast period
Increasing demand for real-time voice processing and image recognition is driving the growth of the market for AI processors for smartphones. Most AI processors have additional inbuilt neural processing units (NPUs), which are capable of parallel processing, use low power, and can carry out cognitive tasks. On-device AI makes use of dedicated AI chipsets and is likely to become prominent in all flagship smartphones this year onward. Most new high-end smartphones comprise AI chips, which includes a dedicated neural processing unit. The neural processing unit comes with AI features, such as features facial unlocking, intelligent display rotation, and a smart notifications lock. Moreover, companies such as Samsung, Xiaomi (China), and MediaTek are heavily investing in their current and upcoming smartphones, which will be equipped with AI chips.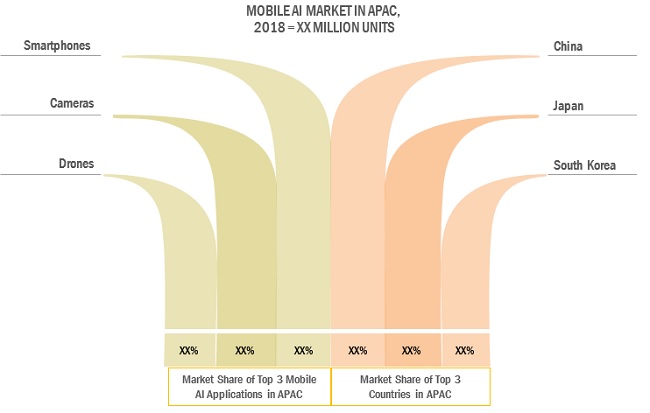 Mobile AI Market in APAC to grow at highest CAGR during the forecast period
The mobile AI market in APAC is expected to register at the highest CAGR during the forecast period. In APAC, China is the largest market for artificial intelligence. Applications such as smartphones, industrial robots, and automotive hold huge potential for mobile AI and are contributing to the growth of the mobile AI market in APAC. The region provides business expansion opportunities, and hence, is becoming the center of attraction for major investments. Various start-ups in China are raising funds to grow in the mobile AI market. For example, ThinkForce raised around USD 68 million in December 2017, DeePhi raised around USD 40 million in October 2017, and in March 2018, SambaNova Systems raised USD 56 million. All these factors, coupled with the increasing number of start-ups in the mobile AI ecosystem, are fueling the growth of the market in APAC.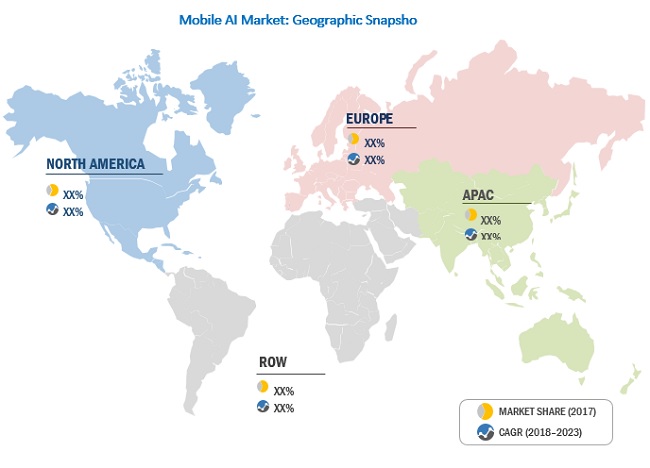 Market Dynamics
Driver: Growing demand for AI-capable processors in mobile devices
In the past, cloud-based complex AI algorithms were not capable of accomplishing tasks on computers, mobile phones, and other devices. This limitation became a roadblock for the rapid adoption of AI in consumer devices. It has now led to tier-one semiconductor hardware manufacturers, including smartphone vendors, increasingly focus on exploring application processor designs and frameworks, which will fetch AI on the device, rather than on the cloud. Connectivity in mobile devices experiences high latency, network congestion in densely populated areas, and increased levels of signal collision due to oversaturated use of available spectrums/increasing traffic in available spectrums. On-device processors can help mobile equipment compute data in real-time with minimum latency (much lower compared to cloud). This low latency attribute is a critical design aspect for drones, augmented reality solutions, cameras, and autonomous and semiautonomous cars as they require running deep learning algorithms in real-time for making quick decisions. Any delay stemming from latency in the communication can result in disastrous or fatal outcomes. At the moment in the market, Apple (US) and Google (US) are using AI-capable processors in their flagship smartphone products. However, with the increased use of AI in autonomous cars, drones, and other mobile devices, more players are expected to enter this market during the forecast period.
Restraint: Premium pricing of AI processors
The burgeoning application of AI in various industry sectors has enhanced consumer perception and expectation from AI technologies. However, lack of availability of low cost and energy-efficient hardware, especially computing hardware, is hindering the growth of the mobile AI market. Various AI technologies built to date have failed to make a significant impact on the AI market. Similarly, for robotic applications, special-purpose robots have already been developed to perform tasks such as delivering packages and cleaning offices; however, technical constraints and high cost of reliable mechanical devices are slowing the adoption of such solutions.
Also, energy-efficient hardware is another major constraint impeding the growth of the AI market. For instance, many hardware manufacturing companies are striving to develop AI chips that can function like the human brain and perform tasks on smartphones and other related devices.
Autonomous vehicles leverage new commercialized technological systems that push them into luxury and premium car segments. Being expensive, autonomous vehicles have a limited customer base, and their demand is anticipated to remain moderate as compared to semi-autonomous vehicles—high vehicle cost is likely to dampen the market growth. This aspect is inevitable, owing to the high price of the very technologies that award these vehicles their autonomous characteristics.
Opportunity: Dedicated low-cost AI chips for camera and vision applications in mobile devices
AI-based mobile processors support computational imaging applications in drones, wearable electronics, robots, surveillance cameras, autonomous vehicles, etc. The application of AI-based VPU processors can help drones make better decisions and reduce the risk of accidents, which will add to the rising demand for drones in industrial and personal use.
Computational imaging and visual awareness applications are changing the imaging paradigm in mobile devices, such as replacing complex optics with simplified lens assemblies and multiple apertures; combining images captured by heterogeneous sensors, including RGB (red, green, blue), infrared (IR) and depth sensors; and extracting contextual metadata from still images and video streams. This revolution is enabling the use of VPUs for a broad range of new application areas and use cases (that were previously limited to desktops and workstations) on battery-powered mobile devices, including mobile handsets, tablets, wearable devices, and personal robots. VPU-enabled surveillance cameras help real-time data processing on cameras themselves, rather than on cloud, which reduces the chances of data hacking and enables faster processing.
Challenge: Unreliability of AI algorithms in mobile apps
AI is implemented through machine learning using a computer to run specific software that can be trained. Machine learning can help systems process data with the help of algorithms and identify specific features from that dataset. However, a concern associated with such systems is that it is unclear as to what is going on inside algorithms; internal workings remain inaccessible, and unlike humans, the answers provided by these systems are un-contextualized. In July 2017, researchers at the Facebook AI Research (FAIR) lab found that the chatbot they created had deviated from their predefined script and were communicating in a language created by themselves, which humans could not understand. While one of the important goals of current research is to improve AI-to-human communication, the possibility that an AI system can create its unique language that humans cannot understand could be a setback. Several scientists and tech influencers, such as Stephen Hawking, Elon Musk, Bill Gates, and Steve Wozniak, have indeed raised concerns about future AI technology leading to unintended consequences.
Get online access to the report on the World's First Market Intelligence Cloud

Easy to Download Historical Data & Forecast Numbers
Company Analysis Dashboard for high growth potential opportunities
Research Analyst Access for customization & queries
Competitor Analysis with Interactive dashboard
Latest News, Updates & Trend analysis

Request Sample

Click on image to enlarge

Scope of the Report
| | |
| --- | --- |
| Report Metric | Details |
| Market size available for years | 2015–2023 |
| Base year considered | 2017 |
| Forecast period | 2018–2023 |
| Forecast units | Value (USD, million) |
| Segments covered | By Technology-Node, By Application |
| Geographies covered | North America, Europe, APAC, RoW |
| Companies covered | Apple (US), NVIDIA (US), Huawei (China), Samsung Electronics (South Korea), Qualcomm (US), Intel (US), IBM (US), Microsoft (US), MediaTek (Taiwan), and Google (US) |
The research report categorizes the mobile artificial intelligence (AI) market into the following segments and sub-segments:
Market, by Application
Smartphones
Cameras
Drones
Automotive
Robotics
Augmented Reality (AR)/ Virtual reality (VR)
Others (Smart Boards and PCs)
Market, by Technology Node
20–28nm
10nm
7nm and Others (12nm and 14nm)
Market, by Geography
North America
Europe

Germany
France
UK
Italy
Rest of Europe (RoE)

Asia Pacific (APAC)

China
Japan
South Korea
Rest of APAC (RoAPAC)

Rest of the World (RoW)

South America
Middle East & Africa
Key Market Players
Apple (US), NVIDIA (US), Huawei (China), Samsung Electronics (South Korea), Qualcomm (US), Intel (US)
Recent Developments
In April 2018, Qualcomm launched the "Vision Intelligence" platform, which included a pair of new 10nm FinFET SoCs—QCS605 and QCS603 SoCs—that was mainly designed for camera-equipped IoT home and industrial gadgets.
In March 2018, NVIDIA partnered with Arm (China) to bring deep learning inferencing to the billions of mobile, consumer electronics, and Internet of Things devices that will enter the global marketplace. Under this partnership, NVIDIA and Arm integrated the open-source NVIDIA Deep Learning Accelerator (NVDLA) architecture into Arm's Project Trillium platform for machine learning. The collaboration helped IoT chip companies integrate AI into their designs and provide intelligent, affordable products to billions of consumers worldwide.
In March 2018, Intel introduced the Movidius Myriad X vision processing unit (VPU) to deliver more autonomous capabilities across a wide range of product categories, from drones and robotics to smart cameras and virtual reality. Myriad X offers ten times the performance of the Myriad 2 in deep neural network (DNN) inferencing within the same power envelope.
In April 2017, ABB and IBM announced a strategic collaboration that brought together ABB's industry-leading digital offering ABB Ability and IBM Watson Internet of Things cognitive capabilities to unlock new value for customers in the utilities, manufacturing, transportation, and infrastructure verticals. The solutions powered by ABB Ability and Watson are expected to bring real-time cognitive insights to factory floors and smart grids.
In August 2017, Microsoft launched its Project Brainwave, a deep-learning acceleration platform designed for real-time artificial intelligence processing.
Key Questions Answered
Which regions are likely to grow at the highest CAGR?
What are the recent trends affecting the mobile AI market?
Who are the key players in the market, and how intense is the competition?
What are the application areas for mobile AI?
What are the challenges hindering the adoption of mobile AI?
To speak to our analyst for a discussion on the above findings, click Speak to Analyst